The 2012 rebound of Indian markets and the India ETF products tracking them have propelled the group to become a world leader in performance. Here's the global scorecard, courtesy of an informative chart component from Bespoke Investment Group. This chart displays country and selected regional performance through February 15, via ETF and ETN proxies. India is represented by the iPath MSCI Index ETN (NYSEARCA:INP).
(Click charts to expand)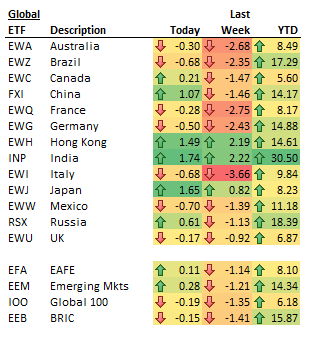 India leads the pack in 2012 after lagging in 2011. Source: Bespoke Investment Group
INP is an interesting choice to represent India in the above chart as the largest and first India ETF is EPI from WisdomTree. EPI has returned 34% this year. Here's a list of all India ETF and ETN products ranked by performance year to date.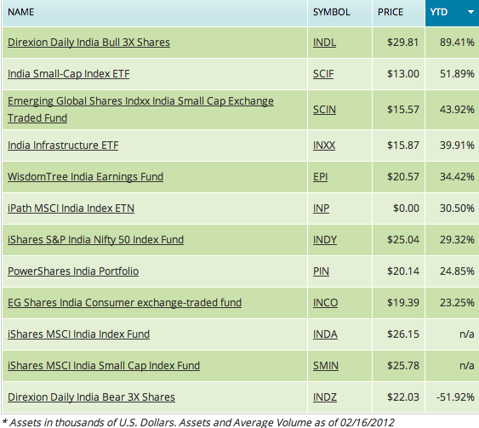 Non leveraged India ETF products have gained as much as 51% in 2012.
India is benefiting from lower inflation and the expectation that interest rates will soon begin to fall from 8.5%. In addition Foreign Institutional Investors (FIIs)have returned to a "risk on" mentality across the globe, which benefits India. In January alone, FIIs poured more than $2 billion into Indian markets. This was a reversal from January 2011, when $1 billion of FIIs outflows were recorded.
Going forward, Indian equity valuations have priced in lower inflation and interest rate cuts. Should either of these expectations be upset, Indian markets would likely stumble. In addition any geopolitical flare ups that push investors toward a "risk off" posture would hurt valuations in India. However, for now it appears that Indian markets have room to continue to rally as they are still off their previous highs.
Disclosure: I have no positions in any stocks mentioned, and no plans to initiate any positions within the next 72 hours. Christian Magoon is the publisher of IndiaETFs.com.