2015 has been an exciting time for mergers and acquisitions. The year has unveiled some historically significant merger announcements, most notably the Walgreens (NASDAQ:WBA)/Rite Aid (NYSE:RAD) partnership (which has reverberated throughout the traditional retail space as landlords and operators anticipate shifts in their tenant roster) and, just a few weeks after that announcement, we learned that two of the biggest hotel operators in the world were merging to form the new largest hotel company (in your face, InterContinental Hotels Group PLC (NYSE:IHG)!).
CoStar Group reported at the time:
Marriott International Inc. (NYSE:MAR) will buy Starwood Hotels & Resorts Worldwide Inc. (HOT), agreeing to pay $12.2 billion in cash and stock in a transaction that would create the world's largest hotel chain.

The deal valued at $79.88 per share based on Starwood's closing price on Friday of $74.99 would create a combined company with more than 5,500 properties across 30 brands totaling 1.1 million rooms worldwide. The pairing would give Bethesda, MD-based Marriott a larger presence in non-U.S. markets, as nearly 75% of Starwood's revenues are derived from markets outside the U.S.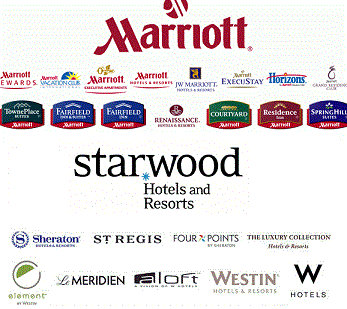 In the immediate aftermath of this announced merger, commentators began the inevitable discussion of which concepts will be pared down or eliminated. After all, any major merger results in "cost synergies" (otherwise known as redundancies) which create opportunities for closures in over-saturated markets, back-office consolidation, and other kinds of right-sizing. Brand enhancement is just the beginning.
As a recent article in Bloomberg observes, selecting from one hotel concept or another is a little like "walking down the cereal aisle." Think about it: lots of colors, lots of flavors, lots of - I don't know, cartoon vampires and leprechauns and mischievous rabbits - but when you get right down to it, aren't all these boxes of cereal simply packages of starchy morsels that you eat with a spoon?
I don't mean to enter the never-ending conversation over how marketing and image create flashy veneers with little underlying substance. We all know branding is basically just fantasy peddling. Differentiation, when it comes to breakfast cereals or hotel brands or anything else, is simply a matter of what shade of blue you make the logo.
This isn't always the case, of course. I'm a big proponent of independent hotel concepts (as I'm sure you know, from all the times I've mentioned the annual Llenrock-sponsored Independent Lodging Congress). I like Indies because I think their ownership structure, independent ethos, and "non-corporate" (read: less corporate) culture allow for ideas and operational moves that help them stand out.
But large operations require standardization, to a degree, and this means that - even with a particular focus on a certain group, rate, or market - the aggregate of Marriott concepts are going to have more similarities than differences. Now that Marriott is working to fold in the likes of Sheraton, W Hotels, Element, Aloft, Westin, and Luxury Collection, the likelihood of "brand clash" grows higher. The public knows this, even if the operator doesn't. As Ricco de Blank of SHKP Hotels tells Forbes,
Eighty percent of CEOs believe their brand differs from the competition, but only 20 percent of customers agree with that.
Even though Marriott's President and CEO Arne Sorenson indicated the brand collections of the merged companies would remain largely intact, and in fact would continue to grow, I imagine that will not be the reality. And the reasoning here isn't simply market saturation or any risk of inter-brand cannibalization.
As it turns out, the hotel space's dizzying brand environment is not simply a product of hotel companies' work to home in on the most specific guest groups possible through laser-focused marketing and branding initiatives ("lifestyle," a throw-away buzzword we see all the time, really encompasses scores of different consumer interests). While the cologne industry and popular entertainment and the cereal aisle are stuffed to the gills with carefully branded varieties of the Exact Same Thing - simply to trick consumers into thinking they're getting an authentic, personalized product (suckers!) - the hotel space isn't simply out to manipulate its guests with faux-differentiation.
No, we can't entirely blame the marketers for this one.
We must also blame the lawyers.
Underlying the proliferation in hotel brands is the shift from the days when players like Marriott and Hilton owned their properties. Today, most of the lodging companies don't own the hotels (or want to own the hotels) that are branded Marriott or Westin or Courtyard. They franchise and operate the properties, which means that many of the contracts between a hotel owner and its operator have clauses saying that a similarly branded hotel can't be set up nearby, Harteveldt said.

…

Line up a Courtyard or Delta brand for a new property, however, and voila, problem solved. As it adds Starwood's brands, which skew to a younger, more upscale traveler, Marriott will have even greater space in such negotiations.
Tricky, right? So hospitality branding is informed as much by operator partnerships as it is by the interests of its target audience. Unless we see a drastic shift in the way these complex brand/operator contracts are structured, we shouldn't expect many brands to go away anytime soon. Why close up such a lucrative loophole?