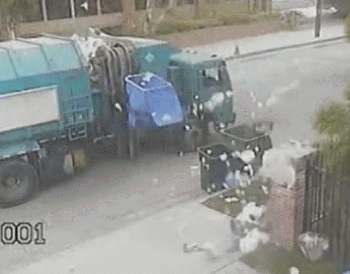 The collapse of junk bonds reminds me of 1994-95 when Greenspan's Fed raised interest rates. That led to many bankruptcies in high yield bonds which plowed its way throughout the high yield space.
The Fed's ZIRP monetary policies over the past 7 years has led to a boom for income seekers generally. On the buy menu were junk bonds which were sold to investors with "no worry" labels. We have warned here for over a year that a day of reckoning was at hand. The past year has seen a steady outflow of assets from funds focused on the space.
It shouldn't surprise that Thursday the first public fund, Third Avenue Credit Mutual Fund, declared it would halt current redemptions of its high yield fund. The negative ripple effect through the space was immediate.
Junk bonds overall trade like high beta stocks. Risks are high no matter having funds spreading their risk over a number of issues. They all selloff in the stampede to the exists.
Stocks overall sold-off heavily given high yield difficulties and declines in commodity markets once again. Only highly rated Treasury bonds escaped Friday's selling fury. Along the way, gold and gold stocks were just a little higher on the session.
So, now pundits universally agree the Fed will be raising interest rates Wednesday a la Greenspan in 1994/95. Perhaps given the onslaught of investor worries, they may buckle under the pressure.
Even so, their moment to raise interest rates from their "emergency" levels passed years ago when the recession ended. So their mistake was staying too long with these policies to frankly please Wall Street. That cheap credit allowed for stock buyback financings along with M&A but few investments for long-term growth.
Market sectors moving higher included: Volatility (VIX), Bonds (NYSEARCA:TLT), Gold (NYSEARCA:GLD) and Gold Stocks (NYSEARCA:GDX).
Market sectors moving lower included: Everything else with a ticker symbol.
Below is heat map from Finvix: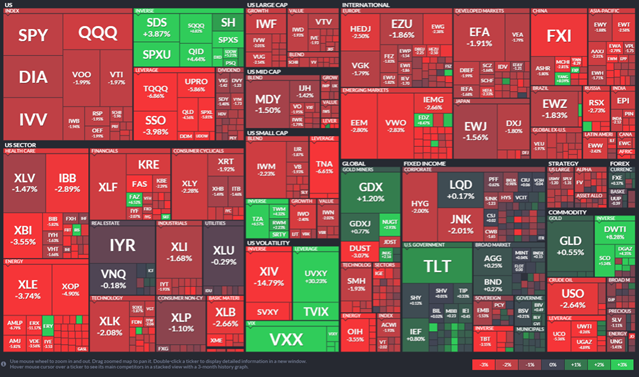 The top ETF daily market movers by percentage change in volume whether rising or falling is available daily.
Volume returned to extremely heavy and breadth per the WSJ was quite negative (nearly 10/90 relationship) and Money Flow was heavily weak.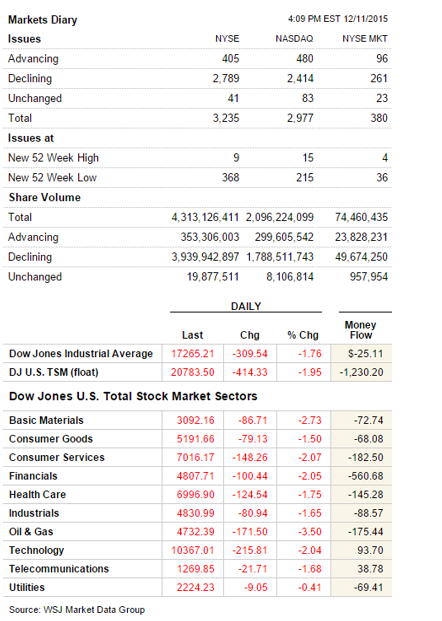 NYMO DAILY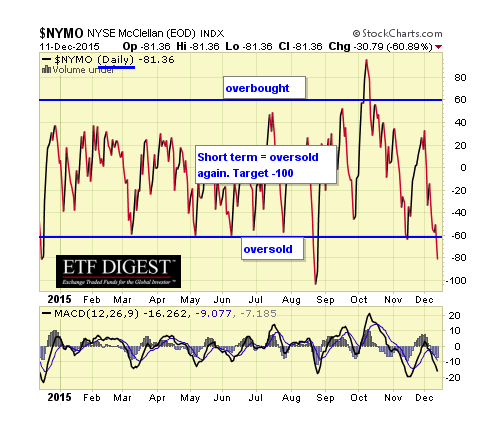 The NYMO is a market breadth indicator that is based on the difference between the number of advancing and declining issues on the NYSE. When readings are +60/-60 markets are extended short term.
NYSI DAILY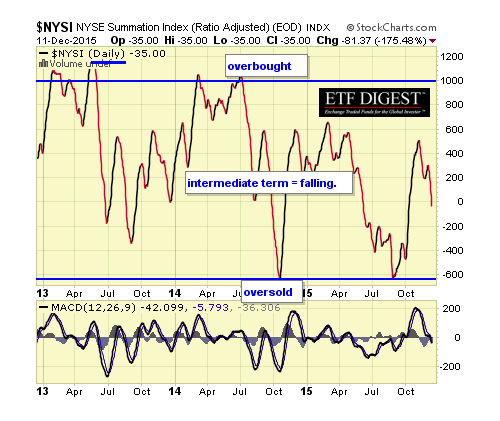 The McClellan Summation Index is a long-term version of the McClellan Oscillator. It is a market breadth indicator, and interpretation is similar to that of the McClellan Oscillator, except that it is more suited to major trends. I believe readings of +1000/-1000 reveal markets as much extended.
VIX WEEKLY
The VIX is a widely used measure of market risk and is often referred to as the "investor fear gauge". Our own interpretation has changed due to a variety of new factors, including HFTs, new VIX linked ETPs and a multitude of new products to leverage trading and change or obscure prior VIX relevance.
SPY 5 MINUTE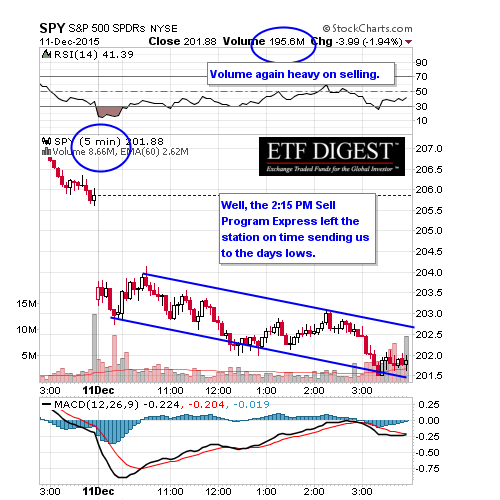 SPX DAILY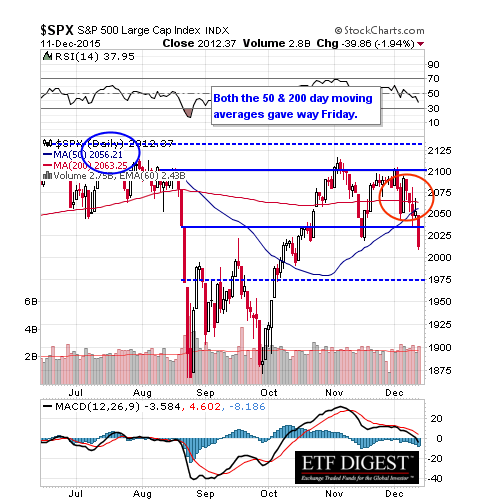 SPX WEEKLY
INDU DAILY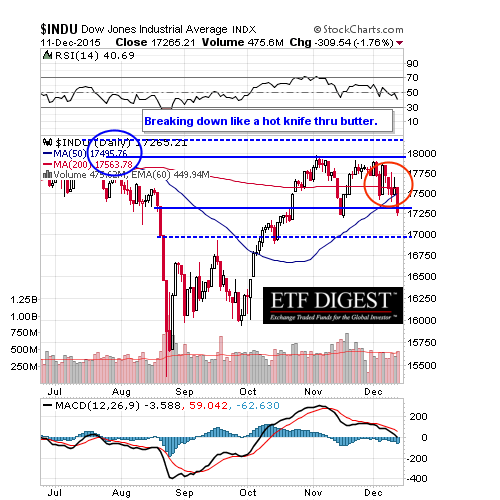 INDU WEEKLY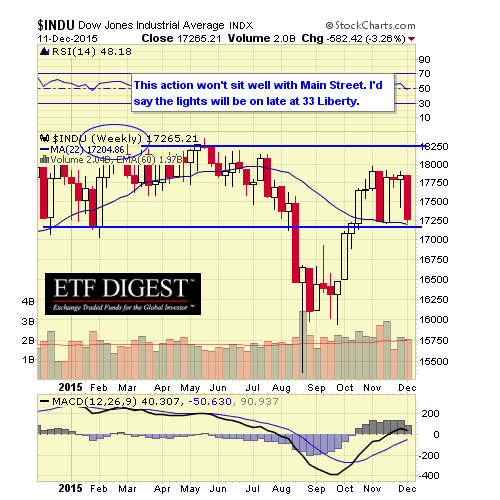 RUT WEEKLY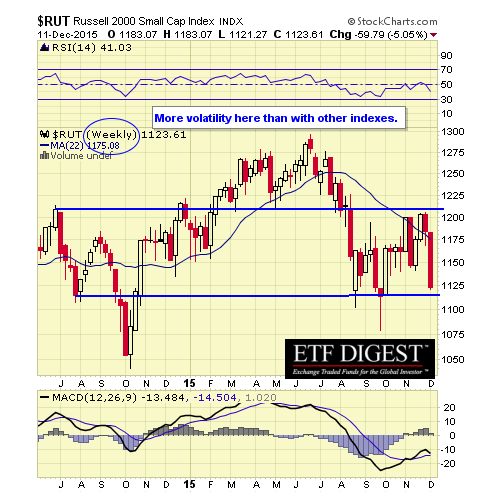 NDX WEEKLY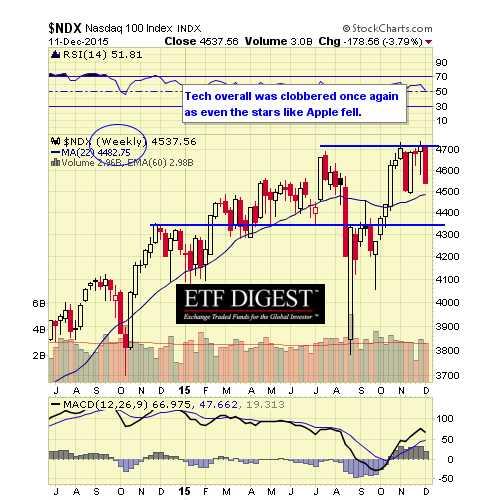 XLB WEEKLY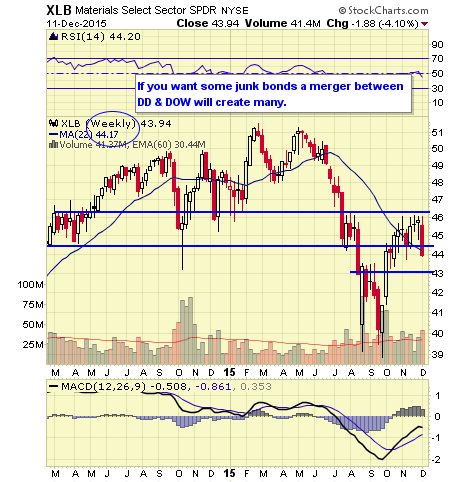 XLE WEEKLY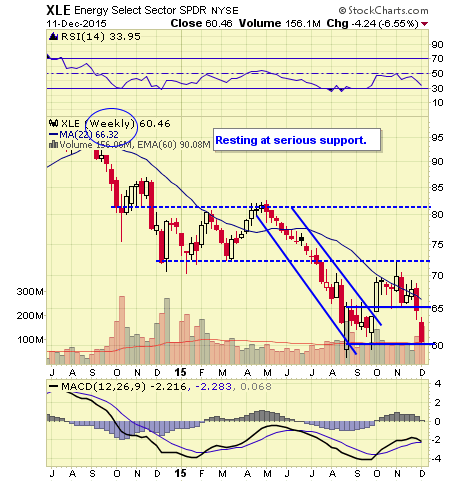 XLF WEEKLY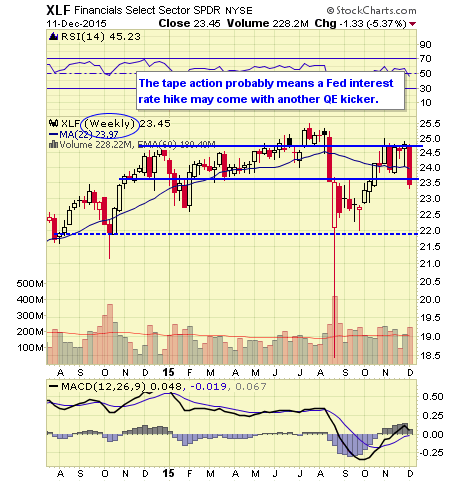 XLI WEEKLY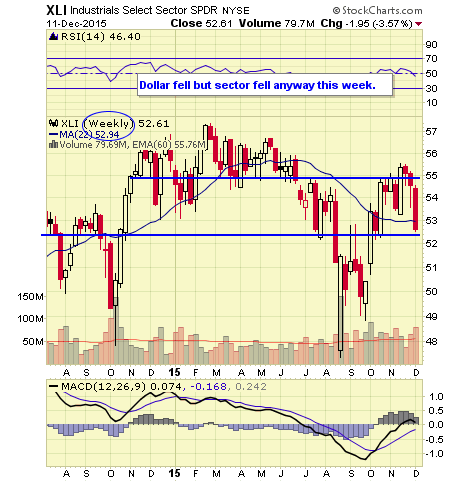 XLP WEEKLY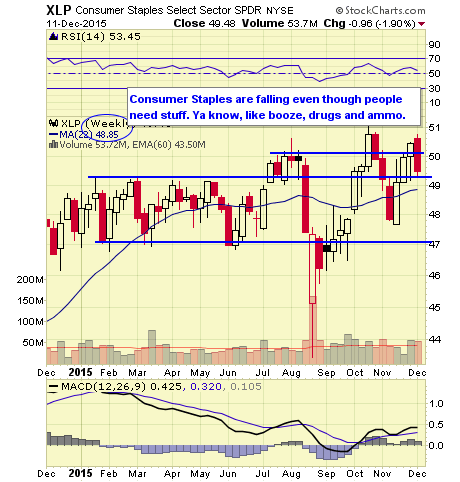 XLV WEEKLY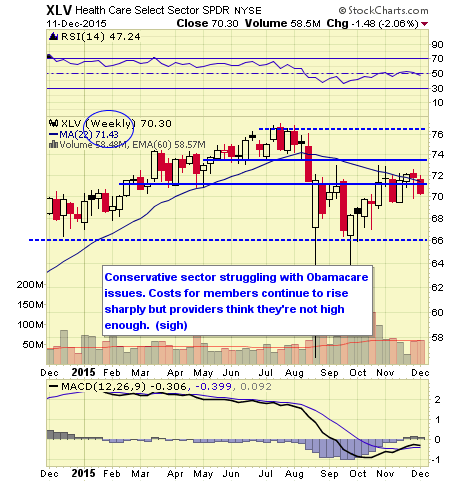 IBB WEEKLY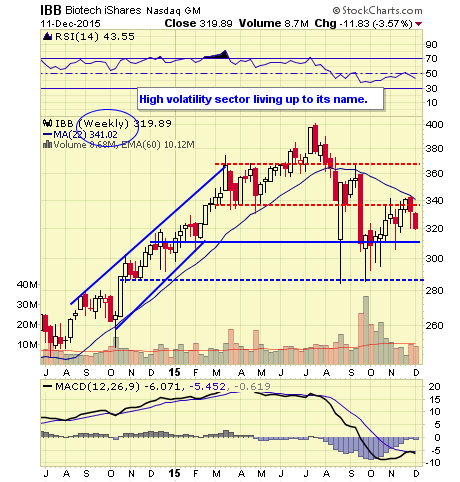 XLY WEEKLY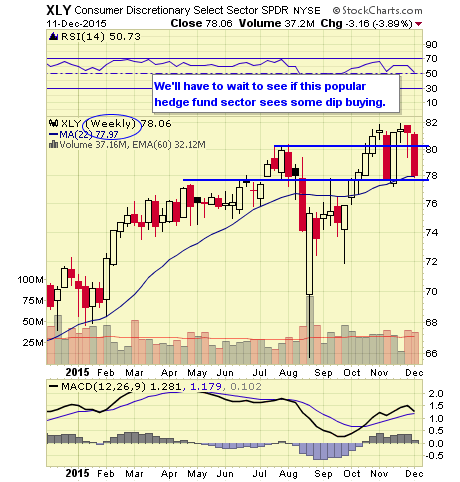 XRT WEEKLY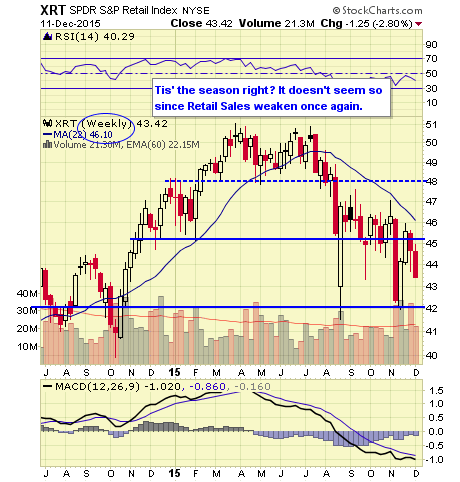 IYT WEEKLY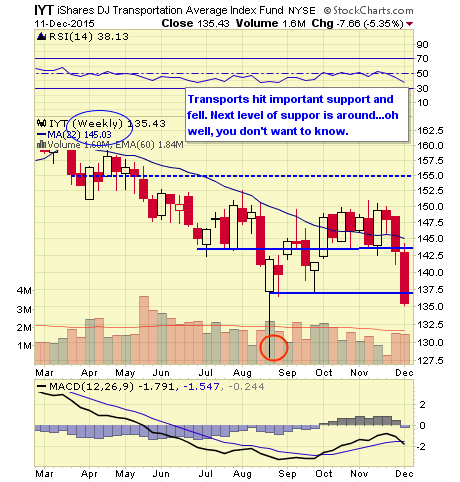 XLU WEEKLY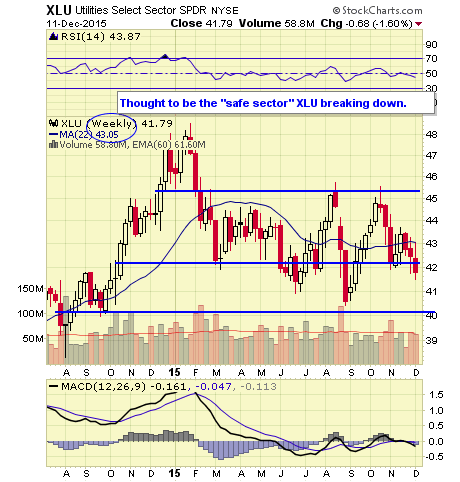 IYR WEEKLY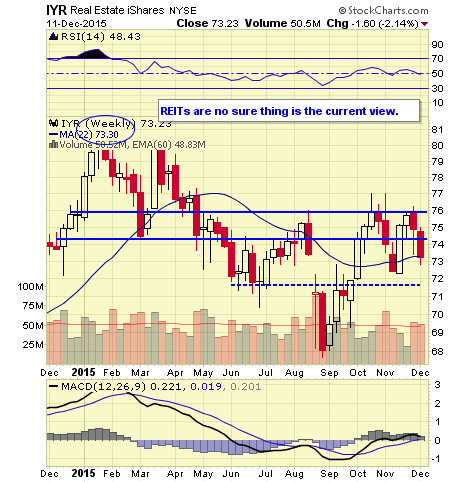 ITB WEEKLY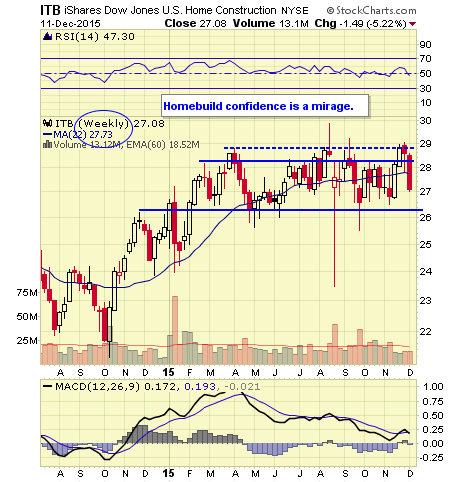 HYG WEEKLY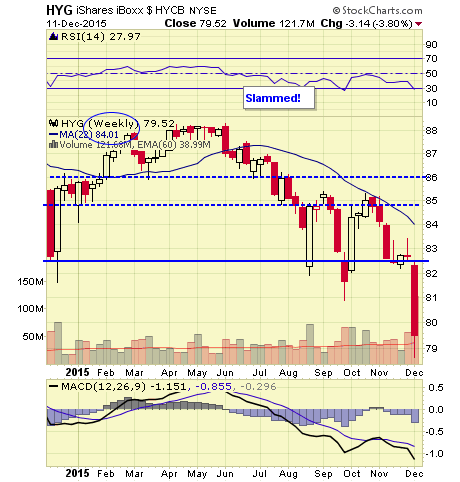 HYLD WEEKLY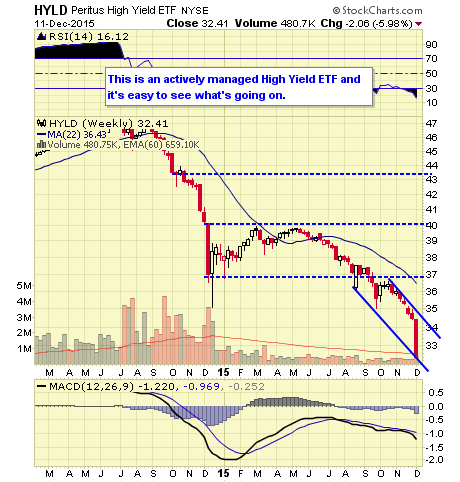 LQD WEEKLY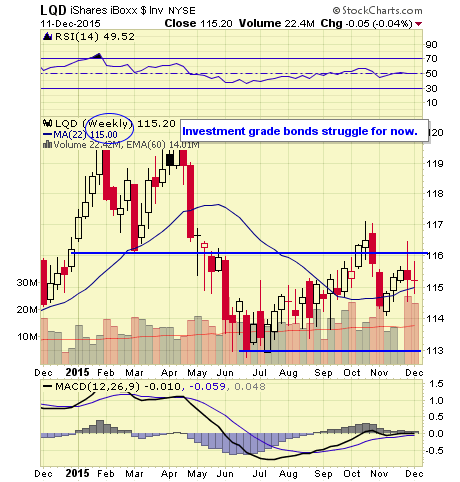 TLT WEEKLY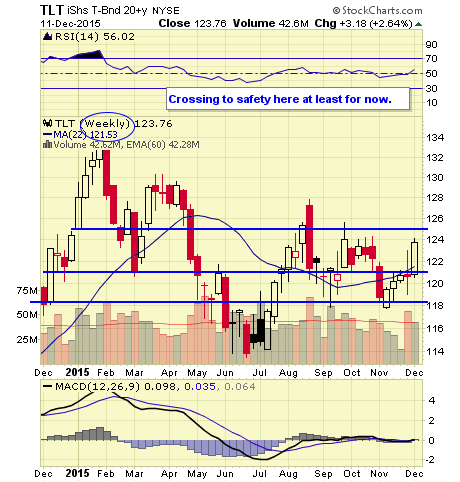 UUP WEEKLY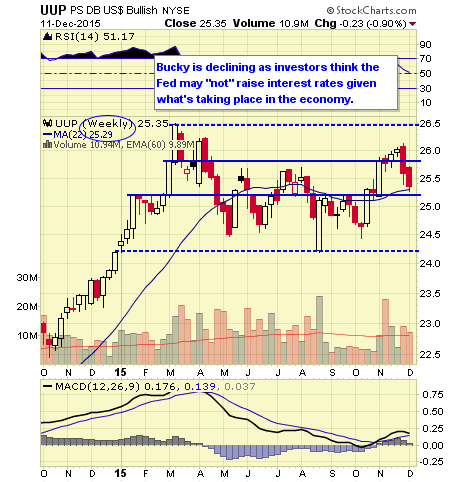 FXE WEEKLY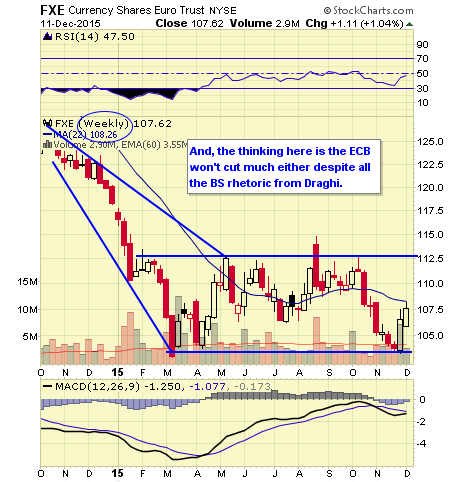 FXY WEEKLY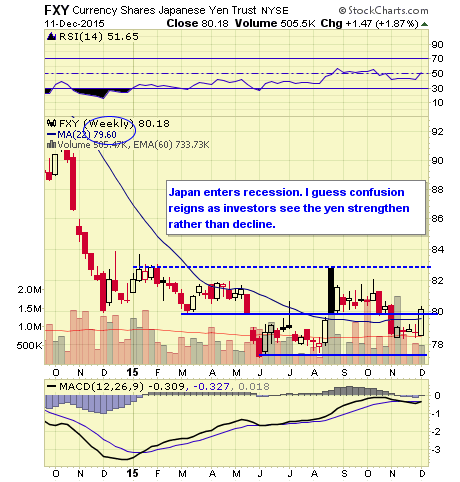 CYB WEEKLY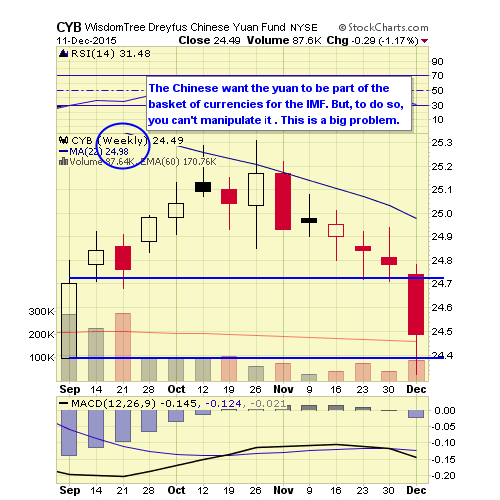 GLD MONTHLY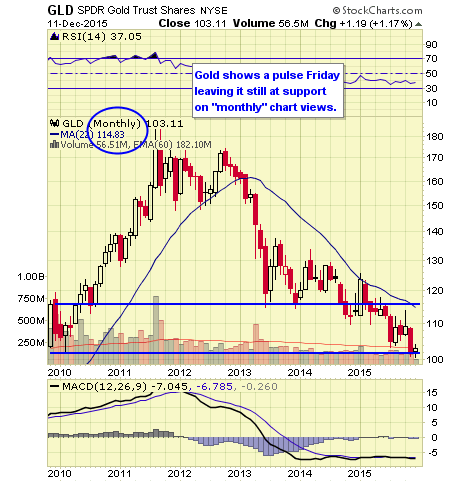 GDX MONTHLY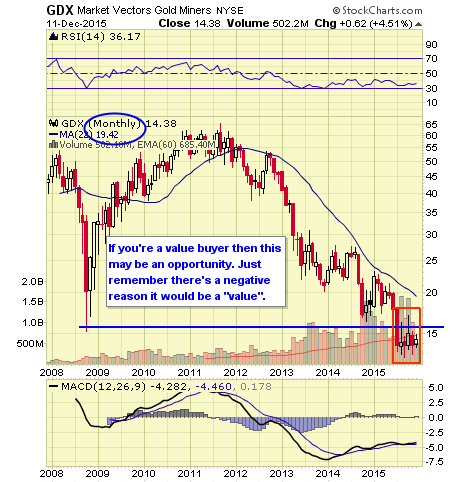 SLV MONTHLY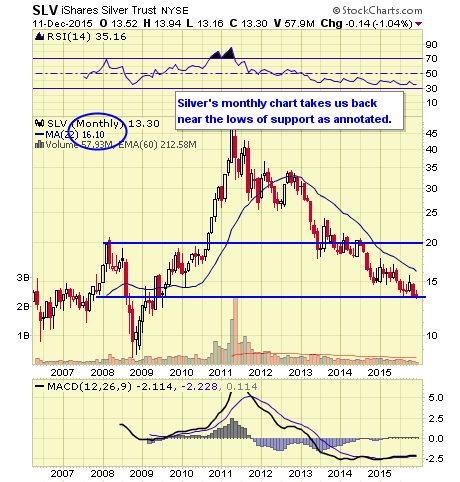 DBB MONTHLY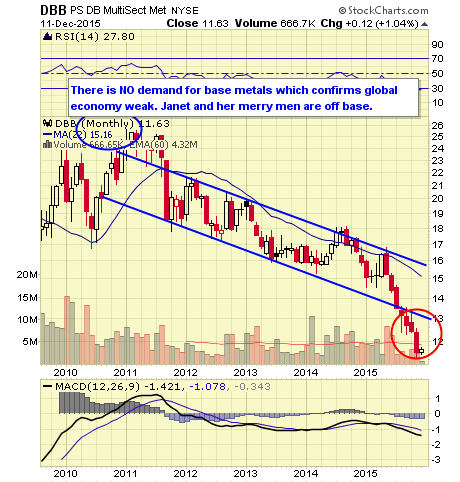 USO MONTHLY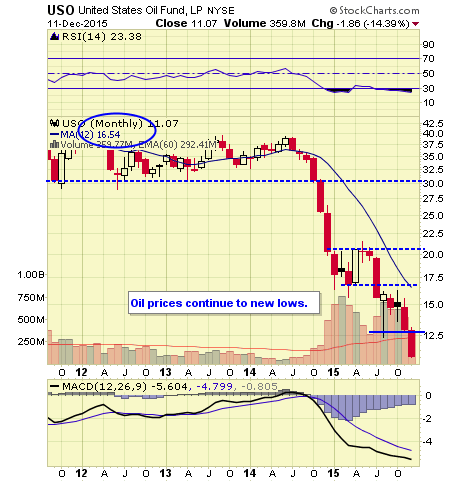 DBC MONTHLY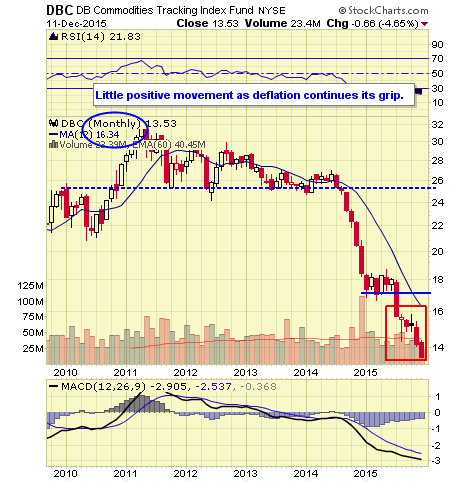 EFA WEEKLY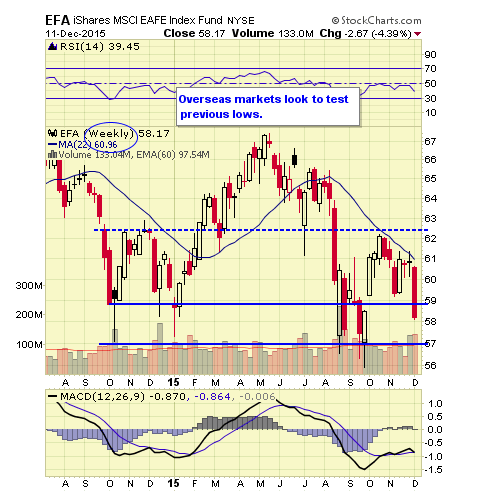 IEV WEEKLY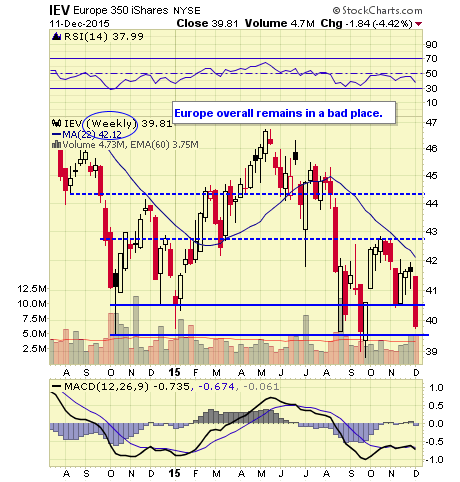 EEM WEEKLY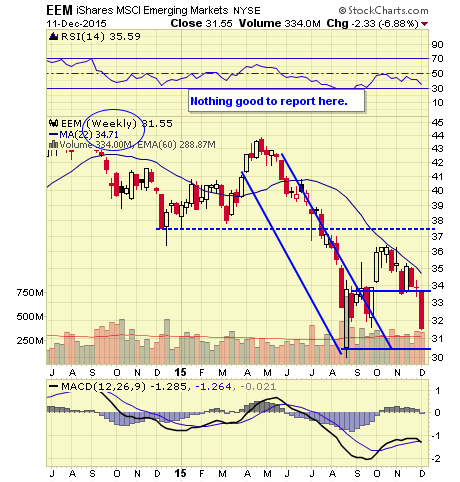 EWG WEEKLY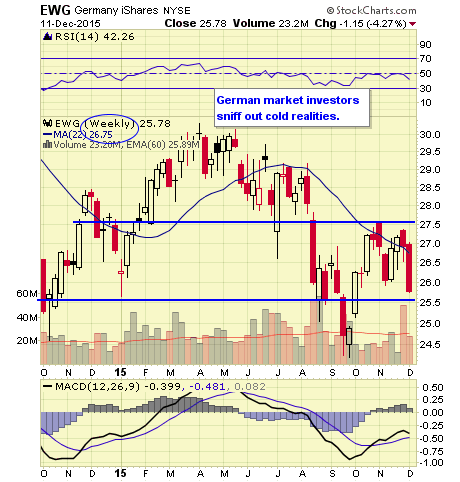 EWU WEEKLY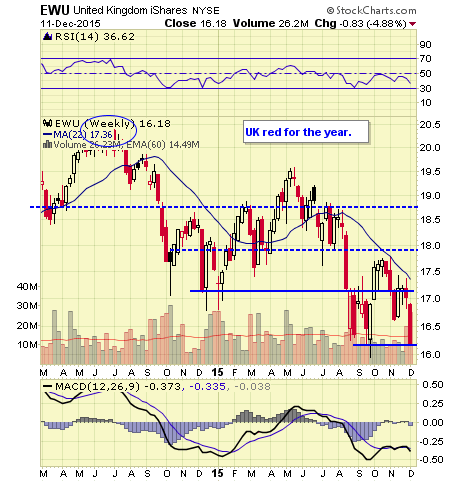 EWZ WEEKLY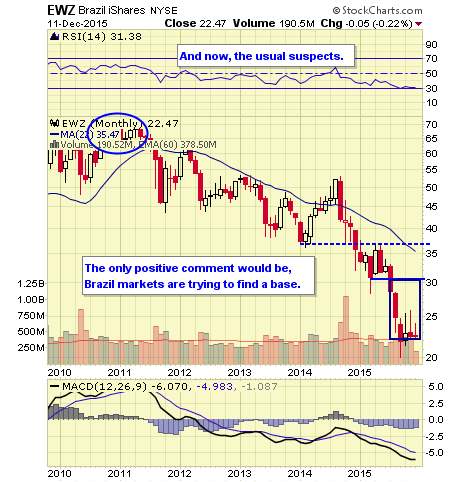 RSX WEEKLY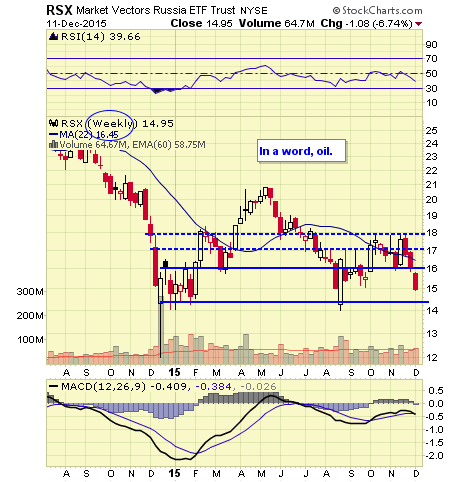 FXI WEEKLY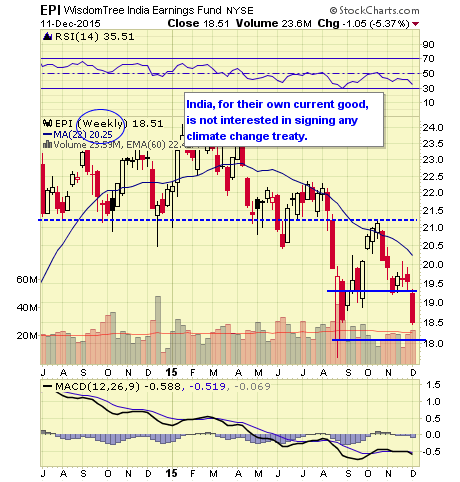 Closing Comments
As I've been saying for some time, the markets are going through a topping process.
In any event, we await the Fed decision for Wednesday. They could raise interest rates slightly but perhaps add QE4 which is the current rumor. No matter, they've stayed at zero for far too long and now contemplate raising interest rates as the economy weakens, or is "not solid."
Let's see what happens.
Disclosure: I/we have no positions in any stocks mentioned, and no plans to initiate any positions within the next 72 hours.
I wrote this article myself, and it expresses my own opinions. I am not receiving compensation for it. I have no business relationship with any company whose stock is mentioned in this article.