Janet Yellen indicated this week that a Fed rate hike is likely this month. How should you position? This week's piece takes a look at lackluster gold and how you can potentially make it pay off for you in December.
Gold vs. the Super Dollar
While the rest of the world struggles with stagnant or slowing growth and outright recession and acts to add stimulus to their economies, the US is expected to raise interest rates this month.
The US recovery, while sloppy and underwhelming, has still been enough to make us the best of the worst vs. the rest of the world. Thus, the dollar has strengthened against other major currencies.
The markets have been expecting the Fed to raise rates for months now. The fact that it hasn't happened yet has not hampered the dollar's ascent. Some argue that the Fed actually pulling the trigger this month could be a case of buy the rumor, sell the fact.
We don't think so. While a rate increase could bring some profit taking from dollar longs, it's hard to see a US rate increase as anything but longer term bullish for the dollar. Should the Fed back off in December, the expectation will likely be for the increase to come in early '16. Thus, either way, the longer term forces driving the dollar don't look to reverse dramatically any time soon.
The US economy is expected to grow by 2.8% in 2016 while inflation is projected to rise only slightly to 2.3% by end of 2016 as opposed to a paltry 1.2% for 2015 (*source: Kiplingers.com). This does not paint an inflationary environment for gold.
Trend still your Friend
Dollar bears argue that the market could be approaching a top. But the global economy doesn't suggest so much. Nor does the monthly chart.
US Dollar (Monthly)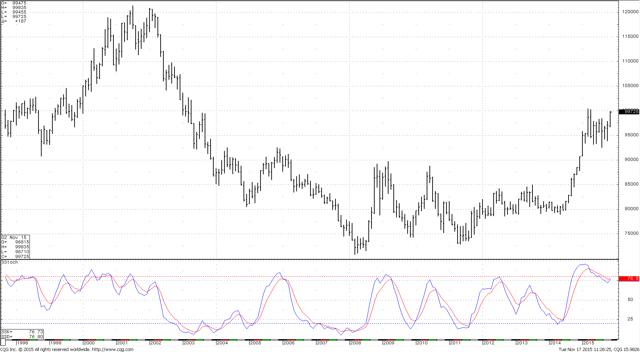 US Dollar monthly chart is displaying a classic "cup and handle" formation.
The monthly US dollar chart (above) seems to be reflecting a classic William O'Neil "cup and handle" formation. If Mr. O'Neil's forecasting model is correct, a substantial move higher in the dollar could be on the way.
Solid Downtrend in Gold
The end result of Dollar strength and the global "risk off" vibe towards asset purchases? A stubborn downtrend in gold since 2012. And while limited rallies are to be expected, this overall trend seems likely to continue.
Weekly Gold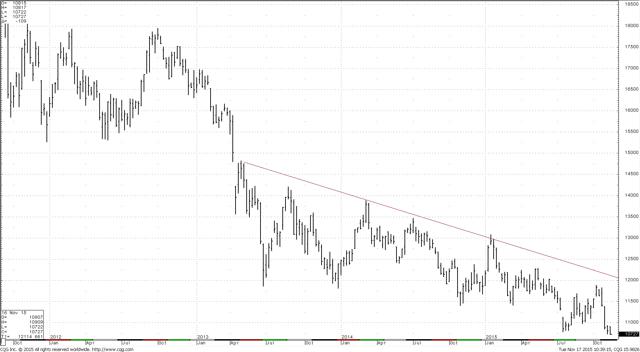 Weekly chart shows gold entrenched in a stubborn downtrend since 2012. The economics of gold make this trend likely to continue.
Monthly gold charts look even more ominous for bulls. November saw prices break below major support set in June.
Monthly Gold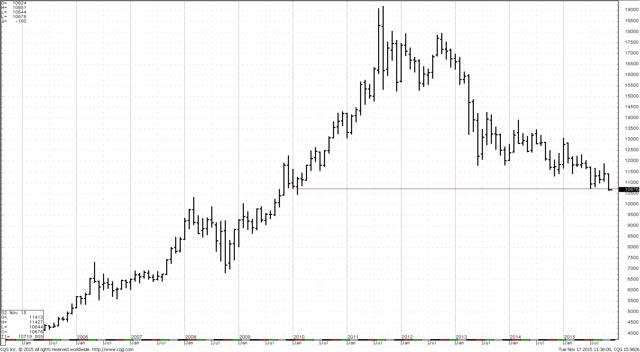 Gold prices have broken below major support on the monthly chart.
Conclusion and Strategy
While gold will continue to have technical corrections, there does not seem to be an impetus for a major trend change in Gold in the immediate future.
We'll view any strength in gold prices this month as selling opportunities. While we recommend a call selling strategy to our clients, futures traders can look to short gold on limited December price strength. Look for a post Fed announcement rally as an opportunity for shorts.
Disclosure: I/we have no positions in any stocks mentioned, and no plans to initiate any positions within the next 72 hours.
I wrote this article myself, and it expresses my own opinions. I am not receiving compensation for it. I have no business relationship with any company whose stock is mentioned in this article.