I get it, the sky is falling. Everybody is freaking out ahead of the Fed meeting next week. Opposing sides are tussling, throwing their weight back and forth. The market upheaval has us all a bit starry eyed. Whenever I see a selloff like this unfold I can't help but look at it a little differently from most people. See, where most people cower and run away from the market volatility, I embrace it.
Maybe it's because I worked as a Financial Advisor in a bank during the Great Recession. You want to talk about being at the epicenter of the financial crisis? The bank felt more like a morgue. I distinctly remember bank customers coming in and adding beneficiaries to their accounts so they could get more FDIC coverage and, in many cases, customers cashing out their entire life savings and taking hundreds of thousands of dollars in hard currency home with them.
I also distinctly remember screaming from the mountain tops about how great of a buying opportunity it would ultimately be. How they could invest in anything, I mean anything, and do better than they'd do in their savings accounts. And you know what, I was right as rain.
So rather than run and hide in this market, I'm running around wide-eyed, looking for great stocks that have been beat up along with the rest of the equity market. Call it a "baby with the bathwater" situation if you will. Here I've got five of the best stocks this market has beat up for no good reason.
Fleetmatics (FLTX)
Fleetmatics Group PLC provides software-as-a-service fleet management solutions for small and medium-sized businesses (SMBs) worldwide. The company offers Web-based and mobile application solutions that provide fleet operators with visibility into vehicle location, fuel usage, speed and mileage, and other insights into their mobile workforce.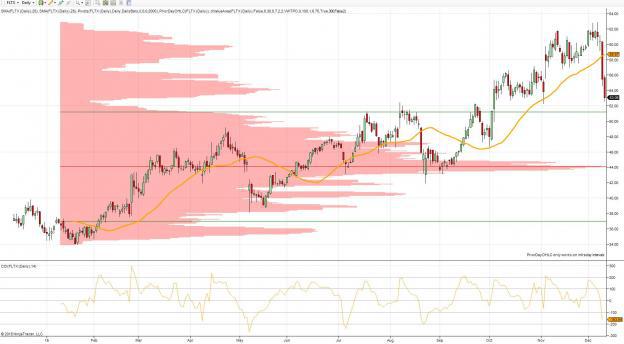 This is a stock that's up over 50% YTD. As the market volatility has arrived, shares reversed at their 52-week high above $62 and are coming down to retest the $50 level. This stock was a favorite of hedge funds so the selloff can be chalked up to profit taking rather than anything more sinister. The long-term trend line still remains intact just south of the current share price.
Gibraltar Industries (ROCK)
Gibraltar Industries, Inc. manufactures and distributes building products. The company operates in two segments, Residential Products, and Industrial and Infrastructure Products.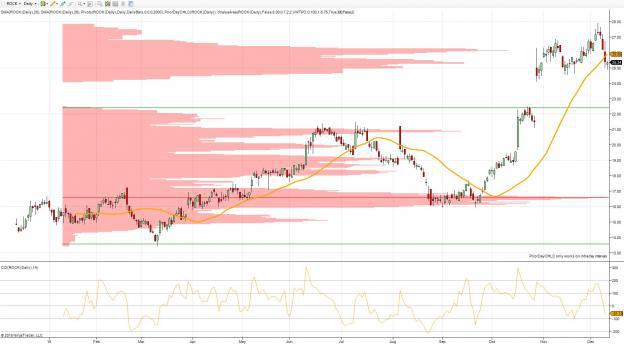 Shares of ROCK have taken a pounding over the last week but look to be finding support at the top end of the post earnings gap. There is some concern that shares could come down and fill that gap which brought the stock from below $22 to $25 in a single day. The commodity channel index (CCI) is a bit oversold down at -61 which could indicate relief early next week.
Omega Protein (OME)
Omega Protein Corporation develops, produces, and delivers healthy products to enhance the nutritional integrity of foods, dietary supplements, and animal feeds worldwide. It operates in two segments, Animal Nutrition and Human Nutrition.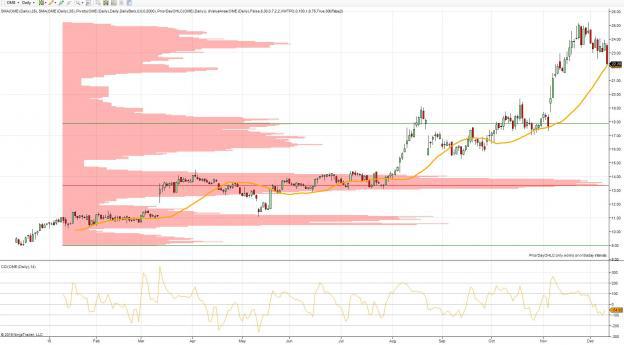 OME started to show weakness ahead of the recent market volatility after hitting 52-week highs near $25 in late November. Shares may be dipping below the 25-day moving average here but a CCI that's come down to -100 looks to be inching higher. I'd wait for a little bit of a bounce and some strength before jumping on in but this is still a great stock.
Wabash National (WNC)
Wabash National Corporation designs, manufactures, and markets truck and tank trailers, intermodal equipment, and transportation related products in North America. Its Commercial Trailer Products segment provides dry van trailers under the DuraPlate, DuraPlateHD, DuraPlate, XD-35, and FreightPro trademarks; platform trailers under the Transcraft, Eagle, and Benson trademarks; refrigerated trailers under the ArcticLite trademark; and specialty products, such as converter dollies, big tire haulers, Roadrailer trailers, rail products, aftermarket component products, parts, and others, as well as used trailers and laminated hard wood oak products.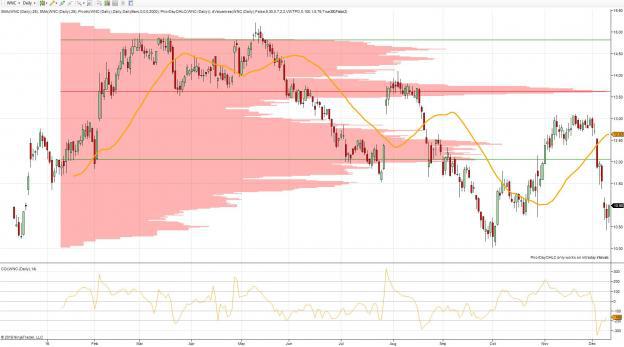 Don't let the name fool you, this is not a bank. WNC's shares bounced off the yearly lows just above $10 and made a strong run to $13 in a little over a month. With shares coming back down near $11, I'm looking to add a position for another quick run at those levels or perhaps the $14 level where a nice band of volume has gone out. An extremely oversold CCI has bounced from -300 and looks to be reversing in the short term.
Brightcove (BCOV)
Brightcove Inc. provides cloud-based services for video. The company primarily offers Brightcove Video Cloud, an online video platform that enables its customers to publish and distribute video to Internet-connected devices. Its Brightcove Video Cloud platform offers various features and functionalities, such as uploading and encoding, content management, video player technology, multi-platform video, live video streaming, distribution and syndication, social media, advertising and monetization, and analytics.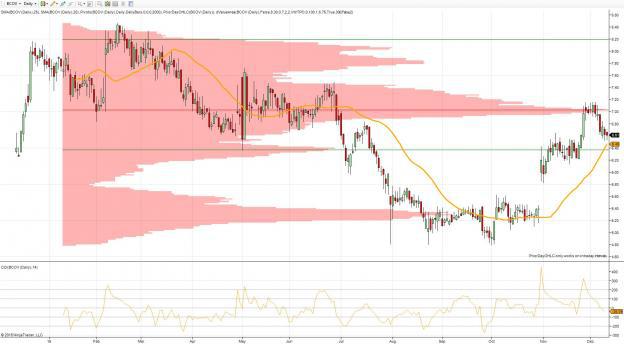 Shares of BCOV bottomed out just below $5 during the fall. A great earnings report pushed shares above $6 and the stock made a run at $7 before ultimately running out of momentum. The retrace now to the mid $6 level has come down to the 25-day moving average which may provide support for the next leg higher. The $6.20s provided plenty of support during November, giving you a solid risk versus reward scenario here.
Bottom Line
Sure, I'd rather have a market that just goes straight up all the time but that would take the fun out of it. When other people are fearful is when you should step up and get greedy. With the uncertainty of the Fed looming next week, I think it's time to take a shot at a few of these names.