A quick summary:
It does look as if the last week saw the USD going on vacation with the EUR squeezing up to our 1.1010 target and the USDJPY reaching our 121.50 objective and more, both levels at which we established a position which you can read about in our outlooks for the various currency pairs below. This week should bring some USD strength ahead of the FOMC meeting in our opinion before selling takes hold again following the meeting release as traders close their books for the year after the meeting. Some of the key areas we that are focus points for us at present are:
The FOMC meeting:
We do not expect any surprises by the Fed during this FOMC meeting with a 25bps rate hike expected followed by a statement that all future rate hikes will be data dependent and that there are still pockets of slack in the US labour market. With the Fed playing it's cards so close to it's chest we doubt any meaningful forward guidance will be given which should lead to USD selling after the meeting and statement. Any deviation from this would be interesting to watch.
Comments by ECB governing Council members:
Several ECB board members were quoted this week saying the expectations into the ECB meeting last week were unrealistic and that ECB President Draghi had drummed up expectations too much ahead of the meeting. At this juncture, it does look as though conflict within the ECB board of governors (which is not unexpected) is leading to difficulties in implementing a larger QE program despite a need to do so to stave off deflationary risks. This could lead to the EUR downside being halted in the short term until the inflation numbers get really bad in the Eurozone and the ECB's hand is forced. We will be monitoring this closely as it could lead to a larger short squeeze scenario we have in mind that could test the 1.1775 level. We will update on our site if this becomes apparent.
The Australian economic numbers & the AUD:
Blow out employment numbers this week led to the AUD rebounding from the 0.7200 figure to test the 0.7300 figure though skepticism about the numbers kept the pair weighed down into the weekend. In our opinion, the GDP and employment numbers do not quite add up with the falling commodity prices (Iron Ore and Coal in particular) and the falling Capital Expenditure numbers seen, and we think the trend will change soon which would result in the AUD resuming it's larger downside move.
Key economic data and events for the coming week:
Monday, 14 Dec. 2015:
0430 GMT - Japanese Capacity Utilization & Indust. Production (Oct.)
1000 GMT - Eurozone Industrial Production (Oct.)
Tuesday, 15 Dec. 2015:
0030 GMT - Australian House Price Index (Q3)
0030 GMT - Australian New Motor Vehicle Sales (Nov.)
1000 GMT - German ZEW survey results (Dec.)
1000 GMT - Eurozone Employment Change (Q3)
1245 GMT - US Chain Store Sales
1330 GMT - US Inflation Numbers (Nov.)
1330 GMT - US NY Empire State Manufacturing Index (Dec.)
1330 GMT - US REal Earnings (Nov.)
1355 GMT - US Redbook
1500 GMT - US NAHB Housing Market Index (Dec.)
2100 GMT - US Oveall TIC flow (Oct.)
Wednesday, 16 Dec. 2015:
0830 GMT - German PMI Numbers (Dec.)
0858 GMT - Eurozone PMI Numbers (Dec.)
1000 GMT - Eurozone Inflation Numbers (Nov.)
1000 GMT - Eurozone Trade Balance (Oct.)
1330 GMT - US Building Permits (Nov.)
1330 GMT - US Housing Starts (Nov.)
1415 GMT - US Capacity Utilization Rate (Nov.)
1415 GMT - US Industrial & Manufacturing Production (Nov.)
1445 GMT - US Manufacturing PMI (Dec.)
1900 GMT - FOMC Rate decision**
2350 GMT - Japanese Trade Balance (Nov.)
Thursday, 17 Dec. 2015:
0900 GMT - German Business Expectations (Dec.)
0900 GMT - German Current Assessment (Dec.)
0900 GMT - German IFO Business Climate Index (Dec.)
1000 GMT - Eurozone Wages (Q3)
1000 GMT - Labour Cost Index (Q3)
1330 GMT - US Current Account (Q3)
1330 GMT - US Philly Fed Manufacturing Index (Dec.)
1330 GMT - US Philly Fed data (Dec.)
Friday, 18 Dec. 2015:
0130 GMT - Chinese Home Prices (Nov.)
0900 GMT - Eurozone Current Account (Oct.)
0900 GMT - Eurozone Net Investment Flow (Oct.)
1445 GMT - US Services PMI (Dec.)
Trading and Technical Strategy for the week ahead:
EUR/USD
The EUR short squeeze was the main theme of the week with the pair reaching the 1.1010 level and higher as expected in our strategy piece last week. We established a short position at 1.1005 and will consider trading around this short trade by covering it just before the FOMC or during the FOMC meeting announcement and then re-selling at higher levels again assuming no surprises from the Fed. We do not expect very hawkish comments following the rate hike which should lead to a EUR short covering rally following the announcement which should allow this strategy to play out.
Medium- to long-term trading strategy (1-6 months):
The pair has begun to work off its oversold conditions on the longer-term time frames, and given the diverging monetary policy between the Fed and the ECB, we have established a short position at 1.1005 as per our strategy update last week. Whilst longer-term technicals indicate a squeeze to 1.1775 is still possible before the next big move down, we do not think that this is the primary expectation at this time until the 1.1140 level is taken out to the upside. If that should happen, we will likely have to change our longer-term strategy.
Short-term trading strategy (Intraday, 1-3 days):
In the short term, we are considering covering our short position from 1.1005 ahead of the FOMC announcement around 1.0850-1.0880 levels looking for a short covering rally post the FOMC announcement to sell again at a higher level. The objective of this whole exercise is to improve our cost by trading around the short position so that losses will be buffered in case we get stopped out of our re-established short position. The key level we are watching if we get stopped out on our short or re-established short position is the 1.1140 level, above which a much higher EUR is likely in our opinion.
USD/JPY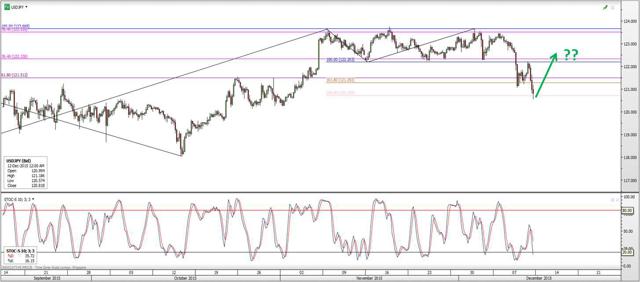 The USDJPY fell to test the 121.50 level as expected where we took a long position. Unfortunately, it broke that level and the 121 figure the second time it came around. Current calculations indicate the pair should not go much lower than 120.25 on this down move. Following this, we should see a rebound in the pair. If the pair fails to rebound past 122.60 on the daily chart we could be looking at something a lot more bearish for the USDJPY and we will adjust accordingly.
Medium- to long-term trading strategy (1-6 months):
With the Fed in a tightening cycle and the BOJ in stimulus mode, long positions should be looked for in the USDJPY. We took a long position at 121.50 as with our strategy the previous week with a stop loss below the 119.95 level to play for a test of the 125.80 level.
Short-term trading strategy (Intraday, 1-3 days):
One can consider adding a long position at the 120.30 level for the USDJPY and squaring at the 122.20 level. Whilst our long position at 121.50 is tentatively being held for the medium term we will not hesitate to square the position if signs of exhaustion show near the 122.20 level, especially if this happens just before the FOMC meeting.
AUD/USD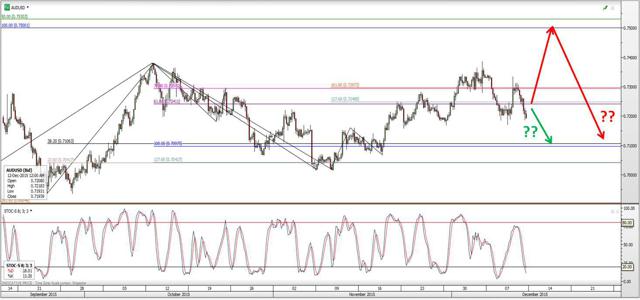 We ended up squaring our short AUD position from 0.7290 at 0.7205 prior to the Australian Employment numbers which came in much better than expected. However, skepticism with regards to the numbers led to the AUD being sold back down below the 0.7300 figure as markets focused back on falling commodity prices. As we have mentioned earlier, we find it hard to believe the employment numbers released this past week and we expect these numbers turn down in the near future as commodity markets remain weak. For now though, two potential paths have presented themselves. The first, is a move down the 0.7100 figure before the pair rebounds possibly back up to test the 0.7500/30 level (Green Path). The second, the pair moves back up to test the 0.7500/30 level before resuming the pair's decline (Red path). At this present moment, our bias lies toward the green path until evidence shows otherwise. A third path that is not presented here is the pair heads straight for new lows with a break of the 0.7100 figure though we do not think this is the likely path at present.
Medium- to long-term trading strategy (1-6 months):
The medium and long term bias remains to the downside for this pair. However, current oversold conditions on the long-term time frames would make us nervous sellers at current levels for long-term short positions. We are looking for a potential move up to the 0.7500/30 level to establish a longer-term short position. However, if the 0.7100 figure were to break, followed by the 0.6980 level before this move up to 0.7500/30 occurs, we will re-assess the strategy. Our eventual long-term target for the AUD is the 0.6000-0.6500 levels, which we think will be seen over the next year or two.
Short-term trading strategy (Intraday, 1-3 days):
We continue to look to play the AUD from the short side with the 0.7300 level being a good short-term resistance for one to consider short positions at with a stop loss at 0.7350. The target for this trade would be the 0.7100 figure.
We hope you have enjoyed our strategy piece for this week, and we look forward to your feedback. You can also sign up for our free trading updates mailing list on our site which we update every Tuesday, Thursday and Sunday as a follow through to this weekly piece.
RISK DISCLOSURE.
HIGH RISK WARNING: Foreign exchange, Futures and ETF trading, carries a high level of risk that may not be suitable for all investors. Leverage creates additional risk and loss exposure. Before you decide to trade any instrument, carefully consider your investment objectives, experience level, and risk tolerance. You could lose some or all of your initial investment; do not invest money that you cannot afford to lose. Educate yourself on the risks associated with trading, and seek advice from an independent financial or tax advisor if you have any questions.
ADVISORY WARNING: THEMARKETJOURNAL provides references and links to selected blogs and other sources of economic and market information as an educational or informational service to its clients and prospects and does not endorse the opinions or recommendations of the blogs or other sources of information. Clients and prospects are advised to carefully consider the opinions and analysis offered in the blogs or other information sources in the context of the client or prospect's individual analysis and decision making. None of the blogs or other sources of information is to be considered as constituting a track record. Past performance is no guarantee of future results and THEMARKETJOURNAL specifically advises clients and prospects to carefully review all claims and representations made by advisors, bloggers, money managers and system vendors before investing any funds or opening an account with any brokerages or dealers. Any news, opinions, research, data, or other information contained within this article and our website is provided as general market commentary and does not constitute investment or trading advice.
THEMARKETJOURNAL expressly disclaims any liability for any lost principal or profits without limitation which may arise directly or indirectly from the use of or reliance on such information. As with all such advisory services, past results are never a guarantee of future results.
If you have any concerns about comments made, features of the site or any feedback on this article, please contact us.
Disclosure: I/we have no positions in any stocks mentioned, and no plans to initiate any positions within the next 72 hours.
I wrote this article myself, and it expresses my own opinions. I am not receiving compensation for it. I have no business relationship with any company whose stock is mentioned in this article.