Over the past year, the expectation that the Federal Reserve was on the cusp of raising its interest rate has roiled markets. The volatility among bond investors sparked a widening of yield spreads, culminating in an extreme expansion last week.
There are two main reasons for such a move. First is that higher lending rates result in costlier borrowing, which is a negative factor for higher risk companies. Below is a chart of iShares Barclays 3-7 Year Treasury Bond (NYSEARCA:IEI) over SPDR Barclays High Yield Bond (NYSEARCA:JNK). This indicator represents the yield spread between high yield credit, and U.S. Treasuries. When the indicator rises, it signals an expanding spread.
What can be derived from the chart is that credit markets have been in a cautious mood since the end of 2014. While U.S. lending rates are only now beginning to rise, the anticipation of tighter policy, beginning in 2014, sparked a selloff in high yielding assets. On top of that, debt prices of energy producers have been under pressure as oil prices crashed over the last year. With energy companies' potential inability to fulfill debt obligations, credit risk has spiked, also contributing in the selloff of high yielding debt.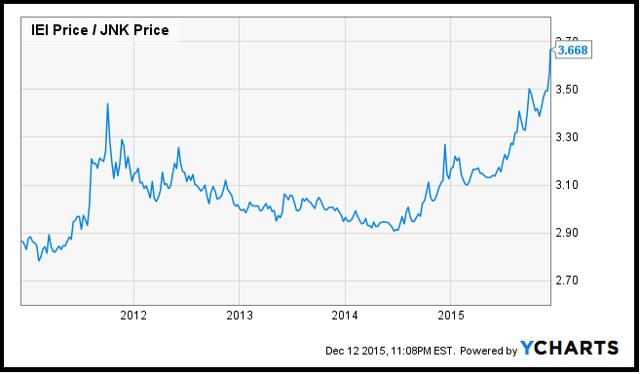 Furthermore, along the lines of both lower commodity prices, and tighter monetary policy in the U.S., emerging market debt prices have similarly declined. The chart below is of iShares Barclays 3-7 Year Treasury Bond over iShares JPMorgan USD Emerging Markets Bond (NYSEARCA:EMB). When the indicator rises, it signals the yield spread between emerging market debt and Treasuries is widening. In 2011, emerging market assets declined as the global economy faced a double-dip slowdown in the years following the financial crisis. This led to a spike higher in credit yields. This time around, however, the rise in yields looks to be more permanent. Commodity prices have collapsed in the past year, diminishing growth prospects for many emerging market economies that are reliant on commodity production. This is leading to ever increasing debt to GDP ratios, raising credit risk.
Additionally, the stronger U.S. dollar and higher lending rates are making borrowing for emerging markets more difficult, especially for those countries looking to tap into developed economies credit markets.
The confluence of factors weighing on both high yield and emerging market debt is the reason for heightened volatility among global financial markets. The reasons for such volatility look to last for at least the next year, meaning the current trend in credit markets looks to remain intact. For this reason, expect credit markets to remain weak, making them unattractive investing opportunities. While both EMB and JNK have already fallen considerably in recent months, there may still be downside left, making both assets attractive short positions to hold over the next year.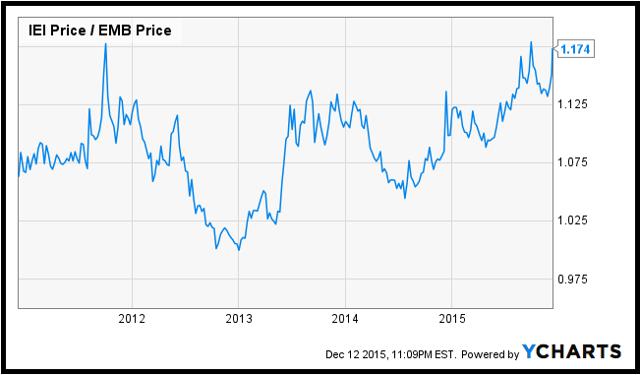 Disclosure: I/we have no positions in any stocks mentioned, and no plans to initiate any positions within the next 72 hours.
I wrote this article myself, and it expresses my own opinions. I am not receiving compensation for it (other than from Seeking Alpha). I have no business relationship with any company whose stock is mentioned in this article.