"I'm so tired

Tired of waiting

Tired of waiting for you"

- The Kinks
Perhaps the greatest expense pulling down the values of global dealer banks, and not self-inflicted, is the inconsistency among the regulations of the primary commercial centers in which they operate. In particular, the European Union constantly disappoints and confuses markets. The management of everything governmental and financial, from monetary policy, where Mario Draghi promises easing and is constantly overruled, to banking regulation where the EU consistently drags its feet and underestimates the risk exposure of its regulated banks.
This regulatory inconsistency pulls down the value of all international dealing banks, including those in the United States such as Bank of America (NYSE: BAC), Citigroup (NYSE: C), Goldman Sachs (NYSE: GS), JPMorgan Chase (NYSE: JPM), and Morgan Stanley (NYSE: MS).
It is particularly damaging to Eurozone-domiciled banks, where government policies are most feckless. It reduces the potential of Eurozone financial hubs to grow, and damages economic growth there generally.
The European Union kicked the can down the road once again this week, this time on the issue of commodity trading, because "delay is needed as regulators are not ready for an original January, 2017 start for the Markets in Financial Instruments Directive (MiFID II)" (New York Times, 12/11/2015). This is the essential property of financial regulation in Continental Europe - procrastination. I can think of no better way to alienate and damage regulated firms. Place a huge regulatory boulder in the middle of the road, then move it further down the road as firms spend the resources necessary to comply, only to wait.
Fortunately for firms, particularly for firms with light footprints such as financial and commodities traders, there are alternatives. But for those who require liquidity and rule of law, there are basically four choices: the Eurozone, Switzerland, New York, and London. The Table below, borrowed from "What turns cities into international financial centres?" by Wojcik, Knight and Pazitka, here, shows a ranking of international financial centers based on fee income generated in each.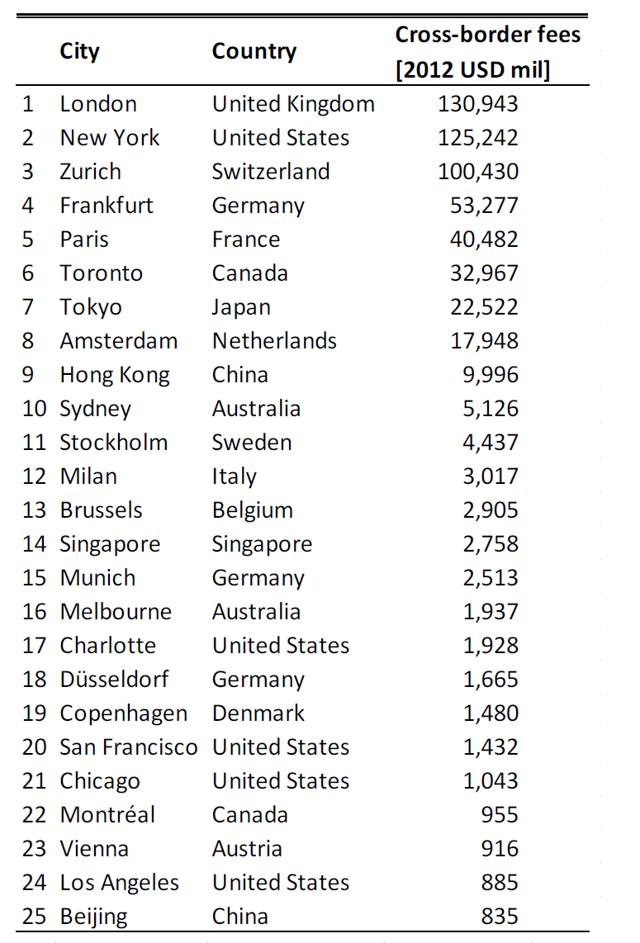 Most financial firms prefer a light regulatory touch, so London is preferred. Until the crisis, London did not regulate OTC financials and commodity trading at all. That has changed. London has made a determined effort to protect its domestic deposit base, applying a Volcker Rule-like regulation called "ring-fencing" and attempting to rein in its dealer banks, leaving only Barclays (NYSE:BCS) in the game right now. Some other big British banks, Royal Bank of Scotland Group (NYSE:RBS) and Lloyds Banking Group (NYSE: LYG) must escape the onus of government ownership. HSBC (NYSE: HSBC) is pointedly considering the option of changing its country of domicile. Foreign dealer banks still enjoy relative freedom there however.
Compounding the problems of banks on the Continent, regulatory enforcement is lax. An article, "European Banks Seen Afflicted by $82 Billion Capital Gap," found in Bloomberg, December 1, describes the discrepancy between the leverage ratios of various large banks on the Continent such as Deutsche Bank (NYSE: DB), BNP Paribas (OTCPK:BNPZY), Societe Generale (OTCPK:SCGLY), and Groupe BPCE; and large banks in the United States.
The simple leverage ratio, found by the European Commission to be adequate at 3% under their rules (that will apply next year they say), was found to be inadequate in a recent study. Europe's latest bank stress test was flawed, and dozens of the region's lenders aren't sufficiently capitalized to improve the economy's anemic growth or withstand a repeat of the 2008 financial crisis, according to a study done by the Danish Institute for International Studies using data from Keefe, Bruyette & Woods Inc.
The lesson is that it is not simply the management of the currency that is flawed in the Eurozone. It is every aspect of financial governance. And it damages more than just the Eurozone economies. Every part of our inter-connected globe is adversely affected.
Disclosure: I/we have no positions in any stocks mentioned, and no plans to initiate any positions within the next 72 hours.
I wrote this article myself, and it expresses my own opinions. I am not receiving compensation for it (other than from Seeking Alpha). I have no business relationship with any company whose stock is mentioned in this article.
Editor's Note: This article discusses one or more securities that do not trade on a major U.S. exchange. Please be aware of the risks associated with these stocks.