Photo Courtesy: Yipit
Wingstop (NASDAQ:WING) has been on a roll with unit openings for several years now. The popular brand already has a major presence in Texas (which we'll talk about shortly) as well as a wide footprint that spans 38 other states and 6 countries.
At about 800 units worldwide, the company has a franchise-heavy model with great margins. However, one of the things that need to be watched as it penetrates deeper into existing markets is the company's comparable store sales. As a follow-on, this also includes average unit sales volumes across its system. These two metrics aren't as healthy as we'd like them to be, but Wingstop's cross-cultural cuisine will definitely help it find new pockets where it can be as successful as it's been in the Lone Star State.
Unit Growth Until 3Q 2015
To say that Wingstop's growth plans are ambitious would be an understatement. This year, the company has already added a net of 95 units, and is confident of reaching 125-130 for the fiscal, per the Q3 earnings call.

As you can see from the table above, in 2014 Wingstop added 98 units, which in itself was a major jump from the 68 it added the year before.
The company's current target is now set at 2500 domestic units, with a goal of growing it by 10% annually.
Market Penetration
If the company can replicate in other states what it's achieved in Texas, it will set the pace and tone for Wingstop to become a national brand with a strong overseas presence. Texas accounts for more than a third of its units (36%), and already has a store density of 13 units for every 1 million residents.
California could possibly be its next success story - with 25% of units concentrated there - but Texas has definitely been the "lone star" for a long time.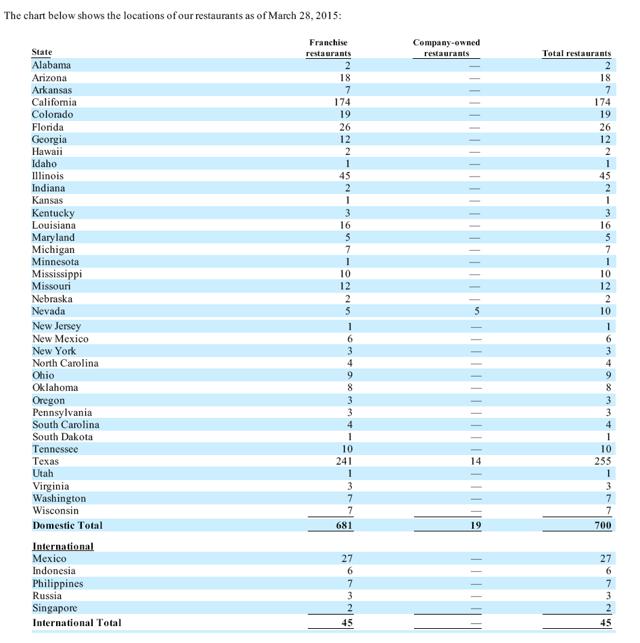 While it's not reasonable to expect this sort of penetration in every state the company has a presence in or plans to go into, it's a good indication of a best-case scenario. Giving the company an additional tailwind is the fact that its cuisine has pan-American appeal, as Buffalo Wild Wings has already shown. Fortunately for Wingstop, B-Dubs (NASDAQ:BWLD) has already shown it that chicken wings are, in fact, capable of flight!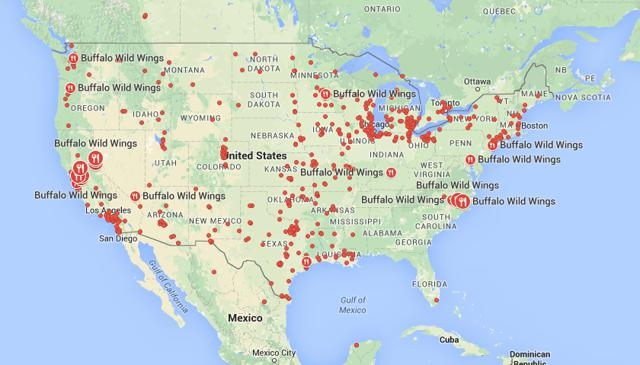 Comparable Store Sales in Perspective
During its Q3 earnings call, Wingstop announced that it expects the 2015 comps to be in the 7.25% and 7.5% range. Normally, that would be cause for celebration, because it was an upward revision of the company's earlier fiscal guidance of between 6.5% and 7%.
However, that's not the whole story. If you look closer at Wingstop's quarterly comps over the year, you'll see they've actually been on the decline.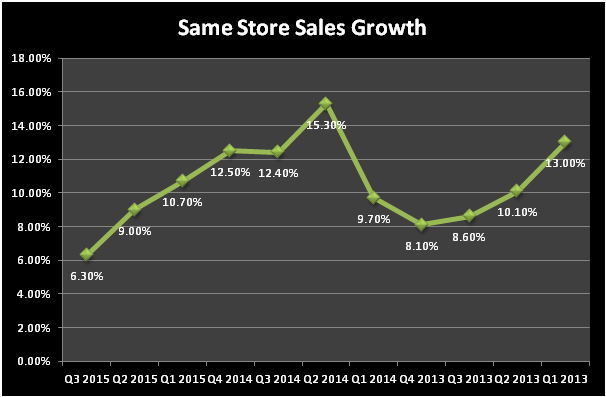 True, if the company achieves it, that will still mean 12 years of consecutive positive comps. But can it really afford to lose such a long winning streak at this critical time when expansion is happening at a clip?
The Franchise Factor
An important thing to remember here is that as a majority franchise model, it's critical that Wingstop keeps its offering attractive - which it currently is.
Consider this: the company's limited-service model allows it to have units as small as 1700 sq. ft. that cost less than $500,000 to set up. Combine that with an average unit volume of over $1.1 million, and what you have is an extremely attractive business proposition for any potential franchisee. When you add solid comps to that mix, you can see why Wingstop is able to add so many stores every year.
This is also exactly why the company can't afford to let its comps slip quarter over quarter. Looking at its guidance for the full fiscal 2015, comps are expected to come in between 7.25% and 7.5%.
Now, if you glance at the first three quarters' comps of 8.7%, that means Wingstop expects Q4 to come in at between 3% and 4%. That's not good news at all, considering it hasn't gone that low since 2013.

It's still positive, which is good, but unless Wingstop breaks out of its downward trend, the company could see trouble with its aggressive unit growth plans down the road.
With its target of 2500 domestic units looming large on the horizon, the company needs to consistently grow at 10% over the next 10 years. In turn, that makes high comps and high margins a given. Which brings us to the next point...
Room for Improvement
Now let's take a look at the profitability that the company can bring in for the franchisees.
During third quarter, the 19 company-owned units sales figure was $7.547 million, and the segment profit was $1.407 million. A margin of 18.64% is definitely a good place to be, but the ideal place to be would be in excess of 20%, which is not too far away from here.

With nearly 70% of the business being take away, average sales per restaurant is only going to depend on the popularity of the brand in the area, making the size of the unit irrelevant for the most part.
The higher its average volume grows, however, the slower the growth will become. That makes it even more critical for Wingstop to improve comps and margins to keep enticing franchisees into its fold.
(Data Source: Company Financial Reports and Earnings Transcripts)
Disclosure: I/we have no positions in any stocks mentioned, and no plans to initiate any positions within the next 72 hours.
I wrote this article myself, and it expresses my own opinions. I am not receiving compensation for it (other than from Seeking Alpha). I have no business relationship with any company whose stock is mentioned in this article.