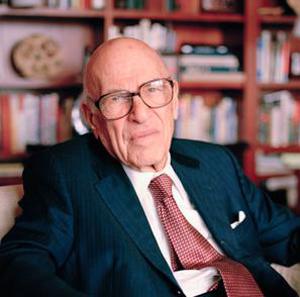 Background On Walter Schloss' 16 Factors
Like many other fellow deep value investors, I am a keen follower of Walter Schloss' investment approach through his interviews and writings. Walter Schloss boasts one of the best long-term investing track records (20% CAGR over 49 years) among his peers and he is arguably one of the most faithful practitioner of Benjamin Graham's classic deep value investment philosophy.
Value investors read the books "The Intelligent Investor" and "Security Analysis" and Berkshire Hathaway shareholder letters to learn from the two investing legends Benjamin Graham and Warren Buffett. In the case of Walter Schloss, the "16 Factors Needed To Make Money In The Stock Market" he listed as a part of a March 1994 speech delivered to students at Columbia Business School is probably the closest you can get to having Schloss' investment checklist or list of investing rules. I listed the entire 16 factors and wrote about how deep value investors can convert this list into a quantitative screen in a Seeking Alpha article titled "Walter Schloss' Japan Shopping List For Deep-Value Stocks" here.
In general, Walter Schloss' "16 Factors Needed To Make Money In The Stock Market" makes intuitive sense, particularly the ones pertaining to buying of assets at a discount, caution towards leverage, the power of compounding and the avoidance of emotional investing. However, there are a couple of fellow investors which I communicated with that have problems understanding Rule No. 10.
Walter Schloss' controversial Investing Rule No. 10 is as follows:
When buying a stock, I find it helpful to buy near the low of the past few years. A stock may go as high as 125 and then decline to 60 and you think it attractive. 3 years before the stock sold at 20 which shows that there is some vulnerability in it.
Value investors are typically "taught" to be focused on fundamental variables and purchase bargain stocks simply when there is a sufficient margin of safety. At first glance, Schloss' Rule No. 10 seems to be asking investors to rely on technical analysis and market timing. Also, value investors are usually "educated" to avoid picking a bottom and a strict adherence to a rule of thumb of entry only at two/three year historical lows could mean missing out on a lot of good investment opportunities and attractive bargains as well.
However, I will hesitate to simply dismiss Schloss' Rule No. 10. Instead, I review the investment strategies of other deep value investors in the next section to see if they also adopt something similar.
Other Investors' Views On Historical Share Price Lows
The first thing that came to my mind when I first read Schloss' Rule No. 10 was the list of 52-week low stocks that many investors will run through on a regular basis to seek out bargains. Among them is John Neff who scours "the list of stocks that have reached 52-week lows." According to a March 2011 Bloomberg article which referenced John Neff's autobiography, John Neff uses the 52-week low list as a source of idea generation, rather than a reference for entry price. Neff highlighted that some of these 52-week low stocks still have "more dismal days," while others are "solid companies worth investigating." For readers interested in learning more about John Neff and his investment style, you can refer to my article "John Neff's Hong Kong Shopping List For Deep-Value Stocks" published here.
Coming back to the point about using Walter Schloss' rule of using two/three year historical lows as entry points, Tim McElvaine, another value investor whom I have profiled previously, spoke about a similar rule of thumb in an interview here. In the interview, McElvaine spoke about how he used "one-third of five-year historical share price high" as a guide to the cheapness of the stock and the potential entry price.
John Huber, a portfolio manager at Saber Capital Management, LLC, who also blogs at Base Hit Investing, also shared his thoughts on this in a January 2013 article titled "Jos. A Bank at a 2-year Low & Some Thoughts on Momentum vs Mean Reversion":
I was going through my daily routine of looking through stock lists and scans, and one of the lists I like to watch is the 52 week low list. Buffett and Walter Schloss have both said that they look at this list each and every day, so I thought it would be good to copy that part of their routine...So as I mentioned at the beginning of the post, I shamelessly copied what Buffett and Schloss did by looking at the 52-week low list each day. I do this with the understanding that these stocks often tend to go lower. But I put one spin on this watchlist. I first look for stocks I recognize, and then I look for stocks that might be at multiyear (2 years or longer) lows. These are the stocks that academics have shown to be likely outperformers in the coming years, but more importantly these are the stocks that are likely to be undervalued. Multiyear lows (and multiyear highs) are places where stocks tend to be mispriced based on human irrationality.
Concluding this section, I do use Schloss' Rule No. 10 as an input into position sizing. After I have done all the work and decided to invest in a deep value investment candidate, I will look at the stock's historical share price charts to see where the stock trades relative to historical lows. I might choose to take a smaller position, if the stock is cheap fundamentally, but expensive relative to its historical share price. My personal anecdotal experience is that I have a better chance of picking stocks at or close to their bottoms and do less averaging down when I follow this rule. More importantly, my guess is that Schloss wrote down Rule No. 10, as a reflection from his decades of investing experience, when he personally witnessed many of his deep value stocks mean revert following their two/three years historical lows.
Generating Investment Ideas From Historical Share Price Lows
Apart from being a reference point for position sizing and entry price, historical share price lows are an equally good source of investment idea generation, just like how John Neff will scour the list of 52 week lows regularly.
I found 215 U.S. and Asian stocks trading within 1% of their three-year historical share price lows, and I list 20 of them with the largest market capitalizations below for readers to do more work on:
The full list of 215 U.S. and Asian stocks trading within 1% of their three-year historical share price lows is available exclusively for subscribers of my Asia/U.S. Deep-Value Wide-Moat Stocks exclusive research service in a separate bonus watchlist article. My subscribers also get full access to the watchlists, profiles and idea write-ups of deep-value investment candidates and value traps, which include net-nets, net cash stocks, low P/B stocks and sum-of-the-parts discounts.
Disclosure: I/we have no positions in any stocks mentioned, and no plans to initiate any positions within the next 72 hours.
I wrote this article myself, and it expresses my own opinions. I am not receiving compensation for it (other than from Seeking Alpha). I have no business relationship with any company whose stock is mentioned in this article.