The fourteenth edition of:
Resource Sector Digest
(vol.14 - December 14, 2015)
an offering that is brought to you by Itinerant and The Investment Doctor.
As always, this edition of our newsletter will:
set the scene;
highlight actionable ideas;
comment on news releases;
and link to relevant articles.
As always, here is a cordial invitation to join Itinerant Musings for exclusive access to actionable research on mining and energy stocks. Some examples are sprinkled throughout this newsletter for good measure.
And before we forget, you can read the three most recent editions here, here, and here in case you missed them!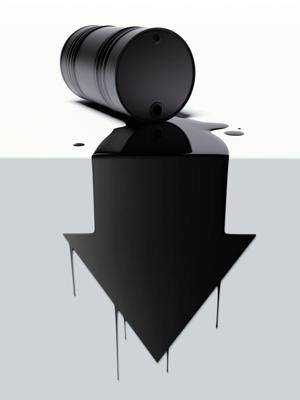 Setting The Scene
A lot has been written and said about the most recent developments in the oil and gas sector, but former hedge fund manager John Arnold probably caused some panic attacks around the globe. On his twitter account (well, in fact it was the twitter account of his foundation), he claimed half of the US oil and gas companies would go bankrupt next year if the oil price doesn't recover soon.
It's always easy to play fearmonger and in uncertain times people tend to act irrationally, but Arnold definitely has a point. At the current oil price of $35 per barrel and gas price of less than $2.5, only a single digit percentage of the oil and gas companies is still making money, and the operating cash flows aren't even sufficient to cover the sustaining capital expenditures to keep the daily production rate at least stable.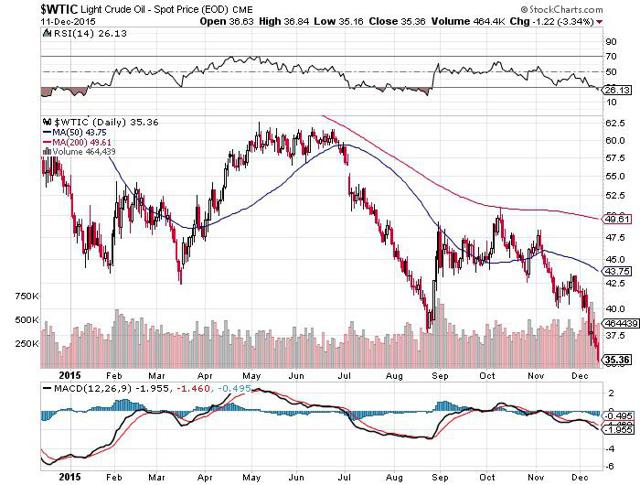 Source: stockcharts.com
And that's something Mr Market might be grossly underestimating. Yes, the oil price will eventually rebound, but the main question here at stake is how many oil companies will still be standing before it rebounds?
The Investment Doctor has been holding some oil companies against the light to find out whether or not they would be able to survive the current downturn, and has encountered some surprising facts. Some companies that are able to fund the sustaining capex by the ongoing cash flow are using the excess cash flow to pay dividends instead of reducing the net debt.
Or even worse, some companies are barely able to make their interest payments, but are unable to even consider increasing the production rate (or keeping it stable), and that's the kind of company that will go down first.
And that's why it's important for investors to start looking for the 'last man standing' in the oil sector. Because if/when everyone else goes down in flames, those last men standing will be able to acquire the assets for cents on the dollar out of a bankruptcy procedure and be in the pole position if/when the oil price recovers.
Cash is king, but cash flow is at least as important, and it's about time you start to look for an oil and gas company with a clean balance sheet and a very low production cost structure.
Actionable Ideas
After a disappointing week before, the past week was a bit more entertaining with a lot of SA contributors chiming in on the Kinder Morgan 'situation'.
Unexpectedly, pipeline operator Kinder Morgan (NYSE:KMI) was the talk of the week after its 75% dividend cut. This cut was definitely needed so the company could avoid (trying to) raise additional cash by issuing fresh debt, but will this be sufficient to lure investors back into the stock? There has been a real flood of new articles (with literally dozens of articles that have been published this week) about Kinder Morgan recently, and we'd encourage you to have a look at the company's page for the most recent opinions of Seeking Alpha contributors!
News Releases
It once again was a busy week in commodity-land. Some companies have already released their exploration budgets and plans for the upcoming winter exploration season, whilst others were able to boost their working capital after raising cash.
Premier Gold (OTCPK:PIRGF) has closed a C$7.8M flow-through financing at C$2.9/share, a very nice premium compared to the market price. The funds will very likely be used for further exploration activities at the company's Hasaga project in Canada where it has recently discovered interesting gold mineralization after completing in excess of 60,000 meters of drilling on the property.
Platinum Group Metals (NYSEMKT:PLG) has released an update on its Waterberg deposit in South Africa, where the company continues to work on a pre-feasibility study. A resource update in 'early 2016' will be the basis of the mine plan that will be disclosed in the pre-feasibility study. The company's share price has been sliding despite not having to spend cash on its 2015 exploration program which allows the company to protect its $30M working capital position.
McEwen Mining (NYSE:MUX) has finally filed the technical report for the Gold Bar project in Nevada. The initial capex of $60M is pretty low, but the new shortcuts in the updated technical report are reducing the quality of the project.
UR-Energy (NYSEMKT:URG) has released an updated resource estimate at the Lost Creek Property and despite having been in production, the total resource estimate now contains 19.5 million pounds of uranium, a 30% increase compared to the previous resource estimate. The additional pounds belong to the MU2 unit, which will be brought into production in 2016.
Kennady Diamonds (OTC:KDIAF) has reported on its progress at the Kelvin diamond project in Canada. The company has recovered a new 2.7 tonne sample which had an average grade of 3.4 carats per tonne of rock which is much higher than Kennady's original expectations for the project. Kennady is now gearing up for a 500 tonne bulk sample in 2016 which should allow the company to recover 1,200-1,500 carats and learn much more about how the Kelvin project should be developed.
Anglo American (OTCPK:AAUKY), (OTCQX:NGLOY) and (OTCQX:AAUKF) is making some drastic changes in what it calls a 'radical' overhaul of its business. It plans to get rid of 60% of its assets whilst it will also suspend its dividend for the time being, something The Investment Doctor has predicted in August as the free cash flow wasn't sufficient to cover the dividend commitments.
Lake Shore Gold (NYSEMKT:LSG) is stepping up its game to reduce the outstanding debt as the company has announced it will repurchase its convertible debentures on the open market. The notes bear an interest rate of 6.25% and are maturing in 2017. So as long as Lake Shore Gold is able to repurchase these bonds below approximately 111% of the par value, it's doing a good thing as it will be cheaper to repurchase the bonds instead of paying the interest expenses until September 2017.
Mountain Province Diamonds (MDM) has released a construction update at the Gahcho Kué diamond mine in Canada, where procurement is 99% complete and where the overall construction completion has reached 80%. This allowed the company to draw down more cash from its debt facility and keeps the company on track for commissioning by the summer of next year.
Turquoise Hill Resources (NYSE:TRQ) announced a long-awaited production guidance for 2016. The Oyu Tolgoi project in Mongolia will produce 175,000-195,000 tonnes of copper as well as 210,000-260,000 ounces gold for a total operating cash cost of $800M. This seems to indicate the 400 million pounds of copper will be produced at a cash cost of $550M, net of the by-product credits from the gold sales. Total capex will be $300M of which $280M will be sustaining capex.
Euromax Resources (OTCPK:EOXFF) has signed an offtake agreement with Aurubis (OTC:AIAGF), the large German copper refinery. As per the agreement, Euromax plans to ship the copper-gold concentrate from its Ilovitza project in Macedonia to Aurubis' Pirdop smelter in Bulgaria. This is a win-win situation as Aurubis gets its hands on additional smelter feed, whilst Euromax could now be in a position to benefit from a German capex loan guarantee scheme, facilitating the financing negotiations.
Teck Resources (TCK) says it has started a pilot project whereby it would initiate a test phase wherein some of its trucks would be running on LNG instead of just diesel. Of course, this isn't just a 'pure' mining fact, but we obviously like to highlight it when a company tries to reduce its operating expenses whilst also helping the environment.
Uranium Energy Corporation (NYSEMKT:UEC) has completed a 7,500 meter drill program at the Burke Hollow uranium project in Texas which more than doubled the length of the Eastern Lower B trend to 3.7 miles. This is the area which will be prioritized to be brought into production once Uranium Energy plans to move ahead with the Burke Hollow project, but of course, the company would first like to see a higher uranium price, and working capital replenishment.
Trevali Mining (OTCQX:TREVF) has released an update on the commissioning stage at the Caribou mine. The mining and milling rate is steadily increasing whilst the recovery rate is also going up. Everything seems to be going well, argues The Investment Doctor, and the revenue from the concentrate should now be zeroing in at $6M per month. Add on the dip thinks Itinerant.
Wesdome Gold (OTCPK:WDOFF) will raise C$3M (US$2.25M) in a flow-through financing priced at C$1.65 per share (a premium of 29% to the recent share price). The flow-through funds will have to be spent on exploration activities, so shareholders can look forward to more news from the company's Eagle River project in Ontario. This mine will be an important piece of Wesdome's future as the company plans to increase the production rate and to reduce the operating costs.
Balmoral Resources (OTCQX:BALMF) has reported the results if its preliminary metallurgical test work at the Martiniere gold project in Québec. The results of this first test program were actually pretty good with an average gold recovery of in excess of 90% whilst the average silver recovery also was pretty high at 80.2%. As this is just the first test to determine the average recovery rate, the 90+% and 80+% are very encouraging whilst also indicating it shouldn't be an issue to blend the gold-bearing ore from different mineralized zones at the Martiniere project.
Meanwhile, Roxgold (OTC:ROGFF) continues to work at its gold project in Burkina Faso. The company has now drawn down an additional $21M from its $75M finance facility for the Yaramoko gold project. The construction of the underground mine has now reached a completion stage of approximately 60% with 50% of the expected capex having been spent. Roxgold has reiterated it remains on track to commission the project in the second quarter of next year.
Dominion Diamond (NYSE:DDC) has reported its financial results of the third quarter of this year, and the company was proud to announce it generated a positive free cash flow of $8.5M even after having spent a considerable amount of cash on its diamond mines. That's a good achievement, considering the company is still developing the Misery Main pipe which should be in production in early 2016. This should boost the company's revenue, operating cash flow and free cash flow, so we're looking forward to see the company's performance in 2016, despite the weak diamond market.
Kenmare Resources (OTC:KMRPF) seems to have found a savior after Iluka Resources (OTC:ILKAF) walked away from a possible deal. A sovereign wealth fund of the Sultanate of Oman has announced it's willing to pump $100M in Kenmare Resources which should allow the company to reduce its net debt and interest payments whilst it's waiting for a higher price for its mineral sands products. The Investment Doctor will be disappointed, as he was hoping for Iluka to acquire all of Kenmare's outstanding shares.
And finally, Freeport McMoRan (NYSE:FCX) was the last senior producer of base metals that had to rethink its capital spending and capital allocation. As TID already pointed out several times before, the company already was free cash flow negative when copper was trading at $2/.5 per pound, so this situation has only aggravated by now. Cutting the dividend will save the company approximately $240M per year, and every million that remains in Freeport's treasury will be very welcome! Freeport now claims its free cash flow using a copper price of $2/lbs and an oil price of $45/bbl (for Brent) will be a positive $600M. That would be great, but let's first see if the company can deliver on its promises.
That's it for this week, and we would love to hear from you in the comment section here below! What do you think about the oil price? What are your favorite commodity pics for 2016? Please tell us!
Disclosure: I am/we are long ILKAF.
I wrote this article myself, and it expresses my own opinions. I am not receiving compensation for it (other than from Seeking Alpha). I have no business relationship with any company whose stock is mentioned in this article.
Editor's Note: This article covers one or more stocks trading at less than $1 per share and/or with less than a $100 million market cap. Please be aware of the risks associated with these stocks.