Uranium stocks may be well-known day trading stocks, but their secular moves are driven by very real fundamentals. Over the past month, uranium stocks measured by Tickerspy's URANM portfolio are trading up 21.9%, which is some 16.9% higher than the S&P 500 (NYSEARCA:SPY). But what's really driving this trend and will continue over the longer term?
The uranium stocks included in this index are:
Cameco Corporation (NYSE:CCJ)
Crosshair Energy Corporation (CXZ)
Denison Mines Corporation (NYSEMKT:DNN)
Paladin Energy Ltd. (OTCPK:PALAF)
Uranium Energy Corporation (NYSEMKT:UEC)
Ur-Energy Inc. (NYSEMKT:URG)
Uranium Resources Inc. (NASDAQ:URRE)
Uranerz Energy Corporation (NYSEMKT:URZ)
USEC Inc. (USU)
Uranium Demand on the Rise in China
Uranium demand may have slowed after Japan's nuclear crisis - sending many stocks in this sector sharply lower - but it appears to be rebounding in some areas. Countries like China are seeking out cleaner energy sources, like nuclear power, as alternatives to its dirty coal power plants that provide the majority of its electricity.
Last week, Canadian Prime Minister Stephen Harper signed an agreement with China to facilitate uranium exports in a move that could be worth $3 billion by some estimates. Worldwide, there are some 63 nuclear power plants under construction, with 28 of them located in either main land China or Taiwan, according to the Euro Nuclear Society.
Investors are betting that the demand for uranium to supply these new reactors will offset the weakness in the past when Japan's reactors went offline and increased industry supply. In 2010, the global uranium production was about 53.5 million kilograms, while consumption hit 86.1 million kilograms, and a uranium shortage could hit by 2016, according to Mineweb.
(Click charts to expand)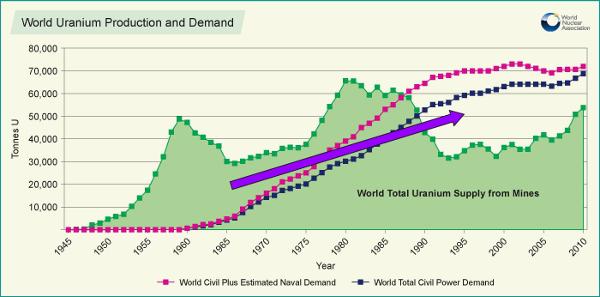 A Quick Look at the Technical Picture
Since uranium stocks are highly driven by traders, investors should also carefully consider the technical side of things before investing in the sector. The largest player in the industry is Cameco Corporation, which would provide the clearest technical picture for the industry being the most liquid investment in the industry.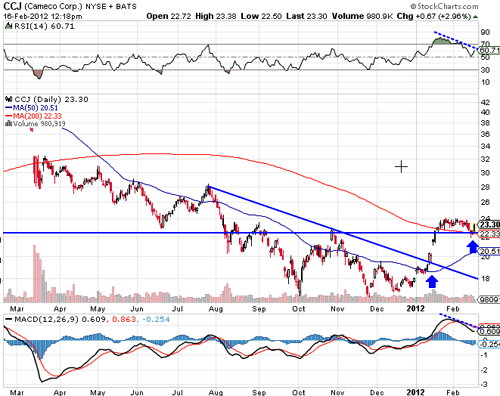 From this chart, investors can see that the stock has broken through its 200-day moving average and rests on a key trend line from November 2011. The stock also rapidly broke through a descending trend line in January after a double bottom in October and December. So, on a technical level, the stock (and industry) may be consolidating before a move higher.
Building Uranium into Your Portfolio
There are many different publicly traded uranium stocks, but here are some that may be better than most for an average investor's stock portfolio. Here are three suggestions:
Cameco Corporation - Cameco is the largest producer of uranium (~16% of the world's production) with high-grade reserves and great margins. The company has a $9.2 billion market capitalization and its shares trade with a 20.45x multiple.
Global X Uranium ETF (NYSEARCA:URA) - The URA uranium ETF has a very exclusive focus in the uranium sector, making it a solid and diversified pure-play on uranium prices. However, the ETF is a bit illiquid and has just $186 million in market capitalization.
Uranerz Energy Corporation - Uranerz is a development-stage opportunity for more growth-focused investors. With operations in the U.S. and a high-grade property in advanced stages, the company could be sitting on significant potential.
Disclosure: I have no positions in any stocks mentioned, and no plans to initiate any positions within the next 72 hours.