As we enter 2016, one question that many probably have on their mind is, how high can the USD move before taking a break? We attempt to answer this question the best way we know how taking into account both the fundamental and technical picture for the USD. In terms of technical analysis, we will being using the DXY or what some have called the 'anti-Euro' Index due to the heavy weightage of the EUR in the USD Index.
On the overall, the relative better health of the US Economy and likely unwinding of USD loans by non-US based borrowers once the Federal Reserve begins raising rates should lead to a much higher USD in the months and possibly years ahead. However, we do expect pauses along the way which would allow for more USD accumulation for those taking a longer term trade. Our hope is to be able to forecast when these pauses would take place so we can maximize profits for the overall currency portfolio. To start off, let us have a look at the current 2 key broad based fundamental factors that should lead to a further bullish USD move in the months and years ahead.
The relative strength of the US Economy
It is always tempting to look at various country growth rates and make quick conclusions from there that one country is doing better than the other, hence one currency should outperform the other. Simple right? Well not so. If one were to use a similar methodology with common stocks just based on profit growth alone, one could themselves on the losing end of some equity investments with the odd potential bankruptcy. (Think Enron)
In order to ascertain the relative strengths of various economies, we created a simple economic forecasting tool here which was made up of various leading economic indicators for various economies and used it to compare the Chinese economy and the US economy. The one thing that stands out to us, is that whilst the US economy is far from perfect or the growth engine that it used to be, it is still the cleanest of the shirts in our opinion. Despite the fact that corporate borrowing has reached record high levels, many of the painful steps needed in financial reform have largely been taken in the banking sector already to create a more stable overall system. As a quick example, getting a mortgage in the US these days is much harder than it was prior to 2007. One could argue that massive bubbles are appearing in the auto loans and student loans sector which we agree does contribute risk to the financial system though not on the scale of the subprime mortgage episode in our opinion. In short, the reforms are not perfect but results are being shown.
Moreover, whilst revenue growth and profitability for US corporations are slowing and declining in many cases, we do not think it is a big worry at this juncture despite the increased debt burden as there is relatively little FX risk in our view with regards to loan repayments in USD considering a large part of revenue for US Corporations continues to be from the US. This however, is not the case in many emerging market nations who levered up massively whilst the US was deleveraging during the financial crisis, which we talk about next.
Large outstanding USD debt by Non-US borrowers
In a bid to drive growth following the 2008 financial crisis, many emerging market governments and businesses borrowed massively to re-ignite growth. That worked great from 2008 to 2011. Unfortunately, the pick up in demand from the US and Europe that these borrowers were banking on never happened due to deleveraging happening in these economies. This fall in demand from the US and Europe as well as policy measures taken by various governments in the countries left many EM corporations highly indebted with lower revenues and thinner margins on the overall. To compound the problem, with lower USD based revenue and a higher proportion of local currency revenue, a mismatch in currencies for revenue and loans leading to FX risks appeared. The last time such circumstances were present, the 1997 Asian financial crisis was the result.
The current non-US based USD debt situation:
A report from the BIS has shown that emerging markets alone have ramped up their borrowings since 2000 from under USD 1trillion to over USD 6 trillion in recent times. China alone accounts for roughly USD 1.1trillion of the USD borrowings. The charts below which are taken from the BIS report help to better illustrate this point.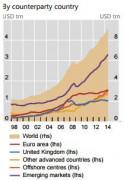 USD debt by region. Source: BIS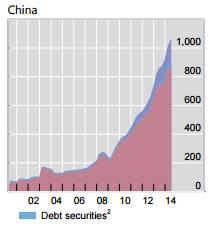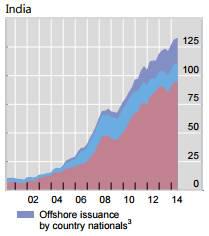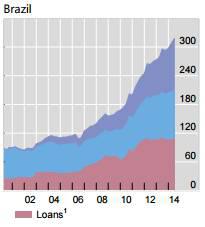 However, the danger does not really lie with government debt in most cases but with corporate debt at this time. Many Asian companies continue to earn a majority of their revenue at this time in local currencies with a lower USD revenue base contribution due to lower overseas demand, whilst having to service USD loans in ever weakening local currencies without the Fed even raising borrowing rates yet. The fear right now in the markets of course is that once the Fed starts raising rates and some of these debt interest rates start to rise coupled with the falling value of emerging market currency revenues, many of these local Asian Corporations will face a liquidity crunch as evidenced recently with several defaults on USD debt by EM corporations in China and Indonesia. The currency charts below illustrates the drop off in Emerging market currencies especially those from the Asian bloc which is what has kept some market participants up at night.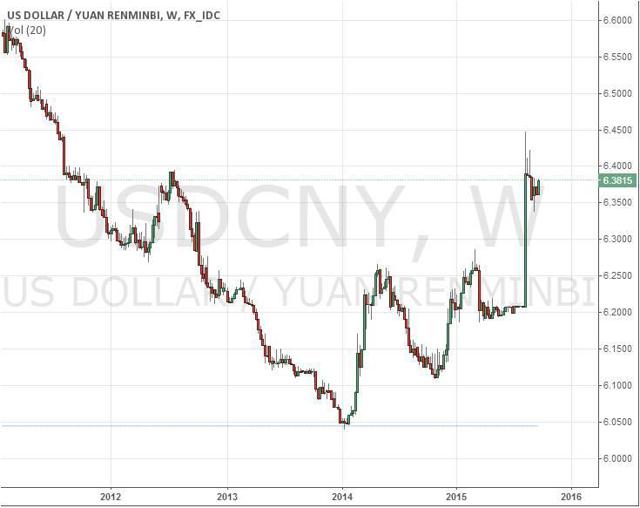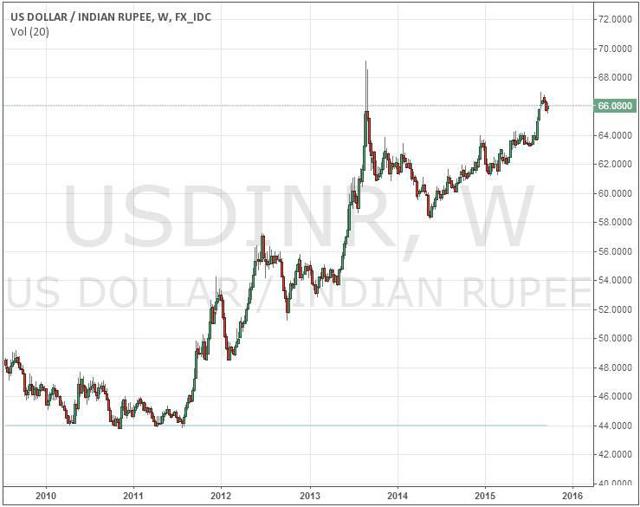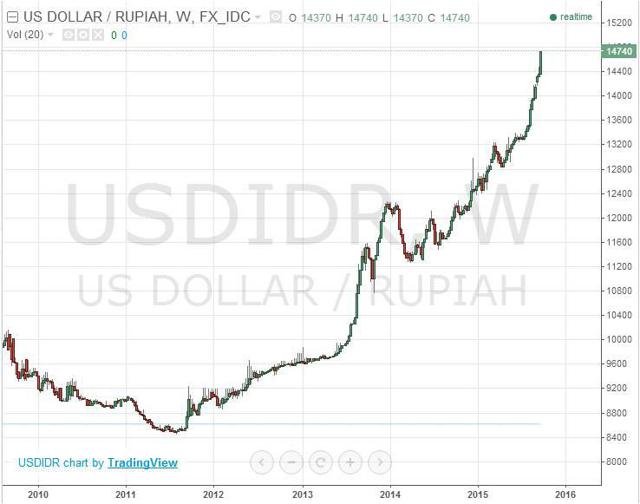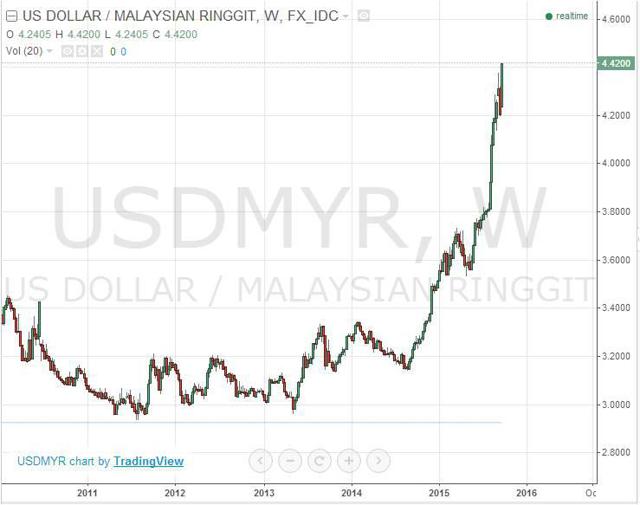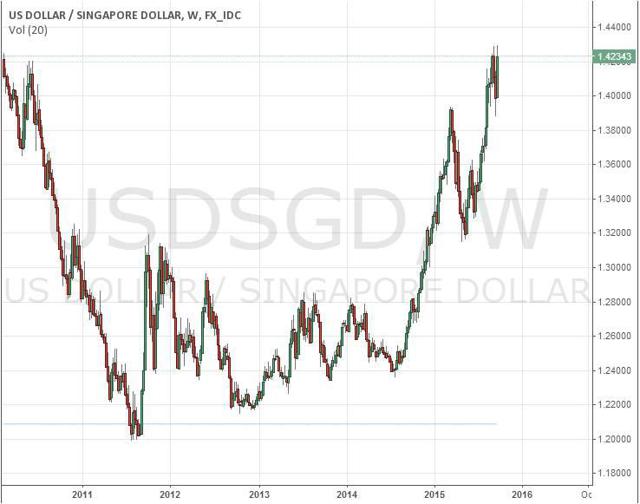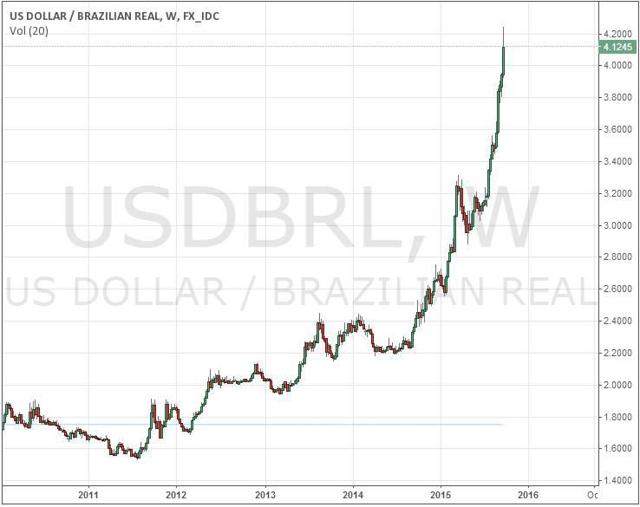 It is inevitable that once the Fed starts raising rates, that many of these emerging market corporations will try to refinance their USD loans with either EUR based loans or local currency loans. This should lead to a massive USD 'short' covering as these companies and even governments refinance their debt in alternative currencies. Given that the most recent estimates peg the total USD debt borrowed by Non-US borrowers at roughly USD 10trillion, this unwinding could take some time to complete. This could eventually lead to years of USD strength against existing emerging market currencies, and the EUR given the size of the refinancing and unwinding that will need to be done.
The technical view:
With 2 large drivers of USD strength into the future, we now take a look at the technical picture to see if we can ascertain the short to medium term top and potential longer term top in the DXY. As always, the short to medium term top is easier to forecast. The likely longer term though is more fluid as we will have to wait till a larger correction in the DXY is complete before we can project the target.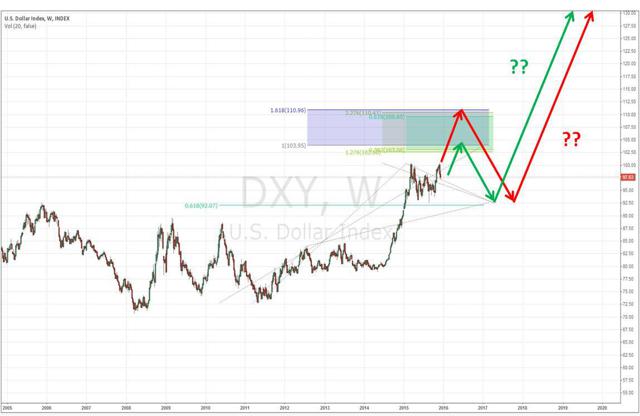 Based on the initial technical projections alone and where we think a correction would likely end, these are the preliminary expectations which also fit into our longer term view of a stronger USD for some time to come.
Over the next 1-6months:
A short term top should be seen in the DXY at either the 102.60-103.95 region or 109.60-110.96 region. A fairly large correction should follow suit thereafter.
Over the next 6-24months:
A potential correction to around the 92.10 level following this interim top is expected before a continuation of the rally toward the 123.40 level in the DXY.
This technical move, should translate fundamentally into strength seen in the USD into 2016 and possibly early 2017 with the Fed tightening and other major central banks easing, before a slowdown in the US economy leads to a series of rate cuts leading to a fall in the USD which is a correction before the long term structural unwinding of short USD positions through USD debt resumes leading to a much higher USD in the future.
Conclusion
It is our personal view and opinion that the current USD strength we are seeing in the FX markets is only the start of a longer term move up in the USD. This is largely due to the structural unwinding of 'short' USD positions through USD based borrowings which we think borrowers will start unwinding in the near future once the Fed starts its first tightening cycle in a decade. We should however, see an interim top in the USD over the next 6-12months followed by a correction before this structural unwinding continues leading to a much higher USD possibly over the next 3 to 5 years.
At this present moment, we are pretty confident about the interim USD top being seen in the next 6 to 12months at levels higher than today as per our tech analysis and macro view. However, our forecast beyond that time period remains fluid at this time as we will need to see how the Macro fundamental situation develops once that interim top is seen.
We hope you have enjoyed this information piece and we look forward to your constructive feedback or questions. We will revisit this article again 6months to a year from now to see how our projections line up.
RISK DISCLOSURE.
HIGH RISK WARNING: Foreign exchange, Futures and ETF trading, carries a high level of risk that may not be suitable for all investors. Leverage creates additional risk and loss exposure. Before you decide to trade any instrument, carefully consider your investment objectives, experience level, and risk tolerance. You could lose some or all of your initial investment; do not invest money that you cannot afford to lose. Educate yourself on the risks associated with trading, and seek advice from an independent financial or tax advisor if you have any questions.
ADVISORY WARNING: THEMARKETJOURNAL provides references and links to selected blogs and other sources of economic and market information as an educational or informational service to its clients and prospects and does not endorse the opinions or recommendations of the blogs or other sources of information. Clients and prospects are advised to carefully consider the opinions and analysis offered in the blogs or other information sources in the context of the client or prospect's individual analysis and decision making. None of the blogs or other sources of information is to be considered as constituting a track record. Past performance is no guarantee of future results and THEMARKETJOURNAL specifically advises clients and prospects to carefully review all claims and representations made by advisors, bloggers, money managers and system vendors before investing any funds or opening an account with any brokerages or dealers. Any news, opinions, research, data, or other information contained within this article and our website is provided as general market commentary and does not constitute investment or trading advice.
THEMARKETJOURNAL expressly disclaims any liability for any lost principal or profits without limitation which may arise directly or indirectly from the use of or reliance on such information. As with all such advisory services, past results are never a guarantee of future results.
If you have any concerns about comments made, features of the site or any feedback on this article, please contact us.
Disclosure: I/we have no positions in any stocks mentioned, and no plans to initiate any positions within the next 72 hours.
I wrote this article myself, and it expresses my own opinions. I am not receiving compensation for it. I have no business relationship with any company whose stock is mentioned in this article.