For a follow up to the $50k challenge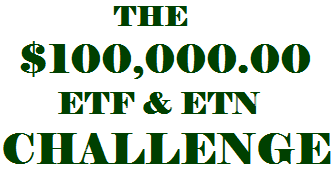 I accepted and conquered a little over a month ago (see here, here, and here), I have decided to design a new challenge for myself: The $100k ETF/ETN challenge.
It is, in part, the result of how poorly I traded ETFs and ETNs during the initial challenge, and also partly inspired by fellow Seeking Alpha Contributor, Rocco Pendola, who is currently involved in a $100k challenge of his own. For details on Rocco's challenge see here.
Between Friday February 17th and Friday, February 24th, I intend to use $100,000.00 of my personal cash reserves (in a cash trading account), to trade ETFs and ETNs with expectations of generating a one-week return of 10% on the initial investment amount. So, to put it quite simply, I must turn $100k into $110k in roughly four trading day's time. As with the last challenge, I have had commission-free trading on the account for a while so, again, commission won't be a factor to be considered.
The guidelines are quite simple and are as follows:
I cannot allocate more than 25% of the total current balance of the account for any individual ETF or ETN.
I can trade any number of ETFs and ETNs any number of times.
That's it. Two guidelines. The reason for keeping it so simple is the same reason the rules and guidelines for the $50k Challenge were relatively simple: time constraints. Again, I have other responsibilities that take priority over this exhibition.
Due to the short week, I intend to position myself bearishly near the close Friday for what I anticipate to be a down day for the major U.S. indices on Tuesday (or at least a down open). From there, it's off to the races next week.
Just like last time, I plan to detail buys and sells using the stock talk feature here at Seeking Alpha within minutes (hopefully seconds) of execution throughout the week, will keep a daily log utilizing Seeking Alpha's instablog feature and will do a follow-up piece on it next Saturday, for better or worse. I must also issue the same warning as I did last time: This is an incredibly risky endeavor, and I strongly discourage anyone from following my picks or moves.
A key part of my success will, no doubt, be somewhat dependent on market volatility. The less there is, the harder I'll have to work and the more creative I'll have to become to accomplish the task. While I don't expect every trade to be a successful one (refer to the last challenge's results), I fully expect to meet or exceed my singular objective in this self-initiated (more like self-inflicted and likely to be a little stressful) challenge.
Some of the ETFs and ETNs I plan to rely on heavily: (NYSEARCA:TZA), (NYSEARCA:TNA), (NYSEARCA:SDS), (NYSEARCA:VXX), (NYSEARCA:FAZ), (NYSEARCA:FAS), (NASDAQ:QQQ), and (NASDAQ:SQQQ).
Disclosure: I have no positions in any stocks mentioned, and no plans to initiate any positions within the next 72 hours.
Additional disclosure: Kinetic Investments intends to donate half of any realized gains from the challenge to charity.