Overview:
On Sept. 18th I published an article "4 Reasons Why Saudi Arabia Will Keep The Spigots Open Until 2018" outlining why I thought oil prices were going to stay down for longer than most analysts think. The main theme was extended price cuts on oil would limit future investment in shale.
Well the OPEC meeting on Dec. 4th turned out to be full-pumping ahead rather than the optimistic outlook of many who thought for sure this OPEC meeting would result in production cuts. Upon the announcement of status quo pumping the oil price fell below $40 with the Crude Oil Electronic (CLF6) at $35.36 as of Friday December 11.
This latest blow to oil and the companies related to oil is just a continuation of what started November 2014 when the spigots were opened up. In November of 2015 OPEC production went up some more to a record amount of 31.7M barrels a day. In my opinion the oil price crush has a long way to run.
"When you see a rattlesnake poised to strike, you do not wait until he has struck to crush him.
Franklin D. Roosevelt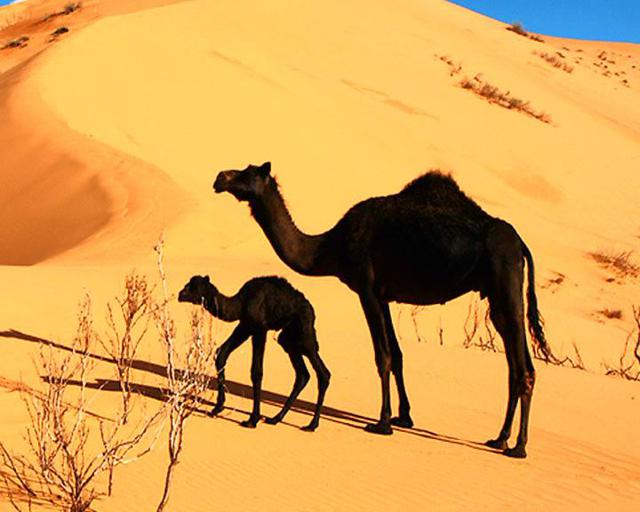 One of the arguments being bandied about by those who think oil prices will soon go up is the monetary toll it is taking on the oil sheikdoms in the Middle East. As a result the sheikdoms will have no choice but to cut production thereby raising the price of oil. In October both Bloomberg and CNN published articles claiming Saudi Arabia would be out of money in 5 years. But they are missing the point which is the Saudis only need one or two years more to achieve their goal - drive down oil shale investment.
As of March 31, 2015 here is what the sheikdoms have left in their sovereign wealth funds. They know they can last a lot longer than shale E&P companies can. They could live with $300B per year deficits for the next 2 years and still have almost $2 trillion left over. So their goal of crushing oil investment is easily achievable.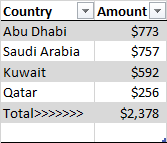 Source: Author
Shale is found all over the world. Currently the US is the main threat with enormous capital investments in shale over the last 10 years but other countries are eyeing the potential of shale helping them balance their budgets and improving their import/export ratio. Notice on this map that every continent has shale potential.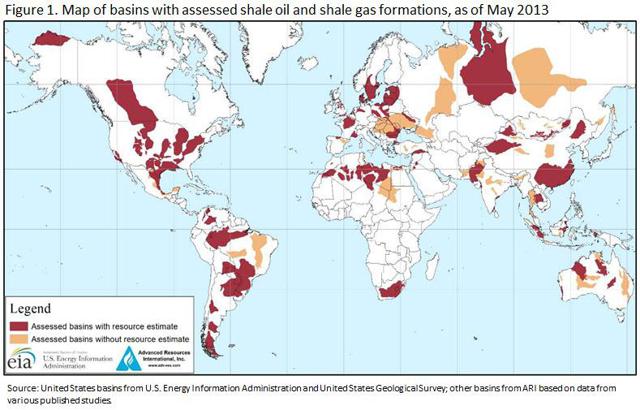 After only one year of lower oil prices shale oil production in the US has hardly budged at all down only 2% from 2014 as shown in the following chart. Note that the Permian and Utica basins actually increased production in 2015 though only marginally. But hedges will start running off by mid-2016 meaning by this time next year Saudis think production will be much lower.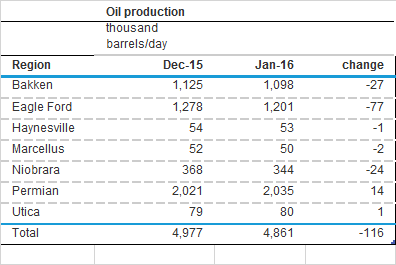 Source: US Energy Information Administration
And low prices are taking a big toll on credit ratings of US companies both large and small. Bloomberg's recent headline says it all; "Energy default alarms get louder as pain seen lasting into 2016". Here is a chart from Barclays Bank that shows what the default odds are based upon the price of oil. Just imagine how many defaults will occur if the prices stay depressed thru 2017.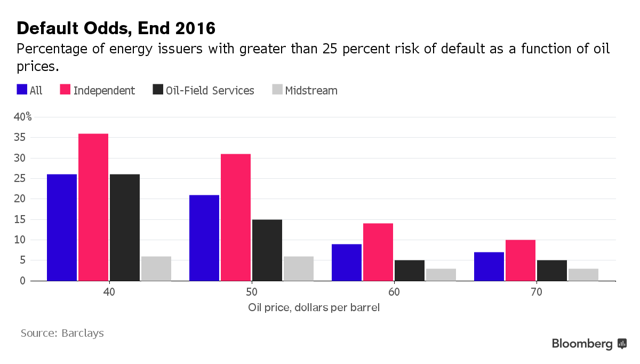 Even the major oil companies are facing credit downgrades if the prices stay low for more than another year. In October S&P issued negative outlooks on Exxon (NYSE:XOM) and Chevron (NYSE:CVX) while downgrading Canadian majors Husky and Cenovus and 16 others. How many more downgrades will happen by this time next year if prices remain low? I wrote about the downgrade possibility for Exxon in this article "5 Reasons Why Exxon's AAA Credit Rating is in Jeopardy". Banks who made loans to oil producers when oil was $100 are also in jeopardy. Rest assured banks have not reserved nearly enough for losses if oil prices remain at current levels.
And public oil companies are required by the SEC to recalculate oil reserves each year and write down the value of those reserves if the oil price has gone down significantly. The SEC regulations require booked reserves must be based upon the average price for the year just concluded and with prices down by about 50% one must assume some (or many) of the booked reserves that were economical at $100 will not be economical at $40. That will result in potentially big write-downs. Royal Dutch Shell PLC (NYSE:RDS.A) wrote down $3.7B in the 3rd quarter alone.
To the Saudis this is an existential issue and because the sheikdoms believe shale oil is a threat to their very existence they are willing to hang tough for a long time. They realize if the US can be forced to curtail (curtail not end completely) shale investment for another 5 or 10 years because of fear of gigantic losses then other countries such as Argentina (see shale map above) will not even start. That decade will allow the sheikdoms to more than rebuild their sovereign wealth funds but also diversify their economies thus lessening their reliance on oil. Once shale investment is crushed the price of oil will be allowed to go up.
Conclusion:
The Saudis long-term plan is to make everyone from banks to hedge funds to mutual funds remember what happened when they invested $1.5 trillion in expanded oil production. They lost money, lots of money and they will lose more. The Saudis think this long-term memory will make investors and creditors reluctant to provide huge amounts of capital again thus minimizing shale oil's influence on the markets. After all at any point in the future the Saudis and other sheikdoms can step on the gas and cause those huge losses to happen all over again. If you are an investor will you want to take that risk?
Will investors heed the warning? I don't know but I am confident that the oil price will remain subdued for a longer time than most people believe and much more damage will be done before it is over.
The Saudis and the sheikdoms have survived 1,500 years in the harshest of environments by being tougher and more determined than their enemies. That kind of DNA doesn't change in a couple of generations.
The Saudis are not relying on complex spreadsheets or data analytics or sophisticated algorithms to determine what they should do. Deep down inside that DNA, before the private Swiss schools and the Harvard MBA's, they remember the dust and the heat and the sun. But mostly they remember the thirst and the enemies close by.
The Saudis and sheikdoms are playing a very long game of risk. And history has shown they are very good at it. Invest in oil at your peril.
Disclosure: I/we have no positions in any stocks mentioned, and no plans to initiate any positions within the next 72 hours.
I wrote this article myself, and it expresses my own opinions. I am not receiving compensation for it (other than from Seeking Alpha). I have no business relationship with any company whose stock is mentioned in this article.