Introduction:
Last month I made two REIT recommendations using a macro approach. The first was made on November 3rd, and I noted that there was disconnect between Fed rate expectations and REIT stock prices. At the time I thought STAG Industrial (NYSE:STAG) was worth shorting because I expected as the December Fed meeting came closer, the market was likely to drive down the price of REITs and STAG had shown itself to be particularly vulnerable to an expected Fed rate hike. I predicted a 10%-15% price decline for STAG leading up to the meeting. This was purely based on the market perception of STAG and not based a fundamental analysis of the company.
Two weeks later, after STAG had dropped over 6% and rate expectations had risen, I felt the risk/reward was no longer favorable enough to continue shorting, but that it wasn't yet time to buy REITs because prices were likely to fall more as the actual Fed meeting approached. Here is what STAG has done since my initial prediction of a 10%-15% drop: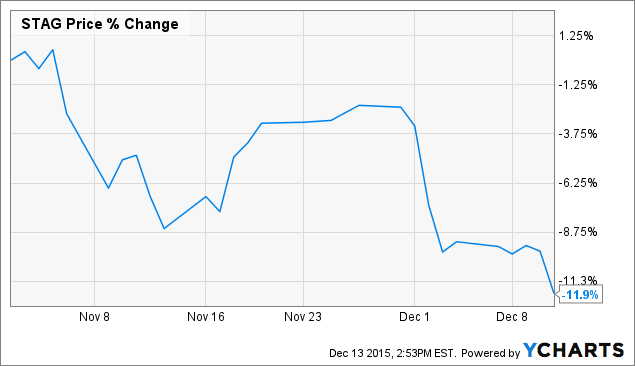 STAG data by YCharts
It is now within the predicted range at the predicted time. I have received a couple of messages asking about my current thoughts on REITs going forward. While I am not a REIT expert, one of the rules I have for myself when it comes to writing articles is to provide readers with something that is both actionable and measurable. This self-imposed rule is both for the benefit of readers and for myself. It forces me to sometimes be more bold than I otherwise would be, and sometimes be more cautious. This article is my attempt to provide an actionable REIT suggestion for those shopping for REITs from "the top down" who are not REIT experts. I highly advise readers to follow up my recommendation by reading the research of those who are REIT experts, some of whom I have linked to in this article. Even if one is not an expert, I do think there is a reasonably sound process one can go through to narrow down potential REIT candidates.
Identifying the reasons for owning a REIT:
I see two or three potential reasons one might want to own a publicly traded REIT. The first is that REITs are far more liquid way to own real estate than to go out and purchase the real estate outright. I live in a college town and I am fairly handy. If I wanted, I could build a portfolio of rental properties all within walking distance of my house and rent them to college students. The problem is that I don't want to be a landlord and I don't want a large portion of my limited wealth tied up in an illiquid asset like real estate. (It's enough work maintaining the home I live in.) Publicly traded REITs offer an alternative.
The second reason I might consider a REIT is if I were retired and I wanted a higher yielding investment to provide current income, since REITs tend to offer higher dividends than your average stock.
The third reason is the combination of tax efficiencies that a younger investor can combine together in a Roth account. I previously wrote about Three Roles Dividends Can Play for Younger Investors, and REITs can allow younger investors to establish an early dividend producing portfolio essentially tax-free, and provide extra capital to invest during cyclical downturns (as I discussed in the linked article). For these reasons, if I am going to invest in a REIT, I want it to have a yield that is both over 5% and I also want there to be a high probability that the yield can be maintained through an economic downturn.
Looking at the macro:
Most of the macro worries surrounding REITs are centered around rising interest rates and a slow-growing or no-growing economy. Basically, I think many investors are getting worried that we may be nearing a turn in the business cycle and/or the credit cycle. My opinion is that, looking ahead to 2016, the biggest threat to the US economy is credit problems stemming from the oil sector because of over-supply, earnings problems from the industrial sector because of the stronger dollar, and mixed results from the retail sector because of online retailers like Amazon (NASDAQ:AMZN). Because of this, I would wait to buy REITs that are exposed to the industrial sector, retail sector, and oil sector, unless I was very knowledgeable about the REITs involved and understood exactly why they stood to benefit in such an environment.
My own take on the macro environment for the first half of 2016 is that the strong dollar will likely continue to remain strong. So, I would aim for US-focused REITs. I also think that while low oil prices are bad for companies in the oil sector, ultimately they are good for consumers. Retailers should mostly do fine in 2016, provided they aren't losing their business to Amazon. But when I look at the price of a Realty Income (NYSE:O), I don't see much panic from the market yet:
O data by YCharts
Investors seem fairly comfortable investing in Realty Income right now. Additionally, data center REITs like Digital Realty Trust (NYSE:DLR) seem like a good bet going forward from a macro perspective. Chuck Carnevale recently wrote a great analysis of Digital Realty showing how it is currently undervalued, but the market doesn't seem to be discounting DLR the way it did just three months ago: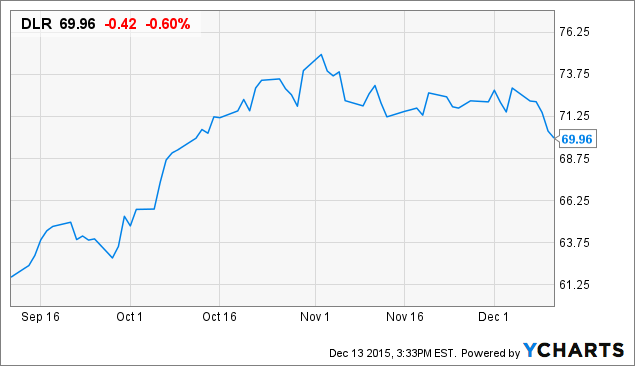 DLR data by YCharts
I want to find a good REIT yielding over 5% that is currently being mis-priced by the market. Currently the examples above aren't being discounted enough yet for me.
Where I see opportunity:
I think right now the best opportunity is in the hospitality sector and my best idea in the sector is Chatham Lodging Trust (NYSE:NYSE:CLDT). The market has significantly discounted the stock both year-to-date and over the last three months: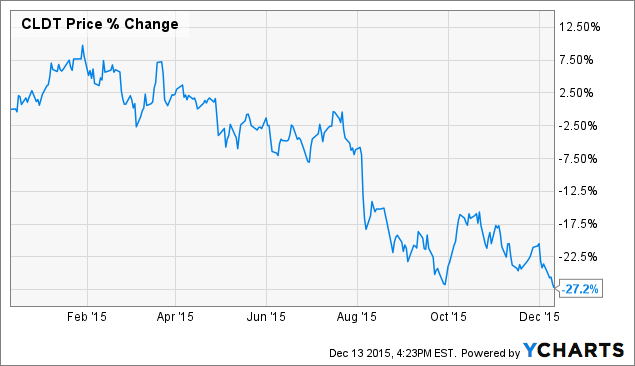 CLDT data by YCharts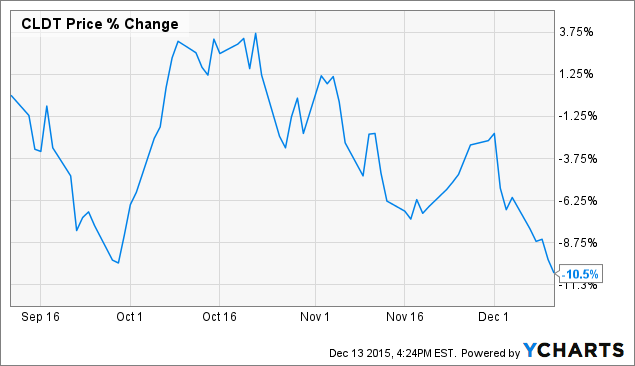 CLDT data by YCharts
Now we have found a REIT that is not in one of our sectors of legitimate worry, but that has been priced as though it is. It is also yielding 5.8%, which is above the threshold I require for a REIT investment. At this point, since I am not a REIT specialist, I turn to see what the REIT specialists' opinions are of the company.
REIT specialists' opinions:
Brad Thomas has written several bullish articles on Chatham this year, and in his most recent, he notes:
Chatham Lodging has demonstrated that it can successfully manage risk, and its dividend record provides quantitative proof that my interests are aligned with those of the company. I see no distinct risks that would prohibit me from accumulating more shares in this REIT.
Remember, that one of the key reasons for owning a REIT is that it is a very tax efficient way to increase one's cashflow when owned in a Roth. I want a REIT that pays dependable, yet higher-than-average dividends.
James Bjorkman was also constructive on Chatham, citing macro concerns being the primary driver of the downward stock price:
The lodging REIT sector has been out of favor in 2015, due to generalized macroeconomic fears that have afflicted the stock prices of other REITs as well. For those willing to buck the tide, Chatham Lodging appears to be executing well, covering its monthly dividend and acquiring new properties in a financially prudent fashion. If you are looking for steady income, have the patience to wait for sector trends to change, and willing to buy into a sector that has fallen on hard times, Chatham should be on your list of candidates.
When using a top-down approach, one wants to find a stock that has been unfairly punished by macro-traders, and it appears that is what has happened with Chatham.
Examining the bear scenarios:
Virtually all of the official coverage of Chatham has been on the bullish side. But if one reads the comment sections of the analysts, we find a couple potential concerns.
Commenter "jimstravels" writes:
I am afraid of all the lodging stocks. The competition from Air B&B [sic] is going to continue to impact their growth.
My opinion is that Airbnb (AIRB) could be of concern for hotels in expensive tourist destinations like New York and San Francisco where tourists plan to spend the majority of their time outside of their rooms. Additionally, during times of high occupancy, like when large concert events are in town, Airbnb can serve as a budget alternative for travelers in town to attend an event. Generally, speaking, for the types of properties Chatham owns, this isn't much of a concern. They tend to own branded select service hotels that are located in near businesses. The types of guests that they attract are extended-stay business travelers, and people in town for events like athletic competitions for their kids or weddings. I'll write more on this later, but I don't see Airbnb as a major threat. Not to mention that it is only a matter of time before politics will come to bear on Airbnb. Hotels can pay upwards of a 12% tax in many areas. How long do you think that local governments are going to let a company like Airbnb eat into their revenue before they take action?
A larger concern comes from "Frank D.":
There is probably no hotel REIT more exposed to the risk posed by the monstrous Upper midscale and upscale hotel development than this one. APLE is a close second. Their portfolio has a significant portion of low-barrier to entry market hotels that are being commoditized by new franchises springing up all around them.
Frank D. goes on to note that he builds hotels like the ones Chatham owns and that there has been a tremendous increase in hotel rooms in this space and that there is a fairly low barrier to entry.
This is probably the biggest serious concern for Chatham over the next 5 years, and I'll address it in the next section.
Seeking out information from people who work in the industry:
Frank D. noted that from a builder's (or perhaps developer's) perspective, these properties are very vulnerable to new competition. These opinions are important to seek out if you are trying to invest in an stock from the top down and are not an expert in the area.
While I am far from being an expert, and I do not work at a Chatham property, I do work at mid-scale branded hotel like the ones Chatham owns (Hilton Garden Inn). Here is a little background on that:
My primary job is a stay-at-home dad, but I've also been working part-time in the hospitality industry since 2009, and probably will continue to do so until my youngest starts school next August. I've witnessed both the lows in this industry and the current highs, and I've found the trends at the property I work at are fairly representative of the larger trends both in the industry and the economy as a whole, even though it is just a single data point.
As Frank D. noted, we have seen enormous growth in the hospitality sector over the past three years. I would estimate that there has been about 35% growth in rooms in the area surrounding the hotel I work at. The interesting thing is that increase hasn't negatively affected our occupancy rates. They continue to grow steadily each year. Our property is a little different than some in that we have banquet facilities in which we host a variety of events. This tends to balance out the business travelers who fill the hotel during the week, with leisure and event travelers who stay on the weekend. But there are still plenty of weekends I have difficulty finding rooms for people at surrounding hotels when we are sold out.
I think Frank D.'s concerns are valid ones, but our hotel has record bookings for wedding receptions for 2016 and our negotiated rates with local businesses will rise again this year. The macro pressures, and pressure from over-supply, aren't here yet in any significance. And I wouldn't expect them to surface any earlier than late 2016, probably more likely 2017, or 2018, when they do.
Purchasing strategy:
As noted earlier, this is the first REIT recommendation I've written. We are no where near the bottom of a cycle, which would be the ideal time to invest. However, low oil prices are putting a lot of money into average peoples' pockets. Interest rates are still low, and are not expect to rise fast. Management at Chatham doesn't appear to be over-aggressive in their search for new properties going forward. My sense is that we still have over a year, and potentially longer before profits dip in mid-scale hospitality industry. At least some of the rate fears have been priced into Chatham's stock price, and now is a good time to make an initial purchase for the medium-to-long-term.
I think a reasonable REIT allocation for a yet-to-retire Roth portfolio is probably around 12%. I suggest a 2% weighting to Chatham Lodging Trust, and 10% cash for future REIT purchases over the next few years. Chatham currently yields about 5.8% and the dividend should be sustainable through a moderate downturn. Many of my recommendations are for the short-to-medium-term, but this one I consider a medium-to-long-term one. If the economy continues to grow, and occupancy remains strong, then we could get a bump in price in 2016. If the bump is high enough, then I would take profits (I will write an update if that time comes to pass, and sometimes I just write a short instablog instead of a full article, so if you want to make sure you get an update, you'll want to "follow" me. That way you'll get a notification no matter what platform I choose to publish on.). If however, the stock price continues its downward trend, I would continue to hold and collect the dividend. One should maintain plenty of dry powder (or plan to make future contributions if you are dollar-cost-averaging), because, other than perhaps some dovish Fed minutes when they come out in January, I don't see much of a short-term catalyst. Nevertheless, I consider Chatham Lodging Trust a buy.