Transportation stocks in general have had a rough year in 2015 with the Dow Jones Transport Index down over 15% as we prepare to close out the year. Airlines have performed modestly better as a whole, but it's been hit and miss. Stocks like JetBlue Airways (JBLU) and Alaska Air Group (ALK) are both up over 40% while laggards like United Continental (UAL) and American Airlines Group (AAL) are down double digits.
Delta Air Lines (NYSE:DAL) has had a decent year thus far in 2015 returning shareholder just over 5%. There are a number of factors in place, however, that suggest that Delta could be in for an even bigger year in 2016. Oil prices, revenues per passenger, foreign exchange rates and valuations will all factor into the stock's performance in the coming year but I like the way Delta is currently positioned to take advantage of some of these trends. For the reasons I'm about to discuss, I think Delta could be a top choice for 2016.
Continued low oil prices boosting the bottom line
Oil prices are near lows last seen in 2008 as OPEC countries continue to pledge that they'll maximize production in the face of crude oversupplies. With the Fed likely to raise interest rates at any moment, a lot of pressure will continue to weigh on crude prices likely keeping them in the mid $30 range until something - a pullback in production or an increase in oil demand or both - changes.
Low oil prices are damaging to energy companies but are welcome news for airlines. In the 3rd quarter of 2015, Delta reported net income of $1.3 billion versus $0.4 billion in the same quarter a year ago. At the same time, fuel expense fell to $1.1 billion from $1.8 billion year over year. I'd expect this trend to continue at least through the first half of 2016 as oil supply and demand remains out of whack, but this assumption may need to be revisited in the second half of the year if production levels change.
Taking steps to maximize revenue per passenger
Passenger revenue per available seat mile (PRASM) remains one of the go-to metrics to determine how well an airline is functioning. The airlines lately have been issuing cautious forecasts with Delta being no exception. Delta reported a 5% decline in PRASM in Q3 on 3% capacity group and forecasted a 2.5-4.5% drop in the Q4. One encouraging sign of a PRASM turnaround is that Delta already announced that it expects to come in on the high end of Q4 expectations.

2015 PRASM came down as capacities were rising. Therefore, Delta has set a goal of raising capacity only in the 0-2% range in 2016 in order to turn PRASM positive again. Passenger revenues showed the biggest decreases in its overseas markets, and the company will be making cuts in those areas in order to boost margins and profitability.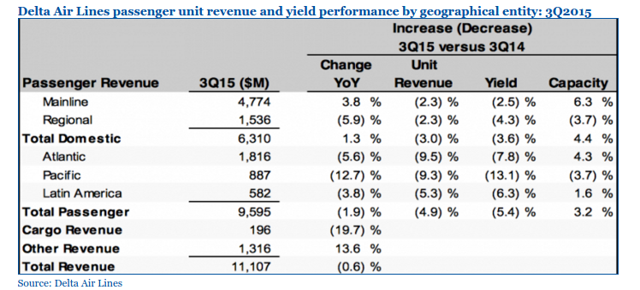 Passenger load factors don't seem to be an issue for Delta as the company reported a figure of 87.3% for the month of August which should further support PRASM growth going forward.
Stock valuation
Airline stocks in general sport lower valuations than the broader market but Delta seems undervalued even by these modest expectations.
Delta carries a forward P/E of just under 9 based on 2016 earnings. Delta's earnings are also expected to grow around 24% in 2016 compared to 2015 which suggests that some multiple expansion could be in order. Southwest, JetBlue and Alaska Air all have forward P/Es in the 11-12 range. A 20% multiple expansion might not be in the cards for Delta but it could begin approaching the valuations of its peers.
Conclusion
There are a lot of moving parts in play for Delta, but I like where the company sits right now. Bets could be off if oil prices begin to unexpectedly rise again. Foreign exchange could be another headwind although the dollar seems to have stabilized lately.
The company seems to be taking logical steps to improve PRASM and with valuations low, earnings rising, and passenger loads strong, Delta's stock could be a strong performer in 2016.