2015 has had quite a particularity, and like almost any dramatic and challenging year, most investors expect the following one, 2016, to be something similar. And as it usually happens, things rarely repeat themselves twice in a roll, especially when the starting event has been so dramatic and daunting that almost everybody involved has either made the necessary hedges or has quit in despair. This particularity of 2015, so traumatic to some, and dramatic, has been a very unusual risk averseness that has been extremely divergent. Commodities and energy stocks have been crashed, and emerging markets (EMs) have seen their worst year since the Asian financial crisis of the late '90s, while the US, Japan and Germany have been extremely sanguine - US and Germany have actually, very recently, hit record highs. This is quite unusual in the sense that the whole market in economies considered to be "safe" has been extremely positive, hitting either record highs in the US and Germany, or multi-year highs in Japan, while other markets, currencies, and some sectors and industries have been nothing short of ravaged.
Normally, when there is an extreme pessimism in a huge industry, like commodities and energy, or in the overall EMs, the whole financial system must be shaken and the stock markets in all the major economies must be affected. But not this time! The Fed is actually thinking about raising rates! It does indeed sound bizarre that at such an extraordinary moment, when there are real market crises going on in EMs and in the commodities and energy sectors, the Fed feels confident enough to raise rates - though mostly symbolically.
But is this the new normal, where some markets are magically safe from all the nasty events across so much of the world? Is this the new normal for the years to come, in which the US dollar will be very strong, and the US, German and Japanese (or other smaller ones considered to be "safe") stock markets immune to the shocks of other economies and industries?
Nobody can ignore the real troubles in commodities and energy. WTI Crude oil is almost $35 per barrel, near the trough seen in 2009: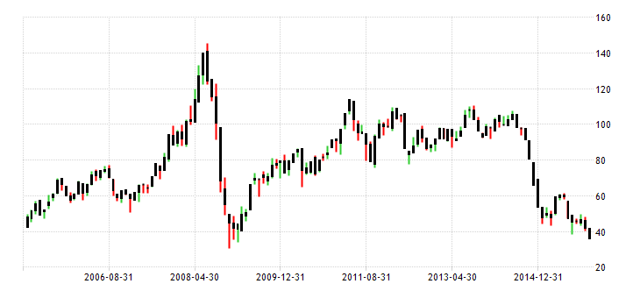 (Source: Trading Economics)
Other commodities' prices have also hit multi-year lows this year, mostly going back more than ten years. These low prices are partially a result of Chinese industrial recession, but also the result of heavy investments that have taken place in good times (which lasted more than a decade), when margins were incredible. And these investments have resulted in capacity for which there is not enough demand, and indebted or troubled producers (companies with large debts, or oil-dependent countries with huge fiscal troubles) are now dictating prices. The troubles in the commodities and energy sectors are real, and they are not going to go away anytime soon, as the glut of production that has resulted from years of overinvestment is not going to disappear in one or two years. So, the current major issues facing financial markets are neither artificial, nor temporary. But why haven't they affected all the markets, and why have only specific areas been ravaged, while others have seen extraordinarily good times and relative financial stability?
The answer can be short, and in two short phrases, depending on the perspective of the interpreter - market randomness, and interest rates. Some people may say that it is only because of the historically low interest rates in the rich world. However, these historically low interest rates could not have been achieved without the right market conditions. Nobody really expected interest rates to remain so low for so long. It was supposed to be very temporary back in 2009, and almost everybody - from economists to the Fed, to various pundits and analysts - expected the rates to go higher in 2010 or 2011. And now we are in 2015, and all long-term interest rates across all the rich world are at even lower levels than in 2010 or 2011. It just happened. Of course, it is easy now, with the advantage of hindsight, to find culprits - like the QE in Japan and Europe, or more recently, the deflationary pressures from China's slowdown. But similar unknowns also lurk in the future. Nonetheless, eventually, historically low interest rates (whatever has created them) have indeed caused rich world assets to be at historically high levels.
What will happen in 2016? Will the current situation continue? Will the rich world assets continue to be so highly valued compared to other places where interest rates are not so low, or market perceptions (or realities) are not exactly benign? Extreme divergences as the one which has occurred this year do not last for long, as market participants attempt to do arbitrage and smoothen things out. Either rich world assets must come down to match the troubles that exist in so many areas (EM, commodities markets, and energy), or the other way around. I seriously doubt there will be a significant and meaningful rebound in energy or commodities prices in 2016, though they might very well stabilise, as they have already been shaken very seriously. Any significant fall in the financial markets in the rich world will push down interest rates further (even with the upcoming interest rate hike by the Fed), and at such low levels, and with Europe and Japan (and others) willing to create further accommodation in case necessary, it is quite unlikely to see a dramatic drop in asset prices in the rich world. The whole uncertainty comes from the future intentions of the Fed, which, of course, can by no means be defined as antagonistic towards the financial markets. By the passing of the following Fed meeting, when it is almost certain to see a 25 basis point rise (almost nothing, and is already priced in everywhere in the financial markets), I would expect that investors will likely start searching for yield in other places that have been shunned this year. It may not be called the unleashing of animal spirits by any means, but it will, by the end of 2016, narrow down the current huge gap that exists between assets which are considered "safe" and those which have been too hastily dropped this year. Energy and commodities will not go back to their highs anytime soon (for many years), but there are many other places, sectors and industries, and of course emerging markets which can benefit from a more optimistic approach.
2016 will most likely be a year of narrowing of the valuation gap between the so-called safe economies and more speculative ones all around the world. There is too little yield in the rich world right now, and ample liquidity. And the strong US dollar is also very supportive of those who decide to venture out and seek better yields in areas that have been abandoned in 2015.
Disclosure: I/we have no positions in any stocks mentioned, and no plans to initiate any positions within the next 72 hours.
I wrote this article myself, and it expresses my own opinions. I am not receiving compensation for it (other than from Seeking Alpha). I have no business relationship with any company whose stock is mentioned in this article.