This may sound like a broken record, but energy-dependent producer countries are feeling the pain of falling oil prices. Russia similarly falls into this category, experiencing economic pressures as energy prices tumbled over 60% in the last year. As its economic activity waned, Russian equities, represented by such indexes as iShares MSCI Russia Capped Index (NYSEARCA:ERUS) and Market Vectors Russia ETF (NYSEARCA:RSX), declined to multi-year lows.
The chart below highlights Russia's economic activity. In 2010, when energy prices were elevated, Russia experienced annual growth above 5%. Now, however, with the significant decline in oil prices, economic growth has swung to the other side of the pendulum, coming in at -5% annual contraction. A confluence of factors have led to the steady decline in activity.
First, lower energy prices were unavoidable for Russia. The country's reliance on the commodity left it vulnerable to such declines. Economic sanctions from the West, however, magnified such weakness. As both energy prices fell and geopolitical risks rose, investment in the country declined. This also led to falling factory activity, which weighed on headline economic activity as well.
As the economy deteriorated, investors sold off the Russian ruble. The drastic decline in the ruble against the U.S. dollar resulted in inflation measures spiking to over 16% annual growth, more than doubling in the span of a year. This weighed on Russia's consumer spending, which also affected economic activity.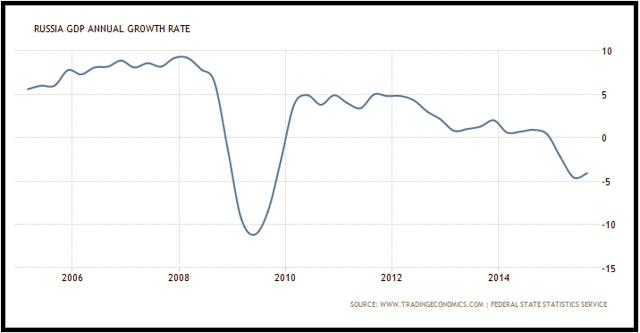 With Russia's economy in a nasty spiral of higher inflation and falling economic activity, a meaningful recovery looks to be well off in the distant. Energy prices are showing no sign of rebounding, and even Russian policymakers acknowledge the road ahead will be difficult.
As the economic headwinds took shape, ERUS and RSX each declined by nearly 50%. While the indexes have not retested 2015 lows yet, tighter U.S. monetary policy could do the trick. On top of the issues Russia faces with its economy, a stronger dollar could lead to further ruble weakness, increasing inflation measures. Policymakers may then be forced to raise lending rates again to stave off inflation and deter currency outflows. This scenario will lead to further weakness in Russian equities. While RSX and ERUS have already experienced heavy selling pressure in recent months, the outlook for Russia's economy is not bright, leaving more room for a downside move. Russian equities could retest lows in coming months, as investors become more pessimistic over emerging economies, making the index an interesting short position at current levels.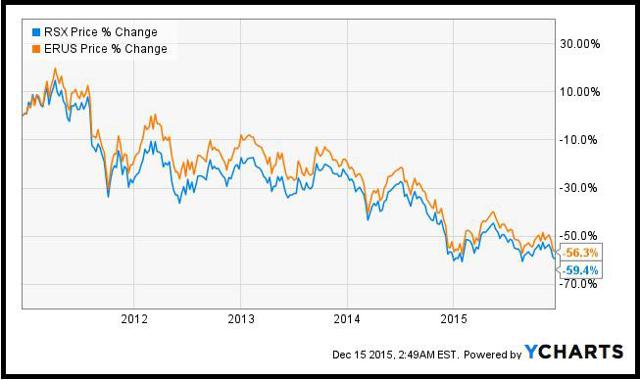 Disclosure: I/we have no positions in any stocks mentioned, and no plans to initiate any positions within the next 72 hours.
I wrote this article myself, and it expresses my own opinions. I am not receiving compensation for it (other than from Seeking Alpha). I have no business relationship with any company whose stock is mentioned in this article.