Lemelson Capital's March Position On Lumber Liquidators Proven Correct By Latest News
Summary
On March 3, 2015 Yahoo Finance reported that Lemelson Capital CIO Emmanuel Lemelson spoke out in defense of LL, arguing that there was no evidence of "intent" regarding tainted flooring.
Lemelson was the only firm to speak out publicly in defense of LL and its Founder Tom Sullivan.
Whitney Tilson's turnabout on Seeking Alpha vindicates Lemelson over 9 months later.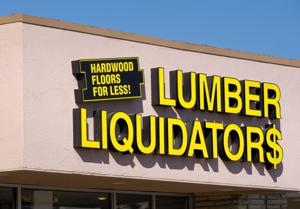 Lemelson Capital's March 3, 2015 position on Lumber Liquidators (NYSE:NYSE:LL) has been proven correct. Previously Lemelson was the only firm to speak out publicly in support of LL and its founder and chairman Tom Sullivan on the issue of intent regarding LL's controversial wood flooring products based on a March 2015 60 minutes expose.
Despite the significant price correction Lemelson continues to believe that open-ended legal liabilities as well as brand-impairment at the firm continue to reduce any margin of safety even at the current depressed stock price, despite the Tilson turnabout (now agreeing with Lemelson) that the accusations of "intent" on the part of senior management at LL were unfounded.
Lemelson Capital at the time had spoke with LL founder and Chairman Tom Sullivan. The following is a brief history of the Lemelson comments following those discussion and the related controversy:
On March 9, 2015 Yahoo Finance quoted Lemelson Capital founder and CIO Emmanuel Lemelson in the following excerpt:
Lemelson said it is "likely that LL was not the source of the directive to use the toxic substance" since one of the samples passed the emissions test. If Lumber Liquidators had directed the cost-cutting measures, he argued, it is likely that all samples would have failed. "The cost savings was most likely initiated by the factories themselves (perhaps aware that LL was not required by law to test)," Lemelson added

Tilson's Lumber Liquidators Story Doesn't Add Up, Lemelson Capital CIO Says - Yahoo News March 03, 2015
On December 14, 2015 Whitney Tilson in the following Seeking Alpha article wrote:
In the past week, I've received information (I can't reveal the details at this point) which leads me to believe that it's likely that senior management of Lumber Liquidators (LL): 1) Wasn't aware that the company was selling Chinese-made laminate that had high (non-CARB2-compliant) levels of formaldehyde; and 2) Made the decision to continue selling the product even after the 60 Minutes story aired in large part because they genuinely believed that the product was safe and compliant.
The Yahoo Finance article continued with the following:
Lemelson Capital Management Chief Investment Officer Rev. Emmanuel Lemelson told Benzinga that the appearance of a conflict of interest is troubling throughout "60 Minutes" story on Lumber Liquidators Holdings Inc (NYSE: LL)...

Yet Lemelson was not sure that all of Tilson's arguments add up, specifically Tilson's argument that Lumber Liquidators is behind the cost cutting measures. Instead, he argued that Lumber Liquidators may be guilty of not having the policies and procedures in place to check quality.
Tilson's Lumber Liquidators Story Doesn't Add Up, Lemelson Capital CIO Says - Yahoo News March 03, 2015
Lemelson's comments here are vindicated by Tilson's Seeking Alpha article some 9 months later when he states:
"...it does change the narrative from a company that was knowingly endangering its customers to save on its sourcing costs to one that was duped by Chinese suppliers and/or middlemen into believing that it was receiving CARB2-compliant laminate. If so, Lumber Liquidators was sloppy and naïve, but not evil. Many companies, alas, have unwittingly bought low-quality, toxic and/or illegal products from Chinese suppliers."
Lemelson Capital also pointed out that although LL / Tom Sullivan did not appear guilty of impropriety per the March 3, 2015 commentary, the firm also said the stock should be avoided - to quote:
Finally, Lemelson cautioned investors to stay away from Lumber Liquidators' stock while this all plays out.

"LL is not cheap, has fairly low operating margins, little liquidity and ballooning inventory. [...] This fact, taken with the complete absence of any margin of safety in the company's financial showing represents unacceptable risk."

Shares of Lumber Liquidators closed Monday at $38.83, down 24 percent. Shares were up about 5 percent in Tuesday's premarket.
Following these comments, shares of LL then fell ~70% to hit a low on August 5th, 2015
See also: Benzinga - This Hedge Fund Manager Spoke With Lumber Liquidators' Chairman -- Here's What He Thinks (March 11, 2015)
and
Lumber Liquidators shares spike as critic backs off - CNBC Dec, 14, 2015
As stated above, despite the precipitous decline in price, and the implied acknowledgement by Tilson that the accusations of "intent" were unfounded, Lemelson Capital still believes that outstanding litigation poses a significant open-ended liability (Adding to the risk is significant brand-impairment as well as the recent debt the company has taken on) and thus, despite the company's very consistent earnings, the current price of the shares still lacks a sufficient margin of safety to make a commitment.
This article was written by
Welcome to Lemelson Capital Management Lemelson Capital focuses on deep value and special situation investments.
Analyst's Disclosure: I/we have no positions in any stocks mentioned, and no plans to initiate any positions within the next 72 hours. I wrote this article myself, and it expresses my own opinions. I am not receiving compensation for it. I have no business relationship with any company whose stock is mentioned in this article.
Seeking Alpha's Disclosure: Past performance is no guarantee of future results. No recommendation or advice is being given as to whether any investment is suitable for a particular investor. Any views or opinions expressed above may not reflect those of Seeking Alpha as a whole. Seeking Alpha is not a licensed securities dealer, broker or US investment adviser or investment bank. Our analysts are third party authors that include both professional investors and individual investors who may not be licensed or certified by any institute or regulatory body.