BRF S.A. (NYSE:BRFS) is a food company with its headquarters in Sao Paulo, Brazil and its ADR shares are listed on the New York Stock Exchange. Sadia, Perdigo, Hot Pocket, and Qualy are just some of the brands the company owns.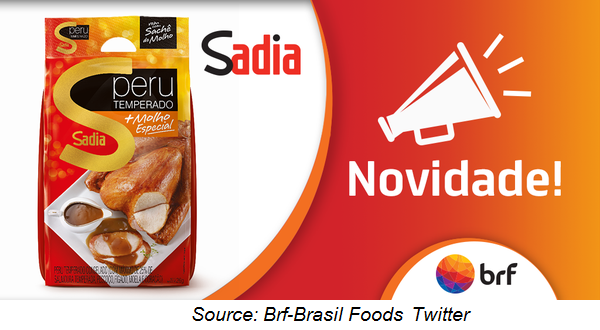 Shares in the company have had a rough year with its ADR shares down approximately 37% year-to-date, as of 12/14/2015. One of BRF's competitors, JBS S.A. (OTCQX:JBSAY) has managed to perform somewhat better with its ADR shares down about 24% year-to-date. Neither are performing well, but with all the problems going on in Brazil that I noted in my last article, it is no surprise. Based on my financial model, the poor performance in BRF shares is justified due to its fundamentals. The company has good long-term potential, but there are notable risks in the near-term.
Debt Profile
When analyzing the financial statements, one noticeable potential risk is the increase in total gross debt. Total gross debt at the end of the 2nd quarter of 2015 stood at 11.76 billion reais. When comparing this to the 3rd quarter we'll notice gross debt increased to 15.98 billion reais (3.89 BRL = 1 U.S dollar at time of writing). Debt can become a problem for a company if cash flows are low or drop significantly because that means there is less cash to make interest and principle payments. To look at the company's ability to service its debt we can analyze the company's interest coverage ratio. EBIT-to-Interest (interest represented by "Net Financial Expenses") was 3.51 at the end of 2014. This ratio has decreased since then due to the increase in debt and is about 2.07 over the first 9 months of the year. Even with this drop in its interest coverage ratio, the company still has a comfortable cushion between operating income and interest so I don't anticipate interest payments being a problem under the current debt load.
While gross debt has increased 35.9% q-o-q, net accounting debt is only up 17% q-o-q and is at 6.95 billion reais. Net accounting debt is defined as gross debt minus total cash investments.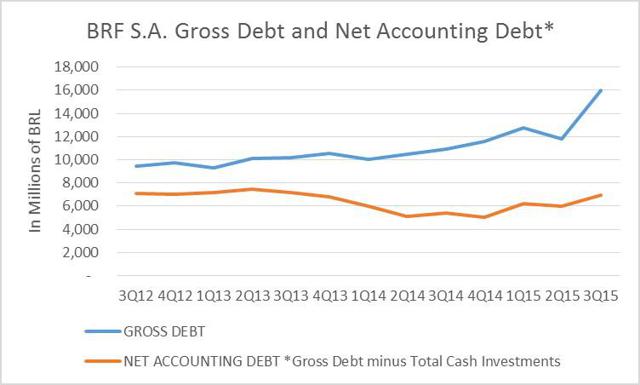 Source: Company data - Company Fundamentals and Spreadsheets
As we can see in the graph above, net accounting debt had a large deviation from gross debt in the 3rd quarter. This is primarily because total cash investments went from 5.8 billion reais in the 2nd quarter to 9.0 billion reais in the 3rd quarter, a 55% increase. The majority of the company's debt is in foreign currency (U.S dollar). In this particular case, local currency refers to the Brazilian real. Foreign currency makes up about 74% of BRF's total gross debt. This does expose the company to exchange rate risk on its debt. Exchange rate variation is partially why debt increased quarter-over-quarter. Predicting currency movements is difficult, but some believe that over the long-run currencies are mean-reverting. That theory doesn't help much currently because there is a risk that the U.S. dollar will strengthen against the Brazilian real even more if the U.S. starts increasing interest rates. The positive development here is that BRF has about 78% of its cash investments in foreign currency which creates at least a partial natural hedge against exchange rate movements.
Another reason for the increase in net debt was its share buyback program. The share buyback program helps to decrease shares outstanding, thus leaving a larger portion of its cash flows to current owners. I'm not the biggest fan of share buyback programs that use debt, but in this case it doesn't seem like a terrible idea and, as I previously mentioned, BRF debt is still at a manageable level. For this reason, debt is not my primary concern. My current concern is the company's operating margin.
Operating Margin
After building a financial model to analyze BRF's fundamental value, it became clear that margins are probably a major reason for the poor stock performance. The companies operating margin has improved since the 5.2% recorded in 2012. Over the first nine months of 2015, operating margin was about 11.5%. But, relatively speaking, this improvement may not be good enough.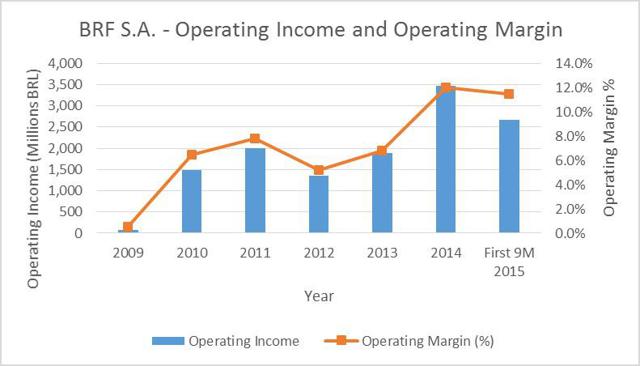 Source: Company data - Company Fundamentals and Spreadsheets
At first glance, it would appear that since operating margins are on an overall upward trend, current margin levels are a positive development. So why would the stock be negatively affected by its operating margin? It's because margins are likely failing to meet the expectations that many analyst had at the beginning of the year and it doesn't look like they will increase much from 12% over the 4th quarter because BRF is holding off on further price hikes in Brazil this year due to pricing pressure and the amount they can raise prices in 2016 is largely dependent on how the economy is holding-up come next year. Unfortunately, projections for next year are not good. While I'm concerned that operating margins may not improve, there is hope that they could increase due to several acquisitions that BRF has done in 2015. One of the large deals was the December acquisition of Thailand's Golden Foods Siam. According to their website, Golden Foods Siam was established in 1991 and is one of Thailand's largest fully integrated chicken processors and has operations in 15 other markets. Acquisitions can help increase margins if there are meaningful synergies or if the acquired company has a higher operating margin than the acquirer. However; it will likely take some time and I don't expect an immediate increase in BRF operating margins.
Free Cash Flow
In my "conservative" base case scenario, if operating margins stay in the 12% range over the next couple of years, my model shows free cash flow growing at less than 2% per a year in 2016 through 2019. The investment does not show good value in this base case scenario. But again, that is if there is no improvement in operating margins. While I do not believe margins will increase much in 2016, it is unlikely that the operating margin does not change over the next 4 years. It's also worth noting that financial models that use discounted cash flows are highly sensitive to input estimates and conducting a sensitivity analysis is very important. For example, my model shows that BRF is slightly overvalued when operating margins are at 12% over the next 4 years but if operating margins improve to about 16% per year, the company is fairly valued. In this example, fairly valued means the price of the stock is either at the estimated price calculated by the model, or within a range of +/- 10% from the estimated price.
If you don't already own BRF, I would wait to purchase the stock. As I have previously mentioned, the company does have good long-term potential and management appears to be aware of the problems the company is facing (which is always a plus). But the current risk versus return profile is not favorable under the current conditions. It may be wise to wait until there is some improvement in operating margins before making a purchase.
Disclosure: I/we have no positions in any stocks mentioned, and no plans to initiate any positions within the next 72 hours.
I wrote this article myself, and it expresses my own opinions. I am not receiving compensation for it (other than from Seeking Alpha). I have no business relationship with any company whose stock is mentioned in this article.
Additional disclosure: Disclaimer: Information in this article represents the opinion of the analyst. Opinions expressed herein are not an investment recommendation and are not meant to be relied upon in investment decisions. The author is not acting in an investment, tax, legal or any other advisory capacity. The opinions expressed herein address only select aspects of potential investment in securities of the companies mentioned and cannot be a substitute for comprehensive investment analysis. Any analysis presented herein is illustrative in nature, limited in scope, based on an incomplete set of information, and has limitations to its accuracy. The author recommends that potential and existing investors conduct thorough investment research of their own, including detailed review of the companies' SEC filings. The information upon which this material is based was obtained from sources believed to be reliable, but has not been independently verified. Therefore, the author cannot guarantee its accuracy. Any opinions or estimates constitute the author's best judgment as of the date of publication, and are subject to change without notice. The author explicitly disclaims any liability that may arise from the use of this material.
Editor's Note: This article discusses one or more securities that do not trade on a major U.S. exchange. Please be aware of the risks associated with these stocks.