By Parke Shall
On yesterday's show, Jim Cramer went on a diatribe about why people investing for the long-haul should not be putting money for their children into oil and gas stocks. He was prompted to talk about this after being asked about Chevron (NYSE:CVX), to which he manufactured a response about all oil and gas companies as whole.
Citing last week's green energy decision in Paris, he basically claimed that the fossil fuel industry is on its way to its a grave. All one needs to do is look out their Manhattan office window to know that this is not true. You can see thousands of vehicles, boats, and airplanes all consuming enormous amounts of fossil fuel on a daily basis. While Chevron may have been a good example in the sense that it is overvalued on traditional metrics, we sure do not think that all oil and gas companies are done for.
Oil and gas has had a very tough year because oil prices have been crushed. In addition to that, the country is making its strongest strides towards using renewable energy that it has ever made. Solar is a burgeoning sector because people are trying to reduce their reliance on fossil feels. However, a reduction of usage on fossil fuels and the entire industry going belly up are two completely different things. We think that it is incredibly easy to make statements like this now, but a more forward thinking analysis would consider a time where oil is not at $35 a barrel.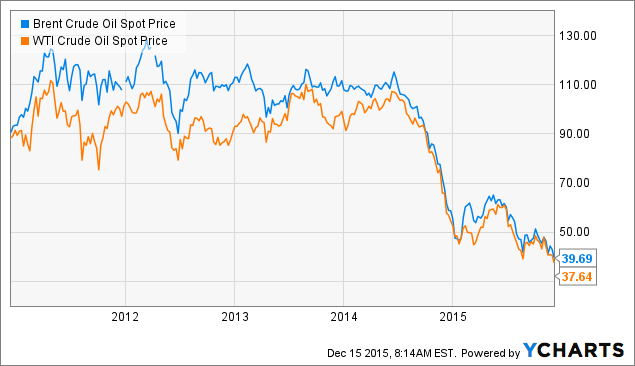 Brent Crude Oil Spot Price data by YCharts
Assuming that the price of oil rises heading into 2016, which we believe it will, we expect to see a couple more larger mergers and acquisitions in the oil and gas space. We also expect to see oil and gas companies start to tick upward.
Ignoring the price of oil and looking at oil demand, we continue to see that there is significant demand for fossil fuels worldwide. For instance, take a look at predicted demand growth.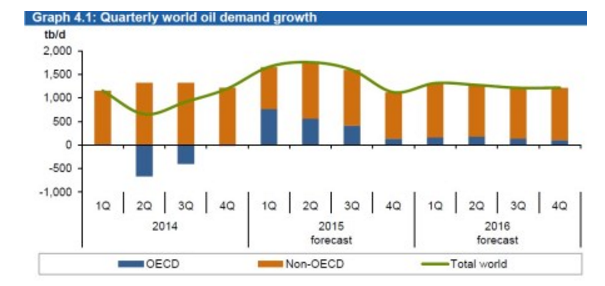 The same article says,
In absolute terms, the U.S. and China will post some of the world's strongest increases in oil consumption in 2015, each jumping by about 380,000 barrels per day. But in percentage terms, India's 5 percent expansion in consumption is the world's fastest among large countries.
Then there are reputable headlines like this one, that have continued to overlay the main headlines about oil prices dropping.

And the commentary from this article, from mid 2015,
Demand for oil is increasing at its fastest pace in five years, boosted by an oil-price drop below $50 a barrel, a top energy watchdog said Wednesday, as it sharply upgraded its consumption-growth forecast for the commodity.

But in a blow to the Organization of the Petroleum Exporting Countries' strategy to defend its market share, the International Energy Agency said lower oil prices would only start to dent rival production next year.

In its closely watched monthly report, the IEA said global oil demand would grow by 1.6 million barrels a day this year, an upward revision of 200,000 barrels a day from its previous forecast, and would keep rising by 1.4 million barrels a day next year. The organization-which advises industrialized nations on energy-said consumers were responding to lower oil prices while macroeconomic prospects were better than expected.

"Oil's plunge below $50 barrels a day from triple digits a year ago has seen demand react more swiftly than supply," the IEA said. "Against this backdrop, many participants in the oil industry have adopted a new mantra - 'lower for longer'."

The news comes after OPEC also upgraded its oil consumption views for 2015 in a report Tuesday. Global oil demand is expected to grow by 1.38 million barrels a day this year, some 90,000 barrels a day more than it previously expected, the oil producers' cartel said.
Demand continues, and supply will eventually find an interruption. Whether it's from geopolitical turmoil or other means, stead production is what's holding down prices now and we don't believe this can last. We expect oil to head higher into 2016 and we expect oil companies to rebound.
We would be careful about the oil names that we do invest in, though. If oil heads lower under $35 again, we are going to be considering putting on a long position in crude. Until then we can look at some of the compressed valuations of some oil companies, like Shell and BP. We agree that names like Chevron and Exxon are probably too overvalued for the way things are currently shaping up for the oil industry. But they're far from "avoid at all cost" type names.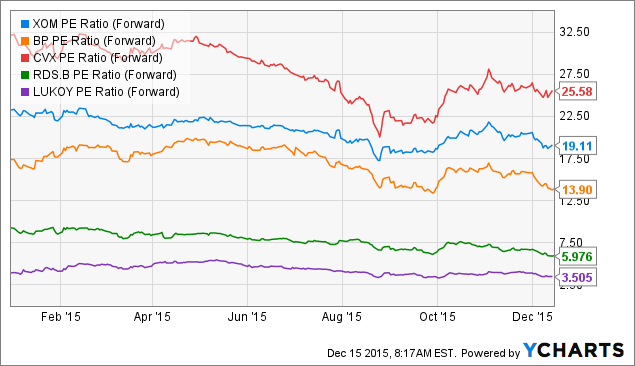 XOM PE Ratio (Forward) data by YCharts
Again, Mr. Cramer is correct in that the trend is starting to slightly move away from fossil fuels.
However, to not include an oil and gas company in a long term diversified portfolio, we think would be a mistake. We expect all of the named companies above to continue to meet their dividend requirements and we expect oil and gas, like the banking sector, to have its day in the near future. Oil is waiting for the price of crude to go up, and the banking sector is waiting for the federal funds rate to go up. We think both of these happen heading into 2016, so these are two sectors you will still want to own.
Disclosure: I/we have no positions in any stocks mentioned, and no plans to initiate any positions within the next 72 hours.
I wrote this article myself, and it expresses my own opinions. I am not receiving compensation for it (other than from Seeking Alpha). I have no business relationship with any company whose stock is mentioned in this article.