The Dugan System is an objective stock rating system that measures the strength of a stock's current performance condition (valuation, payout ratio, DGR history, market cap and years on the CCC list) plus its prospects for achieving high future performance expectations (this year's, next year's and estimated 5-yr EPS growth). Current condition and achieving high future performance expectations are linked because future performance is built on current conditions. The Dugan Scoring System is explained here and summarized below: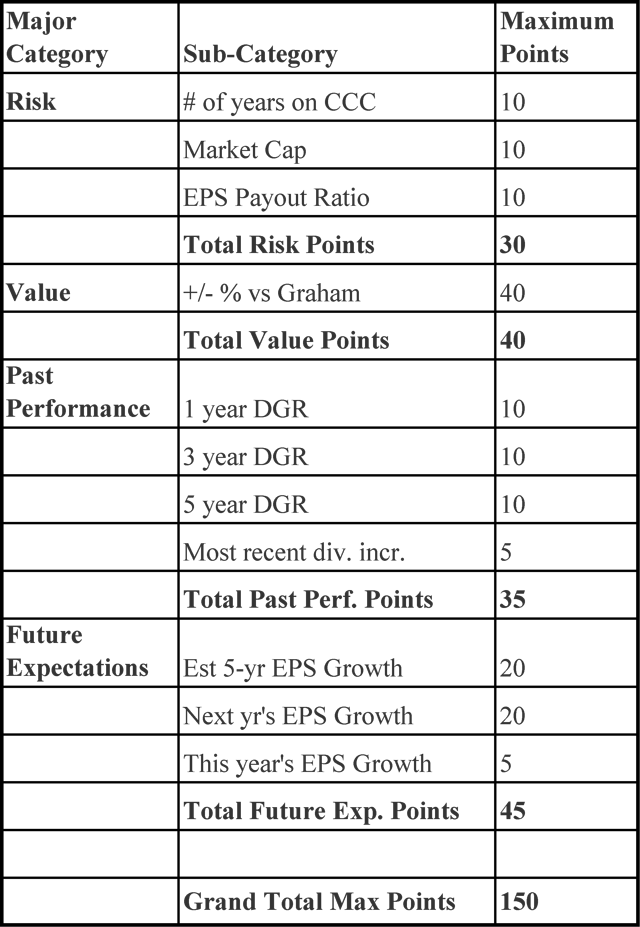 The "All CCC" tab is the first cut in my analysis process of identifying great potential investment opportunities. I've been sharing the results of my process with SA readers for some months now. I limit my analyses to the 662 companies on the All CCC list that aren't MLPs or REITs, because I believe they have attained a high level of quality (some more than others), and upon which I can improve, for stock selecting purposes, by ranking and filtering and narrowing the list to those companies that have met specific current performance conditions and specific future performance expectations that equal or exceed my personal criteria.
I do this by using the Dugan Scoring System to rank companies on the above 11 stock performance metrics to identify the best all-around stocks from the "All CCC" list. A "best all-around stock" isn't a perfect stock, as there are no "perfects" in the investing world. "Best all-arounds" are great stocks, usually with great performance characteristics in 5 to 7 of the 11 metrics, good characteristics in 3 to 5 metrics and a few weaknesses. Sometimes, those weaknesses are in stock performance areas that are high priorities for me, and thus even with a high Dugan Score, they are eliminated from consideration.
Note that the system doesn't use yield in the formula. While yield is a metric and many investors have specific needs regarding yield, it is not a performance metric, but rather it's set by a company's Board of Directors and isn't a direct result of performance in a competitive market.
For this article, I'm searching for the best companies in each sector. They are the highest scoring 5 companies in the sector which have met a few minimum standards that I believe SA readers would value: Dugan Score 50 or higher, $3B market cap, 5 analysts, 7 years on the CCC list, and both payout ratios and relative Graham numbers are less than 70. A few sectors didn't have 5 companies that met all the criteria.
Dugan Scores are a measure of all-around quality. The higher the score, the better the company's balanced current condition and future prospects. For perspective, the average Dugan Score of the 662 All CCC companies is 55. To make the top 10% of the 662 companies requires a Dugan Score of 78. Only 23 of the 662 companies score 90 or above and 5 score above 100. The maximum score is 150.
Below are the top 5 companies in each sector. At the bottom of each table I have shown the average scores in each performance category for all 662 companies. If you are interested in a particular stock, I encourage you to compare how well it scores versus the averages, in each category.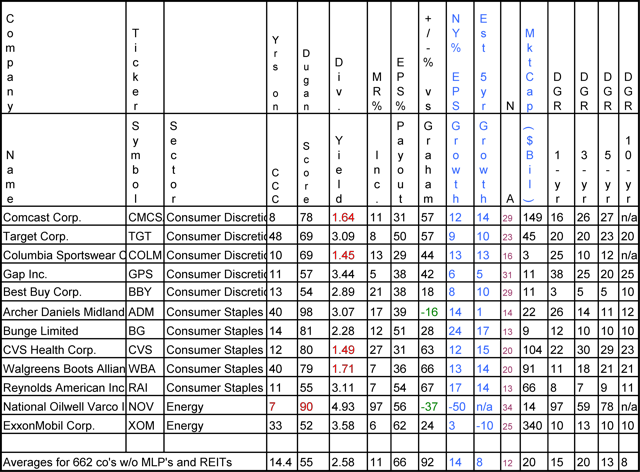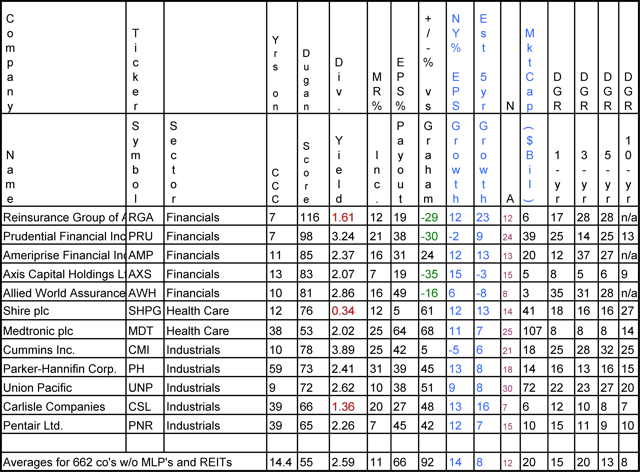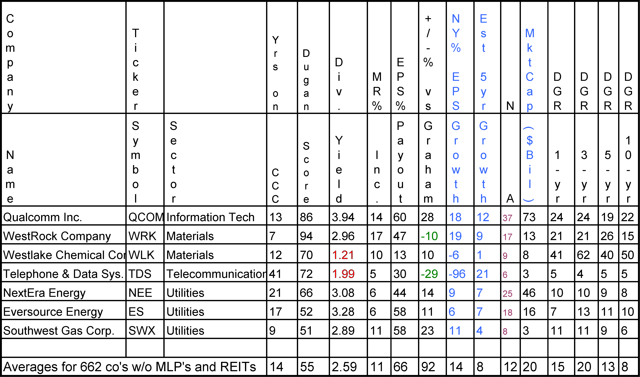 I usually do a more in-depth analysis of one stock at the end of each article. Instead, this time I'll show another table that illustrates the averages for all the CCC companies in each sector to see if there are conclusions to be drawn about the sectors themselves.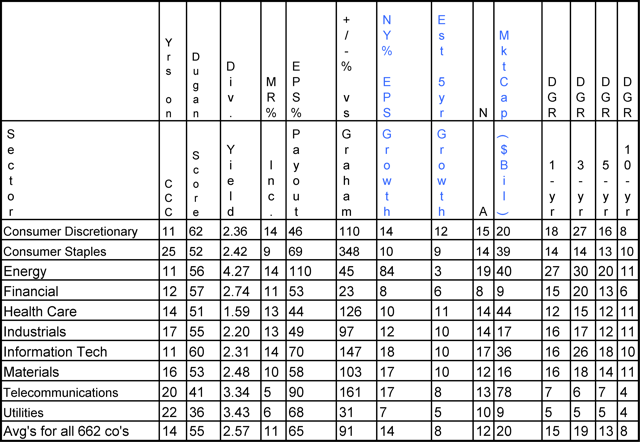 Anytime one deals with averages, meanings can be skewed by a few outlier numbers. So, we need to be careful about that here.
The 348 relative Graham number for Consumer Discretionary looks suspiciously high, as does the 84% NY EPS growth number for Energy. In CD, there are dozens of companies with relative Graham numbers in the high 100s to over 600. But the real outlier is Scholastic Corp at 1416. I don't recall seeing a number that high. Per FASTGraphs, SCHL is about 50% overvalued, even with a forecast earnings growth over 20% per year. The 84% NY EPS growth for energy can be partly explained by the sector forecast to come out of its earnings slump from a very low historic base, but there are also a number of true outliers skewing the numbers.
So, let's stick with the basics. The top 3 scoring sectors, on average, are Consumer Discretionary, Information Tech and Financial. This might suggest that those 3 sectors could be relatively popular in 2016 and companies in those sectors might enjoy a bit of a popularity boost if that pans out.
The bottom 3 sectors are Utilities, Telecommunications and Health Care, with the first 2 standing out with sector-wide low scores. Poor DGR histories and low most-recent dividend increases might explain this. These are offset, of course, by higher than average yields. EPS payout ratios in Energy merit concern about dividend sustainability. But that is no surprise, just a confirmation.
I hope you enjoyed the journey. Comments are encouraged. Happy investing.
Disclaimer: The opinions in this document are for informational and educational purposes only and should not be construed as a recommendation to buy or sell the stocks mentioned or to solicit transactions or clients. Past performance of the companies discussed may not continue and the companies may not achieve the earnings growth as predicted. The information in this document is believed to be accurate, but under no circumstances should a person act upon the information contained within. We do not recommend that anyone act upon any investment information without first consulting an investment advisor as to the suitability of such investments for his specific situation. (Stolen from Chuck Carnevale.)
Disclosure: I/we have no positions in any stocks mentioned, and no plans to initiate any positions within the next 72 hours.
I wrote this article myself, and it expresses my own opinions. I am not receiving compensation for it (other than from Seeking Alpha). I have no business relationship with any company whose stock is mentioned in this article.