Introduction
This article is the final part of the series "Russia: Unfolding This Mysterious Market", through which we created the "backbone" knowledge on Russia. For those who haven't read the previous articles, I will briefly pass through the sequence of the series (those who have, skip this part).
In Part I, we analyzed Russia's economic model. To shorten the size of the article, we only focused on the negative aspects, i.e. issues that need to be fixed for the country to flourish. For example, the dangers of external debt and the dependence on energy exports are among those issues that were explained and ultimately connected to create a comprehensive picture.
In Part II, our goal was to look for a numerical representation of the country's economic development through time (or at least how markets perceive it). We chose the RTS Index, an index of Russia's 50 most prominent stocks. Our choice was based on the fact that this index includes all the industries that play a key role in Russia's economy. The RTSI was thoroughly analyzed (which stocks were replaced in the past four-plus years, weight each industry has, which industries caused the negative trend, which supported the index, etc.), and its price value recalculated for it to be comparable four-plus years earlier (since 16 stocks have been replaced, simply taking the price today and comparing it to the price back then would generate false conclusions). Based on the industries involved, we also created a complete watch list, useful to index and mutual fund investors.
Part III has been segmented into three sub-parts. In Part III (A) we created a list of eight stocks (Macro Stock Index (MSI), that are directly linked to Russia's economic status, are of large cap and are tradable on most western trading platforms, among other credentials that needed to be met. We then started briefly presenting each one of these stocks, starting with the energy sector (Gazprom (OTCPK:OGZPY)(OTCQX:GZPFY), Lukoil (OTCPK:OTCPK:LUKOY)). Part III (B) pointed out some basic educational notes about the banking industry and then covered two of Russia's most prominent banks (Sberbank (OTCPK:SBRCY), VTB Bank). Finally, in Part III (C), the one you are currently reading, we will complete the series by covering the Primary materials industry (MMC Norilsk Nickel (OTCPK:NILSY), Rusal (OTC:RUALF)), the Telecommunications industry (MTS (NYSE:MBT)) and the Retail industry (Magnit).
The purpose of this series is to use the knowledge gathered as a benchmark to either follow up developments on the Russian economy (indirect investment method) or analyze Russian stocks more thoroughly (direct investment method). We will further expand on this "how to utilize" subject in the conclusion of this part.
The Basic Materials Industry

The company, while not government controlled in a direct fashion, is nevertheless managed in the same way (periodic meetings with the president of Russia, employee disputes settled with the president etc.). Oleg Deripaska and Vladimir Potanin (via his company Interros) are key owners (25%+ each) of Norilsk. Mr. Potanin currently holds the position of CEO in the company. Oleg Deripaska on the other hand is the president of UC Rusal, an aluminum company we will cover later. He has control over the energy company En+ Group, that has a controlling interest in Rusal (note: ownership stakes might have changed).
Norilsk is a heavily segmented corporation, with multiple director hierarchies. Comparing various sources, the number of employees range from 85,000 to 95,000. Currently, the company is running a share buyback program.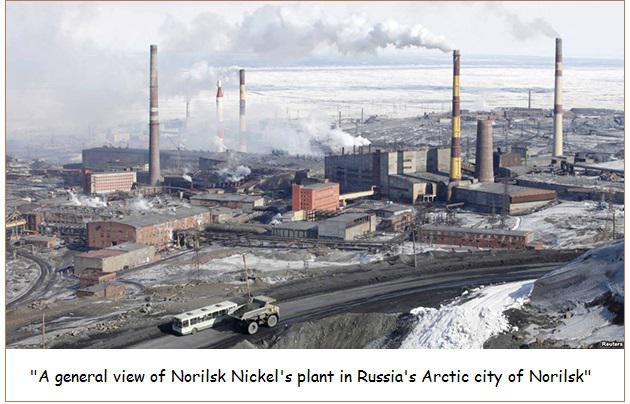 Norilsk's most important products are nickel, palladium, platinum and copper. Other basic materials produced are cobalt, rhodium, silver, gold, iridium, ruthenium, selenium, tellurium and sulfur.
Russia ranks 4th in nickel reserves and 3rd (after the Philippines and Indonesia) in production (data: 2012, production amount: 270,000 metric tons). Other major players are Australia and Canada. Nickel is used for the production of stainless steel, coins, rechargeable batteries and magnets among other purposes. Demand for this metal has decreased over time, because it was becoming too expensive, a trend that has now changed (after 2008), so we should keep in mind that demand could shift at some point. Norilsk ranks 1st in the production of nickel, globally.
The company also ranks 1st in the production of palladium, a metal mainly used in catalytic converters and which manages to convert up to 90% of harmful gases from auto exhaust into less-harmful substances. It is also very valuable for the construction of fuel cells. According to the average opinion of CEOs running businesses that have invested in fuel celled machines (Toyota (NYSE:TM), GM (NYSE:GM), Mercedes (DDAIY), etc.), demand for palladium might increase substantially in 2020, when cars like the Toyota Mirai will become economically efficient. Generally though demand for palladium moves together with demand for cars (and demand for nickel also moves with demand for electric and hydrogen fueled cars).
Platinum too is used in the production of cars. The car industry absorbs 40-50% of platinum demand (60-70% of palladium, discussed previously). What differentiates those two metals (platinum and palladium) is the fact that platinum is mostly used in diesel cars while palladium in petrol (gasoline) cars. When the VW (VLKAY) scandal unfolded (emissions in diesel cars), the prices of platinum and palladium started to move in the opposite directions (briefly).
*Metal usage verification source here & read more about catalytic converters here.
Table: A summary of Norilsk's ranking in four of its most valuable (in terms of revenue) metals.
Now, let's take a brief look at the company's financials:
Revenue development: (3yrs) -52% in total growth, (2013/2014) +24.5% in growth. 2013 was by far the worst year for Norilsk. Its revenue declined by -56% compared to 2012. It literally halved within just one year. After 2012, the size of the market started shrinking. Norilsk and all other companies started cutting back in assets in order to survive. Luckily, the Russian metals giant has little to fear when it comes to losing market in Europe. Transporting metals is very costly (due to the weight) and many of the company's products are quite rare. Palladium, for example, is only extracted in Russia, South Africa and North America.
*Special Note: From what we have witnessed throughout the entire series, the worst year for Russian businesses was not 2014, but 2013. So sanctions and bad politics just added up some more pressure, but were not the key reasons for the downturn.
Below is the graph that breaks down metal sales by product (calculated as a percentage of total revenue value) and by Geography. The interdependence between Russia and Europe is clearly visible: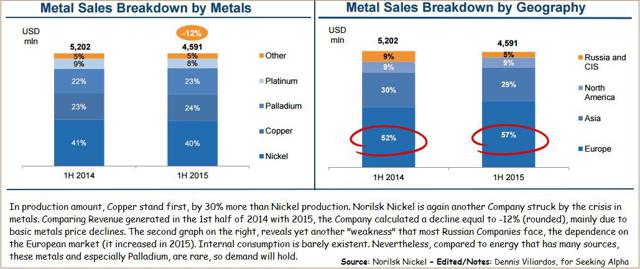 Net Profits development: (3yrs) -61% total profit development, (2013/2014) +292% profit change. While revenues declined by -56% in 2013, net income plunged by -83.6%. Investors outside of Russia have been withdrawing funds for a while now. The 2014 results come as a relief to the company, and the first six months of 2015 look quite promising.
*Note: There are some inconsistencies in reported data for 2015, comparing Norilsk's published data with other sources - probably due to later revisions.
Gross profit margins: 49.4% (2014), 39.1% (2013), 44.3% (2012), 59% (2011). The gross profit margin denotes how well the cost of generating revenue (cost of production) is being managed. The higher the percentage calculated, the better (less costly, greater revenue "left-over"). In 2013, the cost of production increased substantially, possibly because the reduction in the company's size minimized the "economy of scale" effect. At lower production levels, it simply becomes less and less cost efficient to run an asset-intensive corporation (the profit break-even point remains pretty much constant per unit produced). This is also the case when product prices decline to a great extent. Production (in terms of tons) might remain the same and so are relating costs (extracting and processing). But lower prices mean less revenue to cover these costs, so margins decline. The graph below shows the price development of Norilsk's four most important metals: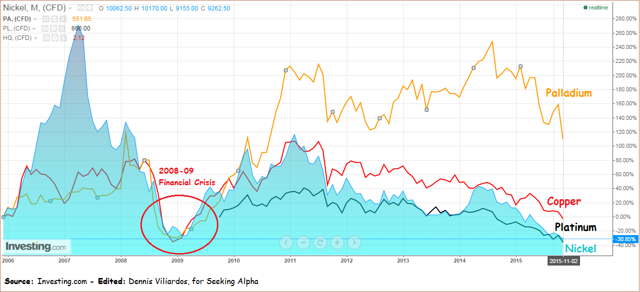 Operating profit margins: 37.9% (2014), 14.9% (2013), 31.2% (2012), 44.2% (2011). Norilsk seems to have managed its general expenses well, at least after the 2013 downsizing. It did not post an operating loss and quickly readjusted its margin in 2014 (employee layoffs, operating assets reduction, etc.). In this way, the company did not lose its competitiveness and painted the road for the 2014 increase in profits.
Debt/Asset ratios: Margins: 63.7% (2014), 48.8% (2013), 38.8% (2012), 41.3% (2011). This ratio calculates the company's financing risk. The greater the percentage calculated, the riskier it becomes for Norilsk (uses more debt to generate revenue). The Russian metals giant is financing 63.7% of its assets with debt (2014), a quite reasonable percentage for an investment-intensive company like itself. What "bothers" us is the development. Comparing 2011 with 2014, the ratio has increased by 50% (or 22.4 ratio percentage points).
Looking for some further clues, as to what happened in 2013 (the restructuring year), I found that the company quickly reacted to the new requirements, cutting inventories enormously and using up cash to reduce short-term payables (debt in a sense). This way, it managed to keep the debt/asset ratio relatively steady. It also cut plant and equipment investments extensively. One could say, that even if sales were to increase substantially again, the company would need some time to readjust. Other world competitors could easily cover the market share, except for the palladium market and that of other rare metals. Then again, the commodities crisis seems to have no end, so cutting down on investments in order to stay healthy but smaller might be the right recipe for this market. The first half of 2015 leaves us wondering if the company will manage to keep its leverage steady. This is what we should keep an eye on during the next financial releases.
Cash to total liabilities coverage ratios: 34% (2014), 18% (2013), 15.7% (2012), 19% (2011). Cash reserves (to liabilities) have been increasing through time and peaked in 2014. Combining this data with the debt/asset ratio of the same year reduces the overall financing risk the company faces. Keeping reserves high is especially important during economic downturns to add protection against client repayment delays and defaults (account receivables).
*Note: A slight modification (compared to previous parts) was required for this part of the series since the companies presented are not government backed and hence cannot be directly "assisted" if cash runs short (Lukoil was an exception). We treat short-term investments as cash (but exclude accounts receivable, because there is repayment risk involved) since they have an "instant" value and can be cashed in at a discount. So the cash to liabilities coverage ratios of this part cannot be compared to those of previous parts.
Below is MMC Norilsk Nickel's snapshot:

Vladimir Potanin has quickly readjusted the company's asset structure to meet new conditions. Even though these adjustments were quite heavy, Norilsk never realized any losses. Mr. Potanin also pushed for the pile up of cash via selling assets and eliminating unnecessary investments. It is true that the market of Norilsk is rather predefined and increasing leverage to cover the market share of competitors is not required. As the company has noted in its reports, dependence on the European market is a risky burden, though it mostly flows two ways. To maintain a positive image under such stressful times is indeed a success for the management team.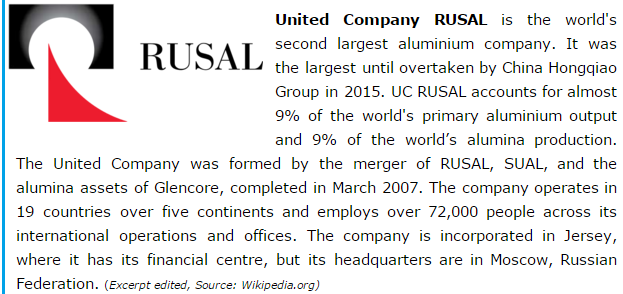 Even though the data in the profile are somewhat obsolete (source being Wikipedia), I posted them so I can now add the updated version as of 2014 (Source: Rusal corporate website). We can see the differences that are quite important in some cases: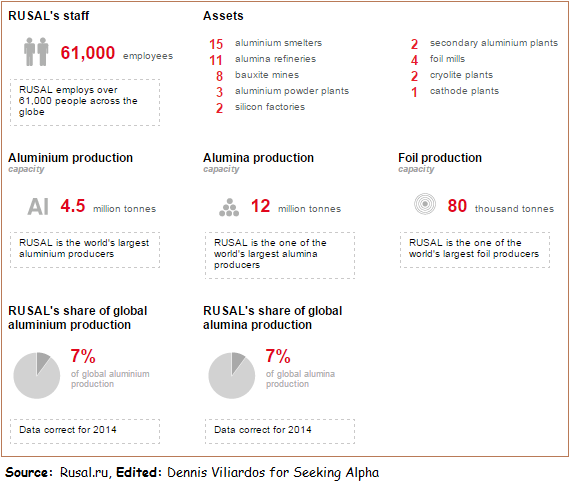 Among negative developments are the shrinking workforce and the loss of market share (in production terms).
The CEO of UC Rusal is Oleg Deripaska. Most of the shares are owned by En+ Group, an energy company controlled by Mr. Deripaska. Only about 10% is "available to the public".
Rusal is heavily indebted. After sanctions came into effect, financing has become extremely difficult. Government-owned banks (Sberbank, VTB) vowed to fill the financing gap. This adds some new clues to our banking industry analysis (Part III (B)), specifically concerning the immense increase in loans that took place in 2014 (needs more research). Nevertheless, Rusal's asset/debt structure changed quickly in 2014, with an unprecedented downsizing in the company's assets to meet new revenue standards (much like Norilsk did). Total debt has decreased in 2013-14, but comparing its value with Rio Tinto (NYSE:RIO) (a competitor) for example reveals a much more risky asset financing structure (in 2014, the debt/asset ratio for Rio Tinto was around 60% while Rusal stands at 85%). The company has been posting losses over the past few years.
As political turmoil scares away investments (see graph below), Rusal becomes increasingly dependent on internal financing. This makes its asset financing structure even more riskier.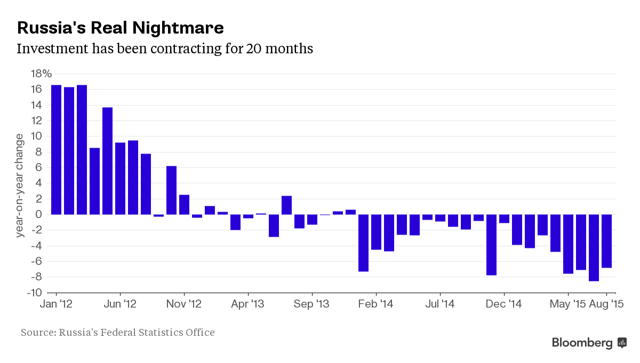 Let's take a closer look at Rusal's financial data:
Revenue development: (3yrs) -24% in total revenue (negative) growth, (2013/2014) -4% in growth. We see a gradual decline in revenues, partly due to the commodities crisis and reduced investments that translated into a market share loss. The aluminum price had rebounded in 2014 only to decline again in 2015, posting new multi-year lows.
*Note: Aluminium and aluminum is practically the same. In the US, the word aluminum is used while in Europe we mostly use the word aluminium.
Net Profits development: (3yrs) -138% total profit (loss) development, (2013/2014) 97% profit change (still running a loss for 2014). The years 2012 and 2013 have been immensely unprofitable for the company. But this has not been the first time. Rusal had realized extreme losses in 2008 as well (financial results were even worse back then). In fact, if we were to combine the company's financial results from 2006 to 2014, we would conclude that Rusal never really recovered in net income and total revenue terms. In 2013, a massive ($2 billion) write-down increased the year's net losses substantially. The last four quarters though (ending September 2015/three quarters of 2015, one quarter from 2014), show positive signs, leaving room for some minor earnings by the end of 2015.
*Note: Yahoo Finance states different results for 2014 compared to Rusal's website (which posts a slight profit) possibly due to later revisions or the usage of a different reporting method.
Gross profit margins: 23% (2014), 14% (2013), 15% (2012), 29% (2011). Cost of revenue seems to be very inelastic for Rusal. At lower revenue levels, especially if the cause are declining prices, costs hit the company hard.
Operating profit margins: 11% (2014), 1% (2013), 3.4% (2012), 16% (2011). Even though many employees were laid off during the restructuring period of 2012-2013, the drain in gross profits and the write-downs did not leave much room for profits.
Debt/asset ratios: 85% (2014), 68% (2013), 57% (2012), 58% (2011). In 2014, the restructuring process had been completed. Nevertheless, under enormous financial pressure, Rusal had deferred a part of its payments that were due, so eventually debt catched up and the asset financing structure became extremely risky. Things have not changed to the better in the first three quarters of 2015.
Cash to total liabilities coverage ratios: Because UC Rusal has been classified as operating under a risky asset-debt structure, we must add two metrics for evaluating its cash reserves.
Cash to total liabilities coverage*(C/L): Ratios: 4.5% (2014), 5.1% (2013), 3.5% (2012), 4.4% (2011). Since 2012 (restructuring starting point), cash has been increasing both compared to current (see below) and to long-term liabilities. Still, compared to Norilsk (for the long-term debt coverage), ratios are minimal and the company's risk grading should be seen as negative.
Cash to current liabilities coverage (below 1yr maturity liabilities): Ratios: 25.4% (2014), 21.1% (2013), 18.6% (2012), 26.3% (2011). I added this part, to see if cash piled up compared to liabilities due within one year is increasing rather than decreasing (I have included long-term debt parts that are due within the one-year period). Total current assets are the 12-month period inflows in a sense that must cover total current liabilities in order for the firm to stay afloat (short-term lending is sometimes used to manage the corresponding debt schedule). Because certain issues can arise any time (ex. inventory orders were miscalculated and the product stock leftover will not be sold within the one-year period or receivables from clients become overdue), the company has to plan its cash reserves to cover the possible gaps. During a recession and a world commodity crisis, we would like to see Mr. Deripaska increasing cash to current liabilities, especially since financing has become harder for the company and the world economic environment leaves room for payment delays and a sudden decline in sales.
*To see what is included as "Cash", see the corresponding note in the presentation of MMC Norilsk Nickel, the section that discusses its cash reserves.
**No snapshot available for UC Rusal.
So after briefly analyzing Rusal's financial statements, we can conclude that the company's CEO should focus on debt restructuring and higher cash reserves. It is all about survival in the basic materials market at this time. Eventually, prices will rebound, and hopefully, Rusal will be able to quickly pick up in revenues, like it did in the past. It might be advisable for the company to merge. At its current market value, this could very well be a choice for Mr. Deripaska. This way, any further asset sell-offs would not be required and there would be no further market loss.
Industry Condition, Basic Materials
The basic materials (metals) market has been under enormous pressure since 2011 (never really recovered after the 2008 crisis). Companies like Glencore Plc (OTCPK:GLCNF) and Anglo American plc (OTCQX:AAUKF) have made the headlines quite recently, with stocks becoming extremely volatile as investors know the risks they are facing. Norilsk and Rusal have not been an exception to this norm. Luckily, low energy prices have supported the industry a bit, helping it keep gross margins higher since the metal production process requires a great amount of energy.
What makes Russian basic materials companies more attractive compared to other world peers is that they have a vast market right next to them, namely Europe. Transporting metals is very costly, due to the weight alone. Transportation by train or truck is more convenient (of course, not all mines are located in Russia).
What may cripple Russian basic materials companies (and in general all corporations of a certain size) is the currency their debt is denominated in. The ruble crisis did not only cause problems to the country, but also to large corporations that couldn't have predicted such a vast devaluation and did not manage to hedge accordingly.

MTS has been listed on the New York Stock Exchange since July 2000 and entered the Moscow Stock Exchange later in November 2003 (ticker: MTSS). It is the largest telecommunications company in Russia and the biggest mobile operator in Central and Eastern Europe, with a retail network of over 3,300 stores. Its logo is among the "top 100 world's most powerful brands".
MTS has approximately 104 million subscribers (Q1 2015) and was losing market share in Ukraine after the annexation of Crimea. Ukraine is the company's second most important market after Russia, accounting for 20% of total subscribers. In order to cope with this problem, MTS in co-operation with Vodafone (NASDAQ:VOD), rebranded its unit in Ukraine, from MTS Ukraine to Vodafone Ukraine. The two corporations are co-operating in various fields in Eastern Europe, granting MTS some "protection" against the banning of operating rights. MTS has tried to expand in other countries as well, namely in India and Uzbekistan. In both countries, most of its operating rights got eventually suspended. While India is a vast market, the company never managed to grow substantially (banned). In Uzbekistan, MTS lost its 10 million subscribers (according to MTS data), a majority stake in the country of 30 million people. The company was eventually pushed out and has since been trying to gain its market back. There is still a lot going on in Uzbekistan that involves MTS (article).
Already in 2010, MTS had become the fifth best selling handset brand in Russia, after Nokia (NYSE:NOK), Samsung (OTC:SSNLF), LG (OTC:LGEAF) and Sony Ericsson. Among popular cellphones is the MTS Blaze 5.0 smartphone operating with the Android 4.1 OS (see image below).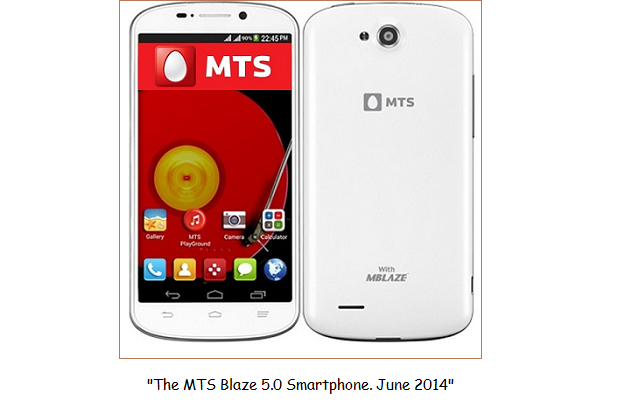 The CEO of MTS is Andrei Dubovskov (since March 2011), who was the head of operations in the Ukrainian branch before moving to Russia. The company is 51.46% majority-owned by Sistema JSFC, the largest publicly-traded diversified holdings company in Russia and the CIS. The rest of the shares are free float.
Note: Sistema is a well diversified investment fund. The fund is used by the Russian government to invest in industries that can help the country generate growth. We will eventually study and monitor Sistema to see where Russia is setting its investments (future "bets"). As we have witnessed, nothing gets carried out without clearance from the country's political center. So, if, for example, we notice that Sistema is focusing investments in different industries (ex. food production industry), we will be able to spot any changes made to the Russia's economic model (a possible sign the country's leadership seeks change that might revive the economy).
MTS is certainly a company worth checking out, so let's briefly take a peek at its financial progress:
Revenue development: (3yrs) -50% in total growth, (2013/2014) +3% in growth. The year 2012 was a transitional one for MTS. Its sales were instantly cut in half, and the company quickly readjusted its assets to meet the needs of a new revenue era. Since then, the telecommunications giant is slowly recovering, increasing sales in Uzbekistan and retaining subscribers in Ukraine.
Net profits development: (3yrs) -46% in total profits development, (2013/2014) -35% change in profits. 2012 dragged net profits down due to the sudden decline in revenue. Yet, operating profits weren't that different from the following two years. The main reason net profits slumped in 2012 are the losses that were generated from extraordinary items (ex. sale of units at a loss). After an increase in profits in 2013, the year 2014 disappointed again. But this time due to another reason, namely because of the doubling in interest expenses (non-operating expenses). Debt has been catching up and might have been used to boost revenues and paint a slightly better picture.
Gross profit margins: 74% (2014), 75% (2013), 73% (2012), 71% (2011). The cost of generating revenue has been very well managed and is in many cases lower compared to the industry's average worldwide. Verizon (NYSE:VZ), for example, has a four-year average gross profit margin equal to 60%. This means that MTS could easily become competitive around the world if it was to receive the required operating rights. For MTS, that has the accumulated knowledge and the co-operating base with Vodafone, future prospects are all about new market entries and about retaining/growing in existing ones.
Operating profit margins: 25% (2014), 25.5% (2013), 25% (2012), 23% (2011). The company has been managing its operating margins well too. Operating expenses have been kept in alignment to revenue levels in an extremely flexible way. Verizon's operating margin was 15.4% in 2014, quite a difference (of course, the cost of human resources is much lower in Russia).
Debt/asset ratios: 73% (2014), 69% (2013), 76% (2012), 77% (2011). As we can see, MTS has been gradually reducing its debt levels (compared to total assets) from 2011. Yet, in 2014 debt has been piling up again and interest expenses, as reported on the income statement, doubled compared to the previous year. It matters of course whether the additional (and existing) debt has been issued in rubles (central bank interest rate increase = additional interest expenses) or dollars (currency devaluation = increasing debt in ruble terms).
Cash to total liabilities coverage ratios: 16% (2014), 13.6% (2013), 7.6% (2012), 16.4% (2011). Looking at the current liabilities coverage ratios is not necessary, as MTS seems to be well managed (has little bankruptcy risk). What we want to check out though is if cash is piling up as required in a problematic economic environment (both domestically and globally). Under this scope, the company seems to be well prepared for any further market downturns in the next couple of years. Looking at this from another viewpoint though, cash reserve preparations like these also took place in 2011 (the cash to total liabilities ratio was pretty much the same both in 2011 and 2014). This pile up reached its peak of 16.4% a year before the immense downsizing in the company's assets took place (revenues declined substantially that same year). So now that we see (2014) liabilities piling up and cash piling up even faster, it looks like the company is preparing for something (again). But this is a mere assumption. Nevertheless, in the first half of 2015, the trend continues with the cash to total liabilities ratio at 18.5%.
Below, we see the company's snapshot:
After MTS's revenues halved in 2012, the company is in some way starting over much like as if it is newly formed. It is starting over in Uzbekistan, increasing its subscribers gradually and it is starting over in Ukraine, after it rebranded its unit to Vodafone Ukraine (from MTS Ukraine). Having calculated its margins, the telecommunications giant seems to be competitive enough to be able to penetrate any market, if it was to receive operating rights. Its strategic co-operating relationship with Vodafone will help the company to secure its new markets.
Further penetrating existing markets (after the 2012 "rebirth") is what Mr. Dubovskov is actually doing. 2014 profits weren't actually lower compared to 2013. Additional interest expenses and no positive extraordinary profits were the two financial statement sections that dragged down profits (i.e. sections not relating to operations).
*Note: A wise move for MTS would be to expand its smartphone business, first penetrating new markets with such devices and subsequently buying out strategic regional telecommunications businesses in countries like India.
Three things to watch out for are: a) New country entries, b) Subscription development in Uzbekistan and Ukraine, and c) the debt-to-asset ratio development along with cash reserves.
The Telecommunications Industry
We see that Russia has generated its own telecommunications network and has also moved into the smartphone business. Further penetrating the Commonwealth of Independent States market has not worked out as planned, but these regions will definitely remain on the agenda since competition in those countries is manageable for MTS. Moving into Europe is not going to be an option. Other countries like India will also try and avoid MTS's expansion since telecommunications can pose a security risk. Again politics hinder the company from expanding. Nevertheless, the industry (although we base our assumptions on just one corporation) seems to be healthy and cash reserves can protect it against further negative economic developments.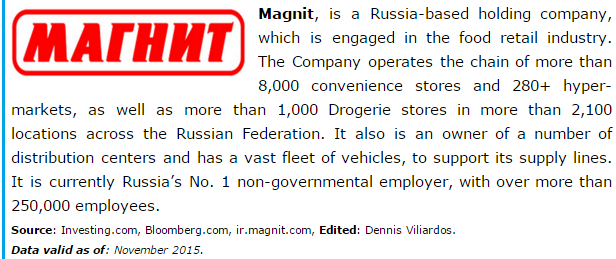 During a period of economic depression (and Russia's situation is closer to being a depression rather than a recession), the food retail industry usually tends to perform "less bad" compared to other sectors or even outperform. Specifically in Russia, this tendency has been verified. Why?
In Part III (B), we presented the country's banking industry and we "accidentally" stepped into a new clue about Russia's economy: the decline in real wages. This new information can now also be used to explain why companies like Magnit perform better than the average business world in harsh times. Declining real wages translates into a declining cost for the retailer. Employee compensations are Magnit's greatest expense and being able to reduce salaries keeps revenues "in".
Another reason that played a key role to Magnit's growing revenues were surging food prices. After the Russian government banned imports from the EU (the political cause being sanctions imposed by the West), prices soared (lower supply). This very same reason (the banning of imported products) pushed Magnit to further invest in the production of foods. Having foreseen this, markets started buying stocks of Russian food producers like Gruppa Cherkizovo (grain, meat etc. processor/producer) and Magnit. Prices soared, surpassing the pre-2008 peak, levels that most other companies never managed to reach again.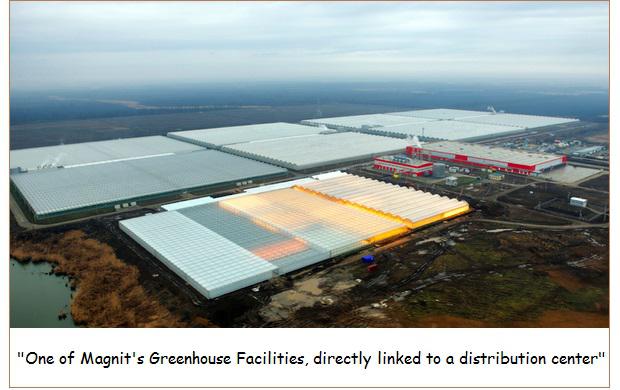 The CEO (founder and co-owner) is Sergey Arutyunyan, born into an Armenian family. He later adopted his wife's surname, Galitsky. Galitsky is not close to the Kremlin. I couldn't find a single picture of him sitting together with President Putin, even though he employs more than 250,000 Russians. According to media reports, he once said, "When it comes to politics, I sit down on a sofa and grab some popcorn or sometimes I crouch down in order not to get shot". To exemplify his independent stance, Galitsky has kept a particularly low profile, declining to be interviewed about the banning of imported foods.
Galitsky is a very interesting businessman who keeps everything very "personal". His company uses software of its own design to monitor inventory levels across different time zones, to adjust prices, and to process deliveries. To reduce logistics costs, Magnit runs a fleet of almost 6,000 trucks. Mr. Galitsky also likes to keep tight control over his managers. According to Bloomberg, to avoid the whiff of corruption, the company wires its purchasing managers up to lie detectors if it suspects wrongdoing (I personally find that hard to believe, even though harsh control methods have been evident in other retail stores as well, like for example in Germany's Lidl).
What is astonishing is that Magnit only covers a mere 6% of the Russian retail market. What this means for the company (and investors) is that it does not yet have to deal with growth abroad. It can simply devote its efforts in the market it is currently operating in for still a very long time. Magnit could also use its accelerated expansion rhythm (table) to cover any drags from the downturn in the Russian economy. This stock therefore could be seen as quite unrelated to the Russian political stage that we investors so much fear.
Finally, I should also point out that Magnit's weight on the RTS Index is almost 8% and has therefore been a major player in keeping the index afloat. Magnit is trading in the London Stock Exchange and popular large investment platforms should allow access to it (traded in dollars).
For those who wish to obtain a deeper overview knowledge on the company, check out the slideshow below: (link)
Revenue development: (3yrs) +74% in total growth, (2013/2014) +9% in growth. In 2014, revenues increased at a much slower pace than previous years, even though stores kept opening at pretty much the same rate. The opening of smaller convenience stores rather than hypermarkets could be one reason. What strikes our attention is that in the first half of 2015, revenues actually declined compared to the first half of 2014 (and also to the 2nd half of 2014). So it looks like 2015 will be the first year Magnit will announce no revenue growth.
Net profit development: (3yrs) +196% in total profit growth, (2013/2014) +11% in profit change. Net profits moved together with revenues and while they more or less doubled in 2011 and 2012, in 2013 and on, the increase somewhat stabilized at more modest (relatively) growth levels. In the first half of 2015, profits declined.
Gross profit margins: 28.5% (2014), 27.9% (2013), 26.5% (2012), 24.3% (2011). Magnit benefits from its increasing size, as it becomes more efficient every year (economy of scale). It also benefits from positive financials. Those who have some knowledge on corporate finance might remember that payment agreements very often include special provisions for large sized orders. For example, if Magnit was to buy a product in bulk, it would be granted the right to receive a discount (equal to the average interest rate opportunity cost), if it was to pay its dues within the first 10 days (the time table varies per agreement). Finally, the company's gross margins also benefit from the investments made in the production of foods (ex. the greenhouse project).
Operating profit margins: 9.4% (2014), 8.8% (2013), 7.8% (2012), 5.5% (2011). Operating margins are getting better by the year too, making the company more competitive. Media likes to compare Magnit to Wal-Mart (NYSE:WMT) based on the growth potential, but the two companies are in fact following a different model. Magnit is more closely related to a classic supermarket, not being a retail whole-sale type market (even though its "hyper markets" operate under the Wal-Mart model). So it would be natural for Magnit to have smaller margins than Wal-Mart, which primarily targets cost efficiency (low prices). Yet, the Russian retailer posts better margins, both for gross profits (28.5% compared to Wal-Mart's 25.5% for 2014, approx.) and for operating profits (9.4% compared to Wal-Mart's 5.6%, approx.).
Debt/asset ratios: 58% (2014), 53% (2013), 55% (2012), 55% (2011). The company keeps its asset financing structure fairly unchanged at an average 55%. So it seems that Magnit is investing in alignment to profits generated (i.e. it reinvests its earnings).
Cash to total liabilities coverage ratios: 9% (2014), 5% (2013), 11% (2012), 18% (2011). 2012 was a strong year for Magnit, hence the extra cash in hand. Even though the company has only marginally increased debt (always in comparison to assets), it seems that it has been using all its cash to push for growth. As a retailer, with most of its debt being in the form of current debt (in 2014, current liabilities accounted for 73% of total liabilities), it should opt for keeping some extra cash whenever possible. A bit of a "deeper" look into 2014 financials reveals that even though revenues increased, inventories decreased for the first time in the past few years. Comparing the first half of 2015 with the equivalent half of 2014 shows the trend continuing. Adding up the clues (revenues in the first half of 2015 declined), we seem to be receiving a clear sign that the company is starting to lose its growth momentum.
Below is Magnit's snapshot:

Mr. Galitsky has kept Magnit very competitive. Magnit's goals should be to continue growing, increase investments in the production of foods (eventually, the company could also sell food products internally and abroad/exports, granting it a secondary source of income) and expand to other countries in order to balance out country-related risks ("all eggs in one basket"). If it manages to keep margins low, it should first expand to countries it imports from. It should definitely try to receive the rights to operate in Europe (starting with Northern, less competitive, regions).
Besides checking on Magnit's strategic developments (previous paragraph), we should also keep an eye on declining inventories, a sign that a) Galitsky is preparing for a reduction in revenues, b) the debt repayment schedule has a big pile coming up, or c) the supply lines have become more efficient, so there is less need for stock. Because we can never be sure what is happening "behind closed doors," we need to connect past knowledge to new available data. The clues most often lie in the development of things, not at a specific instant in time.
The Retail Industry
The retail industry has many segments and most of them got struck by the decline in real wages. As we explained earlier, the food segment is different. Magnit has heavily invested in the production of fresh foods and other companies in the food industry, like for example Gruppa Cherkizovo (see price graph below), have seen their stocks remain "untouched" by the ongoing sanctions and commodity wars (and the downturn of the economy).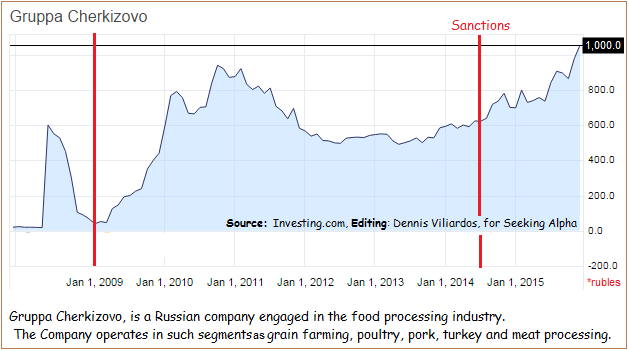 So based on our observations, we can conclude that the food industry is where the fuzz is going to be for the next decade since Russia will (must) try to adjust its economic model and become more independent. We should keep track of Sistema's investments to see where government plans are directed.
Conclusion
This article is the final part of the series concerning Russia's economy. Below are a few bullets that explain the purpose and utilization of this series:
What we have covered: We started the series by digging into the Russian economy, adding up the country's negative aspects that need to be fixed. This "list" will now help us scan for any changes taking place, changes that will lead to a sustaining recovery, and hence, higher stock prices. We also analyzed Russia's most representative (of the current economic model) index, the RTSI. We will use the RTS Index as a "compass", a measurable instrument to follow up developments and to also see how the world market is responding to these changes. Finally, we created a watch list of stocks, with each company representing one of Russia's most important industries. We will utilize the MSI (Macro Stock Index) to track developments on a per industry basis to see which level of Russia's economy is recovering first. Tracking the MSI can also be used for hedging purposes.
Why did we create this series: To acquire background knowledge on the Russian market and to be therefore able to track the country's economic development at all levels (Economy Level -> Industry Level -> Company Level). This way, we can spot the upcoming stage of the economic cycle, before euphoria steps in, positioning ourselves on time to reap maximum profits.
How will we investors be able to utilize this compiled information to generate income: Through quarterly revisions and daily updates. Let's elaborate. Index and company stock price developments (even indirectly, fear or euphoria) are directly related to the economy (and monetary policy). Monitoring its condition and economic state (depression, recession, recovery, peak) will tell us which markets to enter and for how long we can stay safely in them - the background knowledge every investor should keep updated at all times, because a company might be healthy and profitable, but if economic conditions are not right, its stock price will in most cases decline.
Together, we will gradually expand to other countries as well (US, Germany, China), first by constructing the required backbone knowledge (series) and then by generating quarterly revisions. Through my upcoming daily column, we will be constantly scanning the world economy, specializing in four markets (I might add more in the process).
Additionally, we will slowly start covering the Banking industry and possibly the Maritime industry (worldwide), and we will use the clues gathered on loans made to businesses and trade developments to get an even deeper grip on the economy subjects.
Disclosure: Data have been compiled from investing.com (50%), moex.com (20%), Company websites and yahoo finance (30%). All my calculations have been re-checked twice during gathering and another one during drafting of the article. For any inconsistencies that are due to the sources used, I cannot be hold responsible.
Disclosure: I/we have no positions in any stocks mentioned, and no plans to initiate any positions within the next 72 hours.
I wrote this article myself, and it expresses my own opinions. I am not receiving compensation for it (other than from Seeking Alpha). I have no business relationship with any company whose stock is mentioned in this article.
Editor's Note: This article discusses one or more securities that do not trade on a major U.S. exchange. Please be aware of the risks associated with these stocks.