Radiant Logistics (NYSEMKT:RLGT) reported its most recent quarterly results and despite continued costs of integration and transaction expenses associated with new deals in the pipeline, the company reported roughly 8 percent organic revenue growth. Many people question the value in investing in "roll-ups" as they believe they do not create real value and are just exercises in financial engineering. Radiant has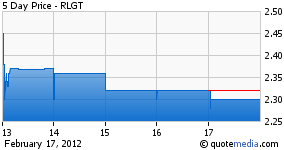 continuously demonstrated its ability to drive organic revenue growth as its network scales. Bohn Crain, the CEO, mentioned on the call that he believes there will be a great deal of opportunity in cross-selling services through Radiant's Isla (Mexico Gateway) transaction. He also confirmed that the company is shifting its focus toward acquisitions of independent agent stations/owners on his franchise network or competing networks -- "company conversions."
These deals as opposed to network deals require much less time/effort/and costs to integrate and are very accretive to EBITDA/earnings. We can think of these as paid-for "onboards" - as described in our previous piece. With over 15mm of availability on its revolver and realistically more as its borrowing base grows with additional receivables, I think the company can complete another 45mm of transactions with its existing capital structure given the deals it does are heavily structured towards earn-out and are roughly no more than 2x cash. If the company can average 4.5-5x EBITDA for each transaction, that is roughly 10mm incremental EBITDA financed with 4 percent money. Not to mention, if the stock ever gets a full multiple that is an additional acquisition weapon the company has in its arsenal. Given what Bohn said in the most recent conference call, I think it's fair to expect 4-5 of these company conversions in 2012 and along with organic growth can take this company to the 22-25mm EBITDA range. And unlike networks deals, these will be substantially accretive to earnings in the near, medium, and longer term.
It is my belief that the spring is coiling and with the CEO on the road (recently at Stifel and BB&T Conferences), it is only a matter of time until this Company earns the growth multiple it deserves. Today the company trades at a paltry 6x June 2013 EBITDA (assuming no additional deals) compared with peers who trade at over twice that with much less growth.
Let us consider this math: June 2012 PF EBITDA is $13 MM (according to company guidance). After subtracting taxes and capital expenditures of $300k while adding back depreciation of $2.3mm, we arrive at roughly $9mm of unlevered FCF, which is almost a 11.5 percent yield to the equity at this share price. Given the substantial growth characteristics of the company and its end markets we believe this is just too cheap to ignore. We should also remind ourselves that third-party logistics providers (TPLs) are naturally hedged to economic slowdowns in that their margins tend to go up inversely when volumes are tight. This is because asset heavy providers are willing to sacrifice their profitability to source freight when the economy is weak. The direct beneficiaries of this profitability are TPL's like Radiant who do not own/operate assets but just match the freight customer with the freight supplier.
At a conservative 10x June 2013 EBITDA (assuming no additional acquisitions or on-boards in calendar 2012), which is patently unrealistic given the CEO's comments on the call, the company would be trading at over $4.00. If we ascribe a peer group multiple of 12-15x EBITDA, we get to ranges of $4.75 to $6.00 a share (also giving zero credit to the incremental earnings from deals in the pipeline).
Disclosure: I am long RLGT.