VIX - Market Sentiment
Friday S&P futures traded up yet again after yesterday's monster reversal in the S&P. Although much tighter than yesterday the S&P move 8 handles to the upside before retreating back to the 1359 level. Again economic news was light as traders again await movement out of the eurozone. There was a little spook to the futures when the ECB bond exchange of Greek debt made investors worried about credit default swaps tripping, causing some jitters to come back into the market.
The spot CBOE Volatility Index (VIX) was taken to the woodshed heading into the noon hour trading down more than 6%. Interesting here on such a down day the largest trade was actually a hedge of more than 10.5K March 29-35 call spread bought for .75. Normally in today's trading and the return of "risk on" (The term which I cannot stand) would cause the popular volatility ETF's (NYSEARCA:VXX) and 2x Volatility (NASDAQ:TVIX) to be slapped down hard. This was not the case as VIX futures were mixed across the board. This is very strange for a day where bulls had the upper hand so hard going into the noon hour.
Yesterday
March VIX futures 23.80
April VIX futures 25.13
May VIX futures 26.98
Today
March VIX futures 22.60
April VIX futures 24.78
May VIX futures 25.78
The market closed strong on fairly decent volume of 18.6 million contracts. It appears once again the bulls are in charge and those long volatility/short the market are feeling some serious pain.
Options Paper
Financial ETF (NYSEARCA:XLF) saw some massive block trades with the March and May 16 calls rolling off the line more than 275K contracts strong all between .21 and .24. XLF had traded more than 2x average daily volume before the 11:00 mark with 39% being bought at the ask. Paper continues to roll into financial stocks and today's action is no different as positive net premium dominates on the call side with yet again more buying pressure. Calls outnumbered puts more than 3:1 going into the noon hour in this highly traded name.
Popular ETFs and equity names with bullish/bearish paper in terms of call/put ratios:
Calls outnumbering puts:
American Greetings (NYSE:AM-OLD) 1328:1
Ball Corp (NYSE:BLL) 790:1
Shaw Group (NYSE:SHAW) 181:1
WisdomTree (NYSEARCA:EPI) 98:1
Dean Foods (NYSE:DF) 81:1
Family Dollar (NYSE:FDO) 69:1
Nisource (NYSE:NI) 46:1
Bank of Ireland (NYSE:IRE) 41:1
Darden Restaurants (NYSE:DRI) 33:1
Goodrich Petroleum (NYSEMKT:GDP) 29:1
Dollar General (NYSE:DG) 28:1
Puts outnumbering calls:
Flotek (NYSE:FTK) 51:1
Long VIX (NASDAQ:VIIX) 19:1
Saks (NYSE:SKS) 19:1
Flowserve (NYSE:FLS) 18:1
Intermune (NASDAQ:ITMN) 9:1
Russell 2000 Value (NYSEARCA:IWN) 9:1
Computer Sciences (CSC) 8:1
Homebuilder ETF (NYSEARCA:XHB) 28:1 (65K appear to be sold so would be bullish)
Humana (NYSE:HUM) 4:1
Newfield (NYSE:NFX) 4:1
Euro ETF (NYSEARCA:FXE) 4:1 (June 130 Puts appear sold but hard to tell)
Volatility Explosion
Fusion-io (NYSE:FIO) today saw implied volatility skyrocket as rumors of a potential takeout swirled. FIO 25 and 30 Feb calls which traded up more than 2,000% and 3,000% just after a positive mention out of John Najarian on the Fast Money Halftime report. The stock trading up almost 20% in the single session on this report has caused a massive run into the FIO calls. Both February and March calls were bought like mad with a few traders buying some puts to protect long positions. With implied volatility now north of 86% some brave people looking to capitalize off of volatility could make some serious money here. I sold the February 30 calls for .50 today on the crazy run-up and I expect for these to expire worthless by the time this article is published. If not I will technically be short FIO at 30.50.
Volatility Implosion
Frontier (NYSE:FTR) today saw a massive drop in implied volatility as sellers of puts and calls came back into the market. FTR was a speculative play on my sonar report around the 4.00 level and has since run to 4.62 today after an analyst upgrade. Traders unloaded protection after moving up more than 3.5% as volatility fell off a cliff. Today calls and puts were sold on the bid all over the place. Large blocks of March 4 calls were hitting bids all day long as option holders took profits. I did as well leaving my FTR long position now on more than a double. I may look at getting back into this trade in the future as price action and options dictate to do so. Calls outnumbered puts more than 18:1 on the day but 65% were sold on the bid.
Speculative Play Friday
My Goodyear (NYSE:GT) call last week didn't work out, but I'm still up overall on the speculative trades, calling 5 out of 6. This week's speculative play is not what I would consider a trade but something a little out of the box. eBay (NASDAQ:EBAY) has been charging higher of late and now the options market is stepping in for more upside as well. Take a look at this chart courtesy of Fahad Khalid at OptionMonster.com: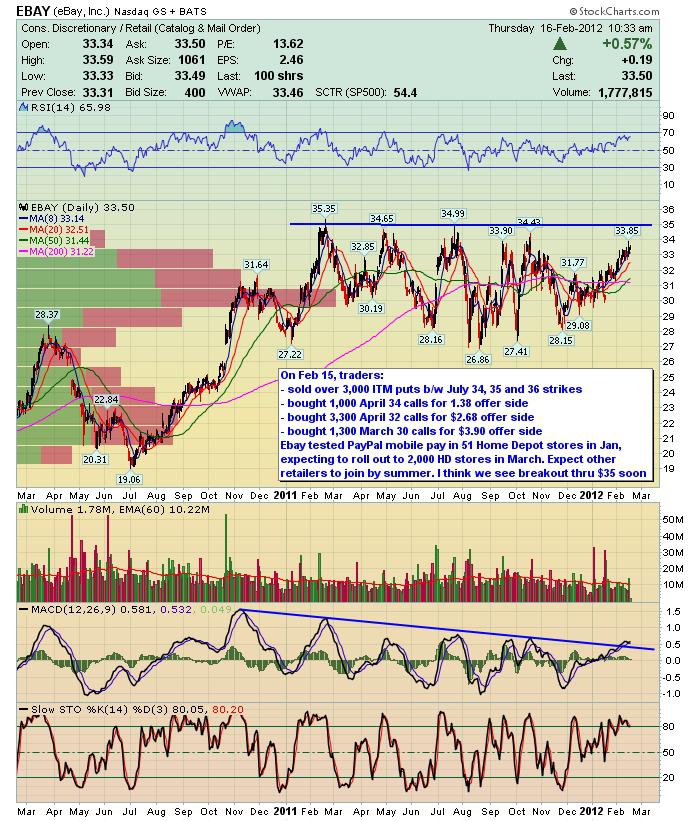 The technical setup in this name is amazing and the option paper of puts being sold and calls being bought is very interesting. EBAY has run well into this new year and continues to do such. Although the accelerated channel up is still intact I'm going to look at doing a risk reversal but at a lower price from here. I am looking to sell the April 34-30 bull put spread and collect 1.25 and use the 1.25 to buy 35 calls for 1.25. Net net this trade will cost me nothing if I get the bid I put in. This effectively would make me a buyer of EBAY under 34 which I am comfortable doing. I do expect a market pullback in the upcoming weeks (I've been saying that for three weeks now) and will look to put this on for 0.00 or even possibly a slight credit.
As always happy trading and stay hedged.
Remember equity insurance always looks expensive until you need it.
Disclosure:
I am long SDS, APC, TBT, ACI
I am short: PBI, FXE, DB, EEM, AAPL, FSLR, FIO
Disclaimer: The opinions in this document are for informational and educational purposes only and should not be construed as a recommendation to buy or sell the stocks mentioned or to solicit transactions or clients. Past performance of the companies discussed may not continue and the companies may not achieve the earnings growth as predicted. The information in this document is believed to be accurate, but under no circumstances should a person act upon the information contained within. I do not recommend that anyone act upon any investment information without first consulting an investment professional as to the suitability of such investments for his or her specific situation.