Gold Stocks to Avoid (Or Short) in 2016
Not all gold stocks are created equal. Some gold miners simply carry just too much risk and are doomed: whether it's due to excessive debt, high operating costs, poor management that isn't looking out for shareholders best interests, or risky development projects that require constant injections of cash with no returns.
Here is a list of gold stocks to avoid in 2015, as well as my top gold stock picks for 2016.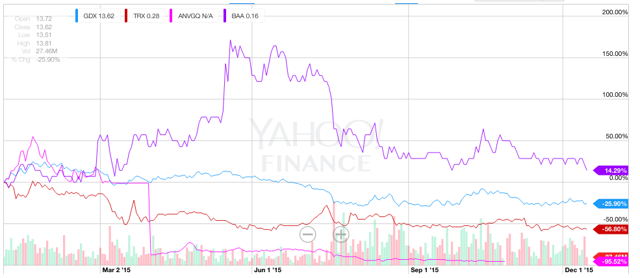 (Credit: Yahoo Finance)
A quick recap of my gold stocks to avoid in 2015:
#1 Allied Nevada (NYSEMKT:ANV): I argued that this highly indebted gold miner didn't have enough cash flow to service its debt. The stock started the year off at around $1 per share, and on March 10, filed for Chapter 11 bankruptcy protection. So this clearly was the right call as shares are now worthless.
#2 Banro (NYSEMKT:BAA): I argued that this gold company that operates in the Democratic Republic of the Congo should be avoided due to its political risk and debt load of $285.82 million. Banro started the year off around $.15 per share, and actually now sits at $.16 for a slight gain (compared to a 26% drop in the GDX) as the miner has turned things around at its Twangiza gold mine, with Q3 AISC falling to $608. I'd still avoid shares due to the political risk and debt (now $166.8 million), but I won't go as far as to include shares on this list given its outperformance.
#3 Tanzanian Royalty Exploration (NYSEMKT:TRX): The stock is down 56.80% compared to the 26% drop in the GDX. I strongly recommend avoiding: see notes below.
Top 5 gold stocks to avoid in 2016
#5 Primero Mining (NYSE:PPP): I've had a real change of heart over Primero Mining over the past few days after the company reported yet another fatality at its San Dimas mine in Mexico. This is starting to become really worrisome.
Looking back at the company's new releases, this is the second death at San Dimas over the past five months alone, when an underground miner died on July 28. Both miners died during underground support rehab.
And these aren't the first two deaths reported at San Dimas. Another death was reported on Sept. 19, 2014, with no explanation of the accident; deaths were also reported on Dec. 5, 2012, and again on Oct. 31, 2011. How many more miners will die before Primero shuts down the mine and works on a viable long-term safety solution? Sure, mining is a dangerous business, but I don't think any other gold miner in my portfolio has had fatalities at this type of frequently. In fact, I can't recall any other mining-related deaths this year for any gold miner I own.
Aside from San Dimas clearly being a dangerous mine, Primero also carries a little too much debt for me to feel comfortable ($115.58 million, compared to $43.10 million in cash). There is simply no reason to own Primero at this point in my opinion. You just can't sleep well at night owning this stock, for more reasons than one.
#4 Continental Gold (OTCQX:CGOOF): As I pointed out in an Oct. 15 article at $1.46 per share, I think Continental owns an interest gold project in Columbia, but the stock is far too risky for an investment. Now at $1.105 per share, I am only more concerned and the situation could get pretty dire in 2016.
Continental's Buritica project is large, high-grade gold project containing 4.71 million gold equivalent ounces (11.4 g/t) in the measured and indicated resource categories (that includes 4.48 million gold ounces, 13.98 million silver ounces, and 126 million zinc pounds), plus 4.8 million gold equivalent ounces in the inferred category. A preliminary economic assessment says the mine should produce 265,000 ounces of gold annually at low cash costs, and at $1,200 gold, the project carries an after-tax, net present value of $1.08 billion. So with a current market cap of $143 million, shares may seem like good value here.
A few big issues. One, Continental missed completion guidance for the Environmental Impact Assessment permitting at Buritica; the company hopes to complete permitting in 2016, but there are no guarantees. Next, the project's PEA is based on measured and indicated resources, and not actual gold reserves, and will take more exploration work to "prove up" to reserves. There's no guarantee that the company's 4.5 million ounces of inferred gold resources even exist (see: Rubicon Minerals for more risks of basing your investment decision on a PEA and inferred resources).
And, of course, there's significant financing risk, as it'll take $390 million to get Buritica to production; as a gold developer, Continental has no cash flow from operations, and as of Q3 2015, had $33.2 million in cash, compared to $43 million in the previous quarter; the company burned through $17.96 million over the first nine months of 2015. There's no guarantee it will be able to raise more money in the current gold price environment, and doing so will likely result in significant shareholder dilution.
Another negative: the company's President and CEO is Ari Sussman, who is the former CEO of the train-wreck known as Colossus Minerals, which burned through it cash, went bankrupt and nearly took down streaming partner Sandstorm Gold (NYSEMKT:SAND) with it in the process.
Just avoid Continental: I don't think the potential rewards are worth the extremely high risk.
#3 Rubicon Minerals (NYSEMKT:RBY): Rubicon Minerals is just a disaster at this point, and buying shares here is an extremely risky proposition.
The company's CEO left the company in October as the company announced the temporary suspension of mill operations at its Phoenix gold project, to treat elevated ammonia levels, discharge sufficient water from the tailings management facility (NYSEARCA:TMF), and to upgrade the TMF, as ordered by the Ministry of Environment and Climate Change (MOECC). Rubicon then later said that it would suspend all underground mining and development activities at the project.
The geological structure and gold mineralization at Phoenix is clearly much more complicated than management originally thought. This was one of the main risks of advancing Phoenix to production without any gold reserves or a feasibility study; instead, management was relying mostly on inferred resources, which is the lowest confidence category of gold resources, and a preliminary economic assessment, which is preliminary in nature and is generally risky to rely on.
I really don't know what will happen to Rubicon at this point, and it's possible the company will burn through its cash balance by the middle of next year.
In a best-case scenario, Rubicon might get bought-out by a larger gold miner that is willing to spend the necessary money to explore and develop Phoenix, but with gold prices below $1,100 and the company burning through its cash, I'm not willing to take that bet.
#2 Tanzanian Royalty Exploration : It is pretty hard not to include Tanzanian Royalty on this list.
Tanzanian is just an odd gold company in my view - check out the company website to see what I mean, and compare it to other gold mining websites. There is very little information on the company's projects, and its news includes promotional links to CEO interviews that are unrelated to the company; there also has been a single news release in the past four months. It's unlike any gold miner website I've ever seen. There's also no corporate presentation to speak of, which is also something I've never seen before.
The last noteworthy release was the appointment of Jeffrey Duval as VP of Project Logistics, and I'm not sure I even know what that title means. After searching for him online, I can't find any information on his background.
The company has yet to advance a project to production and produce a single ounce of gold, despite having been publicly traded as a company since 2005; the company ended last quarter with just $563,030 in cash, compared to $1.53 million in debt, after negotiating a $1.53 million "gold bullion loan." The loan can be repaid in cash, common shares of the company, or in gold in "specified form", and I'm not entirely sure what that means.
Tanzanian is just a company I don't think you can trust by any means, so I'd recommending avoiding, or even shorting shares, in 2016.
#1 Timmins Gold (NYSEMKT:TGD): On Dec. 1, 2015, I wrote that I felt the end was near for Timmins Gold, when the share price was $.163 per share. Now at just $.13, it looks like I may be right.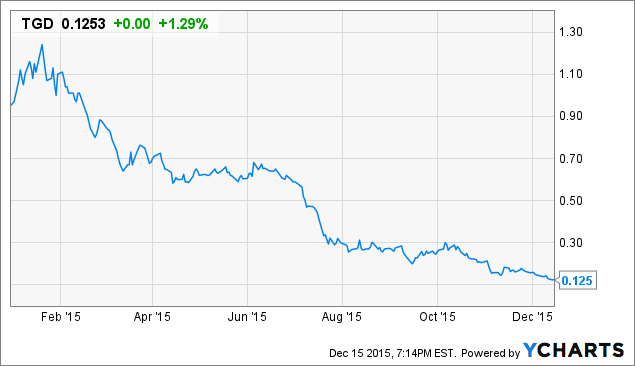 Timmins had made a few really ill-advised moves over the past year or so that have put it in its current situation in my view. For one, the company acquired the Caballo Blanco project from Goldgroup Mining for $10 million in cash and 16.06 million common shares.
This was a risky move in my view as: 1) Timmins really needed to hold onto the cash, 2) Caballo Blanco's resource base is primarily made up of inferred resources, which is not actual gold reserves and is the lowest confidence category in exploration, 3) The inferred resources are used in the PEA, and 4) It will cost millions to develop this project.
The company then made yet another boneheaded move when it acquired Newstrike capital in an all-share transaction. This is yet another risky move for Timmins as it acquired a deposit based on a preliminary economic assessment, which is based on resources and not actual gold reserves. In addition, the mine will require exploration and development before it can be put into production, and as mentioned, requires $163.9 million initial capital, which Timmins simply does not have.
I just don't understand management's decisions. The company is barely producing any cash flow from its mines, yet went and made several acquisitions anyway. Maybe they were thinking the bottom of gold was in?
With AISC around $1,100 per ounce, the company will lose even more money in the coming quarter as gold prices are trading under $1,100 per ounce. As The Investment Doctor pointed out in a recent article, the company is considering putting its San Francisco mine on care and maintanence if gold prices don't rise soon. With $10 million in cash at the end of last quarter and a $10 million loan facility coming due on Dec. 31, I am not very optimistic. With the share price trading below $1 for an extended period of time, shares will likely be delisted from the NYSE MKT exchange soon. There's not much to like here in my opinion, so just avoid Timmins.
Dishonorable Mentions: Barrick Gold (NYSE:ABX), Kinross (NYSE:KGC), NovaGold (NYSEMKT:NG), Seabridge Gold (NYSE:SA).
Disclosure: I am/we are long SAND.
I wrote this article myself, and it expresses my own opinions. I am not receiving compensation for it (other than from Seeking Alpha). I have no business relationship with any company whose stock is mentioned in this article.
Editor's Note: This article covers one or more stocks trading at less than $1 per share and/or with less than a $100 million market cap. Please be aware of the risks associated with these stocks.