Shares of U.S. Steel (NYSE:X) have rallied as much as 30% in the last few days. The primary reason for the rise was the decline in steel imports. In addition, mill capacity utilization also jumped 2.8 percentage points last week, marking the first increase since September.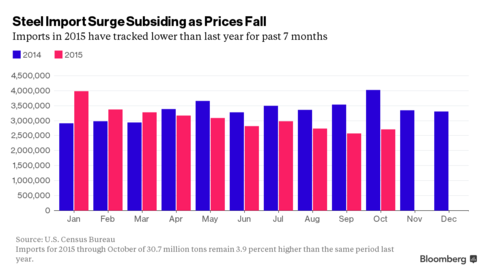 Source: Bloomberg
Given the high short interest, the recent rally can be termed as a short squeeze. However, investors shouldn't expect the stock to sustain the upwards trajectory. With steel price not expected to rebound in the foreseeable future, I think U.S. Steel is a short candidate and investors can use the recent rally to initiate a short position. Let's take a look at the reasons why I think U.S. Steel is a short.
Inferior competitive position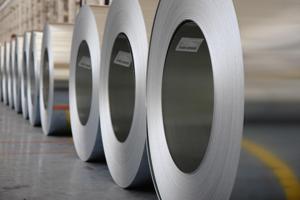 While the import data may point toward a moderate increase in steel prices going forward, betting on U.S. Steel is a bad idea due to its weak competitive position. Thus, I think investors would be better off looking at other companies if they want to bet on a recovery in steel prices. The reason for U.S. Steel's weak competitive position is that the company uses older blast furnaces to manufacture steel. Blast furnaces are much more expensive to operate than the latest electric arc technology.
As a result, U.S. Steel has struggled to report a profit for years, and I expect this trend to continue. The company even lost more than $170 million in the latest reported quarter. Moreover, the company carries a debt of $3.5 billion as opposed to cash of $1.1 billion. Given the negative cash position, the company will find it difficult to replace its blast furnaces with electric arc furnaces, a technology that many of its competitors already use.
For instance, Nucor (NYSE:NUE) uses electric arc furnaces, which is one of the primary reasons why the company has outperformed U.S. amid the weak pricing environment. Not only has Nucor's share price has outperformed that of U.S. Steel, but the company has also reported a positive EPS is each of the last four quarters.
Hence, due to the weak competitive position and the high debt burden, I think investors should short U.S. Steel.
Steel demand may fall more
Oil prices are expected to stay low after the latest OPEC meeting ended in a stalemate. With oil hovering near multi-year lows, I think the demand for steel may fall further. The energy sector is one of the primary consumers of commodities like steel. Thus, a dip in oil prices also has a negative impact on the demand for steel.
With oil prices expected to stay low, many companies in the energy sector are cutting production to survive. Since oil producers are reducing their drilling activity, the demand for equipment like steel pipes is also falling.
U.S. Steel generates roughly 20% of its revenue from the energy sector and given that U.S. producers have reduced the number of rigs by 62% y-o-y, I believe the demand for steel will fall more. The falling demand will put further downward pressure on steel price.
Bearing in mind that U.S. Steel derives a large portion of its revenue from the energy sector; the company will be affected the worst. Hence, I think the stock has a lot more downside to offer, and investors should short the recent rally.
Conclusion
Even a modest recovery in steel prices will not be enough to instigate a turnaround for U.S. Steel. The company's competitive position is weak, and the use of blast furnaces will continue to gobble up a large portion of its revenue. In addition, the falling crude oil price is another headwind for U.S. Steel due to the company's heavy reliance on the energy sector for revenue. All things considered, I think U.S. Steel possesses plenty of downside potential and investors should short the stock after the recent rally.
Disclosure: I/we have no positions in any stocks mentioned, and no plans to initiate any positions within the next 72 hours.
I wrote this article myself, and it expresses my own opinions. I am not receiving compensation for it (other than from Seeking Alpha). I have no business relationship with any company whose stock is mentioned in this article.