With improved technology and the prices of solar (and wind) energy falling exponentially, along with lithium battery prices falling about 14%-16% pa, there will be massive disruptions to the conventional Internal Combustion Energy (ICE) car industry and the demise of the oil industry.
I urge all investors to view Stanford lecturer Tony Seba's video. Seba believes we will have 100% electric transportation and 100% solar by 2030. He states that electric cars have much better torque (acceleration), and their engines are more efficient and can last longer than ICE cars. He also forecasts by 2017-19 mass electric car adoption will begin as prices for 200-mile range EVs will have fallen to about $35,000 (Tesla Model 3). He also states that by 2020 the electric car will become cheaper than the ICE car, and the game will be over for ICE cars. He says that hydrogen fuel cell cars are not an efficient option.
Another good read is "The Troubled Oil Business," in which Amory Lovins discusses how light weight, efficient carbon-fiber electric cars can replace the need for oil and ICE cars. Or you can read "Seven Reasons Cheap Oil Can't Stop Renewables Now" by Tom Randall.
Even the Saudis predicted this. In 2000, Sheikh Ahmed Zaki Yamani, former oil minister of Saudi Arabia, gave an interview in which he said:
Thirty years from now (2030) there will be a huge amount of oil -- and no buyers. Oil will be left in the ground. The Stone Age came to an end, not because we had a lack of stones, and the oil age will come to an end not because we have a lack of oil.
Fossil Fuels and Pollution - Time to Stop This Forever
Global warming and pollution (smog) levels cause hundreds, if not thousands, of people to die every day (see links below), and will therefore be solved.
Smog Pollution in Beijing, China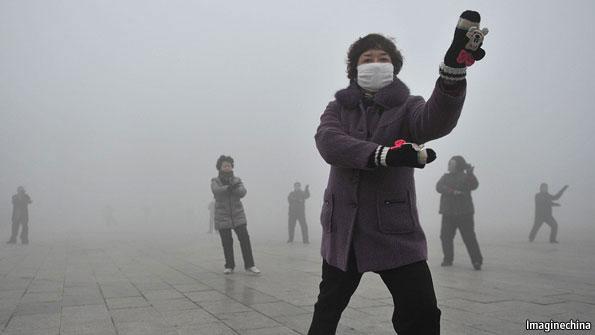 Source: The Economist (see link below).
Polluted air has numerous negative side effects, including tired and sick people. In the past three decades, coinciding with a mad dash toward growth and industrialization, China has seen a more than fivefold jump in mortality rates for lung cancer, thought to be caused by increased air pollution. Added to this is asthma, colds, and other problems caused by air pollution.
Another issue is tourism, which declines as people want to avoid the polluted areas. These things have huge negative social and economic effects, both in healthcare costs and worker absenteeism.
Fossil Fuels Vs. Clean Energy Projections Through 2030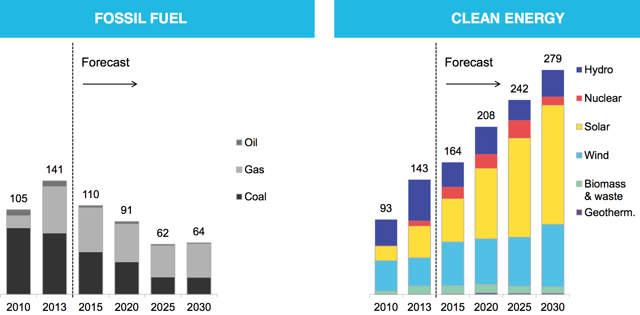 Source: Bloomberg (see link below).
We can see from the graph above that renewables will take over and that solar and wind, with some hydro, will be the main energy sources. During the 2015 UN Climate Conference in Paris, it was decided what countries can do to halt this enormous problem. The science is no longer disputed, as polluted skies are evidence of burning fossil fuels.
The question now is what to do to clean it up. The solution is a rapid move to clean renewable energies -- in particular, solar, wind, hydro, geothermal and tidal. This is happening already. The world is now adding more capacity for renewable power each year than coal, natural gas, and oil combined. And there's no going back.
The price of wind and solar power continues to plummet, and is now on par with or cheaper than grid electricity in many areas of the world. From now (December 2015) until 2030 we will see a massive switch to solar and wind energy. We'll see solar for houses and wind for units, or location will decide the ideal renewable option.
Solar
Growth in solar has been exponential. It's leading to a massive drop in panel prices and big improvements in efficiency of the solar panels, making them better able to convert sunlight to electricity. Combine this with better and cheaper lithium batteries to store the energy, and we have the mix now to make clean renewable energies the energy of choice. In the U.S., solar is now often cheaper than conventional electricity, and getting cheaper by the year. Especially with companies like SolarCity (SCTY) offering no money down contracts to lease and maintain the solar panels.
Solar adoption is growing most rapidly in China where smog is a horrendous problem. But the U.S. is also changing rapidly to solar. By the end of 2013, Australia had over 1 million household rooftop solar panels installed, and the cost of buying a solar PV system is less than a quarter of the price from a decade ago. About 2.6 million people, or 11% of the population, use the sun for their electricity needs. Currently, solar is less than 1% of the global energy mix, but growing exponentially. It is forecast to move to at least 48% in the U.S. well before the goal of 2050, probably by 2030.
Wind
Wind turbines and wind farms are also rapidly growing both onshore and offshore, obviously in windy locations. Wind power is ideal to supply unit owners in dense, high-rise cities where roof top solar is limited. China is the leading country in terms of wind energy growth, with a plan to double (add 100GW) of capacity from now until 2020 to reach a staggering 200GW.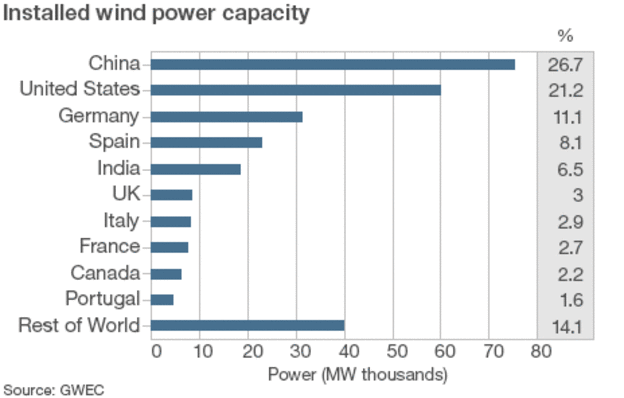 The key is that the price of wind and solar power continues to plummet, and is now on par with or cheaper than grid electricity in many areas of the world. I believe that the following industries will be severely disrupted going forward from now until 2030:
The oil industry, which will become virtually obsolete.
The ICE car industry will collapse.
The car insurance industry and the taxi industry will be disrupted.
Car parking will mostly become obsolete.
The coal industry will be over or in decline.
The old electric utility companies will be broke.
They will be replaced by:
Solar electric powered homes, with lithium battery energy storage.
Wind farms to supply energy for those in units that cannot have solar panels.
Electric vehicles.
Autonomous (self-driving) cars.
Car sharing and super cheap taxis with no driver so no need to own a car if you live in a city. Helsinki and Finland already do car service.
By 2020, EV cars will be cheaper to buy and 10x cheaper to maintain and run -- if not free, if you get your energy from your rooftop solar panels. ICE car companies and oil companies will be going broke, and so will many oil exporting nations.
By 2030, virtually all new vehicles will be electric. Most homes will be powered by solar, which will be stored in lithium (or better) batteries, and also used to charge your EV. Most people living in cities will not own a car, but will use cheap driverless taxis or electric public transport. There will be virtually no need for city parking.
By 2050, we'll could see the following: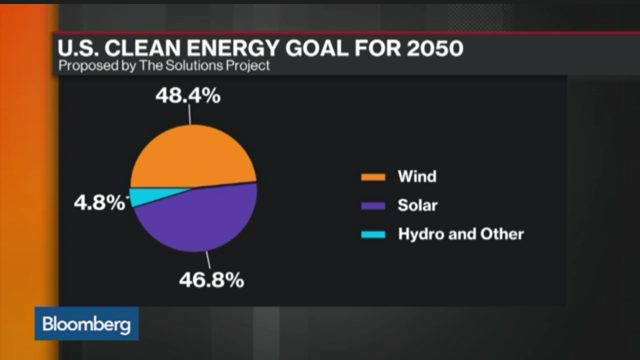 So, how do investors profit from these massive changes?
Solar Companies or ETFs
SolarCity has 33% market share in the U.S. residential solar market and is No. 1. It is run by the Rive brothers, cousins of Elon Musk. Currently, it has no P/E and a 60% analyst buy rating with a target price of $57.06. SolarCity would be my top pick in this sector based on its dominant market position, connections/synergies with Tesla, and technical strength.
First Solar (NASDAQ:FSLR) is No. 1 for commercial solar installation in the US. It trades at an attractive P/E of 13.3, with a 40% analyst buy rating and a target price of $66.96.
Guggenheim Solar ETF (NYSEARCA:TAN) offers broad exposure to the solar sector. Holdings include SolarCity, First Solar, Canadian Solar (NASDAQ:CSIQ), SunPower (NASDAQ:SPWR), Trina Solar (NYSE:TSL) -- the top shipper of solar panels in 2014 -- and Yingli Green Energy (NYSE:YGE). The ETF currently has a P/E of 20.26, and suits investors who want to cover the broad solar sector with lower volatility. More details on these companies can be found here, in my recent Seeking Alpha article.
Wind Companies or ETFs
Vestas Wind Systems A/S (OTCPK:VWDRY) is the No. 1 global energy company, with 13.2% global market share. The Denmark company is currently trading at a P/E of 22.11, with an analyst rating of hold and target of DKK427.
There's also Xinjiang Goldwind Science (OTC:XJNGF). It's trading at HKD13.0 or USD1.45. Goldwind is the global No. 2 wind energy company, with 10.3% market share. It is based in China, but also has global operations. It currently trades at a P/E of just 9.6, or 2016 P/E of 8.7, an analyst buy rating, and a one-year target price of HKD23.36, representing 80% upside. It would be my top pick for this sector.
General Electric (NYSE:GE) is the largest U.S. wind turbine supplier with 4.9% global market share. Obviously, it is focused on many other areas, so it's not a pure play wind energy company like the two other names mentioned above.
Next is First Trust ISE Global Wind Energy ETF (NYSEARCA:FAN). For me, it's a bit pricey with a P/E of 24.04. Its top holdings include Vestas, Nordex SE (OTCPK:VWSYF), and Iberdrola SA (OTCPK:IBDSF). FAN is the only wind energy ETF and it offers broad sector exposure. For more information on wind energy companies, you can read my article linked to above.
Lithium Battery Producers Building Gigafactories
There's Tesla (NASDAQ:TSLA), Byd Co. (OTCPK:BYDDF), Foxconn Technology Group (OTC:FXCOF), and Samsung SDI (OTC:SSDIY).
Lithium Miners or ETFs
There's Global X Lithium ETF (NYSE:ARCX), Pure Energy Minerals (HMGLF), Rare Earth Minerals (OTC:RARMF), Western Lithium USA Corp. (WLCDF), Sociedad Quimica y Minera (NYSE:SQM), and Dajin Resources Corp. (OTCQB:DJIFF).
Lithium is in huge demand from three multitrillion-dollar industries: electronic devices (phones, PCs, etc.), electric vehicles, and energy storage. Several lithium battery gigafactories are currently in the planning stages or are being built, led by Tesla with its gigafactory that will double global lithium battery production by 2020 to supply 500,000 Tesla and other EVs and home storage batteries.
Note that the Tesla gigafactory will be 100% powered by solar and wind energy. For more information on the lithium miners and why you should consider investing in them, as well as information on creating your own green energy portfolio, you can read my article here.
Electric Vehicle Companies
There's Tesla, Byd Co., and Kandi (NASDAQ:KNDI). Both Tesla and Byd are building gigafactories to sell lithium batteries. This enables them to have cheap batteries for their own EVs, batteries to sell to other EV companies, and batteries for energy storage (to store rooftop solar,etc.). For more information on EV companies, you can read my articles here and here.
Autonomous Vehicle Companies
There's Tesla, Google (NASDAQ:GOOG), and Nissan (OTCPK:NSANY). Nissan is the most alternative ICE company, with the global top-selling EV the Nissan Leaf. Google is considered to be the most advanced in this area for now.
Car Share and Online Taxi Companies
There's Uber (might IPO in 2016/2017), Lyft, Zipcar (acquired by Avis Budget Group (NASDAQ:CAR)), GrabTaxi, and Didi Kuaidi. The Google investment in Uber looks promising, as does the Softbank investment in Grabtaxi.
Clean Energy ETFs
There's iShares Global Clean Energy Index Fund (NASDAQ:ICLN), Market Vectors Global Alternative Energy ETF (NYSEARCA:GEX), and PowerShares WilderHill Clean Energy Portfolio ETF (NYSEARCA:PBW). The top 12 Alternative Energy ETFs can be found here. More details on these ETFs can be found in my article here.
What Should You Avoid Investing In?
I believe you should avoid all oil, coal and gas companies or funds; all ICE car companies; and all major oil exporting countries and regions. That includes Saudi Arabia, Russia, Iran, Iraq, Nigeria, the UAE, Angola, Venezuela, Norway, Canada, Mexico, Kazakhstan, Kuwait, Qatar, Libya, Algeria, Azerbaijan, Colombia, Oman, the UK, Brazil, Ecuador, Indonesia... Note that Saudi Arabia and Russia are by far the biggest oil exporters.
One question that remains is: What if all these countries lose their oil revenues? Perhaps we'll see a global depression. Hopefully, these changes will happen gradually over the next 15 years so that countries like Saudi Arabia and Russia can restructure their economies, thereby adjusting to a world largely without oil.
Disclosure: I am/we are long TSLA, BYDDF, SCTY, FSLR, XJNGF.
I wrote this article myself, and it expresses my own opinions. I am not receiving compensation for it (other than from Seeking Alpha). I have no business relationship with any company whose stock is mentioned in this article.
Additional disclosure: The information in this article is general in nature and should not be relied upon as personal advice.
Editor's Note: This article covers one or more stocks trading at less than $1 per share and/or with less than a $100 million market cap. Please be aware of the risks associated with these stocks.