As we close 2015, we take stock of the likely outlook for 2 popular commodity bloc currencies as well as gold and silver. Much has been written in recent times regarding a potential bottom in commodities, especially base commodities and precious metals so we will leave you to read the commodities page for the supply and demand fundamentals. In this article, we will only cover the key fundamental factors affecting the AUD and NZD, followed by the technical outlook for the currency pairs presenting 2 probable paths for each currency pair with our preferred path based on the fundamentals.
We then proceed to cover Gold (NYSEARCA:GLD) and Silver (NYSEARCA:SLV) from a purely technical standpoint which we think are nearing long term bottoms and could prove to be good investments over the next few months or years. We got interested in the two precious metals after several notable fund managers took sizable positions in gold earlier in the year. Some of them have sold out but we think the move down could now be finally coming to an end. There are several key fundamental scenarios that we can see that would lead to a rise in gold and probably silver, but we will not be discussing that here since much has been written on this at this point already in the precious metals section. We will be covering purely the technical aspect of gold and silver in this article for your reference.
The Australian Dollar (NYSEARCA:AUD):
Before moving into the technical view of the AUD, let us look at the key overarching fundamental negatives and risk factors for the AUD at this time. They are:
1. The slowing Chinese economy, which we talk about here
2. Continued poor trade balance numbers due to falling commodity prices
3. The potential bursting of the housing bubble in Sydney
4. Continued poor business sentiment and capital investments
5. Falling inflation numbers
In terms of the recent positives:
1. A better looking employment picture with strong employment numbers in recent times
2. Stabilizing GDP numbers in recent quarters
3. Chinese economic numbers beginning to show some level of stabilization in recent months
Summing everything up, the continued transition and slow down of the Chinese economy continues to be harmful for base commodity prices and Australia at this point. Whether Australia can begin to transition itself away from a commodity based economy into a more diversified economy remains to be seen. The greatest risks at present for Australia continues to be the potential bursting of the housing bubble in Sydney with many houses currently being purchased with negative gearing and being kept purely for capital gains alone. This is not something that leads to healthy long term appreciation in our opinion.
Alternative 1 (Primary scenario):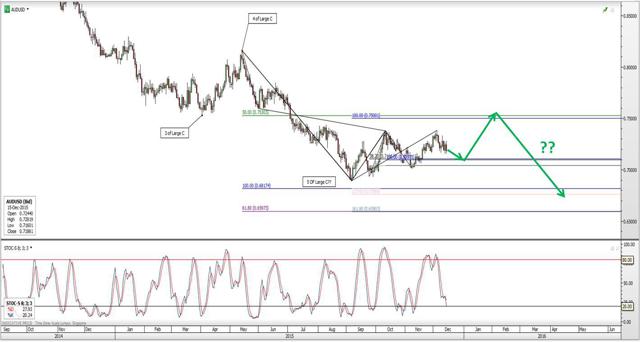 The first scenario which is our primary scenario is that the AUDUSD falls from current levels to around the 0.7040 levels before a rebound to the 0.7500/30 level where we hope to establish a longer term short position on the AUDUSD with a target below the 0.7000 level. We think this fits in best with a not too hawkish Fed hike scenario and current stance of the RBA at present.
Alternative 2: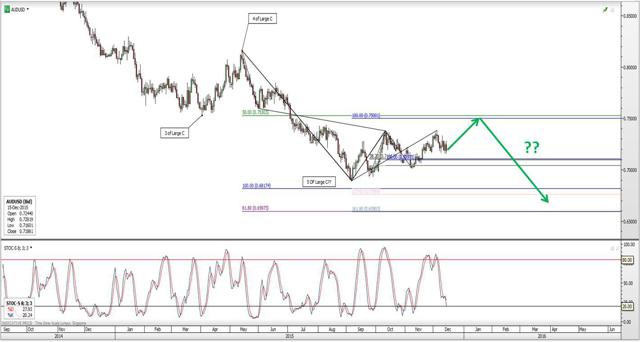 The second scenario is fits in with a much more dovish than expected Fed scenario which leads to a short squeeze to the upside and the pair reaching the 0.7500/30 level where we would consider a short position for the longer term.
Alternative 3: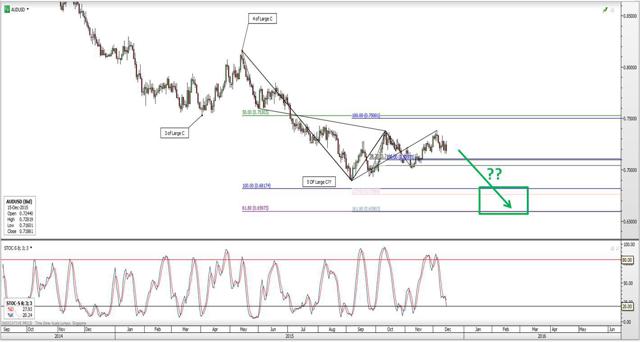 The third probable scenario in our opinion is the AUD falling from current levels straight to new lows at the 0.66-0.68 level before any consolidation takes hold. This fits in line with a scenario where the Fed is more hawkish than expected or do as expected whilst Chinese and Australian fundamentals deteriorate faster than expected at the turn of the New Year with current positive data points like in employment being revised down.
The New Zealand Dollar (NZD):
The New Zealand Dollar has certainly taken a tumble falling 13.44% YTD following several rate cuts and an ever worsening trade balance due to falling milk prices at the Global Dairy Auctions.

Source: GlobalDairyTrade
With dairy products continuing to be a key export component for New Zealand with as much as 10% of exports coming from dairy products alone, a recovery in dairy prices would certainly make a difference in the trade balance numbers New Zealand has been having. For now though, continued low inflation rates and poor trade balance numbers should lead to more rate cuts into next year which should lead to a lower NZDUSD on the overall.
Alternative 1 (Primary scenario):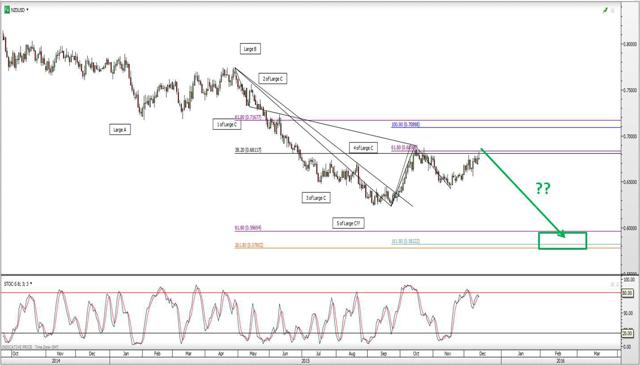 The first scenario for the NZD into 2016 in our opinion assumes that the NZD will not climb back over the 0.6900 levels regardless of the Fed decision before falling to reach the 0.5820-0.5960 level into 2016. Given the fundamentals in New Zealand at this time, and with the Fed in a tightening cycle coupled with a net long positioning in the market for NZD, we think that the risk for the NZD continues to remain firmly to the downside.
Alternative 2: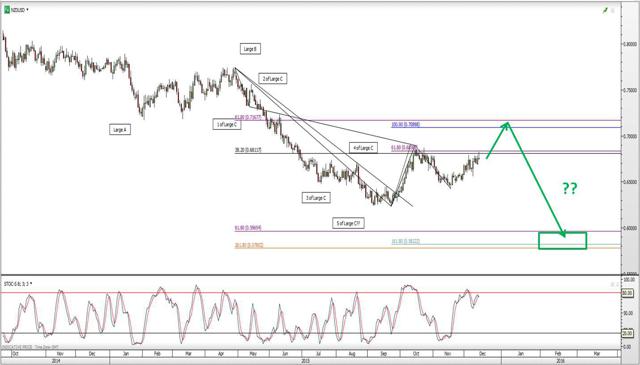 The secondary scenario we have for the NZD is that a move up to around the 0.7090-0.7160 zone is reached before a decline begins from that level to reach the 0.5820-0.5960 target that we have to the downside. This would likely be the scenario if the Fed proves more dovish than expected, and a recovery in dairy prices and the New Zealand trade balance is seen at the beginning of 2016.
Gold and Silver:
As mentioned earlier, we will cover only the technical aspect of gold and silver in this section as a bonus for our readers. The fundamental aspects can be explored in the precious metals section which have plenty of top quality articles for your reading.
Long term bottom for Gold?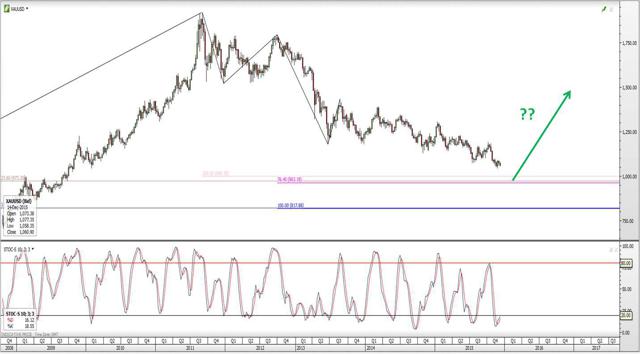 At this current juncture, we think gold is in a bottoming phase to complete the long term complex correction that started in 2011. The key confluence support level is the 965-998 region where a position can possibly be accumulated with a stop loss below 920. If the 920 support gives way, then the 817.80 level will become the key support for the metal to base at, with a break below $800 as a stop. At this current juncture, our primary expectation is that the 965-998 region should be the longer term bottoming zone with numerous supports found in that zone which should keep the metal at or above the zone even with the Fed hiking rates. Time will tell if this view is correct and we will revisit in a year.
Long term bottom for Silver?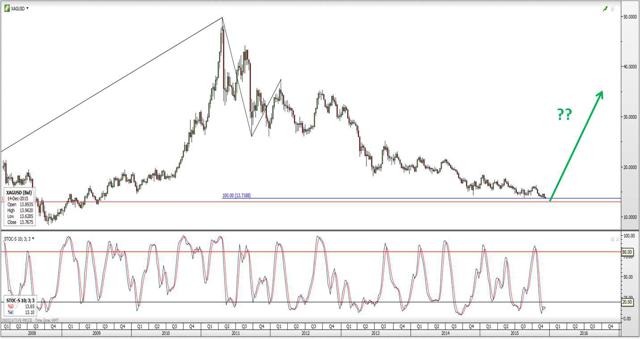 Silver like gold looks to also be nearing a key technical bottom. Difference between the two metals is that silver based on technicals alone has reached what should be its long term bottoming zone which is the 13.05-13.70 region. From purely technical perspective and ignoring all fundamentals at this point, there is enough in place to consider silver potentially beginning to form a technical bottom. The question now of course is, what will the catalyst be to push silver higher from here, or will silver just bounce around in this bottoming zone for an extended period of time. Time will tell if this indeed is the bottoming zone, and we will check back here in a year's time.
We hope you have enjoyed this information piece and we look forward to your constructive feedback or questions. We will revisit this article again 6months to a year from now to see how our projections line up.
RISK DISCLOSURE.
HIGH RISK WARNING: Foreign exchange, Futures and ETF trading, carries a high level of risk that may not be suitable for all investors. Leverage creates additional risk and loss exposure. Before you decide to trade any instrument, carefully consider your investment objectives, experience level, and risk tolerance. You could lose some or all of your initial investment; do not invest money that you cannot afford to lose. Educate yourself on the risks associated with trading, and seek advice from an independent financial or tax advisor if you have any questions.
ADVISORY WARNING: THEMARKETJOURNAL provides references and links to selected blogs and other sources of economic and market information as an educational or informational service to its clients and prospects and does not endorse the opinions or recommendations of the blogs or other sources of information. Clients and prospects are advised to carefully consider the opinions and analysis offered in the blogs or other information sources in the context of the client or prospect's individual analysis and decision making. None of the blogs or other sources of information is to be considered as constituting a track record. Past performance is no guarantee of future results and THEMARKETJOURNAL specifically advises clients and prospects to carefully review all claims and representations made by advisors, bloggers, money managers and system vendors before investing any funds or opening an account with any brokerages or dealers. Any news, opinions, research, data, or other information contained within this article and our website is provided as general market commentary and does not constitute investment or trading advice.
THEMARKETJOURNAL expressly disclaims any liability for any lost principal or profits without limitation which may arise directly or indirectly from the use of or reliance on such information. As with all such advisory services, past results are never a guarantee of future results.
Disclosure: I/we have no positions in any stocks mentioned, and no plans to initiate any positions within the next 72 hours.
I wrote this article myself, and it expresses my own opinions. I am not receiving compensation for it (other than from Seeking Alpha). I have no business relationship with any company whose stock is mentioned in this article.