Introduction
I recently wrote an article titled "If I Had to Build an Income Portfolio Today" which was published by Seeking Alpha, October 23, 2015. The article described the development of a portfolio for a relative that recently came in to a significant sum of money and wanted to conservatively invest to supplement their retirement income and help the grand kids with college costs. The article was very well received by Seeking Alpha readers.
As I mentioned in the earlier article, after establishing the initial portfolio, there remained a significant cash account yet to be invested. I've decided to turn the portfolio development into a series of articles documenting not only the development of the portfolio and the rationale for the investments selected but also report on the capital appreciation and income produced by the portfolio. I plan to provide updates on the portfolio whenever there is a significant change in the portfolio holdings. This article is the next in that series.
Portfolio Capital Appreciation and Income
The EXCEL table below shows the financial performance of the portfolio through December 18, 2015.

Source: Author
I revised the table slightly to add two columns. Because I took a capital gain since the last reporting period (ending November 18), I added a column for Realized Gains (Losses) and a column for the total Portfolio Value plus Realized Gains (Losses).
The market and the portfolio has been on a bit of a rollercoaster since it was established. At one point in October it was up almost 12% and on November 13 it was up only 5.3%. In early December, OPEC met but didn't accomplish anything. The OPEC press release was less than satisfying to the market and crude prices headed south fast. The two midstream MLPs in the portfolio took a beating. As of December 15 market close, the current portfolio is up 5.45%. The portfolio has also collected dividends of $919 as of December 15. With total realized and unrealized gains of $19,246 and dividends of $919 to date, I think the portfolio is performing pretty well though the hammering that the MLPs took in the year end selling frenzy did hurt overall performance.
As mentioned above, I did sell one of the holdings in the portfolio on November 24. I follow the crude oil and natural gas markets closely and I was getting a bit queasy about the Vanguard Energy Fund (NYSE: VGENX) holding. The weather across most of the country has been unseasonably warm, natural gas stocks are high, crude stocks are high, global crude production is still robust, the Saudi's weren't sounding like they were in a cooperative mood for the upcoming OPEC meeting and there was likely to be tax loss selling pressure coming in December. The portfolio was showing a decent gain on the Vanguard Energy Fund that I didn't want to see disappear. I sold out of the fund on November 24 for a gain of $4944.48 representing a percent gain of 14.1% over approximately an 8 week period. This decision turned out to be a good one as crude took another leg down after the OPEC meeting and most O&G stocks went down along with it.
Unfortunately, I incorrectly rationalized that the two midstream MLPs in the portfolio would not be significantly impacted. I was wrong. Western Gas Partners (NYSE: WES) and Enterprise Product Partners (NYSE: EPD) both looked like nails to the crude price hammer and took a beating.
Additions to the Portfolio
I've been following the Canadian banking sector for awhile watching the bank stock valuations drop in concert with the US dollar rising and the Canadian dollar value dropping. The Canadian banking system on whole, is run more conservatively than its US counterpart, is better capitalized, and has lower exposure to problem loans. The Canadian economy experienced a very mild recession this summer but is now showing strength in the last quarter as well as in the current forecast. Several Canadian banks have recently reported earnings that met or beat expectations with strong guidance going forward. In addition, the Canadian dollar hasn't been this low against the dollar for more than 10 years. When the Canadian dollar strengthens, this will provide the potential for additional capital appreciation for Canadian stocks priced in US dollars. I recently published an article on Canadian bank stocks which provides more detail and analysis of the investment thesis titled Canadian Bank Stocks - The Time Is Nigh.
Based on the analysis presented in the article above, I added small positions of both Toronto-Dominion Bank (NYSE: TD) and Royal Bank of Canada (NYSE: RY) to the portfolio on Monday, December 14 at a price of $38.50 and $52.50 respectively.
I also added to the existing position in EPD. EPD is arguably the most conservatively operated midstream company in the US. While EPD has held up better than most of its peers, like everything else in the O&G sector, EPD took a beating over the last few weeks. I believe that it presents a compelling value at the current valuation or at least at the valuation on Monday, December 14 when I added 100 shares of EPD at $22.00.
Finally, I added $15,000 to the Vanguard Dividend Growth Fund (NYSE: VDIGX) and $5,000 to the Vanguard Mid-Cap Growth Fund (NYSE: VMGRX) on Friday December 11.
In addition to those stocks, mutual funds, and MLPs already mentioned above, the portfolio consists of the following stocks and mutual funds, AT&T (NYSE: T), Stag Industrial (NYSE: STAG), Welltower (NYSE: HCN), Realty Income Corporation (NYSE: O), Starwood Property Trust (NYSE: STWD), Ameren Corporation (NYSE: AEE), Cal-Main Foods (NASDAQ: CALM), Old Republic International Corporation (NYSE: ORI), American Electric Power (NYSE: AEP), Omega Healthcare Investors (NYSE: OHI), Ventas (NYSE: VTR), Verizon Communications (NYSE: VZ), and Lexington Realty Trust (NYSE: LXP). The portfolio also includes the Vanguard Health Care Fund (NYSE: VGHCX). A snapshot of the stock, MLP, and mutual fund portion of the portfolio as of market close on December xx, 2015 is provided below.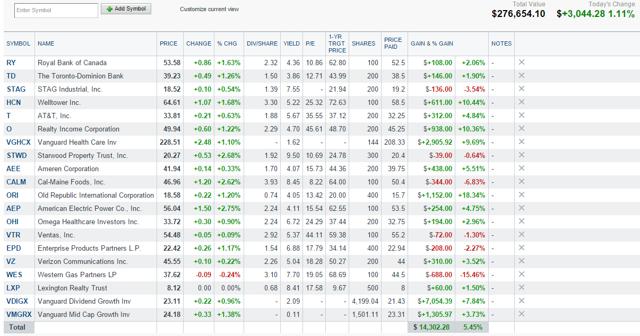 Source: Yahoo Finance
With tax loss selling in full swing and market volatility induced by the Federal Reserve and commodity prices dropping, there were some opportunities to continue to add investments to the portfolio at attractive valuations. However, I was expecting there would be a more significant drop in the interest rate sensitive stocks (utilities, REITs, telecommunications, etc.) in anticipation of the expected Federal Reserve raising the Federal Funds Rate. That hasn't happened yet but we still have a few trading days in December for opportunities to develop. I'll continue to provide updates periodically.
Disclosure: I am/we are long AEE,AEP, CALM, EPD, HCN, LXP, O, OHI, ORI, RY, TD, T, STAG, STWD, VZ, VTR, WES, VGHCX, VMGRX, VDIGX.
I wrote this article myself, and it expresses my own opinions. I am not receiving compensation for it (other than from Seeking Alpha). I have no business relationship with any company whose stock is mentioned in this article.