Earlier this year, Sears Holdings (NASDAQ:SHLD) has spun off Seritage (NYSE:SRG) as an independent REIT.
As a shareholder, I was very pleased last week to learn that Warren Buffett acquired a sizable stake in the company. But it seems like most commentators did not understand the logic behind it. In this article, I will try to explain it, at least in part.
The real estate of the new company is almost entirely comprised of Sears/K-Mart stores, but giving Seritage the right to replace the tenant at more than 50% of the space:
The Master Lease provides Seritage Growth the right to recapture up to approximately 50% of the space within the Sears or Kmart stores located at the Acquired Properties (the "Stores") (subject to certain exceptions), in addition to all of any automotive care centers which are freestanding or attached as "appendages" to the Stores, and all outparcels or outlots, as well as certain portions of parking areas and common areas, at the Acquired Properties leased to Sears Holdings under the Master Lease, allowing us to reconfigure and rent the recaptured space to third-party tenants on potentially superior terms determined by us and for our own account.

We also have the right to recapture 100% of the space within the Sears Holdings main store located on each of 21 identified Acquired Properties by making a specified lease termination payment to Sears Holdings, after which we expect to be able to reposition and re-lease those stores and potentially generate additional revenue.
(Source)
So how much additional revenue can be obtained?
Credit Suisse has actually produced a report analyzing the quality of Seritage's properties, and here's how they compare to other REIT portfolios: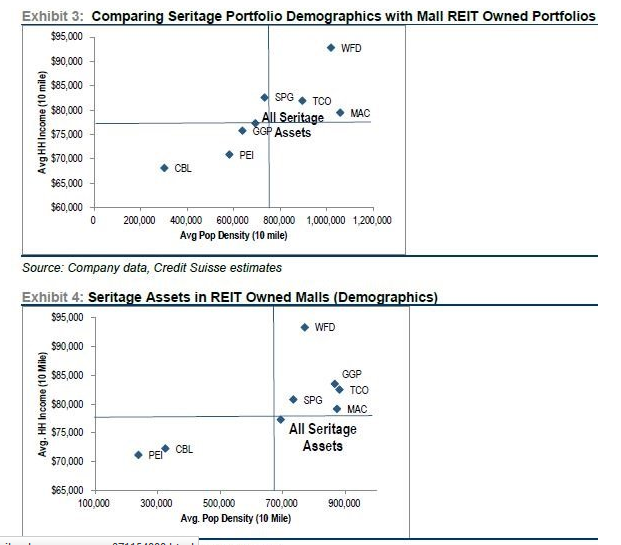 So, of the various REIT-s presented, GGP and SPG are closest in quality of their properties. To get the GGP/SPG average per square foot, we will take only Q3 results into account, because of past transactions which make the comparison per square foot more complicated:
As of November, GGP has a GLA of 127 million sqft (Source)
Q3 FFO of $341 million - extrapolated for a year - $1.365B.
Adding $15B of liabilities - (P+D)/FFO = (22.3+15.2)/1.36 = 27.57
Rent per sqft = (358.7 + 172.5+6.5)*4/172 = $12.5
Let's now have a look at SPG.
190 million sqft (Source)
Q3 FFO of $0.918M - extrapolated for a year - $3.67B
Adding $25.5B liabilities - (P+D)/FFO = (57.12+25.5)/3.67 = 22.5
Rent per sqft - 1200*4/190=25.2
According to Seritage's Q3 earnings press release, average rent from Sears Holdings was $4.31 per sqft, and total leasable area was 42 million sqft. Let's assume 50% of the space is leased to new tenants, at $12 per sqft, and the rest to Sears at $4.31, we get annual FFO of $287 million.
Per diluted share and OP units, this comes to FFO of $5.17/year. Taking in liabilities of $1.2B ($21.6 per number of shares and units), and a 20 multiple, we get a price of $81.8.
Some analysts claim that the fact that Sears is the main tenant for Seritage is a major risk. Due to all of the above, I think the opposite is true. Were Sears to go bankrupt, Seritage will be able to rent its space at rates much higher than Sears is currently paying. The cash flow might be tricky in the short term, but long term, Seritage and its shareholders will greatly benefit.
Note: Bruce Berkowitz went on record saying that part of the value in (what used to be) Sears Holdings real estate was in future development and building rights. While I fully trust his analysis, I'm not equipped to try to quantify it.
Disclosure: I am/we are long SRG, SHLD.
I wrote this article myself, and it expresses my own opinions. I am not receiving compensation for it. I have no business relationship with any company whose stock is mentioned in this article.