The shares of United Parcel Service (NYSE:UPS) are richly valued, but many argue this rich valuation is indicative of bullish secular trends, including increased e-commerce adoption, and a wide economic moat that ensures long-term success.
We challenge this premonition, arguing that there are multiple headwinds that challenge the secular growth of the business. We believe companies like Uber (UBER) and Amazon (NASDAQ:AMZN), that are already using the sharing economy to disrupt the delivery market, pose a particularly imminent threat to UPS' secular growth.
While we do believe UPS will remain the most popular and widely used form of delivery over the next 5-10 years, we hold that independent retailer testing of personal delivery systems, coupled with sharing economy growth will eat away some of UPS' market share.
As such, we hold that the current valuation is overstretched and does not consider these imminent threats. We believe the long-term short thesis is strong here despite increased e-commerce adoption.
The Sharing Economy Is A Threat
Uber now has a $62.5 billion valuation, making it more valuable than 80% of S&P 500 companies, and this valuation comes with reason. The company has already disrupted the taxi monopoly nationally by tapping into the sharing economy. Now, with an extensive driver network in all major US cities in its back pocket, Uber is attempting to tap into multiple other markets, including food delivery (UberEATS) and package delivery (UberRUSH).
We argue that UberRUSH is a threat to UPS on a small scale in the intra-metro delivery markets.
The service has already launched in three cities: San Francisco, New York, and Chicago. UberRUSH allows for metro delivery from a business to its customer (called B2C) using the driver network infrastructure Uber has already created. A customer makes an order from a boutique shop across town, an Uber driver (or biker in NYC) shows up at the boutique shop to fetch the package, and then the Uber driver delivers the package to the customer. It isn't terribly expensive ($5-7 per delivery), and is very quick - most reports online say delivery time is between 20 minutes and 1 hour.
UberRUSH is essentially equipping SMBs across the nation with a fleet of on-demand delivery drivers. An SMB owner in the LA area is quoted in this article as having called the service a "God-sent gift".
On the whole, UberRUSH cannot compete with UPS on a national or international scale. UPS has developed, and continues to fine-tune, a quasi-inimitable network of flying and trucking packages across the United States. This is the wide economic moat that investors are buying into. UberRUSH does not have the inter-city, let alone inter-state, gig infrastructure to support deliveries of that distance and on that scale.
UberRUSH does, though, have the intra-metro gig infrastructure from its staple Uber service to rival UPS in the same-day, local, metro delivery space. While this is likely a small portion of UPS' total business, B2C shipments (both local and non-local) represent 45% of total US Domestic Package volume and grew 12% last year (due to increased e-commerce adoption).
Unequivocally, some of this B2C shipment volume and growth is from local B2C shipments (intra-city), and this is the portion of the UPS business which is at risk to the sharing economy.
Speed of delivery is UberRUSH's biggest attribute, and as speed and convenience become more embedded into the consumers' preference, UberRUSH's instant delivery as the default could prove to be critical. It feels much more forward-thinking and Millennial-oriented than UPS' local, next-day residential shipments for merchants.
The service also allows customers to track their package en route, and this is a neat feature that could prove a reason why merchants and customers select UberRUSH over UPS for local B2C shipments. For important goods, it could prove comforting to both the merchant and customer that they get to track the good, especially when being driven by a volunteer driver. It also gives the customer a heightened sense of delivery timing, which allows for greater flexibility on the customer's side.
Not only could UberRUSH eat away some market share in the local B2C space from UPS, but a loss of metro residential delivery volume could result in contracted UPS margins. If metro residential volume slips, then rural residential volume grows as a percent of total revenue. This a lower-margin business now having a greater effect on the total business, and it could mean lower net margins.
Amazon Is A Threat
Evidence strongly suggests that Amazon is fleshing out its own delivery system, and the company appears to be pursuing multiple different routes to squeeze UPS out of its delivery process.
The first is through simply squeezing out the UPS middleman used to transport goods between fulfillment centers and sortation centers. The company recently purchased a fleet of "thousands" of Amazon-branded trailers to do exactly that.
The second is through replacing the UPS at-door delivery driver with an Amazon driver. Amazon has rolled out its own gig economy-based delivery system, Amazon Flex, in select metro areas. Amazon Flex drivers deliver Amazon Prime Now packages to customers. It is same-day delivery (with delivery times likely closer to 2 hours), and drivers make between $18 and $25 per hour (a compelling rate). Here is a YouTube video of how the app works on the driver side.
The third is through drone delivery. While this is a much more speculative method of transportation, Amazon may have just added some tangibility to its drone delivery system. The company recently announced Amazon Prime Air, a 1-hour drone delivery system, and it actually looks like this service could launch in the near future (FAA authorized testing in March 2015, and the service was announced a few days ago, so the timing makes sense for a near-term launch). We think it likely Amazon Prime Air launches sometime in the first half of 2016. For reference, here is the company's latest drone video.
On a large scale, Amazon is attempting to keep more of its logistics and transportation in-house, because the company's scale is now at point where it makes financial sense to do so. It needs to get a handle on shipping costs ($8.7 billion last year), as they account for roughly 6.6% of net product sales in a business that is erratically and scantily profitable.
Many analysts see Amazon fleshing out a full-fledged delivery system that will first be for its own use, and then will be offered as a third-party service to other retailers. Essentially, some analysts say Amazon could be trying to entirely replace UPS.
Forrester analyst Sucharita Mulpuru has said:
"They are indeed trying to own more of their fulfillment logistics. It's likely to improve their delivery economics, their capacity particularly during peak times like the holidays and their timing for deliveries"
While Robert W. Baird analyst Colin Sebastian has said:
"Will we eventually see Amazon cargo planes moving goods from New York to San Francisco? I would not be surprised"
This wouldn't be a new route for Amazon. The company did the same thing with AWS, first built for Amazon and then offered for sale to others.
Regardless, if Amazon is trying to replace UPS, it is unequivocally attempting to squeeze UPS out of its delivery infrastructure. With the purchase of thousands of trailers, the rollout of Amazon Flex, and the announcement of Amazon Prime Air, the company is taking the right steps towards entirely ousting UPS in its delivery process.
Premium Valuation
Our short thesis is centered around the fact that the valuation doesn't consider any of these headwinds.
Several UPS analysts are running around saying it is a buy because of secular headwinds in e-commerce adoption. They are slapping above-market price targets on UPS and buy ratings on the stock. This pumps up the stock price, stretches the valuation, and inflates the multiples. This is okay if the company executes on the lofty analyst growth projections.
What happens to the UPS valuation if UberRUSH eats away the local B2C market share and Amazon creates an entirely independent delivery system?
The stock is trading at a 22.6x P/E, while the market is trading at 21.8x earnings, so the stock is valued more richly than the market. Moreover, UPS trades at 17.4x 2016E earnings on a 5-year EPS CAGR of 9.92%. This gives the stock a 5-year forward PEG of 1.8.
The enterprise value multiples aren't much more attractive. At 1.7x EV/Sales and 11.6x EV/EBITDA, the stock seems priced to perfection.
The most alarming thing is the valuation relative to its book value. The stock trades at 45.7x book value, while the market trades at a 2.8x P/B multiple. This is because the company is subject to a highly leveraged balance sheet.
UPS only has $5.7 billion in cash (6.3% of market-cap) and $14.6 billion in debt, giving the company net debt of $8.9 billion. It has a hugely negative net current asset value (NCAV, or current assets less total liabilities) of -$23.5 billion and a small working capital amount of $1.7 billion (11% of debt).
In sum, the stock is trading at a premium valuation that is inconsistent with imminent threats in the delivery space, and has a highly leveraged balance sheet in a rising interest rate environment.
DCF Model
In order to better establish what looks like fair value to us, we have run a quick 5-year DCF on UPS using UFCFs/FCFFs (unlevered free cash flow or free cash flow to the firm). We model for 5% revenue CAGR into 2020 and for 8% annualized growth in operating profits. We model for capex as 3.8% of revenues and D&A as 85% of capex, both in line with historical data. We assume changes in working capital add roughly $250 million to cash flows per year.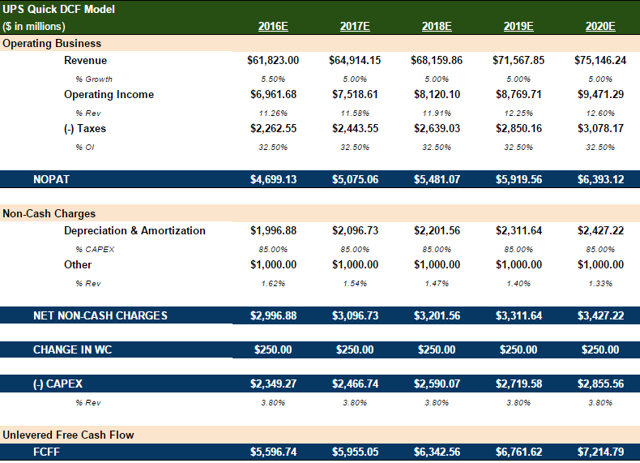 Using CAPM, we arrive a 6.78% cost of equity. Given the threat of UPS being squeezed out as the middleman, however, we hike our required rate of return to 10% to account for this risk. Taking into consideration debt and the cost of debt, we arrive at a WACC of 8.88%.
Applying a 1% perpetuity rate to our FCFFs, we arrive at an enterprise value of $85 billion. Taking out net debt of $9 billion, we arrive at an equity value of $76 billion. On MRQ weighted average diluted share count of 903 million, this equates to a fair value of $84 per share.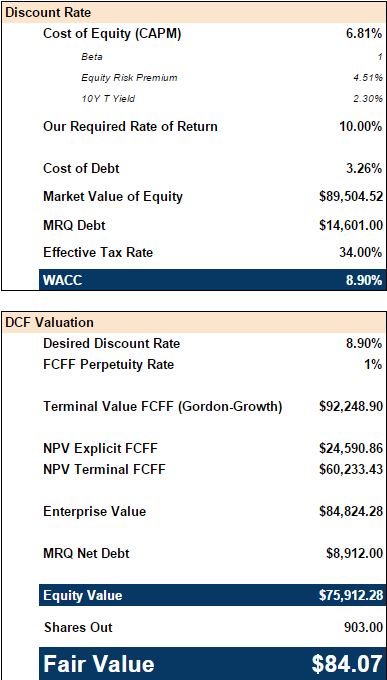 Final Remarks
All things considered, we are not interested in UPS on the long side at a $100 quote. We are interested in a short position, especially considering the threats from Amazon and Uber and growth in the sharing economy. The stock stands almost 20% above our fair value, while facing the imminent threats of Uber snagging away local B2C business and Amazon building out its own delivery infrastructure. The current valuation does not consider these threats, and this makes UPS a good short candidate.
Only 1.4% of the float is short, so the short thesis lacks substantial following, and for a reason. UPS is a staple of American delivery. Its economic moat is wide, and the cost to replicate the delivery infrastructure is almost too high for most retailers to tackle. The sharing economy, however, has already largely upended the multi-billion dollar taxi industry, and the delivery industry seems to be the next target. Amazon has the infrastructure in place with its fulfillment and sortation centers to flesh out a full-fledged delivery service.
The threat of UPS losing delivery market share to Amazon and Uber is very real. At 22x earnings, 45x book, and 16x free cash flow, the stock offers zero margin of safety even without these risks. Considering these risks, the stock looks overstretched here.
Disclosure: I am/we are long AMZN. I wrote this article myself, and it expresses my own opinions. I am not receiving compensation for it (other than from Seeking Alpha). I have no business relationship with any company whose stock is mentioned in this article.