Internet TV is here to stay. It will likely destroy the cable TV business. Of course, the leader of internet TV is Netflix (NASDAQ:NFLX). But Netflix is facing increased competition from many companies. In this article, I present data that suggest that Netflix will be fine with increased competition. The central idea of the article is this:
Current (and prospective) shareholders of Netflix are rightly concerned about the increased competition, but investors should not overreact. There is new competition in the market. But when the statistics are considered, the picture is clear that competition is not as big of a threat as it seems.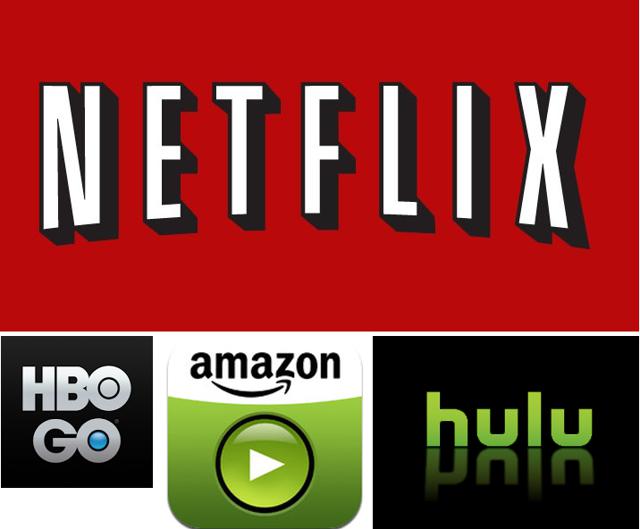 Recently, there have been important increases in Netflix's competition. Time Warner (NYSE:TWC) has taken its HBO content online. Amazon (NASDAQ:AMZN) offers premium content for a monthly fee. Hulu is gaining traction as it just reached 9 million users. The list goes on…
The key question is: Do these competitors pose a real threat to Netflix users' growth?
The short answer, no. Competitors will take some market share, but Netflix should be fine with that.
Let's start with a quick overview about the internet TV market.
As the traditional cable TV disappears, all the subscription video on demand (SVOD) will be delivered through the internet. The worldwide consumption of SVOD is at an all-time high, nonetheless growth is expected to continue. Since Netflix has global ambitions, it is important to consider worldwide demand for SVOD. According to Digital TV, worldwide households with SVOD is expected to reach 306 million by 2020. Netflix only has 69 million users as of Q3 2015; therefore, there seems to be enough room for growth. Even if Netflix only takes one-third of the households, growth potential is still >30 million users in the next five years. Currently, Netflix's worldwide market share is much larger than one-third. See market size in the next graph, courtesy of Digital TV research.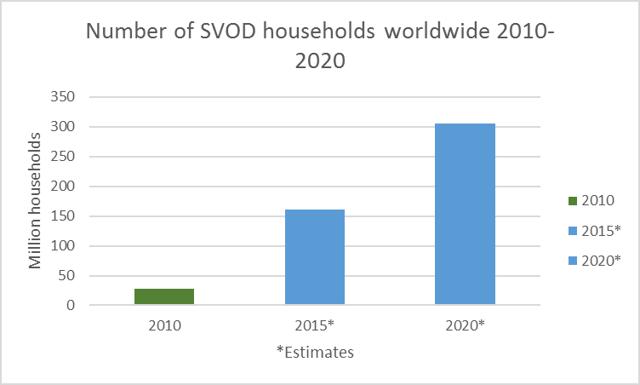 Netflix has started its expansion plans to international markets. As reported in the shareholders letter, Netflix will launch in Asian countries. The key markets mentioned in the letter are: Japan, South Korea, Hong Kong, Taiwan, and Singapore. Research suggests that these markets are up for grabs as they are widely unpenetrated. According to Digital TV, SVOD penetration will be only 7.7% by 2020.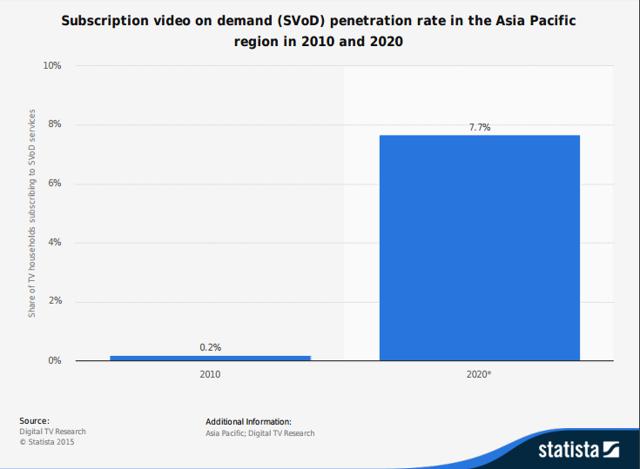 A quick look at the demographics of online TV users suggests that there is a decent likelihood that Netflix will be purchased in conjunction with other services. The US household median salary of online TV users is approximately $70k per year. So it is possible for consumers to afford both Netflix + something else (HBO, etc.). With monthly subscription services ranging from $7 to $15 for most internet TV providers, I doubt that the median household will be too stingy to only have one membership. After all, we are living in the era of consumerism.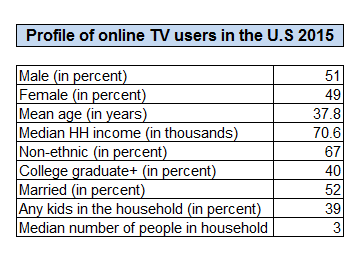 Source: Interactive Advertising Bureau
Netflix is the market leader in Premium OTT (over-the-top) content and SVOD. Market leadership is hard to gain and not easy lose.
According to research from MTM London, Netflix's market share of premium OTT in the US was 85% in 2014. Unquestionable leadership! But given the increased competition, Netflix's market share is expected to shrink to 50% by 2020. Nevertheless, a 50% market share for the OTT premium content is still market leadership. Since Netflix is not competing with just one other content provider, its market share not only indicates leadership, but also dominance of the internet TV industry.
Despite expectations to lose market share, there is room for more than one SVOD provider in the world.
In the last quarter, Netflix reported 69 million users worldwide. According to Digital TV, Netflix is expected to have approximately 115 million users by 2020. This represents an addition of 46 million worldwide users in 5 years, or approximately 9 million per year. That being said, the worldwide addressable market of SVOD is expected to be 191 million. It is clear that there is enough room for more than one player to be successful. Furthermore, it is likely that there will be overlap in consumer choices (that is, consumers will have Netflix + something else). Therefore, there is no reason to fear that Netflix's growth is over. Data suggests the opposite, Netflix has potential to continue growing regardless of the competition. See graph below, courtesy of Digital TV.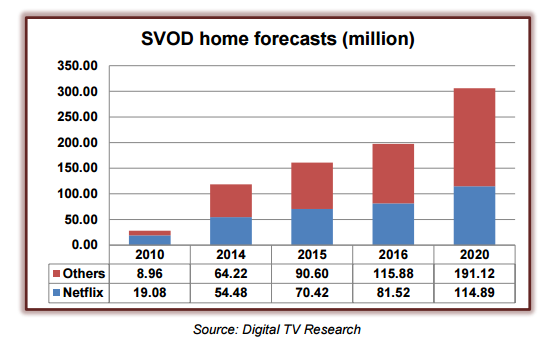 Netflix dominance is the result of two key ingredients: brand strength and first-mover advantage.
Probably every single person in the US (who has ever thought about using online TV) knows Netflix. I believe that the Netflix brand comes much quicker to anyone's mind than Hulu, Amazon Prime, or anyone else. The brand strength was achieved because Netflix was the disruptor of cable TV. By being the first-mover, Netflix was able to establish its brand strongly. This brand strength is likely to continue. A survey (of 441 people) by the Interactive Advertising Bureau found that 59% of people learn about premium content through word of mouth. Since Netflix is the leader, it is probably the most talked about online TV content provider. The following graph is courtesy of Interactive Advertising Bureau.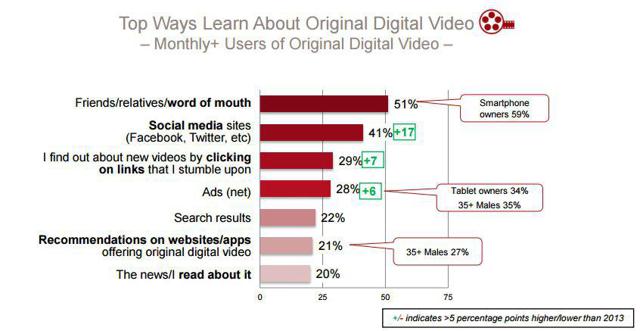 Netflix started the revolution of online TV long time ago. Netflix went public in 2002 and has been one of the first companies to offer SVOD and OTT online streaming. Google noted the potential of the online TV trend and responded by acquiring YouTube in 2006. But Google monetized YouTube's content through advertisement, while Netflix kept things ad-free. Netflix clearly started the internet TV revolution. The rest of the competitors are followers, not leaders.
But the key conclusion is that the pie is big enough for many companies to have a piece of it.
While there are concerns about new competitors entering the market, data suggest that there is a lot of room to grow for everyone. More importantly, Netflix can co-exist and thrive even with strong competition. Despite new players entering the market, it will be difficult to erase the Netflix brand from people's mind.
My opinion about the matter is pretty simple. I like to compare the online TV industry with the automobile industry. In the US alone, there are many auto-makers competing for precious consumer dollars. Since the US market is so large, and the consumer taste is so broad, that there is enough consumer dollars for more than one auto-maker to succeed. In my opinion, the online TV industry will be similar (both SVOD and premium OTT content). The taste of the US (and worldwide) consumers for TV content is likely as broad as the taste for different brands of cars. It is likely that Netflix will be chosen by a large number of TV watchers. Despite losing some market share, growth is likely to continue for Netflix. There is no reason to overreact to new competitors entering the market and taking some market share.
Investor takeaway
On the bearish side, Netflix stock not only appears overvalued by price multiples, but also burns cash running its operations. On the bullish side, there is a lot of growth to be achieved. We know the market loves growth.
That being said, I believe the concerns about Netflix's competition are over-rated. Once again, there is no reason to overreact to increasing competition and conclude that growth is over for Netflix. In my opinion, Netflix will do just fine with the increased competition.
Disclosure: I/we have no positions in any stocks mentioned, and no plans to initiate any positions within the next 72 hours.
I wrote this article myself, and it expresses my own opinions. I am not receiving compensation for it (other than from Seeking Alpha). I have no business relationship with any company whose stock is mentioned in this article.