Mired in corruption and an economic weakness in its domestic market, Petróleo Brasileiro S.A. - Petrobras (NYSE:PBR) has lost approximately 36% of its market capitalization this year. However, since the beginning of October, the stock has been able to stage a rally of sorts, gaining more than 11%. This recent resurgence in Petrobras can be attributed to the fact that the company is managing all the headwinds it is facing in an impressive manner.
In this article, we will take a look at the initiatives deployed by the company to overcome the problems that it is facing, and whether it can stage a recovery next year.
Preserving margins and cash flow to counter the headwinds
Despite weakness in the oil market and the recession in Brazil, Petrobras has managed to improve its gross margin, while a recovery can be seen in its EBITDA margin as well. This is shown in the chart given below: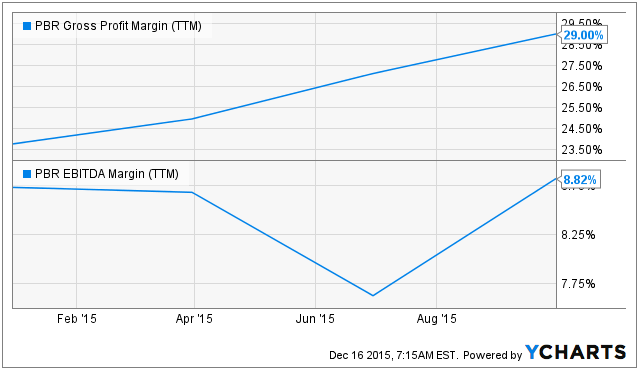 This improvement in Petrobras' margins can be attributed to the fact that the company has taken aggressive steps to reduce costs and preserve its margin profile.
For instance, in the last reported quarter, its operating expenses without special items came in at $43.1 billion, down from $46.9 billion last year. This represents a decline of 8% on a year-over-year basis. In addition, Petrobras is making significant progress as far as reducing its capital expenditure is concerned. Last quarter, the company reduced its capital expenditure by over 41% as compared to the year-ago quarter, and approximately 9% as compared to the second quarter of 2015.
In fact, for the first nine months of 2015, Petrobras has reduced its capital expenditure by 35%, as shown in the table below.

(Source: Petrobras)
Now, reducing the capital expenditure is the right thing to do in a weak oil pricing environment, as it better reflects the activity levels in the end market. Looking ahead, Petrobras has decided that it will remain more conservative as far as investment in its business is concerned. As a result, according to its business management plan, the company has reduced its investment by over 10.7% to $25 billion for 2015 and about 29.6% to $19 billion for 2016, as shown in the chart below.

(Source: Petrobras)
Petrobras is taking this approach to reduce costs in order to keep its investment below the cash flow that it generates so that it does not need to take on any more debt. In fact, for the first nine months of 2015, the company has reported operating cash flow of $19.3 billion, while limiting its investment to $16.8 billion.
This has resulted in positive cash flow of $2.5 billion, which is commendable in a weak pricing scenario. Also, last year, Petrobras had generated operating cash flow of $20.7 billion in the first nine months, while spending $26 billion over the same period. The following chart gives a snapshot of its efforts in this direction.

(Source: Petrobras)
Gauging an economic recovery in Brazil and a price recovery in oil
Brazil's economy has sunk deep into recession this year, and the situation is not expected to improve in 2016. According to a Nasdaq report:
"Brazil's gross domestic product is expected to shrink 3.62% this year, according to a weekly central-bank survey of 100 economists, compared with expectations a week ago of a 3.50% contraction. The surveyed economists raised their estimate for the inflation rate in 2015, as measured by the consumer-price index, to 10.61% from 10.44%. They also increased their inflation-rate estimate for next year, to 6.80% from 6.70% expected previously."
It is not before 2017 that a recovery is expected in the Brazilian economy, and being concrete on this point is difficult if we consider the political turmoil unfolding in the nation. On the other hand, an oil price recovery could happen before the turnaround in the Brazilian economy, driven by an increase in consumption and a drop in production. According to the International Energy Agency, the global demand for oil will "rise from an average of 94.6 million bpd this year to a record 95.8 million barrels in 2016."
At the same time, there are certain positives emerging on the supply side as well. For instance, in October, OPEC's oil production declined from the preceding month, indicating the first decline since March. On the other hand, OPEC believes that the supply of non-OPEC oil will drop by 130,000 barrels per day as compared to an increase of 720,000 barrels per day this year. This drop in non-OPEC production will be driven by infrastructure spending cuts of almost $200 billion this year. Hence, due to an improved balance of demand and supply, the possibility that oil prices will recover next year cannot be ruled out, and this will create a tailwind for Petrobras.
Conclusion
Petrobras shares have dropped massively this year, but the recent recovery indicates that investors recognize the fact that the company is taking the right steps to mitigate the several problems it is facing. Moreover, a slight recovery in oil prices next year will provide a boost to the stock, even though the weakness in the Brazilian economy might continue weighing on its performance.
As such, in my opinion, investors can accumulate some shares of Petrobras given the massive beating that they have taken this year, as the company has taken smart steps to overcome the challenges that it is facing.
Disclosure: I/we have no positions in any stocks mentioned, and no plans to initiate any positions within the next 72 hours.
I wrote this article myself, and it expresses my own opinions. I am not receiving compensation for it (other than from Seeking Alpha). I have no business relationship with any company whose stock is mentioned in this article.