Private equity firm KKR (NYSE:NYSE:KKR) announced the purchase of the bulk of oil and gas producer Samson Investment Company's onshore US assets in a 2011 deal for $7.2 billion. The acquisition occurred during a shale asset frenzy of sorts, when oil prices were near $100 per barrel, and small independent shale oil producers were being acquired despite PE ratios that were often above 50 and little to no positive cash flow. Fast forward four years and Samson, now called Samson Resources Corporation under KKR's ownership, has filed for bankruptcy and is currently undergoing restructuring. The August 2015 announcement that Samson would be entering Chapter 11 in the following month precipitated a drop in KKR's stock price of nearly 40%.
KKR Stock Price - $ per share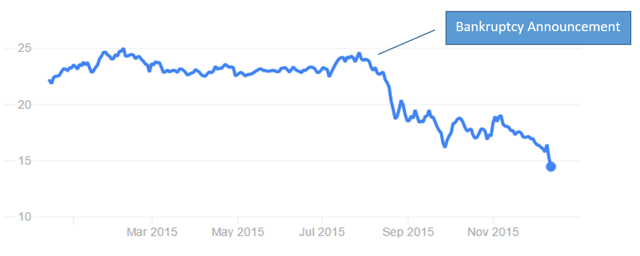 Source: Google Finance
The restructuring process, which began in September, was supposed to see $1 billion of the company's debt burden forgiven by secured lenders in return for nearly all of Samson's equity. There was also a plan for lenders to recapitalize the company with almost $500 million. However, oil prices have fallen by about $10 per barrel since September, over 20%, complicating an equity for debt exchange, and legal disputes between the company and debtors mean Samson is unlikely to emerge from bankruptcy before the end of the year as planned. Meanwhile, Samson's oil and gas production is languishing.
Production Overview
As of August 2015, Samson resources produced a bit over 11,500 barrels per day (bbls/d) of liquids (crude oil and condensate) along with approximately 205,000 mcf per day of natural gas. The company produces close to 5,000 bbls/d of liquids each in the Powder River Basin and Williston Basin, with the remaining production of about 2,000 bbls/d in and around the Anadarko Basin. The company's liquids production topped out at 18,000 bbls/d in 2013 and reached that level again briefly in early 2015. Its gas production peaked at slightly under 300,000 mcf/d in 2013/2014.
Samson's assets are heavily weighted towards dry gas and NGLs rather than relatively more valuable liquids. The chart below shows Samson Resource's US liquids and gas production since 2010 through August 2015, the latest complete month of data, with estimated current production through December to the right of the green dotted line.
Samson's US Oil Gas Production Since 2010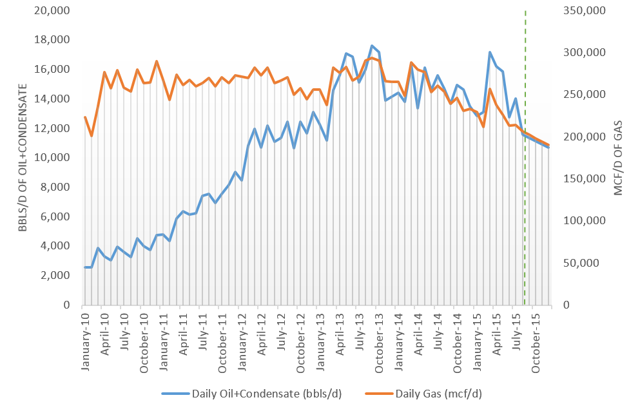 Source: PetroNerds calculations and estimates, raw data from DrillingInfo.
Current Activity? There is none.
Samson's production of both oil and gas has been in decline for almost a year and shows few if any signs of turning around. The company currently has no rigs operating in the US and has not brought a new well into production since May of this year. If Samson has undrilled acreage that must be held by production, it is possible that they risk forfeiting some of this acreage in coming months. Furthermore, the company has filed for only 18 new drilling permits in the past 90 days, all of them in the Powder River basin, and only 40 total permits (across the US) in the past six months. PetroNerds estimates that Samson's daily liquids production has already dropped below 11,000 bbls/d and that gas production has fallen under 200,000 mcf/d. Combined oil and gas production has fallen by one-third from 2014/2015 highs.
Many small upstream companies have kept at least one rig running through the oil downturn and have been adding new wells, even if at a snail's pace. But Samson is not 'many' companies. Its lack of access to capital, the collapse of the price of oil, and the legal disputes that have held up its exit from bankruptcy have jeopardized its operational capacity. The bankruptcy process has been mired by conflict and delays, in part because Samson's assets have become less valuable during the course of negotiations due to declining oil prices and declining production volumes. As production continues to decline, asset values will only decline further, absent a recovery in oil and gas prices, and a straight debt for equity deal becomes that much more difficult to make. Complicating matters are legal disputes between secured and unsecured lenders, the latter of which stand to lose about $2.25 billion.
Samson's production will continue to decline in the near-term as the company is either unwilling and/or unable to bring new wells online. Hydrocarbon prices remain stubbornly low. We estimate that current revenues at prevailing spot prices for oil and gas are less than $800,000 per day (assuming no hedging). So as asset values and revenues continue to decline, debt for equity exchanges become more troublesome. Furthermore, whoever ends up with these assets will have to make large investments to offset the months of neglect that Samson's Bakken and Powder River assets have experienced. This suggests enduring headaches for KKR and the company's potential new owners: Cerberus Capital Management, Silver Point Capital LP, and Anschutz Investment Co, not to mention the unsecured debt holders.