This month nearly 200 countries agreed on a revolutionary deal to reduce the effects of climate change and switch towards clean energy at the Paris Climate Conference.
One sector that could get an enormous boost the coming years is the solar industry. After reaching the inflection point in 2014, Mercom's research consulting division expects new solar installations to reach 64.7 GW in 2016 (2015: 57.8 GW), see picture below.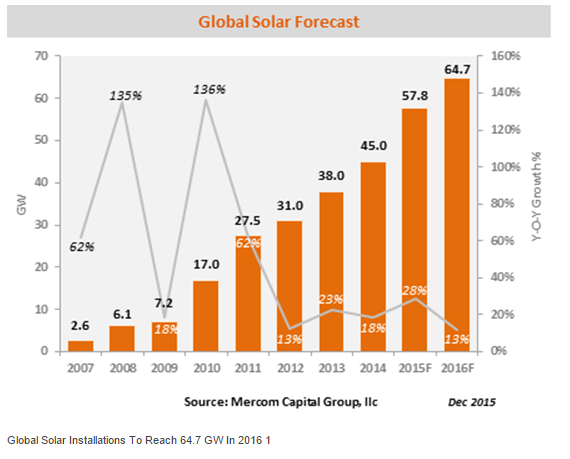 Also, another research confirms my thesis, that the solar industry is entering a growing phase that could be an interesting entry point to allocate some resources to stocks in the solar industry.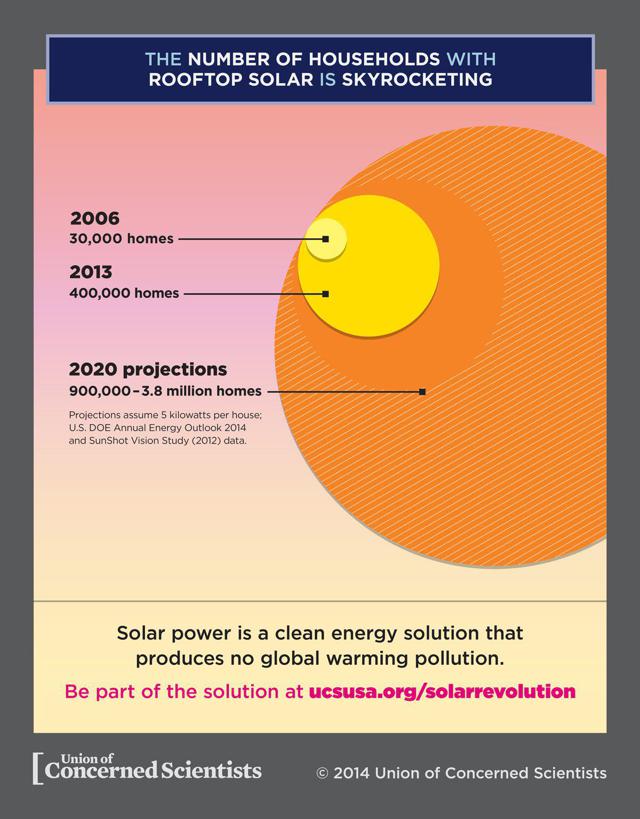 As expected, China will continue to be the largest solar market in the world -installing approximately 19.5 GW in 2016.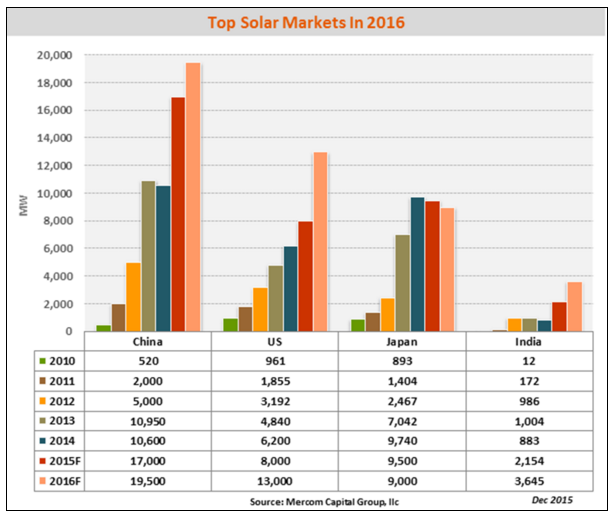 What is more important is that the Chinese government wants to generate 150 GW- 200 GW electricity, using solar power. This would mean that China needs to add more than 20 GW of solar in each year from 2016 to 2020.
Overall, the growth boom is being fueled by a combination of declining costs and low-interest rates, but also fiscal incentives play an important role.
The fact that the American Congress agreed to extend the investment tax credit to solar projects that start construction before the end of 2021 bodes well for the future.
One company that could be a great play in the solar industry is JA Solar Holdings (NASDAQ:JASO).
Right now, this Chinese solar cell and module manufacturer is being undervalued by the market.

The stock has a P/E ratio of 8.35 and a forward P/E ratio of 5.68. Currently, the book value is $16.98 which gives the stock a Price-to-Book ratio of 0.57. Both ratios belong to the lowest in the peer group. The YTD-performance has been around 18%, where stocks like First Solar (NASDAQ:FSLR) and JinkoSolar (NYSE:JKS) have both returned more than 40%. The company seems to have a healthy operation margin.
Institutional ownership is relatively low compared to First Solar and Trina Solar (NYSE:TSL). The short ratio in JA Solar is one of the highest.
The company's investor presentation shows more insight about the company, in which you can see that JA Solar is a technology leader in China.
Personally, I think we will see a revaluation is the stock price, which will give it more than 50% upside potential for the coming 12 months.
Disclosure: I/we have no positions in any stocks mentioned, and no plans to initiate any positions within the next 72 hours.
I wrote this article myself, and it expresses my own opinions. I am not receiving compensation for it (other than from Seeking Alpha). I have no business relationship with any company whose stock is mentioned in this article.