Thus far, 2011 to 2015 have been great years for anyone who has bet against the JPY with the BOJ dishing delicious stimulus after delicious stimulus for investors and traders alike. But with the JPY having depreciated over 60% from its high in 2011 and little signs of improvements in growth, there are increasing signs that the BOJ might be reluctant to dish out more these delicious QE treats to investors. To get a slightly better picture of the economic situation in Japan before diving into the technical view and scenario analysis, let us take a look at a few data points in Japan after four years of easy monetary policy by the BOJ.
Japanese Debt to GDP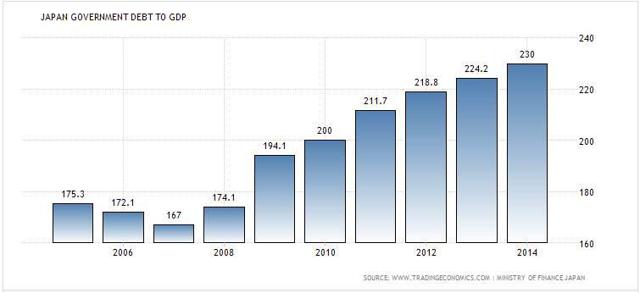 Following the start of the quantitative easing program in 2011, the current debt to GDP ratio in Japan has climbed from 211.7% to 230% at this juncture, which is staggering at this time despite the fact that majority of their government debt is domestically owned. Eventually, the pension firms and insurance companies who are some of the largest buyers of this debt will have to start drawing down their investments as retirees draw down their pensions and savings. In order to address this issue, the current government has implemented an increase in the sales tax which they plan to do so again in 2017. However, this increase has been met with many challenges in recent times, with market participants watching closely to see if there will be success in the implementation of this tax increase.
Japanese GDP Growth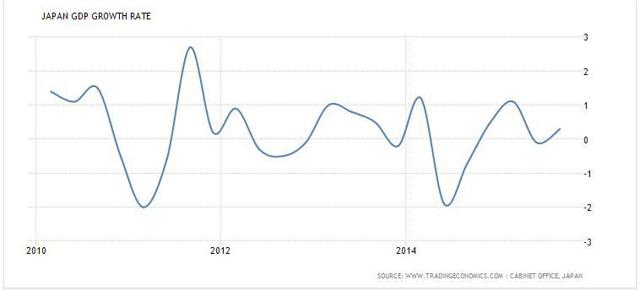 After an initial strong showing following the announcement of the QE program, Japanese GDP growth continues to languish with little signs of further increase for now.
Japanese Inflation Rate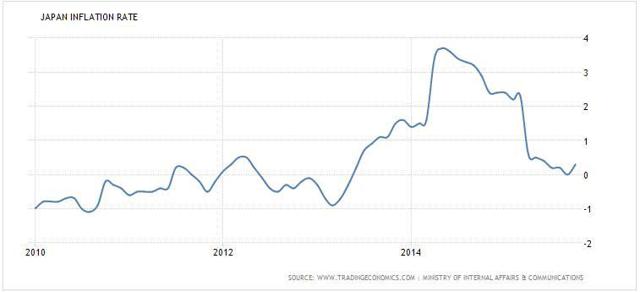 Japanese inflation continues to fall dangerously close to deflationary levels after an initial increase in 2014. With the dramatic fall in oil prices, this will continue to weigh on Japan's inflation rate in the foreseeable future.
Japanese Unemployment Rate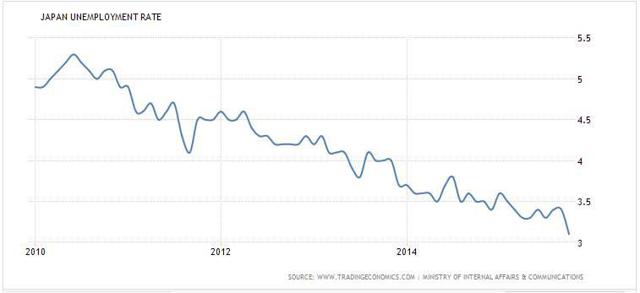 One of the key positives that we have seen as a result of the QE program is the falling unemployment rate in Japan. However, the government continues to watch for wage growth which seems elusive at this time.
Japanese Wage Growth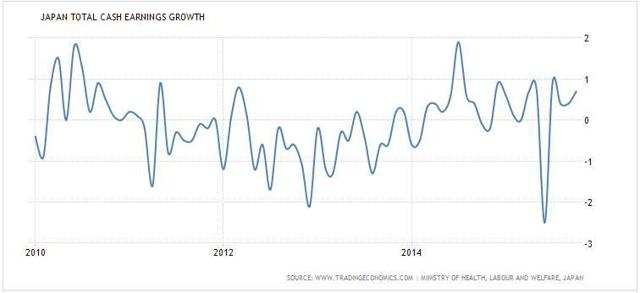 Despite the government's best efforts, wage growth remains elusive at this juncture with the current government continuing to believe that wage growth will be seen in the not too distant future. However, given the slowing global growth we are experiencing at present, we remain skeptical of this playing out.
Japanese Business and Consumer Confidence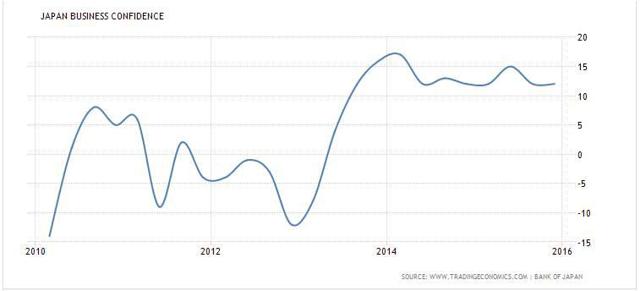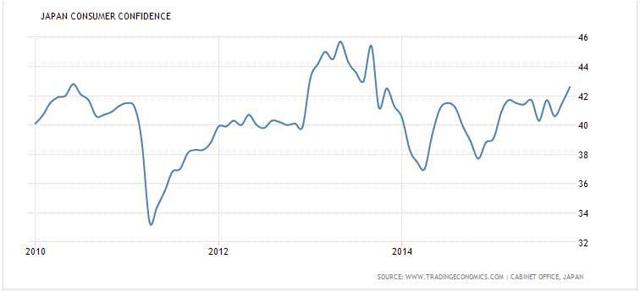 Japanese Business confidence has flattened out over the last two years after initially getting a boost from a weaker JPY following the implementation of the QE program. However, corporate profits continue to struggle due to weakening global growth at this juncture. This has probably led to the poor wage growth in Japan and consumer confidence in Japan coming off in the last two years as asset prices rise dramatically but wages remain more or less stagnant.
Technical View and Scenario Analysis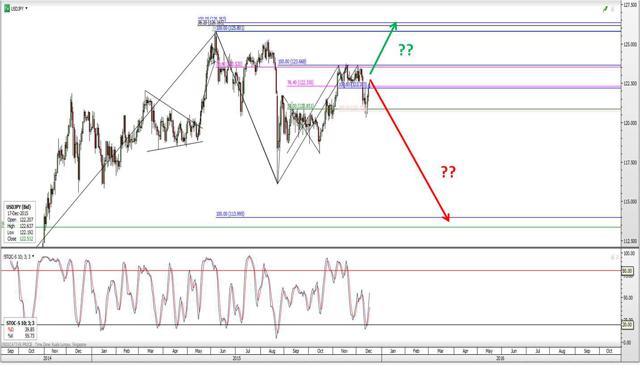 From a purely technical standpoint, the USDJPY is at a crucial crossroads. With the pair managing to break back above the 122.20/30 level, there is a chance for the pair to rally from here towards the 123.50/60 level and higher. For now though, the pair is right in the middle of the 120.70-123.60 range and will likely stay here till details from the BOJ meeting tomorrow are released. The BOJ and the accompanying statement and sentiment will help decide if the green or red path is taken.
Green Path: This bullish path toward the 125.80 to 126.30 zone will likely be a result of some sort of increase in the existing quantitative program. It would take a major increase in the size of the existing quantitative easing package or hopes for another round in Q1 next year in order for the 125.80-126.30 zone to be broken. The key level to take out for this scenario to be in play is the 123.60 level to the upside.
Red Path: The more bearish scenario which could also evolve into a sideways consolidation pattern would likely be the result of a nil increase in the existing quantitative easing program, with little hope for an increase for the foreseeable future into 2016. In our opinion the really bearish move down to the 114 level and lower would only occur if we see a no increase in QE scenario coupled with a risk off scenario in equities into 2016. Without a larger risk off scenario in equities, the USDJPY will likely consolidate sideways between 120.70-122.30 until the next catalyst comes along even if a no increase in QE at this meeting and the foreseeable future scenario is the result at tomorrow's BOJ meeting. For the really bearish red path scenario to the 114 level and lower, the 120 level will be the key level which if broken should be a serious warning sign to anyone who might still be long the pair.
Conclusion
Given the current economic weakness and lack of results from the existing quantitative easing program in Japan, we think more easing will be needed for the Japanese economic growth plan and inflation target to be met. Unfortunately, we also do note that the BOJ seems somewhat reluctant at this time to commit further to the QE program for now, which we think is the wrong move as time is running out quickly for Japan who continues to struggle with a rapidly aging demographic. Nonetheless, our opinion does not matter to the BOJ so we will be watching from the sidelines to see which scenario plays out in the near future. Given the potential for a large move, one might be tempted to make a play on this trade by buying a strangle structure with a 10 delta or 25 delta on the call and put side. Current 6month volatility for the USDJPY is between 9% - 10% depending on the delta you select for the structure with the lower delta volatility currently more expensive than those with a higher delta. This makes a 'fat' tail type trade pretty expensive to put on at this juncture, meaning you probably are better off waiting for lower volatility levels and Greeks to put on this trade. Personally, we would avoid such an option structure at present.
We hope you have enjoyed this information piece and we look forward to your constructive feedback or questions. We will revisit this article again 6months to a year from now to see how our projections line up.
RISK DISCLOSURE.
HIGH RISK WARNING: Foreign exchange, Futures and ETF trading, carries a high level of risk that may not be suitable for all investors. Leverage creates additional risk and loss exposure. Before you decide to trade any instrument, carefully consider your investment objectives, experience level, and risk tolerance. You could lose some or all of your initial investment; do not invest money that you cannot afford to lose. Educate yourself on the risks associated with trading, and seek advice from an independent financial or tax advisor if you have any questions.
ADVISORY WARNING: THEMARKETJOURNAL provides references and links to selected blogs and other sources of economic and market information as an educational or informational service to its clients and prospects and does not endorse the opinions or recommendations of the blogs or other sources of information. Clients and prospects are advised to carefully consider the opinions and analysis offered in the blogs or other information sources in the context of the client or prospect's individual analysis and decision making. None of the blogs or other sources of information is to be considered as constituting a track record. Past performance is no guarantee of future results and THEMARKETJOURNAL specifically advises clients and prospects to carefully review all claims and representations made by advisors, bloggers, money managers and system vendors before investing any funds or opening an account with any brokerages or dealers. Any news, opinions, research, data, or other information contained within this article and our website is provided as general market commentary and does not constitute investment or trading advice.
THEMARKETJOURNAL expressly disclaims any liability for any lost principal or profits without limitation which may arise directly or indirectly from the use of or reliance on such information. As with all such advisory services, past results are never a guarantee of future results.
Disclosure: I/we have no positions in any stocks mentioned, and no plans to initiate any positions within the next 72 hours.
I wrote this article myself, and it expresses my own opinions. I am not receiving compensation for it (other than from Seeking Alpha). I have no business relationship with any company whose stock is mentioned in this article.