There are strong signs suggesting that Apple (NASDAQ:AAPL) is in the early stages of what should be a strong correction. First, consider the chart below (click to enlarge image):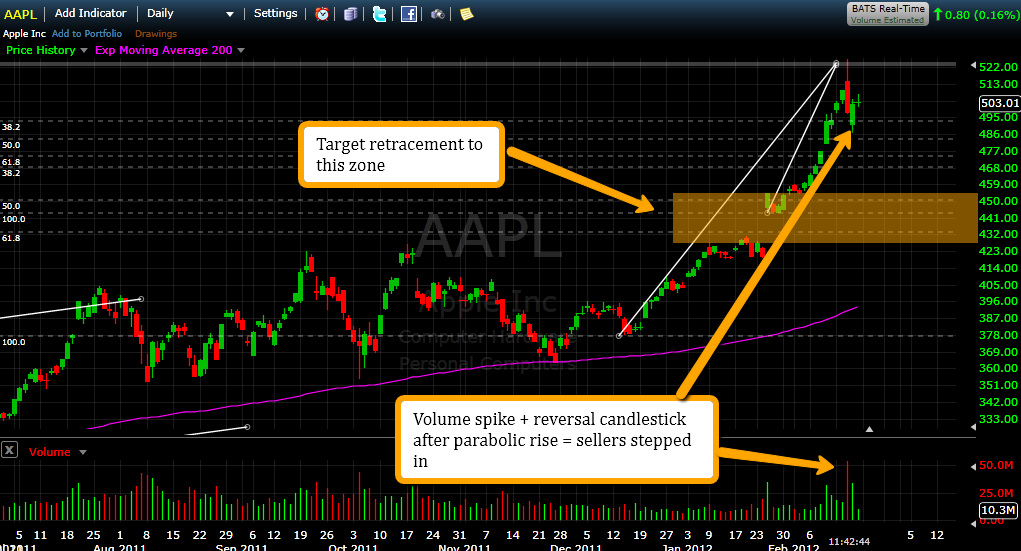 We saw a volume spike a couple days ago, coupled with a reversal candlestick pattern, after a sharp move up had occurred. In terms of technical analysis, this has all the signs of profit-taking and short sellers stepping in to put on new positions. As this seems to me not just profit-taking but also new short positions stepping in, I think a sharp retracement down to $450 is well within the realm of possibility.
Of course, I do think Apple is going much higher in the long run, and in fact, I think I should have included it in my list of areas where the next bubble could be. The primary driver of why Apple will most likely go higher after a correction is lax monetary policy and a bond market with no yields, which increases the incentive to put money in the stock market. It is this rationale that leads Blackrock to go all in on equities, and why University of Pennsylvania professor Jeremy Siegel is anticipating new all-time highs in the Dow. If the market as a whole is going up, Apple won't just tag along for the ride -- it will probably be the anchor that lifts the whole thing up. Why? Because of its massive earnings.
On an earnings basis, Apple is undeniably impressive. At an EPS of $35.11, it's current P/E, even after its sharp run up, is just 14.34 -- well below the current S&P 500 (NYSEARCA:SPY) average of 22.70. If a sell-off to $450 occurs, the P/E ratio will be just 12.82. It Apple catches up to the S&P 500 average P/E while maintaining earnings, that would put its share price at $797. If the market as a whole rises and the average P/E ratio reaches 25, Apple reaching that while maintaining earnings puts its share price at $877.75. These are scenarios that I consider well within the realm of possibility; indeed, I might argue they are more probable than not.
With that said, this is still not an opportunity I would take on. Apple's long-term strategy of creating a highly integrated platform over which it exercises total control is not one I think is scalable, and so eventually -- maybe not today or tomorrow or even a year from now, but eventually -- it's going to run into earnings problems, and the aforementioned math forecasting a price beyond $700 will begin to break down. In terms of scalability into the future, I think Amazon (NASDAQ:AMZN) and Google (NASDAQ:GOOG) have better strategies. I also think Apple is vulnerable to startups seeking to create a highly integrated, controlled platform -- but one that is directed towards a more specific customer or industry. Last but certainly not least is the notion that Apple's pricing model is simply too expensive when it comes to achieving success in Asia, and that the company is especially vulnerable to competitors like HTC and Samsung -- both of which can offer superior pricing and have a geographic/cultural advantage given their East Asian roots.
So, personally I don't like Apple's long-term strategy, and so I'm not a buyer, no matter what the price is. But our current global economy is driven largely by speculation, and so there is little doubt in my mind that Apple stock will increasingly be a field day for daytraders. Those outside of the United States may find it particularly advantageous to explore trading Apple on the CFD market.
Disclosure: I have no positions in any stocks mentioned, and no plans to initiate any positions within the next 72 hours.