Report Entitled "The Intertain Group, All Bets Are Off"
Spruce Point Capital Management is pleased to announce it has released the presentation contents of a short idea with a "Strong Sell" opinion on The Intertain Group (OTCPK:ITTNF) (TSE:IT.TO), a speculative Canadian gaming investment roll-up, where we see 45-70% downside. Our 120-slide PowerPoint presentation was made public, exclusively on our website sprucepointcap.com. We encourage our new readers to register on our website to read the full report and to receive updates. Also, we recommend readers follow us on Twitter @Sprucepointcap for exclusive research updates. Please read all of our investment disclaimers at the end of this article.
The Reason Spruce Point became interested in Intertain:
Intertain is Another Speculative Canadian Roll-Up, But in Our Opinion the Worst of its Kind: Formed from Canadian shell companies, Intertain has completed four acquisitions, each of which has gotten larger and fed Intertain's "growth at any cost" mentality which is likely to end in disappointment. Intertain's initial transaction was with Amaya, Inc. (AYA) (a 2.7% owner), which is currently being investigated (by FINRA) for insider trading (the largest investigation ever in Canadian history). Intertain acquired Amaya's InterCasino brands for C$70m. Amaya acquired these assets through its acquisition of Cryptologic (where Intertain's CEO was General Counsel). Our diligence suggests Cryptologic paid a "nominal amount" for the Malta's InterCasino gaming license. Our research closely explores Intertain's acquisitions and finds significant issues for a majority of the deals, notably the Gamesys acquisition (the largest acquisition to date - see below).
Management Backgrounds Appear Checkered, Littered With Questionable Business Connections, History of Value Destruction: John Kennedy FitzGerald (CEO) has ties to alleged penny stock promoters and people who have run afoul of the law. Keith Laslop (CFO) also has ties to questionable individuals and was involved in the collapse of NYSE-listed Gerova Financial (an SEC investigated company), an alleged ponzi-like scheme. Darren Rennick (President, Bahamas) is featured in a book (Fatal System Error) that describes cyber crime, links to sophisticated gangs and stolen financial data. An undisclosed and contentious Management Incentive Plan (MIP) has already enriched the CEO/CFO with C$17m this year, not to mention its bankers (led by Canaccord) have earned upwards of C$127m in fees. We are concerned that Intertain could exist primarily as a vehicle that enriches insiders and advisors while leaving shareholders left holding a collection of mature gaming assets, saddled with C$774m of debt and financial obligations, which could rise substantially from an increasing earn-out payment schedule. This is not the first time shareholders could be disappointed when FitzGerald, Laslop or others are involved.
Management's Recent Acquisition of Gamesys Assets is Heavily Promoted and Appears Fraught With Issues: The transaction to acquire Gamesys brands (primarily Jackpotjoy (JPJ)) requires a massive upfront fee (C$812m), ongoing licensing and platform fees (C$50-60m annually) and an earn-out which could be almost as big as the upfront fee (C$249-632m or up to 75% of upfront fee - per agreements reviewed by us). Intertain appears to have significantly overpaid; paying a control premium but receiving no control of the underlying assets - this agreement in our view resembles more of an operating lease than an outright purchase. Intertain has purchased a mature asset that appears to be in decline whilst leaving all growth assets and key Gamesys technology with the founders. Management handily steers investors away from significant new costs like the 15% UK POC tax and licensing and gaming fees (which are ~13-15% of revenues). Despite these headwinds, Intertain has somehow nearly doubled Gamesys' historic margins. Shortly after the completion of the acquisition, the driving force behind Gamesys' operations officially stepped away from his operating role, but awkwardly still heads up the Gamesys assets not acquired by Intertain.
Margins generated by Intertain's largest and recent deal with Gamesys appear impossible; something doesn't add up.
Our diligence suggests that the assets not purchased by Gamesys were profitable, so this would not assist in bridging the gap.
The question arises...how are the below margins possible with ~26% in friction costs between the new Point of Consumption (POC) tax implementation in the UK and new licensing fees paid by Intertain to Gamesys?
An argument can be made that some of the licensing and platform fees replace G&A, but this still does not answer how margins have expanded.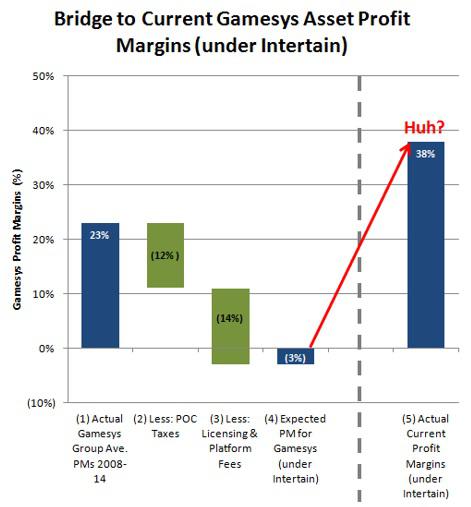 Footnotes:
Intertain has achieved profit margins of 38% for the Gamesys assets purchased thus far (based on average of Q2 and Q3 2015).
Point of Consumption (POC) taxes are a newly implemented tax in the United Kingdom which became effective in December 2014. We have added back 12% as not all of Gamesys' revenue is derived from the UK (we have assumed 80%).
Licensing and platform fees are an expense which Intertain agreed to pay Gamesys as part of the acquisition and related agreements. They are approximately 13-15% of revenues (or approximately C$50-60 million).
The result is the profit margin that Gamesys should have achieved prior to Intertain's acquisition of Jackpotjoy (JPJ), Botemania and Starspins.
The calculated 64% should be equivalent to Gamesys' group profit margins - the fact that they are not is highly suspect.
Margins generated by Intertain's largest and recent deal with Gamesys appear impossible; something doesn't add up.
Separately, the Gamesys assets and Intertain have other issues which include:
Intertain and its shareholders celebrated a Q3 2015 financial results which provided by a top line beat, however, few realized that adjusted net income was down year over year across three out of four of the company's acquired entities.
Jackpotjoy player counts appear to be in decline for some time.

Industry Data Suggests the Bingo Market in the UK is in Decline: Management promotes that bingo is a growth market and its operations in regulated markets protect its cash flow. Yet, based on our extensive due diligence we find that bingo trends in the UK (its core market) have been in decline in the last few years while JPJ's trending data suggests it may not be a market leader (as it claims), and at worst could be losing share. Furthermore, regulated markets such as the UK have introduced new consumption taxes, with other countries likely to follow. In our view, regulation is a headwind which contrasts management's marketing that it is beneficial.
Numerous Accounting, Financial Reporting and Disclosure Concerns: After flipping through three auditors like pancakes, Intertain still can't seem to get its accounting, financial reporting and disclosures straight. Our biggest concern is that the company appears to have implemented a stealth change of revenue recognition policies from "net" to "gross", which artificially juices its reported revenue (we estimate 4-5%), while its margins have mysteriously expanded beyond our comprehension. We've identified multiple errors in its financials, along with financial legerdemain to boost its adjusted EPS by not tax-adjusting add-backs (properly adjusted EPS in our view with tax effects would be down 50% from levels reported). The company boasts its businesses are doing well, but provides no key performance indicators (KPIs) which are customary financial reporting metrics used in the gaming industry. Not surprisingly, Intertain's governance committee did not meet in 2014 (not even once).
Q3 2015 Financial Results and Cash Management Appears Suspect: Intertain boasted revenue growth during its Q3 2015 call, but failed to mention that adjusted net income was down across most business units. Shareholders were quick to identify the massive acquisition related fees in Q2 2015, forcing management to hold an investor call over its excessive incentive plans, but everyone seems to have missed the material licensing and platform fees being paid to Gamesys' founders, not to mention the new POC taxes. Revenue growth boasted by Gamesys seems to be questionable, especially as marketing expenses appear to be low with industry pressures at an all-time high. Contrary to popular belief, Intertain appears to have cash flow issues through the first few quarters right after purchasing the Gamesys assets. Intertain stated that its operating cash flows are being set aside for the company's massive earn-outs, but this doesn't appear to be the case. Nearly all cash generated this year is being used to serve interest costs, mandatory debt repayment, and a buyback put in place in response to shareholder outrage from the excessive management compensation and governance breakdown. Intertain did not appear to pay its outstanding interest expense from Q2 2015 until Q3 2015.
Debt Load and Weight of the Acquisition Earn-Outs Could Crush Intertain: Intertain's debt-funded acquisition spree and earn-outs have pressured its balance sheet, which has little tangible asset value and C$1.4bn of goodwill and intangibles (>85% of EV). By our estimate, adj. debt to EBITDA is approximately 5.8x; however, with the Gamesys earn-out alone having the potential to reach up to C$632m, Intertain will have to show investors that its assets have the cash flow sustainability to delever and fund obligations, particularly as key service agreement costs are set to increase by 25% in the future.
Valuation Disconnect: By adjusting the company's enterprise value for enormous earn-outs and properly tax-adjusting its net income, we find that it trades at a rich EBITDA and EPS multiple compared with industry peers. Management claims that its stock is undervalued and it may be subject to a predatory buyer...nonsense! The implementation of the POC tax and new costs related to licensing and platform fees take a significant chunk out of its valuation. Given our grave concerns about management's history, various accounting and financial reporting inconsistencies, and the mountain of debt placed on its largely intangible asset base, we fear 45-70% downside in its share price. With all eight analysts saying "Buy" and predicting almost 120% upside in the share price on the belief that Intertain can grow revenues 29% next year, we think the stock is at risk of major disappointment. Intertain is highly likely to roll snake eyes.
Thank you for your interest in our research. For the complete report, including detailed analysis supporting information, please visit our website at www.sprucepointcap.com.
Disclaimer:
This research presentation report expresses our research opinions, which we have based upon interpretation of certain facts and observations, all of which are based upon publicly available information, and all of which are set out in this research presentation report. Any investment involves substantial risks, including complete loss of capital. Any forecasts or estimates are for illustrative purpose only and should not be taken as limitations of the maximum possible loss or gain. Any information contained in this report may include forward looking statements, expectations, pro forma analyses, estimates, and projections. You should assume these types of statements, expectations, pro forma analyses, estimates, and projections may turn out to be incorrect for reasons beyond Spruce Point Capital Management LLC's control. This is not an investment or an accounting advice nor should it be construed as such. Use of Spruce Point Capital Management LLC's research is at your own risk. You should do your own research and due diligence before making any investment decision with respect to securities covered herein. All figures assumed to be in Canadian Dollars, unless specified otherwise.
You should assume that as of the publication date of any presentation, report or letter, Spruce Point Capital Management LLC (possibly along with or through our members, partners, affiliates, employees, and/or consultants) along with our subscribers and clients has a short position in all stocks (and/or are long puts/short call options of the stock) covered herein, including without limitation The Intertain Group Ltd. ("IT"), and therefore stand to realize significant gains in the event that the price of its stock declines. Following publication of any presentation, report or letter, we intend to continue transacting in the securities covered therein, and we may be long, short, or neutral at any time hereafter regardless of our initial recommendation.
This is not an offer to sell or a solicitation of an offer to buy any security, nor shall any security be offered or sold to any person, in any jurisdiction in which such offer would be unlawful under the securities laws of such jurisdiction. Spruce Point Capital Management LLC is not registered as an investment advisor, broker/dealer, or accounting firm.
To the best of our ability and belief, as of the date hereof, all information contained herein is accurate and reliable and does not omit to state material facts necessary to make the statements herein not misleading, and all information has been obtained from public sources we believe to be accurate and reliable, and who are not insiders or connected persons of the stock covered herein or who may otherwise owe any fiduciary duty or duty of confidentiality to the issuer, or to any other person or entity that was breached by the transmission of information to Spruce Point Capital Management LLC. However, Spruce Point Capital Management LLC recognizes that there may be non-public information in the possession of The Intertain Group Ltd. or other insiders of The Intertain Group Ltd. that has not been publicly disclosed by The Intertain Group Ltd. Therefore, such information contained herein is presented "as is," without warranty of any kind - whether express or implied. Spruce Point Capital Management LLC makes no other representations, express or implied, as to the accuracy, timeliness, or completeness of any such information or with regard to the results to be obtained from its use. All rights reserved. This document may not be reproduced or disseminated in whole or in part without the prior written consent of Spruce Point Capital Management LLC.
Editor's Note: This article discusses one or more securities that do not trade on a major U.S. exchange. Please be aware of the risks associated with these stocks.