Have you ever dreamed of owning your own casino one day? I know that it has always been a fantasy of mine since I went on my first father-son Las Vegas excursion when I was 16 years old. However, for one reason or another, the right opportunity never seemed to materialize.
Now, I have another plan up my sleeve.
Casino REIT Gaming and Leisure Properties (NASDAQ:GLPI) owns over 18 casinos and collects the rent from anchor tenant Penn National Gaming (NASDAQ:PENN) and other gaming operators.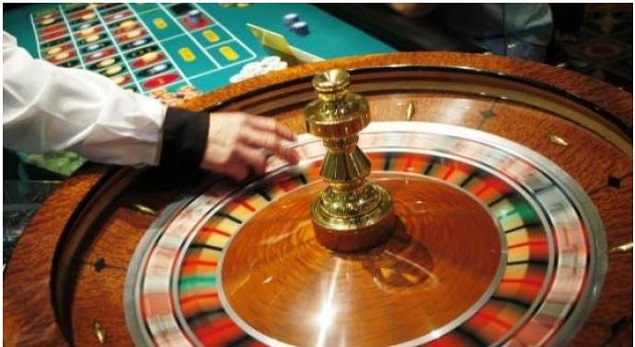 Source: Benzinga
It even gets better because these are triple-net or NNN leases. In addition to the monthly rent, the casino operators pay for all of the taxes, insurance, utilities and essentially all of the property maintenance.
As the saying goes, "the house always wins," and GLPI's shareholders literally own the house.
Additionally, pending gaming license approvals, GLPI also will own and lease back the real estate of casino operator Pinnacle Entertainment (NYSE:PNK), a deal expected to close in 1H2016. Back in July, I wrote an article which took a closer look at the rationale of the GLPI's "sweetened" offer which was eventually accepted by Pinnacle in lieu of pursuing its own REIT.
On December 16, GLPI announced its intent to purchase The Meadows Racetrack and Casino, located in Washington, PA, for $440 million from Cannery Casino Resorts, LLC. The purchase price is reported to be 9.6x LTM EBITDA attributed to the property, and settles any dispute between the parties. That sounds like a pretty good deal, at least on the surface.
If these deals fall into place, it seems like GLPI, the first casino REIT, could be raking in the chips.
GLPI - Brief History
According to the company website:
"Gaming and Leisure Properties, Inc. (the "Company" or "GLPI") is a self-administered and self-managed Pennsylvania REIT that was incorporated on February 13, 2013, as a wholly-owned subsidiary of Penn National Gaming, Inc. ("Penn"). On November 1, 2013, Penn completed the tax-free spin-off of GLPI by distributing the common stock it held in GLPI to Penn's shareholders. GLPI owns substantially all of the assets associated with the real property interests related to Penn's gaming operations, as well as the assets and liabilities of Louisiana Casino Cruises, Inc. ("Hollywood Casino Baton Rouge") and Penn Cecil Maryland, Inc. ("Hollywood Casino Perryville"). GLPI's tenants include Penn Tenant, LLC, a subsidiary of Penn, which leases the real estate assets of 18 facilities related to Penn's operations, pursuant to a master lease agreement and Casino Queen in East St. Louis, Illinois."
OK, so if the casino business was easy, everyone would open one. Actually, competition is part of the problem: Internet gambling, poker and fantasy football sites, state lotteries, parimutuel horse and dog tracks, and perhaps the biggest casino of them all, Wall Street. Please don't hate me for that last one.
If things don't work out for a casino, in most cases, you have a special use building with a limited number of alternative uses located in a declining or over saturated gaming market. Picture Atlantic City. Economic downturns also can be unkind to the casino business. It was darn pretty brutal in Las Vegas during the Great Recession.
Tale Of The Tape - Why The Ugly Chart?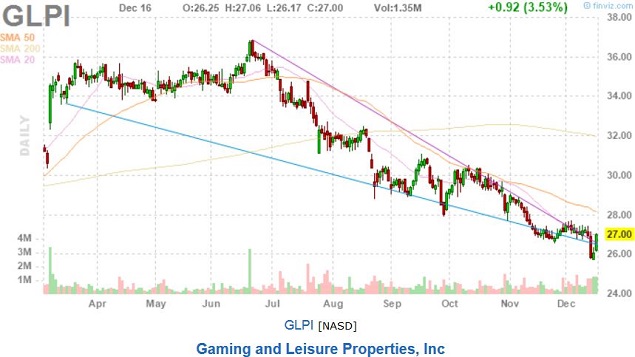 During the past 52 weeks, GLPI's shares have traded in a range of $25.79-36.87 per share.
A bit of recent "noise" may be attributed to anchor tenant PENN which revealed that it was required by its auditors to account for the Master Lease in an entirely different fashion. This required the restatement of past SEC filings, and has resulted in a notice of non-compliance from the NASDAQ, regarding the delay in filing of the 10-Q for the quarter ended Sept. 30, 2015.
No Harm No Foul?
According to PENN's management, this should not be a reason for investor concern:
"Further, as announced October 28, 2015, Penn National Gaming secured a waiver from its lenders under its senior secured credit facility in connection with the change in the classification of the Master Lease from an operating lease to a financing obligation, which extends the period for the Company to file its financial statements for the quarter ended September 30, 2015, to January 15, 2016.

The Company also reported that it anticipates that, as a result of this change in lease classification, it will report additional liabilities of approximately $3.5 billion as of September 30, 2015, which represents the present value of the future minimum lease payments to GLPI under the Master Lease."
PENN's management was very clear that this was an accounting change, but did not materially affect the cash flow or any of the key operating metrics.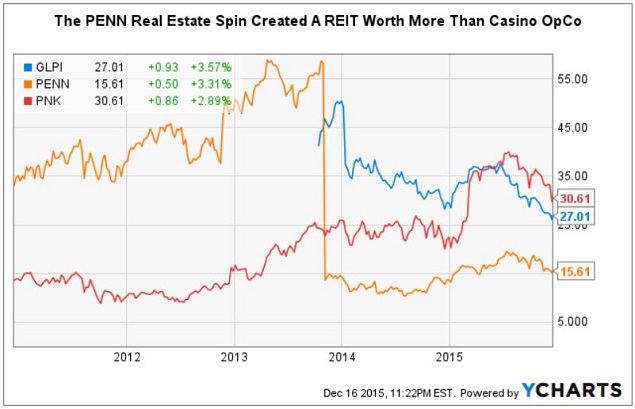 However, on Nov. 5, 2015, Moody's downgraded the Penn National Gaming "Corporate Family" credit rating to Ba3 from Ba2. This was based on factors other than the reclassification of the Master Lease.
Essentially, it appears that GLPI's shareholders are demanding a higher yield for what they perceive to be a riskier anchor tenant. Frankly, the 8% yield the company's shares offer caught my eye, but it also raised my eyebrows.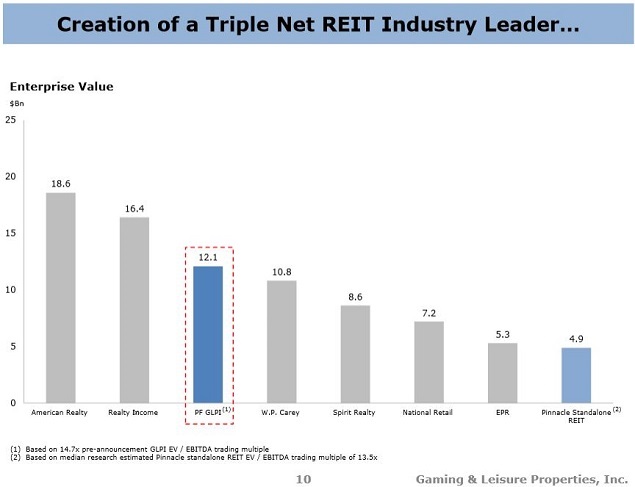 Source: GLPI - July 2015 presentation
Certainly, if the Pinnacle deal closes as expected, and the economy is growing and creating jobs, a larger GLPI could potentially be a winner.
Back in August, SA Contributor Chris DeMuth Jr. wrote an article focused on the opportunity presented by the Pinnacle Entertainment casino OpCo "stub." That is an entirely different way to look at this casino REIT/OpCo opportunity.
Keep in mind that one major difference between casino operating companies and a REIT PropCo is that the dependable monthly income from the NNN leases allows the REITs to pay a regular dividend.
In the slide below, GLPI attempted to show that it might trade at a premium valuation, like Realty Income (NYSE:O) or National Retail Properties (NYSE:NNN), because of a large enterprise value after completing the Pinnacle transaction.
I believe that logic was flawed. The casino industry with tenant concentration is a risky business compared to highly diversified REITs with a long dividend track record.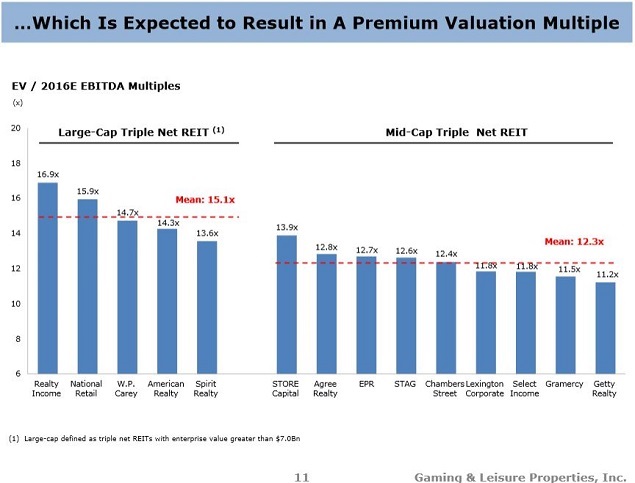 Source: GLPI - July 2015 presentation
Analysts Like Gaming and Leisure Shares
However, another reason why I decided to research the GLPI REIT was that I had begun to notice that several sell-side analysts had become bullish on this casino landlord. Notably, on December 15, JMP Securities initiated GLPI at a Buy rating with a target price of $32 per share, a 23.5% upside from the prior close. It would still represent 18.5% price appreciation vs. today's close of $27.00 per share.
On November 1, Deutsche Bank had reiterated a Buy rating with a $38 price target. However, I also noticed that Susquehanna dropped its GLPI target price from $33 to $30 per share on December 4. The more conservative $30 price target still reflects a potential 11.1% price appreciation, and paired with the 8% yield, a total return of over 19%.
While I think that many investors would be pleased with that outcome, the consensus analyst estimate for GLPI stands at a more bullish $33.50 per share. The company is now on my REIT radar screen.
Investor Takeaway
While I'm not an expert on the casino industry, I do understand that a concentration of assets could be perceived by some investors as too big of a gamble to take. Additionally, it looks like there could be more competition when it comes to consolidating casino real estate.
In October, $12.4 billion market cap MGM Resorts International (NYSE:MGM) caved into pressure from activist investors and announced a plan to place the majority of its real estate assets (10 properties) into a REIT IPO. The new proposed entity, MGM Growth Properties, LLC will be 70% owned by MGM's shareholders, and since it's not a REIT spin, it does not require IRS approval.
Notably, Seeking Alpha has a resident gaming expert, Howard Jay Klein, who can help shed some light on the wisdom of investing in this industry. Readers should keep in mind that I'm basically looking at things through a real estate lens.
However, if you like entertainment, and gambling isn't your "thing," EPR Properties (NYSE:EPR) offers a more diversified and arguably wholesome basket of entertainment venues, with an attractive yield of 6.4%.
Another alternative to consider would be STAG Industrial (NYSE:STAG), which offers a 7.4% current yield, as well as potential share appreciation. STAG owns a highly diversified portfolio of properties, triple-net leased to single tenants, which are much easier to re-lease than if a casino tenant were to roll "snake-eyes" and "crap out."
Notably, STAG utilizes Monte Carlo simulations in order to model the overall risk when it comes to portfolio acquisitions, so I felt it was fair game to include it in this casino article.
Disclosure: I/we have no positions in any stocks mentioned, but may initiate a long position in STAG, GLPI over the next 72 hours.
I wrote this article myself, and it expresses my own opinions. I am not receiving compensation for it (other than from Seeking Alpha). I have no business relationship with any company whose stock is mentioned in this article.