Investing can be different from one year to the next. Asset classes and stock sectors that were market leaders can turn out to be the biggest losers the following year, and vice versa. As you read into the fundamental factors that drove prices in 2015, you might get an idea of the potentially dominating factors heading into the new year.
But before we dive into this year's fundamental drivers, let's first get some context by looking at the end of 2014. This was the year that the third installment of quantitative easing (QE) - the Federal Reserve's extra juice for a dud economy - officially tapered to a close. Since then, the market's focus has been on when the Federal Reserve will start to raise interest rates.
This is a first since the 2008 recession. Before that, anytime that QE programs ended, the stock market stalled and talks of another round of asset purchases resurfaced. This pattern started to repeat itself late last year. In fact, by the end of December 2014, the 10-year Treasury note yield had dropped from 3.03% on December 31, 2013 to 2.17% 12 months later.
The Fed's Guessing Game
Another key trend that started in mid-2014 and continued through this year was U.S. dollar strength. The currency was the top-performing asset class for the last six months of last year. This pattern continued throughout all of 2015. Initially, the greenback gained strength from perceived flight to safety as monetary policy accommodation unwound. Then, investors started to price in what they saw as the inevitability of a Fed rate hike. For them, the question was not if, but when.
Figure 1 shows a relative strength chart of major asset classes. Since June 30, 2014, the U.S. Dollar Index has gained more than 20%. Most of those gains came by the end of February. At times, U.S. economic indicators seemed too weak to warrant rate hikes, and Fed timing was questioned. But by the end of this year, Fed rate hike expectations returned and the needle swung the other way. Investors bought the dollar off its 2015 lows and pushed it to its 52-week highs again.

FIGURE 1: RELATIVE STRENGTH. Among the major asset classes, U.S. dollar strength is notable. For illustrative purposes only. Past performance does not guarantee future results.
Not Without Consequences
A rising dollar has its consequences. First, it puts downward pressure on commodities - crude oil, in particular. As you can see in Figure 2, crude oil is approaching its lows from the 2008 recession. It is dropping because of multiple factors: oversupply, lack of demand, and U.S. dollar strength. The latter has been the key focus of late, as investors are keeping watch for the Fed to make its move.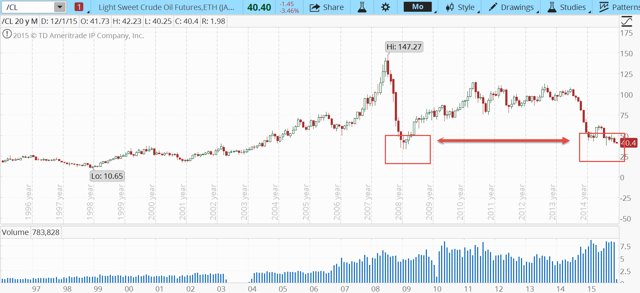 FIGURE 2: PERFECT STORM? Crude oil prices are nearing a revisit of recession levels, driven lower by a trifecta of high supplies, falling demand, and a beefy dollar. For illustrative purposes only. Past performance does not guarantee future results.
Another prevalent trend in 2015 - also the consequence of a rising dollar - was weakness in emerging markets. Emerging markets have been a weak asset class for multiple years, but their descent took another leg lower starting in the summer of 2014, and continued throughout most of 2015.
As you can see, emerging markets hit their peak relative to U.S. stocks in late 2010. Since then, it's been mostly downhill for emerging markets (Figure 3), a development that can put global economic prospects at risk. Emerging markets tend to rely heavily on commodity prices. They had also previously benefited from weakness in the U.S. currency. The dollar hit a major low point in early 2011, before its steady climb higher.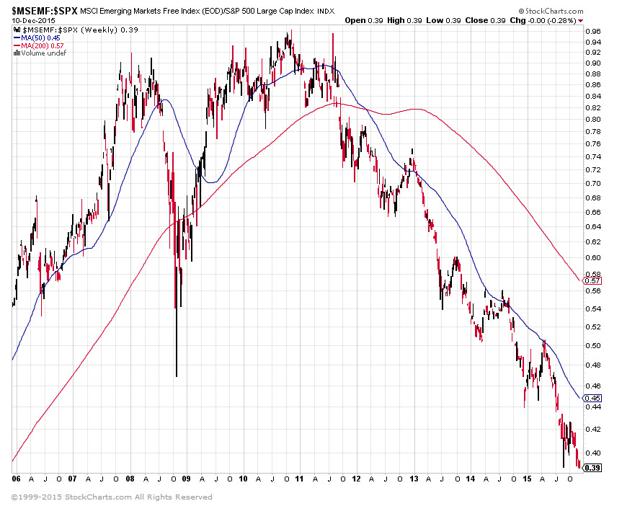 FIGURE 3: DIVERGENCE. This chart shows the split paths of emerging market equities and U.S. stocks. Source: Stockcharts.com. For illustrative purposes only. Past performance does not guarantee future results.
Another factor in emerging markets' weakness is lower global trade. Investors have been focused on the slowing Chinese economy and its falling annual import and export growth rates, which are currently at negative 18.8% and negative 6.9%, respectively.
Of course, the yuan is pegged to the U.S. dollar and trades within a defined band set by Chinese authorities. Earlier this year, the People's Bank of China (PBoC) devalued the yuan with a one-time 1.9% move lower to offset the currency's rapid increase and help its suffering export business. Stocks did not respond well. In fact, the global markets were rattled in what was the most volatile two-month period of trading in equities since the fall of 2011, when U.S. credit was downgraded.
Remember, It's Election Year
There's one feature of 2016 that sets it apart from 2015: Americans head to the polls for a change of guard in the White House. Stocks have tended to perform relatively well in the last two years of a presidential term through history. Of course, every year will always have its unique issues, but some common threads can be found as we enter the fourth and final year of the current president's term. Some may wonder if this time may be different.
Figure 4 shows a yearly chart of the S&P 500 Index. As you can see, large-cap stocks have been doing well in each of the past seven years, with the exception of 2011. Typically, stocks underperform in the first two years of a presidential term and outperform in the next two years. That was not the case in 2011 and 2012, nor so far in 2015. This year's gain has been much weaker than that in the previous two years of the current administration's second term.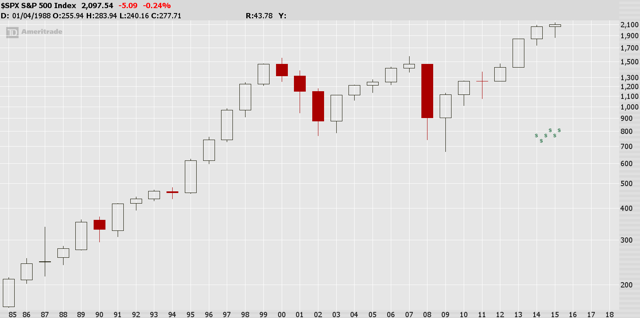 FIGURE 4: NOTABLE EXCEPTION? A long-run view of the S&P 500 (SPX) offers a complete picture of the broader stock market's performance in four-year cycles. Note the lagging broad market stock performance late in the current term compared to earlier. For illustrative purposes only. Past performance does not guarantee future results.
You can also see that in 2000 and 2008, the last two times there was no clear-cut favorite in the election, stocks had negative declines, especially coming after multi-year gains. Could 2016 be a repeat of that scenario?
When you factor in a strengthening U.S. dollar, global deflationary pressures coming from plummeting commodity prices, expected Fed rate hikes, emerging market weakness, and presidential election uncertainty, there are many things that might account for some nervous investors heading into the new year.
Abandon the markets? Of course not. Investors may see the opportunity for targeted investing as stocks navigate through these headwinds. Value opportunities and low-beta income trades may be valuable pit stops until risk appetite starts to pick up again.
Disclaimer:
TD Ameritrade, Inc., member FINRA/SIPC. TD Ameritrade is a trademark jointly owned by TD Ameritrade IP Company, Inc. and The Toronto-Dominion Bank. Commentary provided for educational purposes only. Past performance is no guarantee of future results or investment success.
Options involve risks and are not suitable for all investors. Please read Characteristics and Risks of Standardized Options before investing.