Along with the rest of the mREIT sector, American Capital Agency (NASDAQ:AGNC) has had a fairly miserable 2015. The stock price has declined significantly, far outpacing the dividend, resulting in a negative total return for the year. While the trend is brutal, there are signs of an eventual recovery.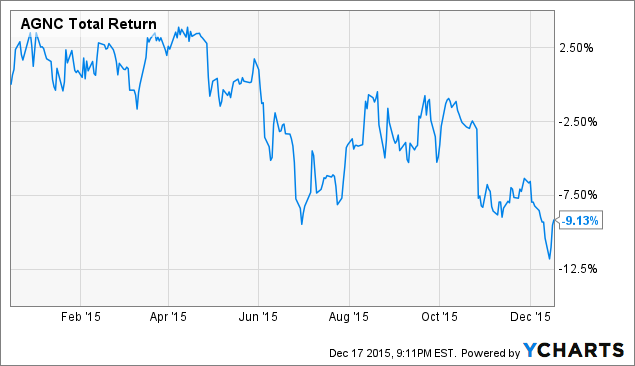 AGNC Total Return Price data by YCharts
Book value decline for November
American Capital Agency recently reported an estimated book value of $22.52 per share as of November 30th, 2015. This was a $0.52 per share drop versus the prior month estimate, not adjusting for the $0.20 per share monthly dividend.
Why did the book value drop?
Simply put, American Capital Agency has been hurt by its hedges underperforming. The company, like all other mREITs, deploys large amounts of leverage to generate its returns. This exposes the company to interest rate risk as its portfolio is largely made up of portfolio of agency MBS, the value of which tends to move inversely with interest rates. To protect itself from wild swings in interest rates, American Capital Agency uses swaps and other derivatives.
In theory, these hedges would offset the changes in book value of the assets. When rates fall, the assets rise in value, so the swaps would lose value. When rates rise, the assets would fall in value, so the swaps would gain value. Though not 100% perfect, hedges would largely mitigate interest rate swings.
However, the swaps are simply not working as expected this year. During November, the yield on swaps is now quite a bit lower versus similar maturity Treasuries. In other words, there is now sizable spread between these hedges, which are often tied to LIBOR, and Treasuries.
This would normally not happen in an efficient market, though this could also be a side effect of the uncertainty in the markets from the Federal Reserve raising short-term rates.
For American Capital Agency, this is the worst of both worlds. It would need to mark down the value of its MBS portfolio due to higher interest rates, while its hedging gains are nowhere near enough to offset the decline. Though, if the hedges were to narrow the spread to treasuries, American Capital Agency would largely reverse this book value loss.
Impact of the rate hike?
Now that the Federal Reserve has finally started to raise short-term rates, I believe some stability will return to the mREIT sector. Indeed, after the announcement, nearly all the mREITs rallied, despite this technically being "bad news". In other words, the market appeared to be selling the rumor and buying the news.
While book values could fall if rates rise too sharply, there are also some benefits. Prepayments would fall, increasing earnings. The companies in the sector could also start raising leverage to boost returns as there is now much more visibility towards future interest rate actions.
Though, American Capital Agency would need to watch out for a tighter spread between short-term and long-term interest rates. With many investors reaching for yield, the yield curve has become flatter. This would hurt the future dividend stream, but help the book value.
Conclusion
While American Capital Agency has undoubtedly been hurt by the panic seen in the junk bond space, investors should remember that mREITs own some of the highest quality assets out there in Agency MBS, which are vastly more liquid than other forms of debt, second only to treasuries.
Furthermore, American Capital Agency is now trading at its widest discount to book value since the taper tantrum. You know a stock is undervalued when an activist investor like George Soros starts buying.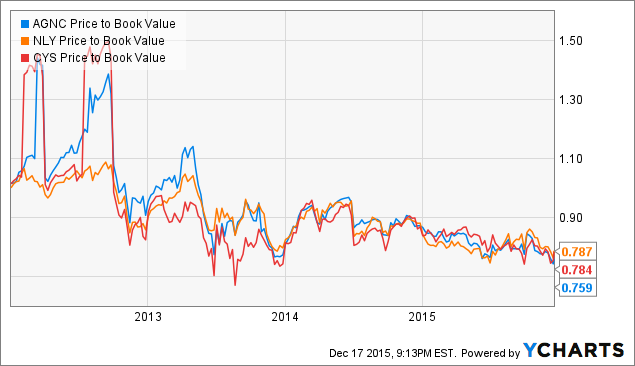 AGNC Price to Book Value data by YCharts
Disclaimer: The opinions in this article are for informational purposes only and should not be construed as a recommendation to buy or sell the stocks mentioned. Please do your own due diligence before making any investment decision.
Disclosure: I am/we are long AGNC, CYS.
I wrote this article myself, and it expresses my own opinions. I am not receiving compensation for it (other than from Seeking Alpha). I have no business relationship with any company whose stock is mentioned in this article.