I recently read a book called The Sleuth Investor. The book was not your typical methodical investment book. No, the book was strictly how to develop a qualitative research style. In fact, I've never read an investment book like it before. Pretty much the basis of the book is about how the enterprising investor should not solely rely on SEC statements and press releases. Yes, these statements and PRs are valuable; however, if you want to become a better investor, getting more "exclusive" information can be very valuable.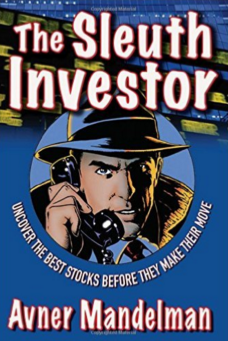 Source: Amazon
The word exclusive is a word the author uses a lot in the book; however, by exclusive he does not mean insider information. To the author, exclusive information is getting information that is publicly available, but is not as easily accessible like an SEC filing or PR release. For example:
Following the physical movement of a product.
Observing company management talking to investment bankers in public.
Going to production facilities, offices and other physical surroundings.
To some, the methods in the book may seem very unorthodox and time consuming. In fact, I believe many readers will not practice the methods and strategies found in this book. For me on the other hand, I found the book to be very enlightening, and I have started to incorporate the methodologies found in this book, in my own research. As an example, on December 16th, 2015, I did my own sleuthing.
Sleuthing in Action with Spartan Motors
On December 16, 2015, I went on a company tour at Spartan Motors (NASDAQ:SPAR). Before I go into detail on the experience that I had, let's back up the story a bit. I became aware of SPAR from another Seeking Alpha user who messaged me one day, let's call him User X.
User X messaged me a month or so ago pretty much telling me that I should look into SPAR for a variety of reasons. It was a pretty detailed and compelling message and influenced me to look into SPAR. User X's thesis on SPAR is summarized in the following bullet points.
Simple operational-improvement turnaround situation.
The product offerings are sound and competitive in nature but management has fallen behind recently. Margins have fallen yet the balance sheet remains strong.
Things are changing more rapidly than the market perceives. New management was brought in and a multi-year operational improvement initiative was launched.
Overall, the basis of the thesis is derived upon management-driven operational improvement without any consideration of revenue growth.
After doing my own due diligence on SPAR using public information such as SEC filings and PR releases, I wrote up a research report. Investors who are not familiar with SPAR should read the report here. I came to similar conclusions as User X. Below is a summarized conclusion of my findings:
The new CEO, Daryl Adams's plan to bring the company back to a state of profitability is already taking effect. They closed down one plant to consolidate operations, took some much-needed restructuring charges, and made operations much more efficient, especially at the Brandon facility.
Two out of three of SPAR's business segments are already profitable. The work currently being done to their unprofitable division (Emergency Response Vehicles (ERV)

has improved drastically from new pricing models, operating improvements, capacity expansion, consolidation of production, and developments in the front end process.
Even though the company is unprofitable (currently break-even), the dividend is stable due to the strong balance sheet. The strong balance sheet makes this a unique turnaround situation.
The new management team is strong and all of the new executives have experience in turnarounds. Management is also aligned with shareholders for all of the executives hold shares in the company. Adams (the CEO) has recently been buying up a decent amount of shares in the open market.
Overall, I felt like the company was/is a low risk decent return.
Back to my sleuthing. Since I have started to incorporate a qualitative research method mixed with my quantitative process, I have talked to a handful of management teams, IR guys, suppliers and other investors. To say the least, my network has grown and my research skills have improved.
Because SPAR was such a unique turnaround situation, and that their headquarters was only an hour and forty minutes from where I lived, I decided to reach out to Adams to see if I could get a company visit.
After writing up the original report on SPAR, I sent Adams a message on LinkedIn, in which I gave him my contact. A few days later, Greg Salchow, SPAR's Group Treasurer sent me an email. Salchow's response instead of Adams, to me was actually more of a bullish indicator and gave me more respect towards Adams as a whole.
The reason why I was pleased that Salchow responded to me instead of Adams derives itself off of opportunity cost. Adams is a busy man. Turning a company around back into a steady state of profitability takes a ton of time and effort. In reality, I was not expecting a response from Adams due to the fact that he is most likely spending the majority of his time working on improving the company. Thus, an email from Salchow meant that Adams doesn't have the time to talk about company improvements due to the fact that he is on the front line everyday trying to bring SPAR back to being a topnotch firm.
The second reason that I was impressed with Salchow responding is because Adams still sees the benefit into giving investors visibility. Despite the fact that Adams is too busy to talk to investors (a good sign), he still sees value into the visibility of his company. Visibility is important for micro-cap companies and Salchow's response indicates that Adams fully understands this.
To make a long story short, I responded to Salchow and we set up a date for a company visit.
The Visit
Before I went on the company tour, I had a few questions in mind that I would try to get answered. These questions are as follows. Were there attitude and motivation issues when Daryl took over that were hindering efficient production? Has there been acceptance or enthusiasm for management efforts over the transition to a more efficient manufacturing process? And, has there been an increased turnover associated with the changes being implemented?
So on 12/18/15, I went on my first public company visit. The unique aspect of the visit was the fact that it was the employee Christmas party/lunch (will get to later).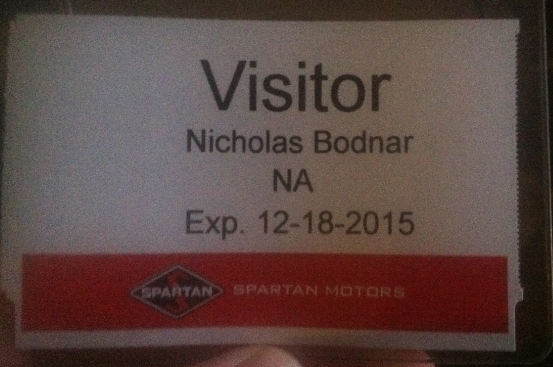 When I got to the facility, Salchow took me to his office so we could chat a little bit before the employee Christmas party/lunch. In our discussion I learned some valuable information. First, if you remember from my original write-up on SPAR, I stated that SPAR contributes around 50% of the UPS (NYSE:UPS) and FedEx (NYSE:FDX) builds. From reading the SEC filings, I could not figure out who controls the other half of that market. However, after my conversation with Salchow, I found out that Morgan Olson controls the other half of the market. Morgan Olson is a privately held company owned by J.B. Poindexter & Co. Learning this information was invaluable and I may be reaching out to Morgan Olson soon in order to continue my sleuthing process.
My biggest takeaway from the conversation with Salchow was how management is focused on the pricing model. From reading the annual and quarterly reports, one can come to a conclusion that the pricing model is going through a change, in order to better the business as a whole. However, the annual and quarterly reports do not go into detail on what exactly was the issue beforehand and what the solution is to the problem. The following will discuss my takeaway from the pricing model then and now.
Before Adams took over as the COO/CEO, it was normal for a customer in the ERV segment to want a custom design, with all sorts of bells and whistles, on pretty much every firetruck that they were ordering. In the past, SPAR provided each customer with what they wanted. There are a few problems that transpired from this.
First, since each firetruck order was custom designed by the customer, the time it took to manufacture/build the firetruck increased, drastically. The longer it takes to build out an order, the higher the chance of margins getting squeezed. Remember, from 2012 until now, margins have been in the red.
The second issue with customizable builds is that the laborers are more prone to make a mistake. Thus, if a firetruck is a custom build, it is most likely the laborer's first time building this type of vehicle out. What this means is that the process is not systematic, it will take significantly more time, and if a mistake occurs (depending on how big), they may have to start completely over, thus continuing to eat into margins.
To combat these difficulties with custom builds and to make the manufacturing process much more efficient, management has done a few key things. First, they now give customers an option to go with a pre-built out truck, which is much more inexpensive than a custom build and saves time on the manufacturing floor. Urban customers who order >70 trucks have taken a liking to this method.
Having a pre-built out model is a win-win situation for the customer and for SPAR. This benefits the customer due to the fact that the overall monetary cost will be much cheaper and they can have their firetrucks in a much faster time period. SPAR wins from this due to the fact that the manufacturing process is much more systematic (they have seen the time it takes to build out a truck drastically cut down). Not only is it systematic and takes much less time, but in the long run, it will be margin enhancing.
Urban customers have responded more positively to a more systematic approach than have the rural customers. The reason is twofold. First, urban customers (like the City of Chicago) order a lot more trucks than rural customers. Secondly, urban customers, on average, go through trucks every five years or so, while rural customers can make a truck last 15-20 years. Thus, rural customers really don't mind spending more money on a few builds to customize it, since they will get a much longer lifespan out of the trucks over the urban customers.
The second way that SPAR has combated customized trucks is by an update to their pricing model. If a rural customer wants a customized truck with a lot of bells and whistles, SPAR will now charge the customer much more money in order to improve their margins. In my opinion, this is a much-needed change that has a ton of potential to turn the company back into a solid state of profitability.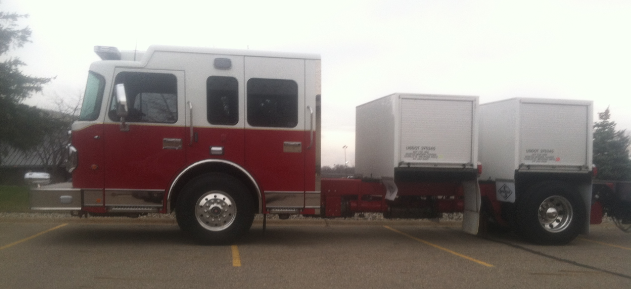 This truck was sitting outside of the customer service department. Inside the manufacturing plant there was a significant amount of these being built.
After my chat with Salchow in his office, we went out to one of the plants to hear Adams speak in front of the ~700 employees. All employee eyes were on Adams and his speech was very well put together and professional. After the speech, I got to talk to Adams and the CFO Rick Sohm for a few minutes. It was very crowded and busy so I did not have too much time to ask Adams or Sohm any business related questions. However, I did get a sense of their personalities and feel like they are very candid and competent leaders.
Salchow and I ended up eating lunch with some other employees and to me it seemed like the transition from old to new management went very well. The employees seemed to be very happy and well taken care of. Overall, there were not really any motivational or attitude issues on the manufacturing floor. From my understanding the issues were from a poor operating methodology mixed with the overstocking of inventory (especially at Brandon).
After lunch, Salchow took me on a tour on how the firetrucks and other vehicles were built from start to finish. It was a very enlightening experience and really helped me understand the business model in a much easier fashion than by just reading SEC filings. What I found interesting is that the average order takes around four months to get completed. However, with the new systematic method being instilled upon orders, SPAR has already started to cut back on the time it takes to build out an order.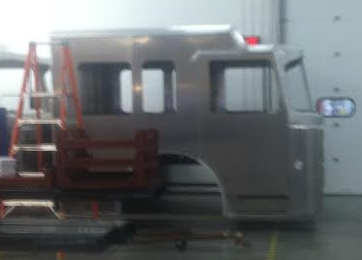 This is a picture of how the firetrucks come in. What is interesting is that the majority of the body is aluminum not steel, which makes for a much lighter and inexpensive body.
When we were done on the firetruck build tour, Salchow took me to the manufacturing plant where they put together Isuzu vehicles. In regards to Isuzu, SPAR gets sent the parts by Isuzu (pretty much in a box) then puts the vehicles together. With around fifty laborers in the plant, they can build out around thirty Isuzu vehicles in a day (this really goes to show how a systematic approach can be much more efficient over a custom build).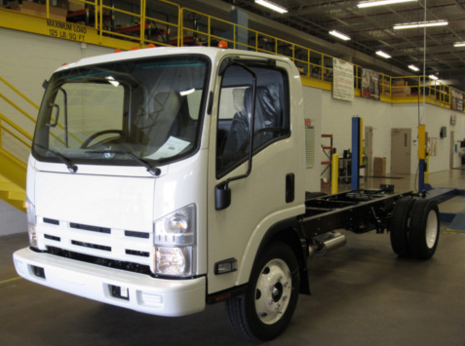 Source: Vehicle Service Pro
I did not snap any pictures of the Isuzu plant but these are the vehicles that they are building. SPAR started building these vehicles in April of 2011 and since then, they have built over 20,000. It is remarkable on how fast fifty workers can throw together these vehicles. Finally, the parking lot of the plant is filled with a ton of these completed vehicles. This gave me a sense that demand is strong.
If you have ever read Adam Smith's Wealth of the Nations, you can understand the efficiency of breaking down of large jobs into many tiny components.
The Isuzu plant was the end of the tour and my sleuthing was done for the day.
Conclusion
You can learn a ton about public companies sitting in front of a computer all day and reading annual report after annual report. However, getting into the field and doing qualitative research is a huge eye opener. In the three hours that I was at the SPAR plant, I learned a ton that I could not have learned sitting in front of a computer screen. This was my first experience touring a public company and I plan on continuing sleuthing around in the future. Once you get a taste for how much you can learn in a short period of time sleuthing, it becomes a much-needed part of the research style of an equity analyst. Going forward, I plan on continuing to develop my research style into a heavily quantitative focus, mixed with qualitative sleuthing methodologies.
Disclosure: I/we have no positions in any stocks mentioned, and no plans to initiate any positions within the next 72 hours.
I wrote this article myself, and it expresses my own opinions. I am not receiving compensation for it (other than from Seeking Alpha). I have no business relationship with any company whose stock is mentioned in this article.