It has often been difficult for individual companies to decouple their business from industry or economic cycles. The photovoltaic solar industry is no different from any other sector, nor are individual solar companies. During what has been an extremely destructive consolidation period for the industry in the past year, even the most cost effective solar companies could not divorce their finances from sector wide woes. Despite potentially achieving the lowest production cost structure for crystalline solar modules, Yingli Green Energy (NYSE:YGE) could not escape inevitable losses when it reported its third quarter 2011 earnings.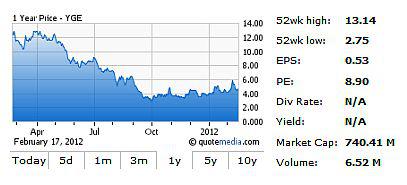 Similar to its closest structural rival Trina Solar (NYSE:TSL), Yingli's corporate losses were more a function of accounting standards than any reflection of the company's competitiveness. During periods of sudden and rapid price erosion, losses became inevitable as companies had to either mark to market inventory on hand or gradually blend cost averages lower. Inventory provisions helped in realizing lower costs sooner at the expense of higher near term losses. Gradual cost averaging of inventory towards real time procurement levels in contrast spreads the losses over the period required to fully blend inventory carrying costs to current market pricing.
During the prior major pricing correction for crystalline based photovoltaic products in late 2008, Yingli opted to slowly blend its inventory (mostly consisting of polysilicon) carrying costs from over $300/kg towards market prices as low as $50/kg in early 2009. It took well over a year before the company's silicon carrying costs resembled anything near spot market pricing and as a result inflated the company's module unit costs relative to most direct peers that chose to take inventory charges. This time around, Yingli decided to take a large $40.6m inventory provision in the third quarter, which was a clear divergent stance from a decision management made nearly three years ago. For investors, short term pain should translate to a faster return to corporate profitability than what investors endured during 2009.
Outside of this inventory provision and a $6.6m accounts receivable charge also taken during the quarter which led to Yingli's U.S. GAAP Q3 loss of $28.3m or -0.18 in earnings per share ("EPS"), other reported metrics were relatively encouraging, especially during a brutal sector-wide down cycle, which caused a large number of less competitive peers to shut down.
First, Yingli continued to increase unit shipments, despite an industry supply glut which sent pricing across all verticals down as much as 60% in the past year. Although the company did not state so directly, implied comments suggested quarterly shipments increased to a company record of around 510MW, up almost 22% sequentially and potentially only second to Suntech Power (NYSE:STP) in the third quarter. In contrast, even recent industry outperformers like Trina Solar recognized shipment declines in the same quarter. Yingli attributed the strength due to a surge in China shipments, which represented 40% of the company's overall shipments during the quarter.
One of the most important metrics is a company's production costs for solar module manufacturing. Yingli has been at the forefront of the industry in terms of lowest module unit cost for many years as it was among the first large-scale, truly fully integrated crystalline module producer. While other peers, such as Trina Solar, quickly followed Yingli's fully integrated model and as the entire industry eventually shifted to higher levels of integration while margins across single verticals contracted, Yingli turned its attention to a higher end product dubbed 'Panda'.
As noted in a prior Yingli review, the company's initial ramping of Panda capacity was slower than its traditional multicrystalline modules. Although not a surprise given Panda followed an entirely different technological roadmap, the longer adoption period did inflate Yingli's consolidated manufacturing efficiencies for several quarters. This issue seemingly has been worked out in the third quarter as the company shipped well above its annual nameplate capacity of 1.7GW.
As manufacturing scale increased, production costs declined. Yingli saw a quarter non-silicon processing cost reductions for its solar modules, from $0.72/watt to $0.66/watt in the third quarter. As the company noted in its Q3 earnings conference call, most of the reduction came from much lower procurement costs for consumables. Materials used in manufacturing a crystalline solar module declined from 30% to as much as 50% in a five month period. Looking forward, management expected even further declines in processing costs to an eventual sub-$0.60/watt level in the second half of 2012.
The magnitude of Yingli's cost reductions are further amplified, considering it is a blended average taking into account higher cost Panda products. Although Yingli's fully integrated processing costs in the third quarter paralleled Trina's industry low $0.65/watt range, blended average selling prices ("asp") were higher than most industry peers as higher efficiency Panda modules commanded premiums as high as 10%. Once again, as Yingli reported in the prior quarter, blended module asps were the highest among direct U.S.-listed Chinese module manufacturing peers at approximately $1.27/watt. This was as high as 5-10%, more than most large-scale Chinese peers and almost 30% higher than spot market asps.
As good as Yingli's internal metrics are, it would only translate into higher earnings once inventory carrying costs converge towards real time procurement levels. Prior to Yingli's third quarter inventory provision, the company's polysilicon carrying costs were around $64/kg. In recent months, market pricing for polysilicon have dropped to a range of $25/kg to $35/kg, depending on quality. As noted in a prior Yingli review, the company's relative high level of inventory should lengthen the period required to fully blend inventory costs lower. The third quarter inventory provision will help, but management stated in its conference call it may not be until midway through 2012 that inventory carrying costs become fully aligned with recent spot market pricing.
Yingli's guidance for the fourth quarter was fairly broad. Officially, the company only revised its annual shipment target to 1580-1630MW, down from 1700-1750MW. During its conference call, additional information was given indicating quarterly shipments would likely decline in the low twenties percentile and gross margin would be approximately 10%. With this general guidance, as well as other metrics the company has stated or implied, a fourth quarter earnings estimate has been compiled. As usual, these estimates are compiled with information given by the company and do not speculate outside those parameters.
YGE Q4 Earnings Estimate:
Revenues: $445m

Shipments: 395MW

Asp: 1.10/watt

Unit Costs: 395 x .95 = $375m module + $13m others = $388m total

Gross Profit: $57m

Gross Margin: 12.8%

Operating Expenses: $65m

Net Interest Expense: $24m

Net Foreign Exchange Loss: $10m

Tax Benefit: $5m

Minority Interest Benefit: $5m

Net Loss: -$32m

Share Count: 158m

EPS: -0.20
As usual, investors should focus primarily on operational results excluding gains or charges derived from one time events. Embedded in the estimates above are several non-operational figures such as a net foreign exchange loss, a tax benefit, and a minority benefit. Since these items cancel each other in this estimate, the net loss and EPS estimates above represent Yingli's operational performance. Actual amounts for these three non-operational items could vary greatly and thus Yingli's actual GAAP EPS could differ from the estimate of -0.20 in earnings per share. However it would be unlikely the magnitude would be great enough such that Yingli could post a net profit for the quarter.
Similar in situation to Canadian Solar (NASDAQ:CSIQ) and Trina Solar, Yingli cannot escape inevitable losses resulting from the industry's sudden and sharp pricing declines. Because these losses are more a function of accounting than the company's actual ongoing competitiveness, longer term investors should focus on those companies that are well positioned when an upturn occurs.
Luckily for investors in the solar industry, boom and bust cycles witnessed in the past may be less pronounced in the future. Inefficiencies dominated prior cycles in the solar industry. High levels of subsidies generated a disproportionate number of bad business models. Some, perhaps many, companies were formed solely to take advantage of a single boom cycle given the high return on investment in certain segments of the photovoltaic value chain. With the hype that generally surrounds any new emerging industry, capital was also cheap. In a sense, the solar industry has existed in a prolonged bubble.
Throughout each of the industry's recent boom and bust cycles, Yingli Green Energy, as well as similar large, direct low-cost structured peers, remained focused on the longer term. In Yingli's case, its committed strategic goal of full integration has resulted in one of the most efficient and streamlined crystalline module producers in the world. Heavy emphasis on research and development has also led to a cost effective next generation product which should incrementally add to the company's margins relative to peers using less differentiated products. Once inventory costs become fully aligned with real time procurement levels, Yingli should be able to generate among the industry's highest gross margin as it has demonstrated during 2010 and return to corporate profitability.
Disclosure: I am long YGE, TSL.
Additional disclosure: No position in STP, CSIQ.