The prospects of solar industry after December 2016 post ITC expiry in USA has been discussed threadbare till date. However, no one really expected that a legislation to extend it further would be passed. This is a huge positive for the solar industry and led to a major bounce in solar stock. Both the House and Senate still need to pass it and President Barack Obama must sign it into law. The decision to extend investment tax credit has injected life into the solar stocks particularly into major US installation companies like SolarCity (NASDAQ:SCTY), Sunrun (NASDAQ:RUN) etc. The last one year had been a hard one for the solar industry in the midst of the uncertainty regarding ITC extension and falling oil prices. But with the extension of ITC, solar is expected to account for 3.5% of US electricity generation, up from just 0.1% in 2010. It is also expected that employment in solar industry will be 32% higher with an ITC extension between 2016 and 2022.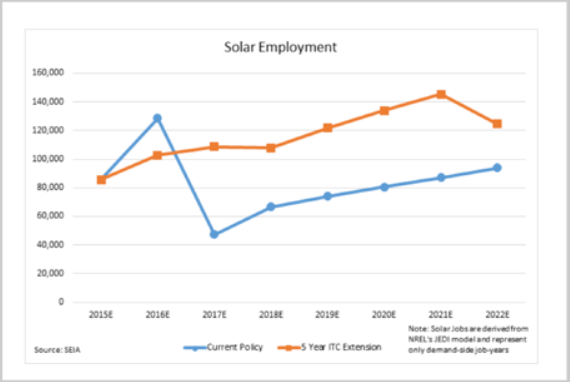 Source: SEIA
What happens now
The industry direly hoped for this extension, but was also prepared in case the investment tax credit expired. Major solar companies are fully booked through Q4'15 and expected massive business in 2016. There was ambiguity regarding 2017, since none of the analysts was successful in predicting demand. With the extension of ITC, the solar installations are poised to see a growth of 54% till 2020 as compared to the scenario of no ITC extension The USA market is predicted to become a 20 GW one by 2020, according to GTM Research.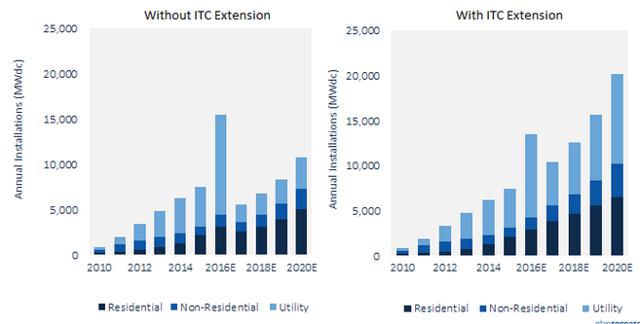 Source: GTM Research
As I had mentioned earlier that solar will continue to grow even without ITC extension, the rate of growth would be low when compared to this new scenario. As can be seen from the above, an ITC extension will allow installations to increase at a much faster pace. According to SEIA solar power will hit 95GW mark by 2022, enough to power 19 million homes.
New Bill - how is it different from the old one
The proposal for the five year ITC extension lies in omnibus appropriations bill and needs to be passed by both the House and Senate before formalization. It differs from the old one in the manner that it now comes with a commence construction provision and is proposing a gradual step down through 2022. By the end of 2022, it will be stepped down to 0% for residential systems and 10%, from the earlier 30% for others (similar to the current 2017 scenario in case ITC was not extended). A commence construction provision will allow projects coming online even by 2023 end to qualify for larger credits.
According to sec 303 of the Consolidated Appropriations Act, 2016 - Extension and Phaseout of Solar Energy Credit, the periods and percentage of credit will be:
| | | |
| --- | --- | --- |
| Years | % |   |
| 2017,2018,2019 | 30 |   |
| 2020 | 26 |   |
| 2021 | 22 |   |
| 2022 | 0 | Residential |
|   | 10 | Others |
The effective date for the amendments will be on January 1, 2017.
Solar companies to benefit immensely
I have long been bullish about the solar sector. It has been the largest and the fastest growing energy sector and I have also been recommending long positions in some of the solar stocks like First Solar (NASDAQ:FSLR), Sunpower (NASDAQ:SPWR), Canadian Solar (NASDAQ:CSIQ), Sunrun and SolarCity. These stocks have risen sharply following this announcement. One of the biggest movers was SolarCity, the stock price of which went up by 34% yesterday. Residential installations are expected to increase 35% more, as compared to a no-extension scenario. Utility installers should also benefit, since utility installations are expected to increase by more than 70% in the next five years. With a massive scale-up of US solar installations, it would be a good idea to build a position in these stocks.

| | | | |
| --- | --- | --- | --- |
|   | Price ($) | Day Movement (%) | M. Cap (in $ billion) |
| SolarCity | 53.69 | 34.06 | 3.91 |
| Sunrun | 11.63 | 22.55 | 0.959 |
| Sunpower | 27.91 | 14.29 | 3.34 |
| First Solar | 65.62 | 9.68 | 6.04 |
| Canadian Solar | 27.28 | 7.4 | 1.41 |
Data from Google Finance as on 17the Dec'15
"SolarCity applauds the bipartisan agreement that prioritizes the growth of solar in the United States," said Lyndon Rive, CEO SCTY.
Conclusion
The government has done its part and now the onus lies on the solar companies to realize the dream for a cleaner, affordable and reliable source of energy. Plans were already been made by developers based on the expectation that the ITC will expire. These will now need some modification, given the fact that the industry will now witness major installations in the coming few years. The industry is set for a double digit growth, with total solar investment in USA predicted to be more than $124 billion during 2016-22. Other than major solar companies backing the petition to extend ITC, the CoP conference held recently came in handy to propel such an action by the government. While I am quite happy with the strong returns generated by some of the stocks, I feel the prices of the above mentioned stocks will increase further and investors should hold these stocks for the long term.
Disclosure: I/we have no positions in any stocks mentioned, and no plans to initiate any positions within the next 72 hours.
I wrote this article myself, and it expresses my own opinions. I am not receiving compensation for it (other than from Seeking Alpha). I have no business relationship with any company whose stock is mentioned in this article.