A quick summary:
With the last major macro event for the year now over, volume will remain light over the next week and probably into year end with the Christmas and New Year holidays round the corner. So far, the EUR, JPY and AUD have all played out as expected although our trading execution was not done too well. We have released our outlooks into 2016, which we will probably review every one or two months to see if the forecasts are on track. You can view the outlooks here:
2016 outlook for the AUD, NZD, Gold (NYSEARCA:GLD) and Silver (NYSEARCA:SLV)
Into next week, the key piece of data everyone will be watching is US Q3 GDP numbers. We do not expect any disappointments in this set of numbers which should lead to the USD maintaining post FOMC gains. Once these numbers are out, the market should stay more or less range bound for the rest of the week as we head into the Christmas holiday.
The FOMC meeting and its implications:
The Fed hiked 25bps as expected, and did not disappoint in its forward guidance which we spoke about prior to the Fed here. However, it will be interesting to see if the Fed will be able to keep to its own forward guidance given that next year will be an election year. Nonetheless, it is nice to see the Fed finally lifting off again after a decade as a sign of confidence in the ongoing US recovery.
Key economic data and events for the coming week:
Monday, 21 Dec. 2015:
0700 GMT - German PPI (Nov.)
1500 GMT - Eurozone Consumer Confidence (Dec.)
Tuesday, 22 Dec. 2015:
0700 GMT - Gfk German Consumer Climate (Jan.)
1330 GMT - US Core PCE Prices (Q3)
1330 GMT - US Corporate Profits (Q3)
1330 GMT - US GDP (Q3)
1330 GMT - US PCE Prices (Q3)
1330 GMT - US Real Consumer Spending (Q3)
1355 GMT - US Redbook
1400 GMT - US House Price Index (Oct.)
1500 GMT - US Existing Homes Sales (Nov.)
1500 GMT - US Richmond Manufacturing Index (Dec.)
Wednesday, 23 Dec. 2015:
*Japanese Holiday
1330 GMT - US Durable Goods numbers (Nov.)
1330 GMT - US Core PCE Price Index (Nov.)
1330 GMT - US Personal Income (Nov.)
1330 GMT - US Personal Spending (Nov.)
1330 GMT - US Personal Consumption (Nov.)
1500 GMT - US Michigan Consumer numbers (Dec.)
1500 GMT - US New Home Sales (Nov.)
Thursday, 24 Dec 15:
2330 GMT - Japanese Household Spending (Nov.)
2330 GMT - Japanese National Core CPI (Nov.)
2330 GMT - Japanese Unemployment Rate (Nov.)
Friday, 25 Dec. 2015:
*Christmas day holiday.
0500 GMT - Japan Housing Starts (Nov.)
0500 GMT - Japan Construction Orders
Trading and Technical Strategy for the week ahead:
EUR/USD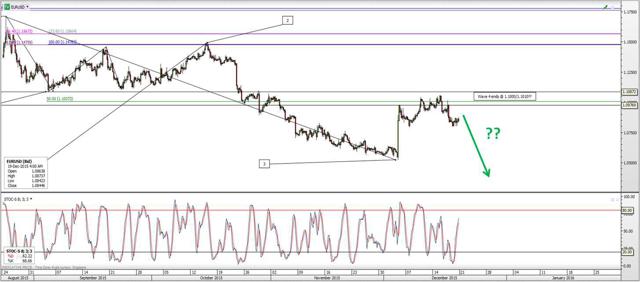 The EUR behaved as expected in our primary scenario (scenario 1) which we laid out here which covers the 3 potential paths we see for the EUR in the weeks ahead. To summarize, the EUR dipped as expected after the release of the Fed Interest rate decision to a low of 1.0887 which was just short of the 1.0850-1.0880 target zone where our take profit order also lay. The pair then proceeded to rebound to the 1.1005/10 level as expected during Yellen's press conference. Unfortunately, our execution of the strategy was poor, with our short position from 1.1005 being stopped out at 1.0991 with a stop we placed earlier in the day after the pair failed to reach our take profit order at 1.0880. We then chose not to re-initiate the short position above 1.1000 as Yellen was still entertaining Q&A at that time despite technicals showing a sell signal.
The next week should see the EUR in consolidation on light trading volume with any upward retracements ideally not going higher than 1.0980. The key level to the downside for the EUR to take out at this juncture is the 1.0600 level which would help invalidate scenarios 2 and 3 which we laid out in the same article as well. If this plays out as expected, we should see the 1.0250-1.0300 level as the final target for this down move. The key level to the upside to keep below is now situated at 1.1095, over which a short squeeze on the EUR is the likely outcome. Thus far, the COT FX futures positioning continues to indicate that EUR shorts have only been pared marginally and our fears of a risk of a large short covering in the EUR post FOMC has not played out, which gives us some assurance in re-establishing a short EUR position into 2016.
Medium- to long-term trading strategy (1-6 months):
With the Fed finally raising rates and not disappointing in terms of forward guidance, we think the next one to three months should see our primary scenario of the pair making one final down move to 1.0250-1.0300 playing out. As such, we would consider using any retracement to around the 1.0920/40 levels to establish a short position to play this scenario. Our stop loss would be at 1.1105 if this short position is initiated. However, once our downside targets are realised, we would likely hold back from the shorting the EUR for quite a while as a substantial bounce of the EUR from those levels is likely unless the ECB comes up with another mind blowing QE package.
Short-term trading strategy (Intraday, 1-3 days):
Our current short term and long term strategies would not differ in terms of general direction, although one can consider buying back any shorts taken at 1.0920/40 at the 1.0810 level before selling again around the 1.0850/60 level to improve their overall costs. Nonetheless, it is important to note that such a strategy could result in you missing the larger move down if the pair chooses to go straight down after you buy back your position. We will update on our site if we choose to execute this short term strategy.
USD/JPY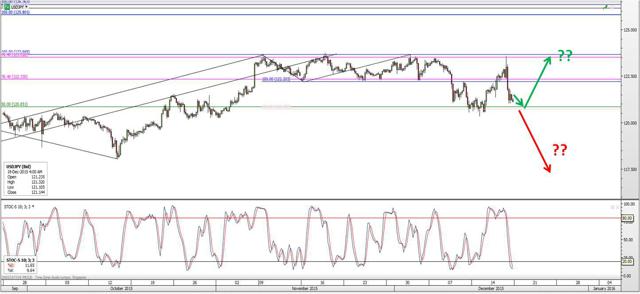 The USDJPY fell following the BOJ's decision not to increase the size of the QE program with the pair spiking to the 123.50/60 level as we stated in our JPY 2016 outlook here before coming back down toward the 120.80 downside support. At this current juncture, the risks of the more bearish red path playing out in the USDJPY which is seen in the chart above as well as our 2016 outlook is high. We remain on the sidelines for now, given the downside risk in the pair which has also led to a change of our medium to long term strategy.
Medium- to long-term trading strategy (1-6 months):
Given the reluctance of the BOJ to increase the size of its QE program, we think upside for the USDJPY is limited for now even with the Fed tightening. Moreover, the risks of the S&P 500 rolling over continues to be a major risk factor for longs in the pair. The recent COT FX futures report also suggests that market participants have significantly trimmed short JPY positions for now given the technical risks to the USDJPY at this time and the lack of a fundamental catalyst to push the pair significantly higher. As such, we prefer to wait on the sidelines until a fundamental or technical break shows itself to take a position for the medium to longer term.
Short-term trading strategy (Intraday, 1-3 days):
One can consider trading for the short term on the long side by buying at 120.70 and 120.30 looking for levels around 121.40/50 to square out these positions. The stop loss for any such trade would be the 120.02 level, which would could lead to larger stop loss selling if the 120 figure is broken.
AUD/USD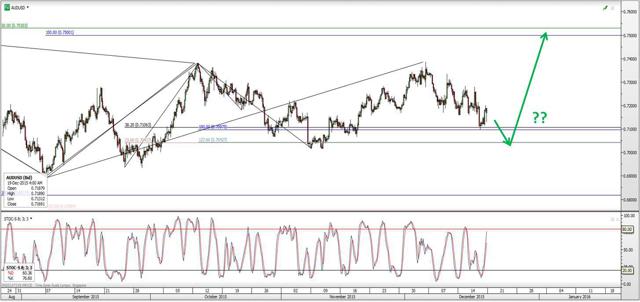 The AUD continues to follow the primary path we laid out in our 2016 outlook here. As mentioned in the outlook, the 'not too hawkish but not disappointing' Fed decision and guidance led to the AUD moving down to test the 0.7100 support, though we think the pair can fall a little bit more from here toward the 0.7040 level before a larger bounce occurs. A strong bounce could see the pair reach the 0.7500/30 level before coming off again to break the 0.6800 level.
Medium- to long-term trading strategy (1-6 months):
The medium and long term bias remains to the downside for this pair. However, current oversold conditions on the long-term time frames would make us nervous sellers at current levels for long-term short positions. We are looking for a potential move up to the 0.7500/30 level to establish a longer-term short position. However, if the 0.7100 figure were to break, followed by the 0.6980 level before this move up to 0.7500/30 occurs, we will re-assess the strategy as it would likely mean that scenario 3 in our 2016 outlook is playing out. Our eventual long-term target for the AUD is the 0.6000-0.6600 levels, which we think will be seen over the next year or two.
Short-term trading strategy (Intraday, 1-3 days):
Given that support lies nearby and that short positions in the AUD are being pared back according to the COT FX futures report, one can consider short term long positions in the AUD at 0.7040 with a tight stop at 0.6980. The take profit on this long position would be around the 0.7160 level. We will update via our site if we pursue such a strategy.
RISK DISCLOSURE:
HIGH RISK WARNING: Foreign exchange, Futures and ETF trading, carries a high level of risk that may not be suitable for all investors. Leverage creates additional risk and loss exposure. Before you decide to trade any instrument, carefully consider your investment objectives, experience level, and risk tolerance. You could lose some or all of your initial investment; do not invest money that you cannot afford to lose. Educate yourself on the risks associated with trading, and seek advice from an independent financial or tax advisor if you have any questions.
ADVISORY WARNING: THEMARKETJOURNAL provides references and links to selected blogs and other sources of economic and market information as an educational or informational service to its clients and prospects and does not endorse the opinions or recommendations of the blogs or other sources of information. Clients and prospects are advised to carefully consider the opinions and analysis offered in the blogs or other information sources in the context of the client or prospect's individual analysis and decision making. None of the blogs or other sources of information is to be considered as constituting a track record. Past performance is no guarantee of future results and THEMARKETJOURNAL specifically advises clients and prospects to carefully review all claims and representations made by advisors, bloggers, money managers and system vendors before investing any funds or opening an account with any brokerages or dealers. Any news, opinions, research, data, or other information contained within this article and our website is provided as general market commentary and does not constitute investment or trading advice.
THEMARKETJOURNAL expressly disclaims any liability for any lost principal or profits without limitation which may arise directly or indirectly from the use of or reliance on such information. As with all such advisory services, past results are never a guarantee of future results.
Disclosure: I/we have no positions in any stocks mentioned, and no plans to initiate any positions within the next 72 hours.
I wrote this article myself, and it expresses my own opinions. I am not receiving compensation for it. I have no business relationship with any company whose stock is mentioned in this article.