The Federal Reserve chose to raise its benchmark rate in December, but it did little to raise the Treasury yield curve. In 2015, the Treasury yield curve, represented by iShares Barclays 1-3 Year Credit Bond (NYSEARCA:CSJ-OLD) over iShares Barclays 7-10 Year Treasury (NYSEARCA:IEF), trended sideways. This signals that although the Fed believes it is ready to tighten policy, the economic background may not be as certain.
In a healthy economy, the yield spread between two and ten-year Treasuries expands, represented by a rising indicator below. In 2013, when U.S. policymakers originally hinted at raising rates, the market was caught off guard and bid the curve significantly higher. In 2014, as both economic activity remained gradual and the market began pricing in a moderate raising of rates, the spread declined, then began to trade sideways.
Currently, low inflation in the U.S., declining factory activity, and suppressed commodity prices could weigh on investors' enthusiasm for risk assets. Acknowledging such weakness, the yield curve may continue in its range as investors keep interest rates suppressed in a fragile economic environment.
PowerShares DB US Dollar Index Bullish (NYSEARCA:UUP) could face trouble moving higher with the yield curve suppressed. Fed rate hikes generally entail strength in the dollar, but not as often when the yield curve flattens. Furthermore, the flat yield curve could signal there will be fewer additional hikes by the Fed in 2016 than many expect.
If the Fed does hike only once or twice next year, this will be viewed as a dovish stance, driving bonds higher and the dollar lower. The ultimate takeaway is that as long as the yield curve indicator is in consolidation at low levels, the U.S. dollar will not have the strength to move considerably higher.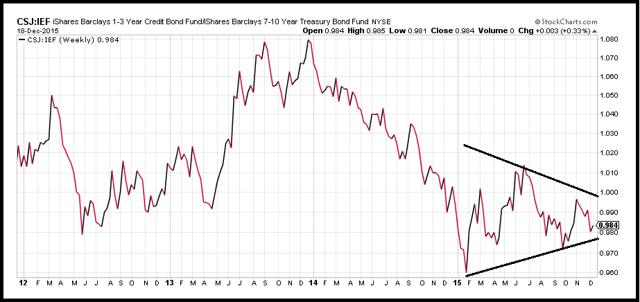 Disclosure: I/we have no positions in any stocks mentioned, and no plans to initiate any positions within the next 72 hours.
I wrote this article myself, and it expresses my own opinions. I am not receiving compensation for it (other than from Seeking Alpha). I have no business relationship with any company whose stock is mentioned in this article.