Overview
Towards the end of last year we put out a list of four gold miners to avoid:
We're pleased to point out that from December 23, 2014--the publication date of that article--all four stocks underperformed their benchmarks: the Market Vectors Gold Miners ETF (NYSEARCA:GDX) for Goldcorp and New Gold, and the Junior Gold Miners ETF (NYSEARCA:GDXJ) for Primero Mining and Tanzanian Royalty Exploration.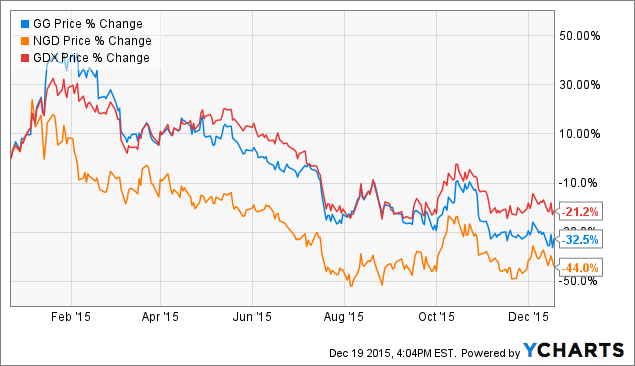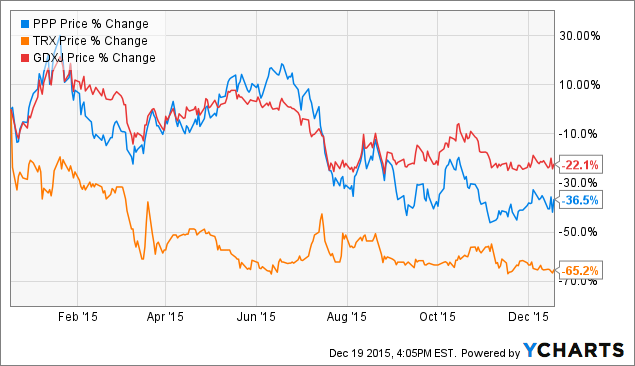 We wanted to check in on these stocks, review the reasons we offered for avoiding them last year, and reevaluate them.
Goldcorp
Goldcorp is down 32.5% and it is the best performing of the above four stocks. It hardly deserves this honor because the company underperformed even our pessimistic expectations. The company was vulnerable last year because the valuation was inflated due to two misconceptions: that Goldcorp is a "low-cost" producer, and that it is a growth company. We pointed out that this "low-cost" is based on the company's reported all-in sustaining costs, which in many ways is not an accurate reflection of actual production costs. The company's reported "all-in" cost is a better reflection of reality, and that figure is ~$950/oz., or $115/oz. below the current market price. These costs are down from last year, but any savings has been offset by the weak gold price.
Those investors who really want exposure to low-cost gold miners can find much more attractive alternatives to this. Furthermore, we note that Goldcorp is very expensive relative to the amount of cash-flow it can generate in today's market: at 3.6 million ounces of production per year and all-in costs of $950/oz. the company generates just $414 million in annual cash-flow vs. a $9 billion market capitalization and an $11.2 billion NEV. Considering there are gold miners producing at $800/oz. or lower with better growth prospects and at 4-6X cash-flow we can't imagine why anybody would want to own Goldcorp.
Meanwhile, while the company has grown its production this growth has been well known to the market for as long as the company's new projects--Eleonore and Cerro Negro--have been in development. Going forward there is virtually no growth opportunity over the next couple of years. Goldcorp produces over 3.5 million ounces of gold per year on an annualized basis, plus some silver, copper, zinc, and lead, meaning it is very difficult for management to move the needle. This would require an asset that produces several hundred thousand ounces per year or more, and such assets are limited to a handful. These assets take years to analyze, permit, and develop, meaning Goldcorp can either acquire a producing one (e.g. through the purchase of Detour Gold (OTCPK:DRGDF)) or it is forced to acquire an asset such as KSM or Metates and be on the hook for billions in capital costs.
Given the sizes of the world's remaining gold deposits we have to conclude that there is a limit to how large a gold company can become before it can't move the needle without spreading itself thin. Those investors looking for growth in the gold mining space should therefore focus on smaller companies.
New Gold
The bull thesis for New Gold has been very similar to that for Goldcorp: investors expect the company to be a low cost producer with high growth. We have been doubting this thesis since February, 2014, and have been right in doing so. The company's low production costs are a function of its stated AISC. One glaring omission from AISC is debt servicing costs, which are very high for New Gold (>$100/oz. of gold produced). When we add this figure in New Gold's costs don't appear to be so low. The company's low costs are also in large part the result of owning one very low cost mine, whose cost per gold ounce produced is negative with copper by-products because this is actually a mine that generates more copper than gold revenues. The company's other three mines have, on average, higher than average costs. We estimated in October that the company would produce 425,000 oz. of gold at $967/oz., leaving just $100/oz. in margins or $42.5 million in operating cash-flow--hardly enough to sustain a ~$1.15 billion market capitalization or a ~$1.55 billion NEV.
The company's growth is there in terms of gold ounces produced since it is developing a ~300,000 oz./yr. mine as a ~400,000 oz/yr. producer. However, we question the risk/reward of pursuing such a massive project with the gold market as it is. The company has not had sufficient cash-flow to bring the project forward, and it has had to sell some of its gold in a streaming arrangement in order to raise a much needed $175 million. The company is highly indebted, meaning that if the $384 million it has in the bank isn't enough to supplement the company's current cash-flow, it will have to stop project development or find additional funds.
Tanzanian Royalty Exploration
We've admittedly stopped looking at this company since there really is nothing to look at anymore. The company hasn't put out any news since August, and shares have fallen well over 90% since we suggested shorting it in 2013. The company has been on the verge of production for years now and we haven't seen anything to substantiate this. It has almost no cash left and almost nothing to show for the cash it has spent. Finally, when we were writing the "4 Gold Stocks to Avoid" article last year the CEO--Jim Sinclair--was involved in a debate with a fellow Seeking Alpha author that was downright unprofessional.
No wonder the stock has lost >95% of its value from its 2010/11 peak.
Primero Mining
We were right that this was a stock to avoid in 2015, yet our attitude has changed. In fact we think it could be one of the best performing gold miners of 2016. Before addressing the reasons why we'll look at what we didn't like last year at this time.
Primero's acquisition of Brigus Gold and the Black Fox Project has been nothing short of a nightmare. We had been skeptical of it since the beginning since it reduced the company's cash-flow on a per-share basis, and it raised the company's average production cost. This last point is exacerbated by the streaming arrangement in place with Sandstorm Gold, which effectively reduces the company's realized gold price (or its cost per ounce if you view the lost revenue as an expense). Meanwhile it reduced the growth per share that would be added by the company's development project--Cerro Del Gallo.
It turned out to be worse than this as the transition from open pit to underground mining at Black Fox has been more problematic than management expected. Costs rose and production fell. Grades fell short of expectations as well.
A year later and it seems that the company has at least stopped the bleeding. Costs have come under control and production has stabilized, and even begun to increase slightly.
But the real reason to be bullish is what we are seeing at San Dimas, which has slowly become one of the best precious metals mines in the world, with ultra-low production costs despite the fact that the mine produces at below the average reserve grade. Ore grades are rising and so is the mining rate, which will both increase production and reduce costs on a per ounce basis. This benefit is even greater when we consider that the company has to sell 100% of its silver production up to 6 million ounces to Silver Wheaton (NYSE:SLW) at $4/oz. plus 1% annual inflation, and only 50% of the silver produced beyond 6 million ounces. Additional production at this point is beyond 6 million ounces, meaning that the more the company produces the higher the average price it receives for its silver, which in turn reduces the cost of gold mining on a by-product basis. We think Primero is a good buy even if we assume every other asset is worth nothing based on San Dimas' ability to generate $95 million in annual operating cash-flow at $1,100/oz. gold, starting next year. This compares with an NEV of just $375 million.
The Bottom Line
Despite precipitous declines for each of these stocks we remain bearish on three of four:
Goldcorp
New Gold
Tanzanian Royalty Exploration
These companies not only offer terrible value, but the qualitative attributes that we disliked last year remain intact. Goldcorp doesn't have low costs, it is expensive relative to its production, and it is not positioned to grow its production given its large size. New Gold remains indebted, overvalued, and its production costs are not very low. Tanzanian Royalty Exploration has become a zombie company.
Primero Mining is the one exception to our continued bearishness with respect to this group of stocks: it seems to have begun to turn its ailing Black Fox Project around while the San Dimas Project has improved in mill throughput, grade, and production costs. It is a potential candidate for our 2016 favorites, which will be released shortly.
Disclosure: I/we have no positions in any stocks mentioned, and no plans to initiate any positions within the next 72 hours.
I wrote this article myself, and it expresses my own opinions. I am not receiving compensation for it (other than from Seeking Alpha). I have no business relationship with any company whose stock is mentioned in this article.
Editor's Note: This article covers one or more stocks trading at less than $1 per share and/or with less than a $100 million market cap. Please be aware of the risks associated with these stocks.