AT&T (NYSE:T) has just announced an increase to its quarterly dividend as Seeking Alpha has covered here. Many analysts, contributors, and readers expected a higher increase, especially with the DirecTV (DTV) merger. Do you see this dividend increase in a positive light? Or do you believe AT&T was over-cautious?
This article takes the positive side and categorizes them below. Let us get into the details.
The Streak:
Let us get the obvious out of the way first. The "paltry" increase extended AT&T's dividend increase streak to 32 years, which is something many companies would be proud to emulate. When dividend giants like Chevron Corporation (NYSE:CVX) are in danger of losing their streak, AT&T's clock-like pattern of increasing dividends in December reeks of reliability. (As holders of CVX, we understand the company has till 2016 to extend its calendar streak.)
As investors in companies like Seadrill (NYSE:SDRL) and Kinder Morgan (NYSE:KMI) would attest, it is prudent on a company's part to commit only what it can afford through all market turns. While the comparisons might seem like apples to oranges, it is undeniable that AT&T's management wants to make sure it can afford increasing dividends each year without having to freeze, slash, or eliminate dividends.
The Debt:
Let's say you run your own business. You have a few business owners who are being paid handsomely already. You also have your creditors who loaned you money. Now, a good business decision has resulted in increasing revenue. Do you use that money to increase the payments to the already well-paid business owners? Or do you reduce your debt and boost up your balance sheet? Answer this honestly, and if your answer is you'd rather tackle the debt, then AT&T did the right thing.
The main reason many investors expected a bigger dividend increase is the potential increase in AT&T's free cash flow due to DirecTV. It is beneficial for AT&T's investors in the long term if the company uses the extra cash flow to reduce its debt, especially with the rate increase that just took place and the ones expected in 2016.
The Reality:
Here is where we hit the readers with a dose of reality. If you are not happy with a 5.60% yield, a 2% dividend growth, and a very stable stock price, you have no reason to invest in AT&T. This stock is well known for its characteristics. Barking up the wrong tree isn't going to transform AT&T into the next growth stock.
Speaking of reality, the average pay increase for employees in recent years look more like AT&T's dividend increase. And keep in mind, the "mean" is almost always skewed due to extremes.
The Extrapolation:
While dividend growth undoubtedly has its benefits, sometimes a high current yield is often vilified. Sure, some high flyers are risky, but there are always exceptions. Altria (NYSE:MO) and AT&T are two examples that come to mind as companies that have been high-yielders historically but have also proved to be reliable with respect to dividends.
The first table below shows a 10-year extrapolation for an AT&T investor buying today, with an annual dividend growth rate of 2%. The second table shows the same extrapolation for an imaginary stock that yields 3% today but grows dividend at the rate of 10% per year. It would take more than 8 years for the 2nd stock to catch up with AT&T in terms of dividends paid and obviously the yield on cost. And keep in mind, the 2nd company should increase its dividend at 10% per year for almost a decade while AT&T needs to keep up with its "paltry" 2%.
Bottom line: AT&T works great for investors seeking current and near-term future income.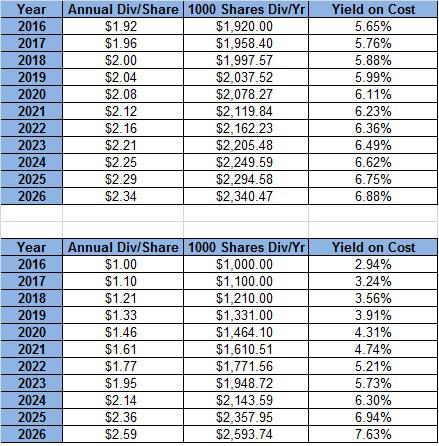 (Source: AT&T dividend data sourced from Yahoo Finance)
The Floor and Expected Returns:
The increased dividend has set the 6% yield price at $32. As shown in the chart below, AT&T's stock has had a floor near the 6% yield mark, where more buyers are found.
With 2016's earnings per share expected to be around $2.80, the stock is trading at a forward multiple of around 12. Assigning an average multiple of 15, we get a share price of $42, which represents nearly 25% upside. It is very unlikely that AT&T gets to $42 in the next year or two, but the potential exists. Add the yield, annual dividend increases, and stability to the mix.

(Source: YCharts.com)
Conclusion: We strongly believe AT&T is being prudent with all its recent moves: the DirecTV merger, conservative dividend increase, further business decisions like selling off units that can be better run by other companies, and increasing prices for its key services.
"Focus" is the word that comes to mind and this is a welcome change for investors who witnessed the T-Mobile (NASDAQ:TMUS) fiasco and many more questionable decisions in recent years.
Disclosure: I am/we are long T, CVX, MO.
I wrote this article myself, and it expresses my own opinions. I am not receiving compensation for it (other than from Seeking Alpha). I have no business relationship with any company whose stock is mentioned in this article.